Annual Report 2022 – Key Activity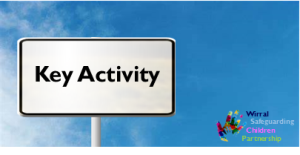 In this section:
Learning from Case Reviews
Multi-agency Auditing
Multi-agency Training
Education Training
The Big Learn
Violence Against Women and Girls
CDOP Summary Report
LADO Summary Report
---
Learning from Case Reviews
The WSCP undertakes two levels of multi-agency reviews; cases which reach the statutory threshold for a review, and cases which don't meet the threshold, but where local learning is likely. This section of the annual report details the cases undertaken by the WSCP in 2021 both at and below the statutory threshold. Further detail on these, and previous cases reviewed by the WSCP can be found on our dedicated Case Review webpage:
Case Reviews – Wirral Safeguarding Children Partnership
Statutory Child Safeguarding Practice Reviews
The WSCP has a statutory duty to undertake reviews of serious child safeguarding cases which meet the threshold stated in Working Together to Safeguard Children (2018):
abuse or neglect of a child is known or suspected and
the child has died or been seriously harmed
The purpose of undertaking Child Safeguarding Practice Reviews (CSPR's) is to highlight any improvements needed in the multi-agency safeguarding system to ensure children and young people are safeguarded, and to highlight learning points, and any recurrent or common themes. In summary CSPR's are designed to be vehicles for learning and improvement.
When completing a CSPR the WSCP will publish a report on its website which will provide a summary of the case the identified themes, the learning and any recommendations. The recommendations will be translated into a multi-agency action plan overseen by the WSCP's Case Review Committee. The committee will keep the action plan under review until all actions have been completed. Subsequent audit activity will evidence the embedding of learning.
The full CSPR process is detailed in the WSCP's Learning and Improvement Framework, available below which details the referral pathway, liaison with the National Panel for CSPR's, undertaking rapid reviews and steps leading to the publication of a CSPR: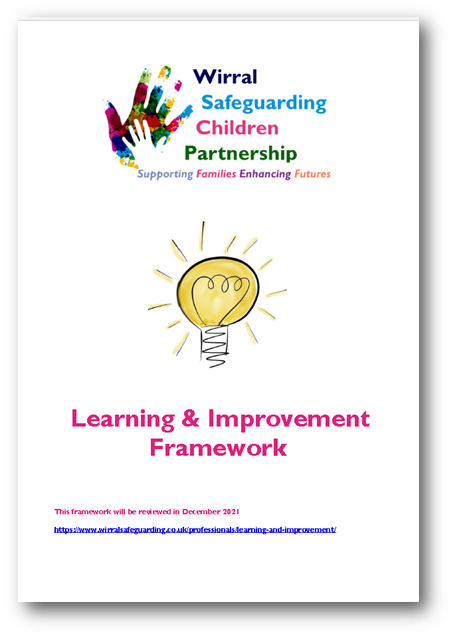 Child Safeguarding Practice Reviews (CSPR's)
The WSCP currently has two statutory CSPR's underway, which will be published in early 2023. A brief summary of the reviews and the learning identified is presented below. Please note that names and other potentially identifying information has been changed to protect the anonymity of the children and families:
Child Noah
Summary
Noah was two years old when he was found in his bed unresponsive. An ambulance was called but tragically Noah had passed away.
Prior to the death of Noah there had been considerable involvement with the family by children's social care and other services. Noah's parents had previously had five children removed from their care due to longstanding issues of neglect, domestic abuse and alcohol abuse by the children's father. Despite the significant level of involvement by agencies's there was a lot of evidence of poor and non-engagement by the parent's.
At the time of Noah's death there were three children living at home, and all had been subject to child protection, child in need and team around the family plans over during the past couple of years. Noah's father was present in the property, even though the parent's lived apart and he was not supposed to be there. There had been an  allegation that he had caused a non-accidental injury to another child in the family.
A post-mortem was inconclusive, although it stated that there was no evidence (no head injuries or marks) to suspect "foul play." Further tests were to be completed to see whether Noah may have had undiagnosed epilepsy, as a sibling had this condition.
During the review a number of key practice episodes – significant events or issues – were identified:
the effectiveness of multi-agency working;
concerns about poor home conditions and indicators of neglect;
the multi-agency response to parental conflict and domestic abuse – particularly responsibility to protect, and parent's capacity to change;
repeated step-up and step-down;
the impact of of parental alcohol abuse;
application of the SUDIC protocol – there was evidence this had not been followed;
the impact of Covid-19 on the family and the capacity of services to respond to their needs
Key Findings
There were six key findings from this case:
Cause of death not suspicious. The cause of Noah's death appears to be unrelated to any issues with or concerns about the family, and was likely caused by an undetected medical condition.
Concerns about home conditions. A common theme in local reviews is the description of home conditions as 'poor' or 'dirty'. This does emphasise the importance of using evidence based tools, such as the Graded Care Profile 2 whenever environmental concerns are observed.
Domestic abuse and the 'protective' parent. In this case the parent's lived apart and it appeared to be the mother's responsibility to ensure the father did not attend the family home. Given the nature of their relationship this was an unrealistic expectation.
Capacity to change. The capacity of the parent's to change was not comprehensively assessed.
Reasons for, and impact of numerous step-up and step-down. The case moved between levels 3 and 4 and this caused 'start again syndrome'.
Parental alcohol misuse was a feature of this case.
Application of the SUDIC Protocol. The protocol was not followed and this caused unnecessary anguish to the family and confusion for services.
Identified Learning Activity for the WSCP
To consider partnership approaches to 'breaking the cycle' in cases with well established or entrenched patterns of behaviour
To examine the step-up step-down pattern of intervention in this case
To examine the role of MARAC and how victims of domestic abuse are supported, particularly those who remain or return to abusive relationships
To ensure the use of the GCP2 tool in all cases of suspected or known neglect, including repeated concerns about home conditions, and to use learning from the review to inform the developing multi-agency neglect strategy
To highlight the impact of parental alcohol misuse on safeguarding children
To review the application of the SUDIC protocol alongside police investigation protocols and determine whether more guidance and training is required
Key Messages for Professionals
Be professionally curious – poor home conditions may be an indicator of other or deeper concerns within the family
Be innovative in the way you form purposeful relationships with families, particularly those who are reluctant to engage with you
Be aware of the impact of parental substance misuse on children and young people – even if the use appears to be 'casual' and kept away from the children. If in doubt use the expertise of substance misuse services such as Wirral Ways to Recovery
Consider the appropriateness of 'contracts' with parents, particularly those which assume one parent may be able to 'police' another
Be professionally curious – poor home conditions may be an indicator of other or deeper concerns within the family
Ensure you are familiar with the SUDIC protocol and seek guidance if you are unsure
Learning Poster
A key messages poster has been published by the WSCP: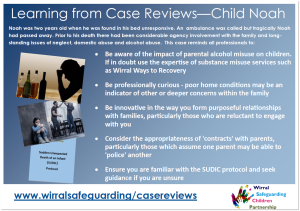 Child Ollie
Summary
Ollie was 9 weeks old when he was seriously injured in a co-sleeping incident with his father. Ollie had been unsettled during the night and his father had wrapped him in a blanket and fallen asleep with him on the sofa. Ollie was unresponsive and paramedics were called who managed to resuscitate him, and take him to hospital. Doctors informed his parents there was a significant chance he would not survive.
Both the attending ambulance crew and police officers who arrived shortly thereafter described the house as being cluttered and dirty. The electricity was off and the parents appeared to be sleeping downstairs. There was a Moses Basket in the front room but it appeared to be unused.
Later toxicological analysis of Ollie's urine revealed the presence of cocaine. As a result of this the Local Authority were granted an interim care order for Ollie and his siblings and his parents were only permitted supervised contact. Ollie tragically passed away a few weeks later as a result of a significant hypoxic injury to his brain.
During the review a number of key practice episodes – significant events or issues – were identified:
identification and response to neglect;
the effectiveness of safer sleep messages;
the impact of parental mental health and substance misuse concerns as additional stressors in the family;
whether disguised compliance was a feature of the case;
the impact of Covid-19 on the family and the capacity of services to respond to their needs
Key Findings
There were four key findings from this case:
Whilst Ollie's death could not have been predicted, it is clear that unsafe sleeping was the primary cause of his death and therefore work to raised the awareness of safer sleep messages must be a priority action for the WSCP
Neglect doesn't appear to be a significant factor in this case, however, services were not sighted on the issues facing the family which resulted in a poor living environment which suggests the need for a more robust strategy and an offer of early help for families
Casual parental substance misuse was a feature of this case, and it is concerning that parents maintained that their drug taking did not affect their children. The WSCP should ensure a clear messaging campaign for parents and carers highlights the dangers for children
Covid-19 and its associated lockdowns removed a lot of families from being routinely seen by services. The WSCP needs to understand the scale of this in Wirral and whether there needs to be a wider offer of help to families who might still be struggling but are 'under the radar' of statutory services
Identified Learning Activity for the WSCP
To develop and publish a multi-agency neglect strategy
To review and update the approach to safer sleep messaging as part of a new prevent and protect model for preventing sudden unexpected deaths of infants
To develop a campaign targeting casual substance misuse amongst parents and carers
To undertake a review of the local impact on families of Covid-19 and lockdowns
To deliver a series of locality based information and support events for parents and carers Wirral
Key Messages for Professionals
Be aware of the impact of parental substance misuse on children and young people – even if the use appears to be 'casual' and kept away from the children. If in doubt use the expertise of substance misuse services such as Wirral Ways to Recovery
Ensure safe sleep messages are given to parents with babies and very young children on a regular basis. It is good practice to view where baby is going to sleep or is sleeping
Be professionally curious – poor home conditions may be an indicator of other or deeper concerns within the family
Be aware of hidden harm, and those families in need who may still be outside the protective gaze of services post Covid-19
Learning Poster
A key messages poster has been published by the WSCP: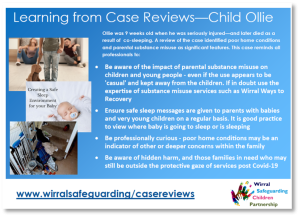 Multi-agency Learning Reviews
As noted above, the WSCP also undertakes multi-agency reviews of cases below the statutory CSPR threshold when it is likely that learning for the multi-agency partnership will be identified. In 2022 the WSCP published one multi-agency learning review:
Young Person Matthew
Summary
Matthew was an 18 year old care leaver who tragically took his own life shortly after his 18th birthday. At the time Matthew was living in supported accommodation, and was supported by services under a Section 20 Child Looked After order.
Matthew had been taken into care at the age of 3 and adopted at 5. Matthew was diagnosed as autistic but little is known about his history pre his adoption.
When he was 17 Matthew's parents relocated to Wales but he was unable to go with them, which led to the Section 20 order and being a Child Looked After. Over time his presentation and behaviour deteriorated and he was identified as being vulnerable to criminal exploitation. However, when he turned 18 some contact with his family resumed.
Identified Learning
Key Questions for professionals and organisations:
What support is given to children who may experience feelings of rejection? – In Matthew's case, he was removed from his birth family and also later split from his adoptive family.
How do professionals support young people accessing historical files and understanding their life story? – In Matthew's case it isn't known whether he knew his history, or was aware of all the information in the file he was given.
How well do professionals understand the impact of Adverse Childhood Experiences (ACE's)? The impact of previous trauma on children is now well documented and specific work is often required to understand and process trauma.
How do professionals engage young people who are reluctant to take up that support? Matthew was reluctant to seek or receive help, other than that which offered practical support. Professionals need to be innovate in the way engage with young people who might be reluctant or suspicious of services.
How can we ensure processes are followed in a timely manner? There were several examples of interventions falling outside of timescales in this case, which delayed work taking place.
The review found that while Matthew had input from a number of services, the support appeared to be mainly practical and didn't address the emotional issues that Matthew was likely to be experiencing. There was a significant lack of knowledge
about Matthews background.
The full learning review for Matthew can be accessed below: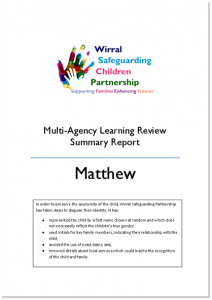 A summary 7 minute briefing is also available: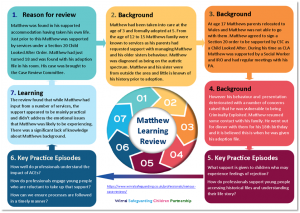 Themes from local Merseyside Reviews
In 2022 the WSCP worked  in conjunction with colleagues from Liverpool, Sefton, St Helens, and Knowsley to consider common themes appearing in Case Reviews across the Merseyside area. Five common themes were identified from all of the Case Reviews considered:
Voice & Lived Experience of the Child
Professional Curiosity & Challenge
Contextual Safeguarding
Recording and Decision Making
Information Sharing.
To share the learning about each theme, the five areas developed a series of resources and presentations for professionals across the region. The resources can be accessed by clicking on the icons below:
Further Information and Training
WSCP Case Reviews webpage: wirralsafeguarding/casereviews
Pan Mersey Learning webpage: wirralsafeguarding/panmersey
WSCP Case Reviews training for professionals (registration required to access): wirralsafeguarding/casereviewstraining
---
Multi-agency Auditing
The WSCP's multi-agency Quality Assurance Committee leads, directs and supports coordinated multi-agency performance information, audit, scrutiny and review activity, which enables the safeguarding partners to assess the effectiveness of services for children in need of help and protection.
The WSCP Quality Assurance Committee produces quarterly reports for the safeguarding partners identifying themes, trends and risks in multi-agency safeguarding performance. The report is based on information identified and reported by partner agencies.
The group also undertakes multi-agency audits which inform recommendations and influence practice. The committee uses an audit action plan to monitor progress to actions and ensure learning is shared and embedded.
This year, the committee undertook audits on the following themes:
Parental Substance Misuse
Following the completion of the Liam case review, the WSCP completed an audit of 6 cases with parental substance misuse as a factor. The audit tested whether professionals have sufficient levels of knowledge about parental substance misuse, if the local protocol is effective, if professionals know how to access specialist knowledge, if assessments take into account the role of the father in the family and what level of training professionals have attended according to their role and organisation.
Findings
Overall findings suggested that professionals have not accessed a
consistent training course or programme in relation to parental
substance misuse and rely heavily on the expertise of substance
misuse professionals to direct their intervention and support.
Staff have expressed willingness and enthusiasm to learn more about
parental substance misuse and the impact on children, in order to
support them in their role and to effectively assess risk.
There is no evidence that the local protocol and guidance is not fit
for purpose, however it is clear that professionals are unfamiliar with
the documents and do not necessarily refer to them in their work
with families.
The inclusion of the father/male care giver was evident in most of
these cases but not all, it is important that this continues to be
encouraged as best practice when working with families.
The audit highlighted some of the excellent work being undertaken
on Wirral to support children and young people with understanding
the risks of substance misuse and providing the expertise required to
significantly reduce or become substance free
Read the full report: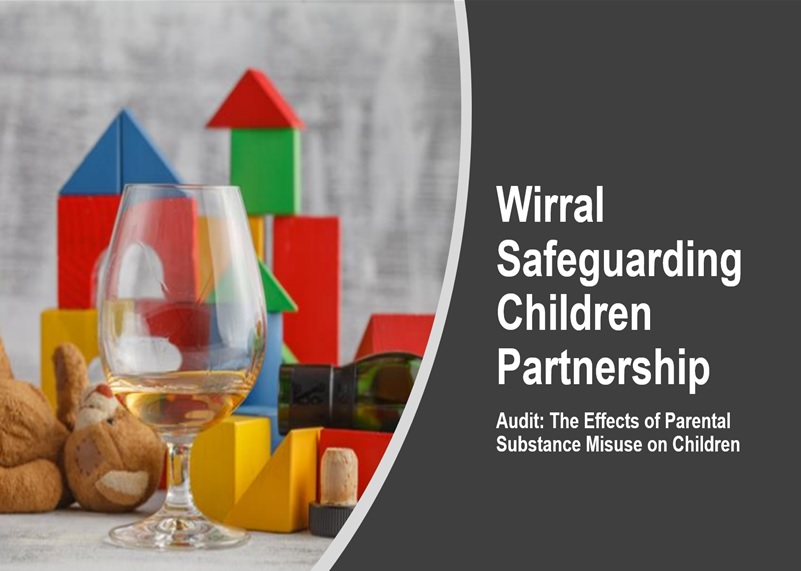 ICON Programme – Babies Cry, You Can Cope
The ICON campaign was launched in October 2020 and has been implemented
broadly across the partnership to support parents and carers in Wirral.
To measure the programme's uptake and success so far, the WSCP has undertaken
an evaluation of ICON focusing on key areas of practice, training, and feedback from
parents and carers.
The following mechanisms were used to capture the evaluation criteria:
 Training evaluation survey using Survey Monkey
Multi-agency focus group to discuss current practice and to gather
evidence
Case study template to be circulated to practitioners and returned to
WSCP
Questionnaire and telephone consultation to an agreed number of
parents/carers to gather feedback about the program and its success
Review evaluation findings and develop a multi-agency plan to consider
learning and feedback from parents/carers for future practice
Findings
Evaluation of the ICON programme has revealed that its holistic
approach, message and delivery is successful in preparing and increasing
confidence in parents/carers in Wirral to cope with their new baby.
The approach is well embedded across the partnership and the uptake
of staff training/briefings demonstrates the collective commitment to
the ICON programme and its key messages.
Parents/carers appear to receive the ICON message and its resources on
more than one occasion pre and post birth and in some cases this is
delivered by multiple professionals.
Professionals said that they are finding that families have already been
informed about ICON by their Midwife by the time other agencies
become involved. This promotes the recurrent message and provides
multiple opportunities for parents to ask questions and seek support.
Contents of the ICON programme briefings/training are meeting learning
objectives and professionals are satisfied with the sessions.
Parents/carers feel that the skills they have learned and the information
that they have received has improved their confidence to both soothe
their baby and manage their own stress and emotions.
Male care givers are generally included in discussions however, the
evaluation highlighted that further actions could be taken to encourage
and promote their attendance.
Due to the infancy of programme and the configuration of individual
agency systems, the evaluation was unable to collate the total number
of staff trained or the number of families who have received the ICON
message
Read the full report: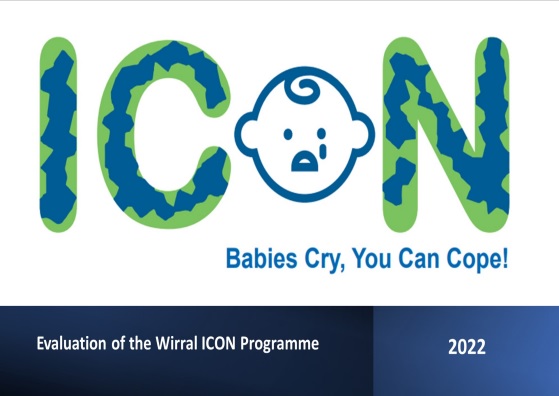 Child Exploitation Audit 
The WSCP completed a multi-agency deep-dive audit into activity to protect children who are:
at risk of, or who are experiencing sexual exploitation
at risk of, or who are experiencing criminal exploitation
The purpose of the audit was to provide findings about practitioners' understanding of, and ability to, recognise the risks to children who are at risk of sexual exploitation and/or criminal exploitation and the strength of the strategic response by the multi-agency safeguarding partners.
The audit identified strengths and weaknesses and a multi-agency workshop was held to discuss findings.
Read the full report: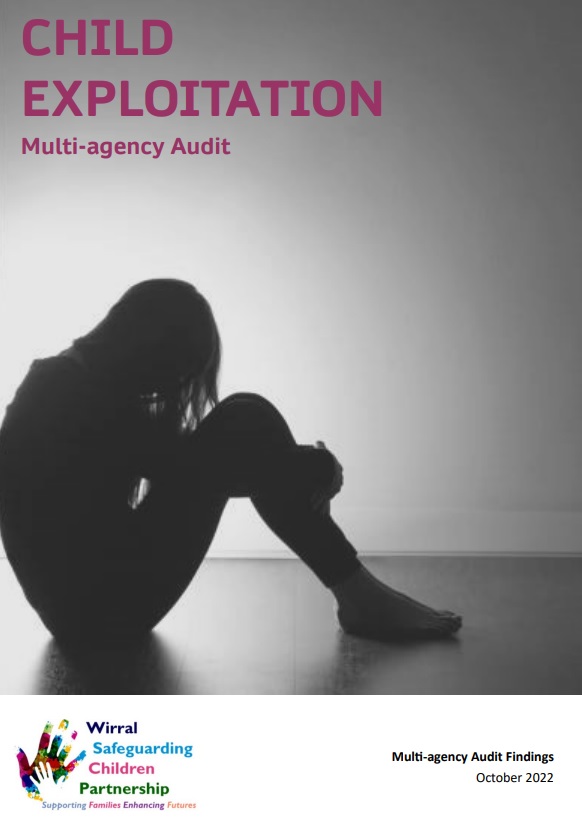 Operation Encompass
The WSCP completed a review of Operation Encompass in 2021 which was commissioned by he Wirral Domestic Abuse Alliance following the publication of the Wirral 2020-2025 Domestic Abuse: No Excuse strategy.
The findings were;
Operation Encompass is well embedded in Wirral schools
Agencies agree that it is a positive initiative which does help improve immediate
outcomes for children, young people, and families, however outcomes are not
consistently recorded or evidenced
The notification process appears to be well understood by schools and generally works
well
There is good practice across schools and other agencies but this needs to be captured
and shared more effectively
Agencies would benefit from access to Operation Encompass training, a particular gap is for newer staff who have joined schools in the last few years
There is some evidence of inconsistent practice which suggests clear, and up to date
guidance would be helpful, particularly about quality of information and information
sharing
Most of the evidence to support positive outcomes is anecdotal and it is unclear how
Operation Encompass supports longer term outcomes
Awareness of Operation Encompass should be better across LA children's services
There is an appetite to extend the scope of Operation Encompass to include Early Years
settings. There is also a gap in understanding about how well it is embedded across the
16-18 sector
In 2022, the WSCP reviewed the action plan and updated progress made, including;
Developing Operation Encompass key adult e-learning for professionals
Publishing comprehensive webpages for professionals and schools
Multi-agency and education sector specific guidance and promotional material
Testing the use and impact of Operation Encompass using the Section 11/175 audit
---
Multi-agency Training
The WSCP multi-agency Training Pool has continued to work very hard through 2022 bringing a wealth of knowledge and commitment to provide high quality training to professionals working with children and young people across Wirral.
Between January and December 2022, the WSCP delivered 102 multi-agency events to a total of 1,143 professionals, from all sectors. By far the largest number of attendees on the multi-agency training continue to be from Children's Social Care and LA Children's Services making up 50% of all attendees, with the Health, Voluntary and Charity, and Education Sectors being the next largest groups of attendees.
We were very pleased to be able to re-introduce some face-to-face training sessions in the Autumn, starting with Working Together and SFEF, Domestic Abuse, GCP2, Contextual Safeguarding and Substance Use in Children and Young People. Professionals and trainers have appreciated the opportunity to network with colleagues and share good practice.
'It was great to finally have training face-to-face. (trainers) made a difficult course enjoyable. The contact and tasks were fantastic and I learnt a lot from it'.
'Very satisfied was good to be back face to face liaising with professionals from different lines of work. This highlighted the importance of how we can all work together for better outcome's.
To see the current training calendar, and availability, click here
New training events on the calendar
This year the WSCP added a number of new events that broadened the range of the learning professionals can access.
Harmful Sexual Behaviour – colleagues from the Youth Justice Service delivered 3 events looking at how to recognise concerns around harmful sexual behaviour, and the support available. 44 staff attended these sessions, the last one being face-to-face, and the feedback was very positive.
'The case scenarios were really good as they have given me increased confidence for when I'm dealing with young people in my role as a family worker'
'Gave a valuable insight into ways of improving practice with vulnerable young people'
'Seeing the child and focus on their needs and understand this is an important part of intervention and support. Aware of own bias and attitudes towards the subject matter'
'As a student this is an area I am not familiar with but this session has made me question my own values and beliefs and look at how they can perhaps influence my decision making'
Understanding Sexual Abuse – the WSCP commissioned colleagues from RASA to deliver 4 events, to raise professionals understanding of working with children and young people who have been a victim of sexual abuse. It has been sometime since this area of concern has been on the calendar and we were pleased to see 55 professionals were able to attend (it is of note that on one session a large number of staff had technical issues trying to join the session).
'It helped me feel more confident in supporting my families who have and are experiencing this. It also helped me personally. Thank you'
'I had not heard of RASA before so learning about who they are and what they do will benefit if I work with anyone in the future who has suffered from sexual abuse'
'The attitudes and beliefs around children were also really insightful. E.g setting children up for harm if they are always told not to question their elders etc.'
'The course provided me with the knowledge and skills to feel more confident when helping support anyone who has been sexual abused and to help them access support'
County Lines and Street Crimes – Dean Coady, from Urban Pure Solutions, came to deliver 5 sessions for the WSCP in December 2022. With many years service in the Police, and working with disenfranchised and the most vulnerable individuals and groups in local communities, Dean was able to bring the topic to life with up to date hard hitting examples of children being drawn into crime. 137 professionals attended these sessions.
'Absolutely loved it, possibly the best training I've been on!'
'Understanding that our use of language is important if we want to be able to fully relate to young people. This is paramount in building trusting relationships'
'I was able to go back to my caseload and question my practice and think further "outside the box" especially with my young people who have issues around school attendance and poor social communication skills. This training allowed me rethink what if ….'
'Training was hard hitting and gave me a reality check as to what some young persons' daily lives are like, but this was a positive aspect, as I feel better equipped to support a client who maybe living this experience'
Systemic Practice – With support from colleagues in Warrington the WSCP launched one of our largest training projects, Systemic Practice Training. Running in Cohorts this training is delivered over 4 full days.
Systemic Practice focuses on understanding the relationships within families and how they are embedded within their social context allowing professionals to see the world through the eyes and experiences of family members.
Cohort 1 completed their training in October and November at the Floral Pavilion, with 38 professionals completing the first cohort. The training went very well with positive feedback from attendees:
'This course was pretty much the best and most useful I have ever attended. A really good 4 days training and I will absolutely be embedding this into my practice moving forward'
'One of the best training courses I have been on. For the first time in a long I felt like this can really make a difference to the way we work with our families to support them with effecting real long term change so that children are safe from harm'
'The Genogram was very effective. Especially when you become the subject in the exercises. For me it was a little uncomfortable and I am glad that this happened. This uncomfortable feeling must be mirrored when I go to visit a client'
'It was a huge eye opener about how as professionals we can become stuck in our approach and rigid in the way we think, which can impact on how children and families engage with us'
Cohort 2 have completed their first 2 days and will re-meet in January to finish their training. The roll out of training will continue through to 2024.
Additional learning resources
100 days of safeguarding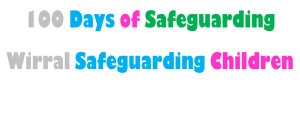 Launched on the 1st October 2021, the Wirral Safeguarding Children Partnership delivered their final 100 days message to Partners at the beginning of March 2022. The purpose of this campaign was to reinforce existing messages, identify important local and national themes, update professionals about policies and procedures and share learning from reviews and audits.
Feedback was very positive with the vast majority of professionals stating they found the daily message reminders very helpful. You can view the messages published by going to the WSCP website where all 100 days have been saved for review. You can see these by clicking here
Learning from Case Reviews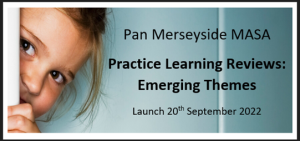 The Wirral Safeguarding Children Partnership worked in conjunction with colleagues from Liverpool, Sefton, St Helens, and Knowsley to consider common themes appearing in Case Reviews across the Merseyside area. Five common themes were identified from all of the Case Reviews considered: Voice & Lived Experience of the Child, Professional Curiosity & Challenge, Contextual Safeguarding, Recording and Decision Making, and Information Sharing.
To share the learning from these Case Reviews training resources were put together, using Sway, under each topic heading. These can be used by Partners to review their understanding of each theme. To have a look at the different themes click here
WSCP learning event 2022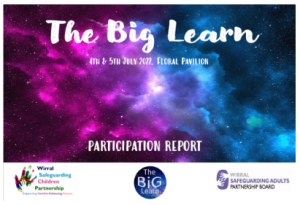 The Big Learn
The WSCP hosted its 3rd multi-agency learning event on 4th and 5th July at the Floral Pavilion. It was the first in 2 years and was such a pleasure to see so many professionals attending and networking. The event included a marketplace with more than 35 stalls hosted by a range of Wirral services, sharing the services and support they are able to offer Wirral families. We also had a number of presentations running throughout the day which people were able to attend without prior booking.
In previous years the WSCP has run the event over one day but with the return from covid and an understanding that some people may still feel anxious about attending crowded areas, we decided this year to replicate the one day twice, allowing everyone the opportunity to attend. The event was a huge success and a great opportunity for Wirral Services to come together and share learning. 330 professionals attended The Big Learn over two days, with the largest representation being from Health, Voluntary/Charity and Children Services colleagues.
Feedback from the event showed that 100% of attendees said they found the event useful and gained knowledge. The WSCP plans to host a learning event for professionals annually with the presentations changing to reflect current themes, and priorities. We are also now exploring the possibility of hosting an event for the public.
Spotlight Sessions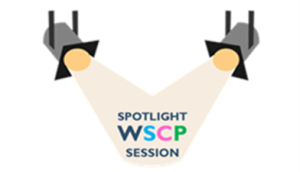 The WSCP continued to run Spotlight Sessions through 2022 with a range of different subjects being delivered online, in bitesize sessions. Running monthly these sessions are a more informal 'drop in' sessions that last no more than an hour.
In January there were 3 sessions considering ICON (Babies cry you can cope). The National ICON campaign aims to help parents and carers to cope with a crying baby. The call for the campaign comes from a number of infant deaths and serious case reviews where a baby has died or been seriously injured as a result of abusive head trauma. 74 professionals attended these sessions.
In February 53 professionals attended a session introducing the new online resources Zillo and Sandbox, delivered by colleagues from Health Services in Schools.
March saw 122 professionals attend sessions on Coercive Control delivered by colleagues from the We Can Talk About Domestic Abuse Team.
In May HSIS delivered another run of sessions, this time focusing on MODS (Making Our Day Special) a provision for Primary School age children running during the school holidays.
In June the WSCP Manager delivered sessions about Systemic Practice in preparation for the roll out of the training starting in October. These sessions were accessed by 82 staff.
Finally in September we had one session on Prevent (the Governments processes for identifying and working with those vulnerable to radicalisation) and 44 people attended.
All of these sessions were recorded and uploaded to our Virtual Learning page on the website which holds a number of recorded training sessions, for ease of access at any time.  These can be accessed here. Please note to access any training or the Virtual Learning page registration as a learner is required. This can be done here.
Training moving forward
The WSCP moves into 2023 with an already full training calendar, changes in the next few months include moving to more of our training to face-to-face sessions, including Reducing Parental Conflict and Child Exploitation. We are looking at building a robust training pool to take over the delivery of the Systemic Practice Training, and we continue to think of different ways to impart knowledge, whilst still keeping the traditional 'classroom' style learning.
---
Training for the Education Sector
The Wirral Safeguarding Children Partnership remains committed to deliver an Education specific safeguarding offer which has now reached its fifth full year, and the demand for services continues to grow.
The safeguarding training and support offer includes statutory safeguarding training for educational staff, training for governors, Designated Safeguarding Lead training (DSL), plus packages such as safer recruitment, managing allegations and 'prevent' update sessions.
The support package also offers a safeguarding 'Health Check' on site to schools, and model safeguarding policy template which is updated annually, and regular safeguarding updates on the dedicated school web pages, which can be accessed here:  Schools Pages – Wirral Safeguarding Children Partnership.
In 2020, a 'virtual' training offer was introduced in response to the global pandemic, and sessions ranged from between 1.5 hours and 3 hours in length and had pre and post session reading to further support learners.
Educational establishments on Wirral continue to source training and support from WSCP in a variety of ways.  The most popular is accessing the website to book onto training: https://www.wirralsafeguarding.co.uk/safeguarding-training-for-schools/
Headlines and Achievements in 2022
Training and Support

The WSCP has been able to support 113 educational settings and over 100 external agencies, many of which have been from the Early Years sector during the last 12 months. The Education Officer has delivered 44 scheduled virtual training sessions (an increase of 13% from 2021).
In addition, the Education Officer delivered a further 39 sessions across Wirral, most additional sessions were on-site bespoke 'whole staff safeguarding and Prevent' session, plus Governor or Designated Safeguarding Lead sessions for schools, Early Years sector, and external agencies. Also, another 5 'Safeguarding' Health Checks / audits were carried out on school sites and action planning for each school is in place.
88% of Wirral schools accessed safeguarding training in 2022 (an increase of 15% from last year).
61% of all Wirral Designated Safeguarding Lead's (DSL) accessed Wirral Safeguarding Children Partnership DSL training (an increase of 18% from 2021).
Attendance on Training
Attendance in the sector remains consistently high, with less than 1% of all attendees having to cancel. The main reason for cancellation continues to be service needs in education, particularly Designated Safeguarding Leads (DSL's) having to cover safeguarding arrangements at short notice.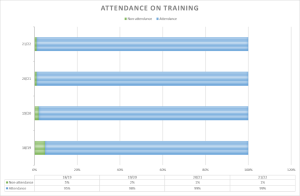 Additional Demand
The safeguarding training offer has also been extended to support Early Years providers, nurseries and childminders and facilitating training for the DSL team staff across Wirral SEND service, and Wirral's Sensory service.  In 2022 the offer to support alternative provision continued and services such as MEAS, plus the health sector continued to expand.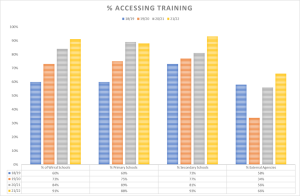 Safeguarding Training and Support Offer – Impact on Practice
Training Sessions
in the last few years, the evaluation process has been adapted to capture the learner's views about changes to the offer and is collated electronically via MS teams.  Examples of feedback are as follows:
How useful was pre-reading?

100% of all delegates that completed an evaluation said that the training had updated their safeguarding knowledge and met the learning objectives. 98% of all delegates said that they were 'very satisfied' with the session content.
What were the key learning points from the session you attended and how will they impact on your practice moving forward?




Do you have any other comments?


All comments and feedback are taken on board and sessions are adapted to suit the needs of the learner.  For 2023 and across the coming years, a mix of virtual training and face-to-face training will continue.  Those staff who are new to being a Designated Safeguarding Lead (DSL) will be offered face to face training to allow networking with other new DSL's.
Additions to the Support Offer in 2022
The new 'safer working practices' session was introduced across 2022, which combines safer recruitment and managing allegations sessions to ensure that organisations can be smarter with their time management and CPD responsibilities and has been a very positive addition to the offer.  Feedback from delegates to date has been very positive.
An updated and refreshed Governor training session is offered to the education sector, in line with new requirements of 'Keeping Children Safe in Education 2022'. This includes onsite or virtual options with the opportunity for governors to 'action plan' as a group, whilst upskilling on their core requirements to safeguard those they govern and support.
Designated Safeguarding Leads (DSL's) can also access a Prevent virtual session to ensure they are compliant with the requirements in 'Keeping Children Safe in Education 2022'.
All details each of the sessions mentioned and how to book them, or discuss your own organisational training requirements, please visit:
https://www.wirralsafeguarding.co.uk/safeguarding-training-for-schools/ or alternatively contact Amanda Waterfall on [email protected]  or on 07795 617 644.
Seven Minute Briefings
During 2022, WSCP's ongoing series of '7-minute briefings' was extended to include a range of 'education specific' briefings. Aimed as a learning aid for use in school team meetings supervision, or just as a whole staff reminder of the key issues around a particular theme / current issue, relevant to their cohort of children.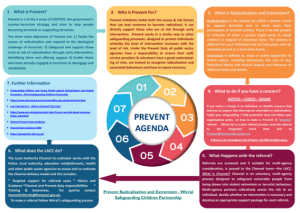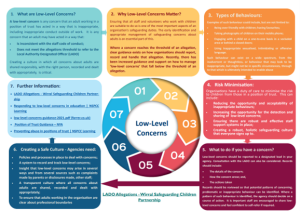 The Safeguarding Health Check
Aimed at providing an independent evaluation of the robustness of safeguarding procedures within an educational setting, the Education Officer continues to carry out a document review, a website check and provides a ½ day on-site audit, meeting with leaders, speaking to governors, key staff and completing a document review.  The result of which is an short action plan for the setting to complete and which supports the completion of the section 175 audit tool.
All schools that have had a safeguarding health check and have then had subsequent Ofsted inspections reported back that the action plan was an extremely useful reference document to show progress and celebrate successes in safeguarding process, procedure and practice.
Model Safeguarding Policy Templates
the most up to date information educational setting will need.  In addition, the support service has provided an updated 'Prevent' policy template, a volunteer handbook template, and also a 'low-level concerns' template in 2022 for the sector to use if and when needed.
The non-profit making project on behalf of the safeguarding partnership continues to adapt and respond to the changing safeguarding needs of schools and educational settings.
---
The Big Learn
The WSCP and the Safeguarding Adult's Partnership Board held a multi-agency safeguarding learning event over two days on the 4th and 5th July 2022 at the Floral Pavilion in New Brighton. The event was a welcome return to face-to-face networking, and gave professionals the opportunity to visit a marketplace with stalls from 36 different organisations, and to attend one of  36 different presentations.
Participation
330 professionals attended the Big Learn event over the two days. Attendance by sector is shown in the chart below. The health economy, voluntary and community organisations, the Local Authority and educational establishments accounted for over 80% of attendees.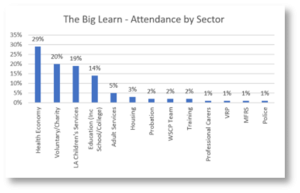 Market Place
36 agencies took part in the marketplace where they shared information about their services and networked with colleagues. The agencies who took part were:
• WSCP
• Zillo/Sandbox
• Wirral Ways to Recovery
• Early Childhood Services
• RASA
• Healthwatch Wirral
• Tomorrow's Women
• Merseyside Violence Reduction Partnership
• Kooth
• Wirral Attendance Service
• Happy Hub
• The Hive
• Wirral Lifelong Learning
• Compass
• Forum Housing
• CAMHS
• MHST Team
• Family Toolbox
• Youth Justice Service
• Koala North West
• National Probation Service
• Catch 22
• Family Group Conferencing
• Health Services In Schools, MODS
• Barnardo's
• Response
• Wirral Fostering
• Connect Us
• Paul Lavelle
• WCT Safeguarding Adults Governance Team
• Involve North West
• Gambling Related Harms
• Detached Youth Work
• Wirral Community Health and Care Trust
• Crea8ing Careers
• Lighthouse
Presentations
The event also hosted 36 presentations over the two days, including;
• Learning from Case Reviews
• Learning from Audit
• Contextual Safeguarding
• Youth Justice Service
• Wirral ICON
• Domestic Abuse
• The Memory Box Campaign
• Curriculum for life
• ACES and Mental First Aid
• Involve North West
• Barnardo's Independent Child Trafficking Service
• People in a Position of Trust
• CAMHS AHC Project
• Response
• Breaking the Cycle
• Systemic Practice
• Safeguarding Adults
• Merseyside Violence Reduction Partnership
• Wirral Ways to Recovery
• Gambling Related Harms
• Children's & Adults Safeguarding Briefing
• Sandbox & Zillo
• Parental Conflict
Feedback
The WSCP asked colleagues who attended the event to provide some
feedback about how useful they found the event and what they would like
to see next time. The WSCP also received some general feedback from
professionals who shared their experience on social media.
A selection of comments is shown below:





Future Events
The WSCP will deliver an annual learning event for professionals. The partnership are also exploring the possibility of holding a series of locality events for families and the wider  public in 2023, which would include local organisations coming together to showcase their services to children, young people and their families in Wirral.
Further Information
The Big learn full participation report can be accessed by clicking the icon below: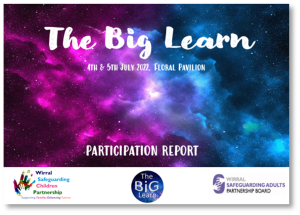 ---
Systemic Practice
Following a review of the current Supporting Families Enhancing Futures (SFEF) model for working with children, young people and families, the WSCP agreed to evolve the approach into a systemic practice model.  The review highlighted that the bespoke-to-Wirral SFEF model contained many positive features, particularly the focus on the daily lived experience of the child(ren), and adults in the family home. The review found many examples of positive and effective use of the model, but also found that it wasn't consistently used or understood by professionals across the workforce. The WSCP concluded that a single clear approach was needed; one with the full support and buy-in of all partners.
Systemic practice offered a logical evolution of SFEF as it sought to understand the context of the family and the key relationships which influence the lived experience of family members.
The WSCP has partnered with Warrington Council to help develop our own bespoke systemic practice model. Warrington are well known for developing their own very successful model over the past few years.
What is Systemic Practice?
Systemic practice is a way of working which emphasises people's relationships as key to understanding their experiences and affecting change. It seeks to make sense of the world through relationships, focusing on the whole family system rather than individuals.
Through a systemic approach, change can be achieved through exploring relationship patterns and understanding how they impact on children.
Working with children and families 'systemically' requires professionals to form trusting and purposeful relationships with families, and to remain curious and reflective at all times.
In Wirral, a systemic practice approach builds on the principles of the SFEF model and the strong partnership practice already established.
Features of SFEF, such as understanding the daily lived experience and holding   purposeful conversations with children and family members  are already valuable parts of a systemic approach.
Progress so far and Next Steps
• Systemic practice steering group established; project plan and delivery plan developed
Introduction to systemic practice spotlight briefings delivered
• Narrated briefing is available on the WSCP Virtual Learning Event page: wirralsafeguarding/virtuallearningevent (registration needed)
• Systemic practice briefings also delivered as part of the Big Learn
learning event on the 4th and 5th July
• Systemic Practice webpage created: wirralsafeguarding/systemic-practice
• 7 Minute Briefing added to website:
wirralsafeguarding.co.uk/7-Minute-Briefing
• Structure of multi-agency training agreed with Warrington Council (who are supporting the delivery of training for the first 3 cohorts). Training dates have been advertised
• Training will be supported by additional shorter skills sessions with a focus on skills such as genograms, or use of tools, or social graces etc.
• WSCP will shortly be advertising to recruit two systemic practitioners
• Work is continuing to develop resources to support professionals. Our resources will form a library of resources managed by the
Systemic Practice Hub, located in the Practice Improvement Team
Further Information and Training
WSCP Systemic Practice webpage: wirralsafeguarding/systemic-practice
Multi-agency training (registration required to access): wirralsafeguarding/systemic-training
Systemic Practice 7 Minute Briefing: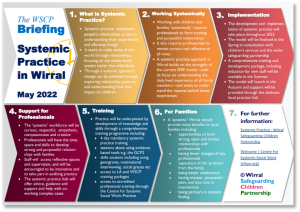 Systemic Practice Narrated Presentation:
---
Violence Against Women and Girls
The Wirral Domestic Abuse Alliance and the Wirral Safeguarding Children Partnership  developed and published the Wirral Tackling Violence Against Women and Girls strategy in 2022.
Violence against women and girls (VAWG) refers to a range of crimes, with the common theme that they disproportionately affect women and girls. The Wirral strategy has been developed to help professionals identify, prevent and respond to all gender based violence.
The tragic deaths of Sarah Everard and Sabine Nessa in 2021 shocked the country and shone a light on the experiences of many women and girls who are afraid to be out, especially by themselves for fear of being attacked. The combination of these killings, and reported experiences at a time when statistics show that rates of domestic abuse and the number of women requesting support following the COVID-19 pandemic has surged, has led to widespread calls for change.
The strategy, and its four key priority areas of prevention and education; support for victims; reducing harm; and building safer communities, all aim to bring about a cultural shift leading to long-term change in attitudes, and to ensure that agencies and professionals are able to identify and respond to violence and abuse, whilst safeguarding and supporting victims.
The strategy includes a comprehensive local delivery plan, and with its emphasis on prevention and education involves closer work with schools and colleges.
The Wirral VAWG strategy for 2022-25 can be accessed below: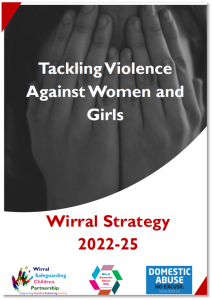 Further Information
WSCP Systemic Practice webpage: wirralsafeguarding/vawg
Wirral VAWG Strategy 7 Minute Briefing: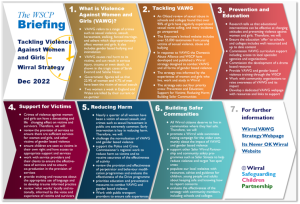 Merseyside Police and Crime Commissioner's Working in partnership to tackle
Violence Against Women and Girls (VAWG) across Merseyside 
---
Child Death Overview Panel (CDOP)- Summary Report
Wirral is part of the pan-Merseyside and Isle of Man Child Death Overview Panel (CDOP). CDOP is a statutory function and involved the multi-agency review of every child death in Wirral to identify any learning, especially when the death was unexpected. Merseyside and Isle of Man CDOP exists to:
provide oversight and assurance of the new Child Death Review processes and ensure that it meets the required statutory standards.
review all infant and child deaths under 18 years of age. This includes neonates where a
death certificate has been issued, irrespective of gestational age.
identify and highlight any modifiable factors, and bring these to the attention of strategic partners, including Health and Wellbeing Boards, Safeguarding Children
Partnerships and Community Safety Partnerships where necessary.
The purpose of this report is to:
Clarify and outline the processes adopted by the Merseyside CDOP
Assure the Child Death Review Partners and stakeholders that there is an effective inter-agency system for reviewing child deaths across Merseyside, which meets national guidance
Provide an overview of information on trends and patterns in child deaths reviewed across Merseyside during the last reporting year (2021/22)
Highlight issues arising from the child deaths reviewed
Report on achievements and progress from last year's annual report
Make recommendations to agencies and professionals involved in children's health, wellbeing and safeguarding across Merseyside
The following summary information for Wirral was drawn from the Merseyside Annual Report for 2021-22.
Wirral Summary
12 deaths reviewed
• 58.3% of deaths reviewed during 2021/22 were completed within 12 months [69.2%]
• 71% of deaths were expected [42.9%]
• 83.3% of deaths were children under 1 year of age [53.8%]
• 33.3% of deaths had modifiable factors identified [23.1%]
Most prevalent modifiable factors included: Neglect; Unsafe Sleeping; Housing/home conditions
Number of Deaths
During the reporting period 1st April 2021 to 31st March 2022, 104 child deaths were notified to CDOP across the five Merseyside Local Authority areas (See chart below) for the Isle of Man (IoM). This is an 18% increase on the previous year.
15 deaths were of Wirral children (10 male, 5 female) – this is an increase of one compared with 2020-21.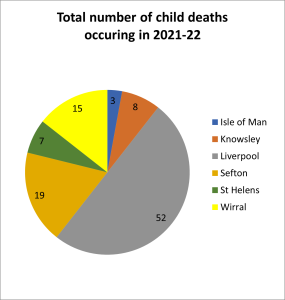 The "heat map" below shows the relative locations of all notified deaths throughout Merseyside 2021-22, and the areas of greatest concentrations. For Wirral it can be seen that the vast majority of child deaths occured in the eastern part of the borough, where the population is highest.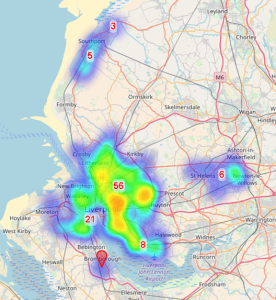 Rate of Deaths
The graph below shows the rates of death for the under 18 population across the 5 Merseyside areas over the past three years. The graph shows the number of deaths per 10,000 of the population, and that for Wirral the figure is the second lowest, varying between 2 and 2.6 deaths per 10,000.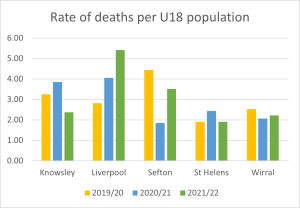 Categories of Death
The majority of all deaths (67%) had a cause associated with chromosomal, genetic, congenital anomaly or as a result perinatal/neonatal event, and 72.5% of all deaths occurring under the age of one year. A breakdown of the categories of death by area is shown below: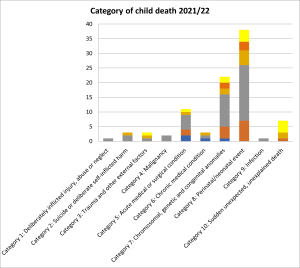 In Wirral the main categories of death were:
perinatal or neonatal event (this is the biggest category in Merseyside
sudden unexpected or unexplained death
genetic and congenital abnormalities
acute medical or surgical condition
trauma or other external factor
Causes of Child Death
The causes of deaths by LA area is shown on the chart below. The chart shows that neonatal deaths, sudden unexpected death in infancy and known life limiting conditions were the causes of the deaths of Wirral children.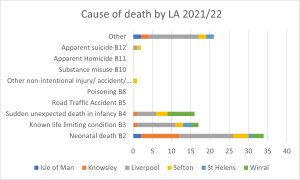 Modifiable Factors
A modifiable factor is one which may have contributed to the death of the child and which, by means of locally or nationally achievable interventions, could be modified to reduce the risk of future child deaths.
The proportion of child deaths where modifiable factors were identified is shown in the chart below: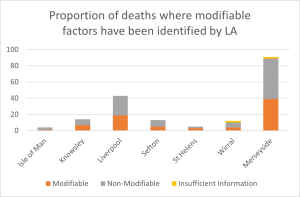 44% of cases reviewed at CDOP had modifiable factors identified. This is slightly higher than the national average of 27%. The chart below illustrates what the modifiable factors were by LA area.
In Wirral the most common modifiable factor was neglect, followed by poor home conditions and unsafe sleeping. Interestingly, the three most common modifiable factors identified across Merseyside were either not features in Wirral, or only a feature in one case.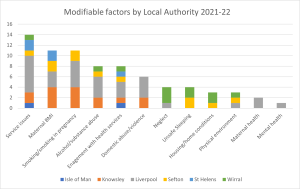 Achievements during 2021-22
Improve the quality and frequency of analysis forms from CDRM (Child Death Review) meetings. Both the quality and content of feedback from CDRM meetings has improved since covid pressures began to ease, and in particular the numbers of analysis forms being received. There is still, however, much room for improvement. Merseyside is not an outlier as other CDOPs have found it challenging to ensure all relevant parties are involved and contribute
Re-evaluate the role of virtually held panels and meetings following the covid pandemic. Whilst there were a mixture of views from various professionals, panel and business meetings have reverted to face to face meetings. The group will continue to keep this under review
Provide assurance that multi-agency partner strategies are in place to address modifiable factors. A communication has been sent to all Chairs of the Health and Wellbeing Boards and Children's Safeguarding Partnerships requesting a clarification of what assurance they will be seeking to ensure that there is a coordinated strategic approach to addressing:
o Smoking in pregnancy and at the time of delivery (SATOD)
o Substance misuse
o Issues relating to high or low Body Mass Index (BMI) before pregnancy
o Alcohol misuse
o Unsafe sleeping
Improve information provision from GPs. There has been an improvement in information being provided by GPs, although it recognised there is still a long way to go. Merseyside CDOP is not an outlier as many CDOPs up and down the country recognise this as an ongoing issue
Develop use of the Sentinel system for Isle of Man participants. There have been personnel changes in IoM, and still needs to be developed.In addition, CDOP has:
✓ Managed and maintained oversight of the Child Death Review processes during major disruption to services due to the global Covid 19 pandemic
✓ Engaged with other CDOPs across the NW and nationally, and sharing good practice e.g. Safe sleep messaging, preventing shaking baby (ICON)
✓ Circulated good practice, learning and tools across Merseyside e.g. seven minute briefings including new partners
✓ Ensured that exceptional care is recognised by writing to providers where care has gone beyond that which might be expected.
✓ Supported Trusts in developing robust child death review meetings (e.g. Perinatal mortality; hospital mortality; etc) to inform the CDOP process in a standardised/ structured manner
✓ Continued to collect data for Adverse Childhood Experiences (ACEs), and analyze patterns and links between ACEs and child deaths
 Priorities for 2022-23
✓ Review the current processes with a purpose of identifying areas of improving effectiveness and efficiency
✓ Improve the quality and frequency of analysis forms from CDRM meetings
✓ Re-evaluate the role of virtually held panels and meetings following the covid pandemic
✓ Provide assurance that multi-agency partner strategies are in place to address modifiable factors
✓ Improve information provision from GPs
✓ Develop use of the Sentinel system for Isle of Man participants
✓ Re-establish a lay representative to panel meetings
✓ Undertake a review of the CDOP and CDR arrangements, including appointment and development of a new CDOP Manager following retirement of existing staff
Further and more detailed information about CDOP can be found in the 2021-22 annual report, and on the WSCP's CDOP webpage.
---
Local Authority Designated Officer for Allegations (LADO) – Summary Report
Local authorities are required to have a designated officer for allegations against professionals (the role can be undertaken by an individual or between a team) in accordance with Working Together 2018.  In Wirral the LADO role is fulfilled by an individual officer.
The LADO is responsible for the management and oversight of individual cases whereby an allegations is made against an adult who works with children in a position of power and trust within regulated activities, both paid and within a voluntary capacity. An allegation may relate to a person who works with children in regulated activity who has
behaved in a way that has harmed a child, or may have harmed a child;
possibly committed a criminal offence against or related to a child; or
behaved towards a child or children in a way that indicates they may pose a risk of harm to children.
behaved or may have behaved in a way that indicates they may not be suitable to work with children
All allegations must be referred through to the LADO within 24 hours of identification, however immediate/interim safeguarding measures should be actioned as a priority, to include contact with Merseyside Police if there is suspicion a crime may have been committed against a child. Agencies and professionals must always follow their safeguarding procedures at all times.
When the LADO is not available the Duty IRO or Managers within the unit act on behalf of the LADO to ensure there is no delay and maintain a level of independence required in exercising the role.
Following recommendations from a serious case review 'Scarlet', a new system has been implemented to ensure all referring agencies now complete a LADO referral form to ensure information is recorded effectively and defensible decisions can be tracked and recorded. This is in line with the Scarlet Action plan.
As with the Consultation process the LADO has ensured all open cases have an Initial Management of Allegations Meeting chaired by the LADO, a regular Review meeting and a Closure meeting.  All the meetings are chaired by the LADO and notes are taken by the LADO.  The LADO has recently been provided a minute taker to assist in this task.
The LADO is responsible for having oversight of any investigation and ensuring the relevant agencies are involved and that appropriate information is shared in a timely fashion. The LADO should provide clear advice and guidance to employers and voluntary organisations, liaising with the police and other agencies and monitor the progress of individual cases to ensure that they are dealt with in a consistent and timely manner, and in accordance with Data Protection and Human Rights requirements. (Human Rights Act 1998/Data Protection Act 2018).
Included below is a summary of the LADO Annual Report for 2021-22 as provided to the WSCP.
Contacts
Total number of Contacts 
No of referrals leading to multi-agency strategy meeting or discussion
Initial Consultation form: 159

Referral form: 140

Total: 299

           131
Initial Consultation forms are used as first contact on Wirral, to enable us to record all concerns. A multi-agency strategy meeting would only be held on referrals. The table below shows a breakdown of the agencies who referred to LADO during the reporting period of 2021/22. This is the number of referrals reported to the LADO by an agency, irrespective of where the individual works, e.g. parent attends local police station and accuses teacher of physical assault against her son. Police inform LADO of concern this would be recorded as a police referral. Head teacher speaks to LADO following conversation with child regarding a scout master, this is an education referral.
Referrals
The highest number of referrals were received from Education and Foster carers.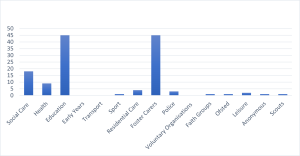 Categories of Abuse
There are four categories of abuse:
Physical Abuse, Sexual Abuse, Neglect and Emotional Harm. As you can see from the table below these are equally distributed throughout the year.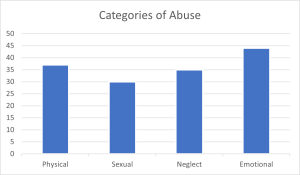 Low Level Concerns
A low-level concern is any concern that an adult working in a position of trust has acted in a way that is inappropriate, including inappropriate conduct outside of work. It is any concern that an adult may have acted in a way that:
• Is inconsistent with the staff code of conduct;
• Does not meet the allegations threshold to refer to the
Local Authority Designated Officer (LADO)
Creating a culture in which all concerns about adults are shared responsibly, with the right person, recorded and dealt with appropriately, is critical.
The WSCP has published guidance for agencies about identifying and responding to low level concerns which is summarised in the following 7 minute briefing: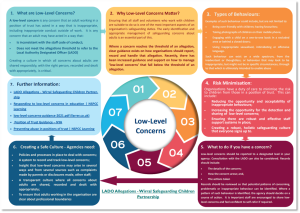 Concluding Cases
A total number of 79 cases were concluded/closed within the reporting period of 2021 /22 regardless of whether they were referred within that period or not. The conclusion date is the point at which there is no further action to be taken by the employer, social care, the police or courts regarding the allegation. 48 cases (60%) were concluded/closed within 3 months, 24 cases were concluded/closed between 3-12 months and 7 cases took over 12 months to conclude/ close. The cases which take the longest to conclude are often complex cases which have resulted in a police investigation. The LADO ensures that a full closure summary is completed before any case is closed.
There are a number of possible outcomes following a referral to LADO:
The allegation is malicious
The allegation is unsubstantiated
Possible Disciplinary measures for the employee
A police investigation
A police prosecution
It is important that the correct definitions are used when determining the outcomes.
Substantiated – there is sufficient evidence to prove the allegation
False – there is sufficient evidence to disprove the allegation
Malicious – there is clear evidence to prove there has been a deliberate act to deceive and the allegation is entirely false.
Unfounded – there is no evidence which supports the allegation being made.
Unsubstantiated – there is insufficient evidence to prove or disprove the allegation.
Out of the 79 cases that were concluded 38 (48%) were deemed to be substantiated, 19 (24%) were unfounded and 22 (27%) were unsubstantiated.
Procedure, Training and Further Information
The multi-agency procedure for managing allegations is published on the WSCP website here.
Managing Allegations training is provided by the WSCP and is available on the website here (registration required to access).
The WSCP Managing Allegations (LADO) webpage can be found here.
---
To go to the Introduction page click here
To go to the Background page click here
To go to the Journey of the Child page click here
To go to the Multi-agency Working page click here
To go to the Business Plan page click here
To go to the Glossary click here
To return to the Annual Report Home Page click here.