Section 11 and 175 Audit
What is Section 11/ 175?
The WSCB is the key statutory body for co-ordinating and ensuring the effectiveness of arrangements to safeguard and promote the welfare of all children in Wirral. It is the duty of the WSCB to hold agencies to account in terms of their safe-guarding arrangements and practices.
The WSCB uses a variety of ways to test the strength of safeguarding arrangements across agencies in Wirral but one of the key ways is by the use of an annual safeguarding audit called the Section 11 Audit (for agencies) and a biennial Section 175 Audit (for schools and colleges).
Section 11 was issued under the Children Act (2004) and has been reinforced in Working Together to Safeguard Children 2015. Section 11 places duties on a range of organisations and individuals to ensure their functions, and any services that they contract out to others, are discharged having regard to the need to safeguard and promote the welfare of children.
Section 11 places a duty on:
local authorities and any services they commission, and district councils that provide children's and other types of services, including children's and adult social care services, public health, housing, sport, culture and leisure services, licensing authorities and youth services;
Schools and colleges (under Sections 175 and 157 of the Education Act 2002).
NHS organisations, including the NHS Commissioning Board and clinical commissioning groups, NHS Trusts and NHS Foundation Trusts;
the police, including police and crime commissioners and the chief officer of each police force in England and the Mayor's Office for Policing and Crime in London;
the British Transport Police;
The UK Border Agency (and under Section 55 of the Borders, Citizenship and Immigration Act 2009)
Housing Authorities (and under Part 1 of the Housing Act 2004)
the Probation Service;
Governors/Directors of Prisons and Young Offender Institutions;
Directors of Secure Training Centres; and
Youth Offending Teams/Services (and under Section 38 of the Crime and Disorder Act 1998).
The advice of the WSCB for agencies is if you are delivering services in a position of trust directly or indirectly to children and young people you must complete the Section 11/ 175 safeguarding audit.
---
Findings and Learning from the 2016 Section 11/175 audit
This year, the Section 11 audit was completed online for the second time. Following feedback from agencies, the WSCB developed 4 variations of the two core audits (Section 11 and Section 175) to ensure that the questions were meaningful and appropriate for all organisations. These audits include versions for; Alternative Education Providers, Care Homes, Early Years Providers and Health providers.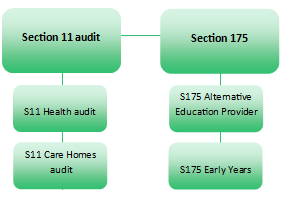 – 206 completed audits were returned which is an increase of 31% in comparison to last year.
– Overall, 84% of organisations who registered completed their audit by the deadline (last year, 81% of organisations who registered completed their audit)
– Last year, 96% of organisations who completed the audit met or exceeded the target grade (grade 3) and 4% (6 organisations) did not meet the target. The WSCB analysed these audits and found that 5 agencies had scored their answers lower than their evidence suggested. For example questions were graded as Grade 2 however their written response and attached    evidence supported the standard fully (Grade 4).
– The WSCB offered support to each of the organisations to discuss any weaknesses identified in their safeguarding arrangements. The WSCB supported the agencies to compile an action plan for their service and to access WSCB multi agency training.
– The WSCB met with an agency who had identified gaps in their safeguarding arrangements and provided support and advice in regards to staff training, tools for gaining views of children and where to find policies and procedures.  Following the meeting, the agency drafted an action plan which they updated as part of this year's audit. All of the actions  set last year have been fully completed.
– This year, 99% of organisations who completed the audit achieved an overall grade of 2 (highest possible grade). There were 2 agencies who did not achieve grade 2 and their identified weaknesses were: Safeguarding procedures, Safeguarding training, Managing allegations, Voice of children and young people
– The WSCB will make contact with these agencies and offer support to  develop an action plan for the forthcoming year including an offer of multi agency training. The agencies will be asked to update the WSCB in relation to progress made to the actions and to provide evidence.
– This year, the audits have revealed a universal commitment to safeguarding in Wirral and affirms that children are being appropriately safeguarded by agencies across the borough.
– There has been an increase in participation from agencies to the effect of 31% and almost every agency achieved the highest possible grade for their audit overall (99%). This is a positive result and an improvement in comparison to last year (96%).
The Section 11 extract from the Annual Report can be downloaded below: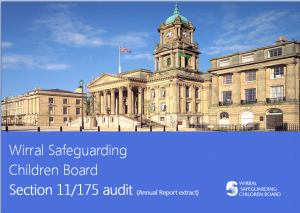 The poster below illustrates the key strengths identified in this year's audit.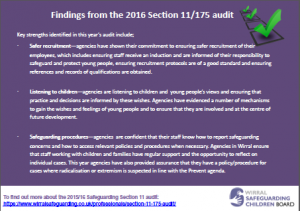 The poster below includes the learning from Section 11/175 audits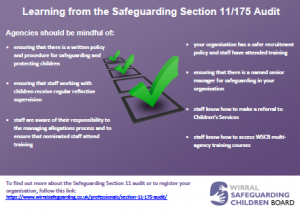 ---
Follow up and future development
99% of organisations who completed the audit achieved grade 2 (highest possible grade). There were only 2 agencies who did not achieve grade 2. Both of these agencies achieved grade 1 which is defined as 'the agency is working towards the standard/indicator'. The WSCB will make contact with these agencies to provide support with developing an action plan to address the weaknesses identified in their audit and will request that the WSCB is updated with the progress made to the actions throughout the year.
Staff from the WSCB including members from the Performance Committee are available to attend agencies forums and meetings to talk through the findings from individual audit reports and develop action plans. Performance Committee representatives will also have the opportunity to review any audits completed by agencies from their service area.
---
Changes in 2018
This year, the WSCB is developing a new model for Section 11 and 175 which will include smaller, more manageable audits throughout the year. We will contact all Section 11/175 users when this model has been agreed and is accessible.
The use of the existing audit tool located on the Virtual College system will cease on 31st March 2018, therefore the WSCB advises all agencies to save a copy of their audit before this date to avoid loss of work. We understand that agencies may be disappointed with the changes but we hope that the new model will make the audit activity more manageable going forward.
Users can follow the instructions below to save a copy of their audit:
To log into the audit system using your existing account details, please follow this link https://wirralscb.vc-enable.co.uk, if you cannot remember your password, please select 'forgotten password' and you will be sent a link to your e-mail address.
Select 'audits' and click on your most recent Section 11/175 audit.
Select the 'export' button at the top
You will then be given the option to save a summary version or a master report – we would advise to save a master copy as this will include any text you have entered into the audit template. The summary version will only include the grade.
You can select to include action tasks, which will include any actions you have inputted against your audit questions.
You can save your audit as a PDF or a word document – if there is a chance that you will need to copy and paste content from last year's audit into the new version – we suggest that you select a word document version
Select 'send report' to receive a copy to your e-mail address.
If you would like to save a separate copy of your Action Plan, you can do this by opening your audit and selecting 'Action Plan' and following the instructions to export a copy.
Please ensure that you save a copy before 31st March, we will be unable to recover any unsaved audits after this date.