Safeguarding in Schools and Colleges
COURSES FOR THE SPRING TERM ARE BELOW:
| | | | | |
| --- | --- | --- | --- | --- |
| Summer Term: | | | | |
| Training Course | Date | Venue | Spaces? | Times |
| Single Central Record Briefing | Wednesday 01 May 2019 | Sacred Heart Primary | Full | 1:00pm – 3:00pm |
| Single Central Record Briefing | Wednesday 22 May 2019 | Thingwall Primary | Full | 1:00pm – 3:00pm |
| Single Central Record Briefing | Wednesday 12 June 2019 | Lingham Primary | Full | 1:00pm – 3:00pm |
| Single Central Record Briefing | Tuesday 18 June 2019 | Holy Cross Primary | Spaces available | 1:00pm – 3:00pm |
| Designated Safeguarding Lead (Full Day) | Monday 17 June 2019 | Wallasey Town Hall | Spaces available | 9:30am – 4:30pm |
| Safer Recruitment (1/2 Day) | Monday 01 July 2019 | Wallasey Town Hall | Spaces available | 9:30am – 1:00pm |
| Whole Staff Safeguarding Training | Monday 08 July 2019 | Wallasey Town Hall | Spaces available | 9:00am – 12:00pm |
| Managing Allegations Training | TBC | Wallasey Town Hall | Spaces available | 09:30pm – 16:30pm |
To book onto the courses above, please click here:
Training and Support offer to schools, colleges and education establishments on Wirral:
Amanda Waterfall has been appointed by Wirral Safeguarding Children Board (WSCB) to offer a safeguarding training and support service.    For the last 3 1/2 years Amanda has been supporting the multi-agency training pool and has facilitated training courses such as Supporting Families, Enhancing Futures (SFEF), EHAT training, Train the Trainer and Working Together to Safeguarding Training courses.
BOOKING ONTO TRAINING:
The new website is now live and allows all providers to input their payment details at registration point and the guidance for which can be found here: WSCB Website Training Booking Guidance for Schools and Colleges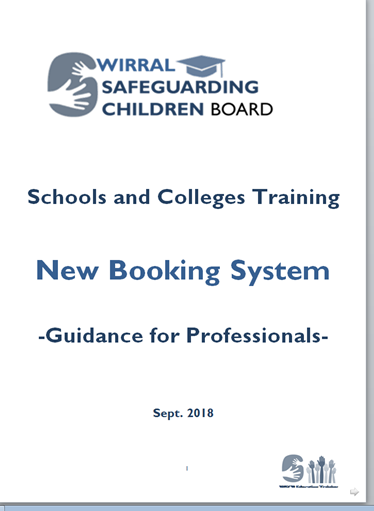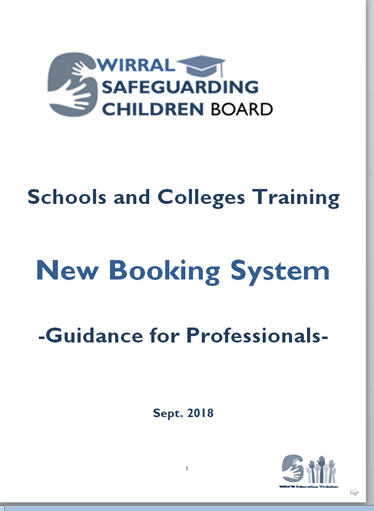 Training venues will be local and all training programmes have been validated by the Safeguarding Board.  Any bespoke requests will be considered and for further enquiries please contact: Amanda Waterfall
FEEDBACK FROM RECENT COURSES AND SESSIONS:
Designated Safeguarding Lead Training:
It has given me the tools that will provide confidence to trust judgements and report concerns
Better informed regarding pre-work referral e.g. Graded Care Profile
'Amanda is informative, approachable and just great!'
Really pleased with the breadth of knowledge and range of criteria discussed today, thank you!
As new to the role, I have come away confident to recognise and respond to disclosures
The knowledge of the trainer along with the ability to make you feel like nothing you asked was a silly question was great, really enjoyed it!'
Safer Recruitment:
A much clearer understanding of recruiting safely – thank you!
Excellent delivery and knowledge
Thorough training, that gave a good insight into policy and procedure, as well as best practice
A very interesting course and so relevant to my role
Clear and concise, excellent info, well presented
Use element to support safer recruitment processes
Whole Staff Safeguarding Training:
Great to be able to hear others views and share thoughts
Lovely trainer and great course with excellent information
The course has given me the confidence to carry out what we have learnt
The session has given me a strong understanding of how to refer into services
Brilliant to refresh my knowledge
Excellent trainer and fantastic update training
SAFEGUARDING:
Safeguarding and promoting the welfare of children is everyone's responsibility. Everyone who comes into contact with children and their families and carers has a role to play in safeguarding children. In order to fulfil this responsibility effectively, all professionals should make sure their approach is child-centred. This means that they should consider, at all times, what is in the best interests of the child.
Safeguarding and promoting the welfare of children is defined as: protecting children from maltreatment; preventing impairment of children's health or development; ensuring that children grow up in circumstances consistent with the provision of safe and effective care; and taking action to enable all children to have the best outcomes.
Schools and colleges have a key role in ensuring children and young people are kept safe. School and college staff are particularly important as they are in a position to identify concerns early, provide help for children, and prevent concerns from escalating.
All school and college staff have a responsibility to provide a safe environment in which children can learn. To lead the safeguarding function in schools and colleges each school and college has a designated safeguarding lead who will provide support to staff members to carry out their safeguarding duties and who will liaise closely with other services such as children's social care. Within each school and college there are responsibilities which apply to every member of staff and these include:
Identifying children who may require support from children's social care or from early help services
Knowing how to make a referral into the Multi-agency Safeguarding Hub (MASH) through the Integrated Front Door
Being familiar with the schools safeguarding/child protection policies and procedures and the code of conduct
Understanding the role of the designated safeguarding lead and knowing who they are and how to contact them.
Key Documents
There are two key statutory guidance documents for schools and colleges which detail their responsibilities to keep children and safe and to promote their welfare; Keeping Children safe in Education and Working Together to Safeguard Children. Both can be downloaded below:
Keeping Children Safe in Education -September 2018
Working_Together_to_Safeguard_Children  from August 2018
Also included below is a guidance document for safer working practices in schools published by the Safer Recruitment Consortium and recommended by the DfE.
Guidance for safer working practice for those working with children and young people
Safeguarding Policies and Procedures
The Wirral Safeguarding Children Board (WSCB) publishes a full set of multi-agency safeguarding policies and procedures which can be accessed here:  https://www.wirralsafeguarding.co.uk/procedures/
There is also useful information for schools on this website about what to do if you have concerns about a child, and guidance information for key safeguarding issues such as child sexual exploitation, domestic abuse, child abuse, radicalisation, e-safety, private fostering etc.
The WSCB publishes a model safeguarding policy for schools which they (and other agencies) can adapt for their own setting. The policy can be downloaded below:
Model-Safeguarding-Policy-2018-19v2
Model-Safeguarding-Policy-Appendix-2018-19v2
Working with schools the WSCB has also developed  a Safeguarding Reflection document which can form the basis of reflection sessions for staff who routinely attend child protection, child in need or team around the family multi-agency meetings. The document can be downloaded below:
wscb-safeguarding-reflection-guidance-for-schools
Schools Model Drug Policy – Barnardos have developed a model policy regarding drugs to be adapted and can be accessed below:
Wirral Schools Drug Policy Template_
The WSCB has developed a Visitors to Schools guidance document for schools which you may want to adopt/modify:
Section 175 Safeguarding Audit
Schools and colleges have a statutory duty under Working Together to Safeguard Children and Section 175 of the Education Act (2002) to provide assurance to the WSCB about arrangements to safeguard and promote the welfare of children. Assurance is primarily provided through completion of the annual Section 175 safeguarding audit which is completed online. More information and details of how to register are available here:
https://www.wirralsafeguarding.co.uk/professionals/section-11-175-audit/
Safeguarding Training
The WSCB offers a programme of multi-agency safeguarding training which schools can access. The Board also offers a suite of bespoke safeguarding training courses for schools.  Details of the training and how to book can be found on the website HERE