Early Help and Support for Families
Introduction
Early help means taking action to support a child, young person or their family as soon as a problem emerges.
It can be required at any stage in a child's life, from pre-birth to adolescence, and applies to any problem or need that the family can't deal with alone. Early help can lead to better outcomes for children, prevent problems escalating or overwhelming families, to ensure all of their needs are met so they can flourish
A Guide to Early Help and Prevention which sets out the services and pathways is available here: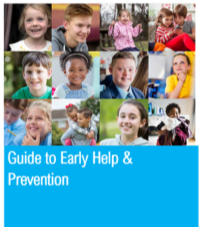 Early Help on-a-page single sided poster is available here: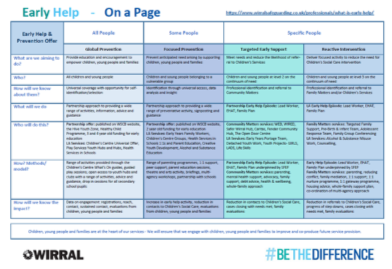 The Early Help pathway flowchart is shown on a single sided poster here: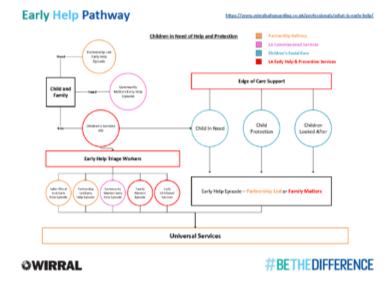 An Early Help 7 Minute Briefing can also be downloaded here: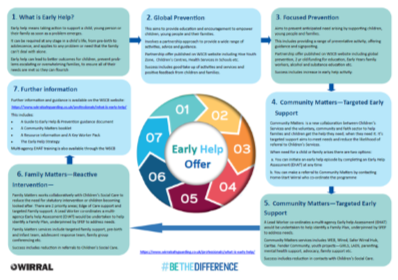 Community Matters
Wirral Council's Early Help and Prevention Service have commissioned the help of community organisations to deliver an early help service to families across Wirral who need it most.
The Community Matters partnership is a new way of working to help families and children get the services they need, when they need them.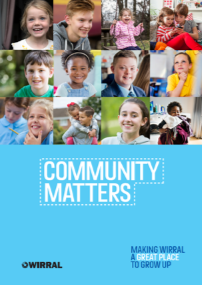 You can find out more information about Community Matters and which organisations are included in the Community Matters booklet with more information about the service.
Professionals identifying the need for a level 2 or 3 intervention should undertake an EHAT assessment and initiate a Family Plan or if a multi-agency response is required engage a 'Team Around the Family' to enable support to be provided. Having completed the EHAT and subsequent family plans the Key Worker or Lead Professional should submit the document to: [email protected] . The EHAT will be stored securely on the Early Help Module (EHM) of the children's system and outcomes from the intervention recorded.
If the professional identifying the level 2/ 3 need is not able, or not appropriately placed to undertake the EHAT they should submit an Early Help Request for Services form to the Early Help team at [email protected], indicating the need for a level 2/3 intervention. The referral should always be discussed with the child, young person and family, with their consent clearly indicated on the form.
*Please note that the GCSX email address is no longer in use and emails will be rejected. Emails for the Early Help Team should be sent to [email protected] *
Family Matters
Family Matters works collaboratively with Children's Social Care to reduce the need for statutory intervention or children becoming looked after. There are 2 priority areas; Edge of Care support and targeted Family support. A Lead Worker co-ordinates a multi-agency Early Help Assessment (EHAT) would be undertaken to help identify a Family Plan, underpinned by SFEF to address needs.
Family Matters services include targeted family support, pre-birth and infant team, adolescent response team, family group conferencing etc
Parenting Provision
Useful courses and support for parents and families, updated July 2019: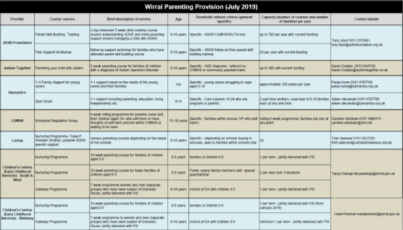 Working Together to Reduce the Impact of Parental Conflict on Wirral Children and Young People
An invitation was extended from Elizabeth Hartley – Assistant Director: Early Help and Prevention, Children's Services, to all senior leaders, managers, and team leaders from across the wider partnership to attend an event at Floral Pavilion on Tuesday 9th July.
Councillor Tom Usher, Lead Member for Children, Families and Education attended the event, keen to lend his support to this agenda which aimed to provide an opportunity to come together and consider how and why we might need to consider the effects of Parental Conflict upon children and young people, and 93 delegates from a wide range of organisations responded by attending….THANK YOU TO YOU ALL!
Please click here for more information, photos and resources from the day.
A number of training events for Reducing Parental Conflict have now been added to the training. To access the calendar and book on click here
Resources for professionals
If you're a professional you can find dedicated resources that could help you in your work below: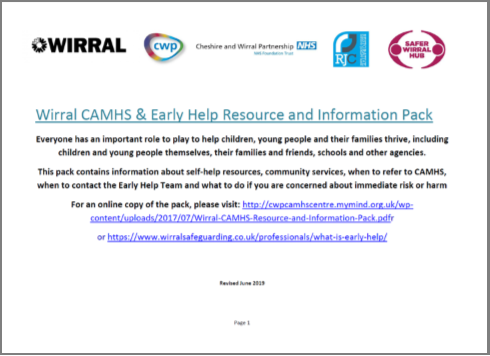 CAMHS-Early Help Resource Information Pack Nov 19 details Early Help services available to children, young people and their families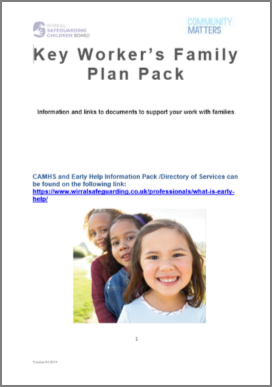 Key Worker Family Plan pack Apr 2019 – information and tools to support your work with children, young people and their families
A series of themed networking events and meetings will be held for practitioners and organisations to inform professionals about services available to support children, young people and their families in Wirral.
VCF Link Forum meetings will be held monthly for those working in voluntary, community and faith organisations to share information and work in partnership.
Home School Link Worker Forum meetings will be held on a termly basis for family liaison, or equivalent, staff in schools.
For more information on these networks and meetings please click here.
Useful links
Wirral's Local offer – providing information and support for children and young people with special educational needs and disabilities.
Multi-Agency Thresholds – details the 4 levels of need against which the needs of an individual child or young person can be assessed
My Child Can – a local authority Facebook page to promote activities for children and young people, offer and signpost to helpful advice, national campaigns and partner activities
Teen Wirral – a website for young people to find information and advice, along with details of local activities
Information and Assessment Tools for Graded Care Profile, Home Conditions, Child Exploitation, Domestic Violence, Barnardo's Domestic Violence Risk Identification and the Brook Traffic Light Tool can be found on the following page: https://www.wirralsafeguarding.co.uk/tools-for-professionals/
Information regarding Supporting Families Enhancing Futures (SFEF) can be found on the following page: https://www.wirralsafeguarding.co.uk/professionals/supporting-families-enhancing-futures/
Early Help and Prevention Annual Report
The Early Help and Prevention Annual Report for 2018 is available to view HERE
Early Help Strategy
Early Help is everybody's responsibility: together we will make sure that children, young people and their families are safe, happy and ready for school, work and life's challenges.
Early Help means better outcomes for children and families. Effective Early Help will resolve problems before they become overwhelming and require high cost, reactive services. Early Help enables children to be ready for school and more likely to achieve their full potential.
The purpose of the multi-agency strategy is to ensure that young people who require help are provided with the right support at the earliest opportunity to secure positive outcomes for them and their families. The strategy for 2019-2021 is published below