Early Help and Support for Families
Introduction
Early Help means taking action to support a child, young person or their family as soon as a problem emerges. It can be required at any stage in a child's life, from pre-birth to adolescence, and applies to any problem or need that the family can't deal with alone.
Early Help means better outcomes for children and families. Effective Early Help will resolve problems before they become overwhelming and require high cost, reactive services. Early Help enables children to be ready for school and more likely to achieve their full potential.
Wirral has developed a multi-agency strategy for 2019-2021 to ensure that children and young people who require help are provided with the right support at the earliest opportunity to secure positive outcomes for them and their families.
Family Toolbox – tips and tools for family life in Wirral
Our Guide to Early Help & Prevention sets out the services and pathways that are available.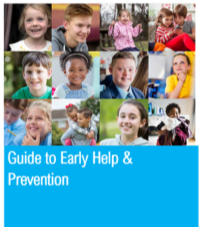 The latest Early Help and Prevention Annual Report is available to view here.
Early Help is everybody's responsibility: together we will make sure that children, young people and their families are safe, happy and ready for school, work and life's challenges.
When a family identifies that they need some help, support or guidance, professionals may want to support that family to think through what support is available to them that they can access both online and in their local community.
To help families and professionals to identify early and self-help resources, a range of resources are available via the links below:
The Early Help Assessment Tool (EHAT) allows professionals to identify the key support needed within a family and signpost appropriately.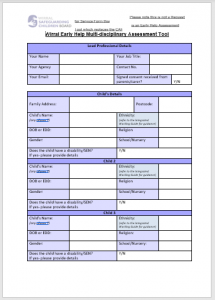 Family Toolbox – a free online hub that supports Wirral parents and carers to be the best they can be.
Wirral Sandbox – an expanding risk assessment and service directory tool for anyone working with young people.
Zillo Wirral – a website for young people to get the lowdown on the latest events, arts, culture, news and expert health and wellbeing advice.
Wirral's Local Offer – providing information and support for children and young people with special educational needs and disabilities.
My Child Can – a local authority Facebook page to promote activities for children and young people, offer and signpost to helpful advice, national campaigns and partner activities
Family Information Service – childcare advice and support 

It's Never OK – help, support and advice for victims and survivors of domestic abuse
Family Matters
Family Matters are an early help service that supports families with children aged 0-19 years. Each individual family's identified needs are supported by a keyworker who works alongside children, young people and their families.
There are four teams in the Family Matters service:
Pre-birth & Infant Team-They provide support for families with children aged 0-1year.
Adolescent Response Team-They provide support for families with children and young people aged 11-18 years.
Targeted Family Support Team-They provide support for families with children and young people aged 0-19 years.
Family Group Conference Team-They provide support to children, young people and their families. A Family Group Conference consists of, Private Family Time and they encourage children and young people to take part in the decisions that directly affect them.
All the teams offer bespoke support to families and their individual needs. Family Matters works with the whole family, offering support, advice and guidance, parenting support and innovative approaches to best support your family to make sustainable changes. We work closely with many different agencies to ensure that families have the most appropriate support.
Please also see the Family Matters page for families. The page contains a lot of helpful information, videos and the Family Matters Newsletters. The page can be accessed here: https://www.wirralsafeguarding.co.uk/family-matters/
Learning and Development Opportunities 
For professionals supporting families in Early Help
Multi-Agency Thresholds – details the 4 levels of need against which the needs of an individual child or young person can be assessed
Multi-agency training – delivered by a pool of multi-agency trainers
Reducing Parental Conflict – information about the work going on in Wirral and how you can get involved in the RPC Steering Group