Annual Report 2022 – Journey of the Child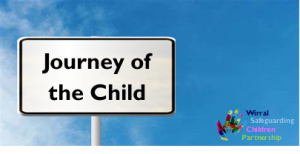 In this section:
Early Help
Child in Need
Child Protection
Children Looked After
Performance Information
Early Help
2022 saw the successful completion of the transition from the Community Matters programme to the Early Help Alliance, moving from a local authority-led to third sector-led approach, and establishing the first alliance in the country for children's services. The Early Help Alliance brings together 7 third sector organisations and their existing delivery methods to support children and their families. Since its launch over 6,000 people have been supported.
The Alliance is supported by the Family Toolbox which has proven a very useful and popular tool for families to be able to identify support for themselves. A local parent made this comment about the toolbox:
"It's great to have something all in one place, that I can go to when I am struggling with being a parent. As dads we are often forgotten about, and it's so good that I can have a look at what is out there to help me if and when I may need it." Parent
The Early years strategy continues to be delivered in partnership with 0-19 Health Services and third sector organisations Koala NW and Foundation Years Trust. Children's Centre's are at the heart of the Best Start for Life Offer with 3 hubs and 8 outreach venues. Success of the strategy is illustrated in the statistic that  the Children's Centre registration rate for under 5s has increased from 81% in Q1 2019-20 to 92% in Q1 2022-23.
Youth Matters launched the Nine Neighbourhood Youth Offer at the 'Youth Spaces Party in the Park' on the Saturday 25th June. At the launch event over 1000 children, young people and their families joined in the celebrations and community partners joined the day to have the opportunity to display and their services for young people. Since the launch there has been a 30% increase in membership.
The Spring HAF programme engaged with 223 unique children and young people, providing 28 sessions, and the Summer programme engaged with 357 unique children and young people, providing 48 sessions.
ZILLO, our website for young people, launched in October 2021 and to date has been visited by 73,059 individuals with currently 63.45% of visitors coming from Wirral and Merseyside.
Health Services In Schools Youth Workers (HSIS) have delivered 1,364 interventions to 507 unique individuals aged 11-19 in Wirral schools and colleges.
Café Create opened as the crisis café for young people, funded by the CCG to reduce admissions for young people with poor mental health. Counselling is available 7 days per week, with access to counsellors and youth workers via the café. To date 411 counselling sessions have been delivered.
Youth Workers have supported wider professional network by producing Sandbox an issues-based website for professionals working with young people, hosting a Young People and Drug Use Post-Covid event attended by over 100 multi-agency professionals, and embedding Wirral Youth Collective, which now has 174 members groups
'Children and families in the Wirral are benefiting from a broad and generally well coordinated range of family support and early help services that make a positive difference to their lives'
JTAI Early Help Inspection December 2022
Cradle to Career, the place-based programme for families in North Birkenhead has worked with 3,527 residents in its second year of delivery, an increase of 1,561 on year 1. The programme seeks to work differently with residents and communities, and in year 2 this saw 1,494 parents, carers and residents participate in training.
Cradle to Career has introduced a cross-school data sharing platform for demographics, attendance, behaviour, attainment and assessments, enabling targeted support in school to be complemented by wrap around support from the multi-disciplinary family team.
The Pause programme has 17 women fully open to the programme, who have had a total of 60 children removed from their care.
The Breaking the Cycle programme, which includes both Pause and Cradle to Career, has focused on system change, working with the University of Chester to audit 25 organisational settings as part of an ambition to become a trauma-informed borough.
2022 saw the opening of the community-based Domestic Abuse Hub for victims and survivors of domestic abuse (adults and children). The Hub brings together local authority teams, IDVA service, and third sector partners. The hub provides direct support for domestic abuse and wrap-around services for all levels of risk.
Early Help also delivered phase 1 of the healthy relationships project, Brighter, Kinder Futures, reaching 550 primary school children, 1,270 secondary school children, and 538 young people in Further Education. The project was supplemented with a Healthy Relationships app, which during the year has been downloaded 652 times.
Our response to working with perpetrators of domestic abuse has been strengthened by the delivery of the Caring Dads programme with third sector agencies. In the last twelve months 47 men have accessed the programme with 53 associated victim/survivors and 126 children and young people.
The Drive programme continues to be delivered for  high risk/high harm perpetrators with 84 perpetrators having completed the programme in the last 12 months. Those perpetrators are associated with 103 victim/survivors and 229 children and young people.
2022 saw the development and publication of our co-produced Violence Against Women and Girls strategy (VAWG)
Early Help and Prevention Contacts and Assessments

The chart below illustrates the demand for Early Help Services by month from the start of the financial year until 31st December 2022. These numbers illustrate individual contacts.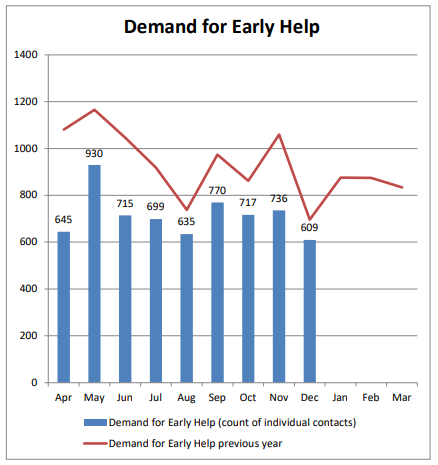 Family Matters, our targeted level 3 service, has completed 473 early help assessments, co-produced 2,401 family plans, and had 784 families graduate, with 77% of those graduates requiring no further support from Children's Services.
As shown in the graph above, demand of Early Help services  decreased during 2022 however this year has seen consistency with achieved outcomes upon closure. As shown in the graph below, closures with outcomes met in December were 90%. When we introduced the Early Help Alliance and Family toolbox this has meant that more people can directly access services rather than coming through Children's Services. A decrease in contacts doesn't reflect the overall increase in early help activity.
'Leadership and healthy challenge have enabled the partnership to develop a strong and effective early help offer to children and their families. The partnership has a strong, shared, and often innovative, vision for early help'
JTAI Early Help Inspection December 2022
In April 2022, Wirral Council commissioned an Early Help Alliance to provide community-led earliest help. The Early Help Alliance offer is threshold-free, referral-free and designed to support families in the community without the need for Children's Services involvement. In the first 6-months of operation, the Early Help Alliance have supported over 4,000 individuals, without the need for a referral to Children's Services. Early Help activity, led by community organisations is increasing, and reducing the need for statutory involvement.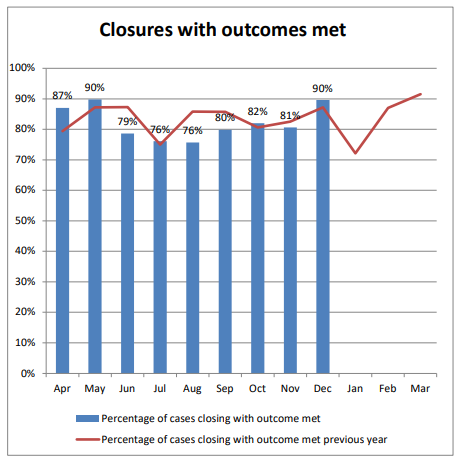 'Parents described practitioners as 'a magic key' to achieving improvements in their children's lived experiences. They feel that practitioners are invested in them and show genuine warmth and care'
JTAI Early Help Inspection December 2022
---
Children's Social Care
We have worked at pace following the remobilisation post Covid. Services at the Integrated Front Door have been streamlined to enable partners to respond and identify the correct support in a timely manner. 11,899 contacts from October 21-October 22- with 75% Responded to within 24 hours.
Contacts and Referrals

Between April and December 2022, Wirral's Integrated Front Door received a total of 9250 contacts compared to 7859 during the same period in 2021.
Wirral has continued to receive a very high number of contacts,  however the number did fall in December 2022.
The chart below illustrates the number of contacts received by month during 2022.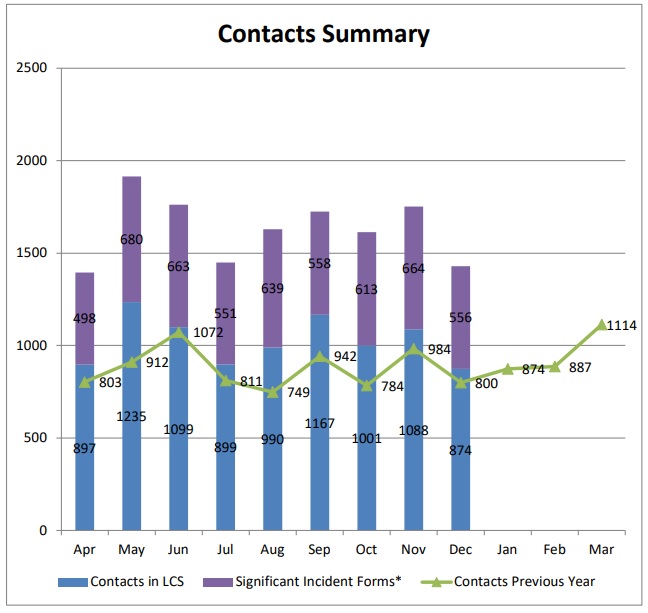 The number of contacts in December 2022 decreased by 19% compared to November 2022 (1088 to 874), however YTD contact figures shows a 18% increase compared to December 2021. Along with the decrease in the number of contacts, the number of referrals has also decreased from 341 to 251 (-26%).
Even though more contacts have come into the IFD compared to last year, YTD referral numbers at end of December are very similar to the previous two years. Rate of referrals per 10,000 (486) is well below statistical neighbours (576), North West (548) and national (538).
The most common reason for contact during this period was domestic abuse, followed by neglect and physical abuse. The Police are the main source of contacts (3108 during April – December).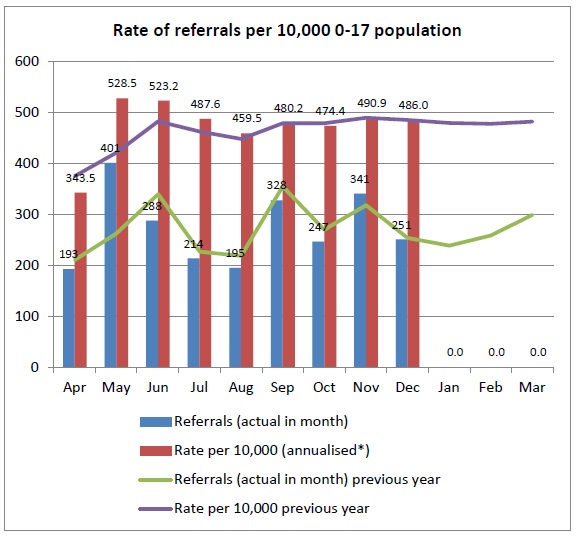 The percentage of re-referrals (13%) has seen a large decrease in December 2022 on the previous month (25.8%). Year to date (YTD) shows just over a quarter of all referrals are repeat referrals and this was at 19.9% last year – although last year may be an outlier, as the percentage of re-referrals in the previous two years was around 26%. This Key Performance Indicator (KPI) is firmly red and high compared to the statistical neighbours target range of 19.1% – 21.5%. Wirral is also noticing an increase in the number of complex cases or families requiring more intensive support.
Child in Need
At the end of December, the Child in need (CiN) figure (all children with an open referral, including care leavers) was 2634, compared to 2689 for the same period in 2021.
The CiN rate (390.6) still places Wirral in line with statistical neighbours. The graph below shows the rate of CiN per 10,000 of the population in Wirral.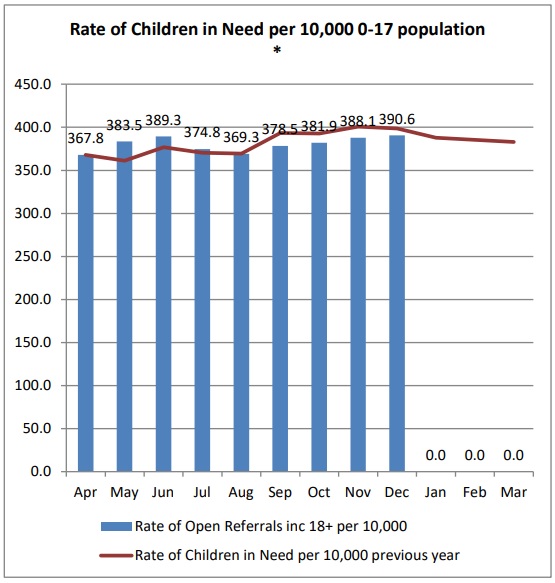 Child Protection
At the end of December 2022, there were a total of 380 children subject to a Child Protection (CP) plan compared to 392 at the same period in 2021.
CP numbers have decreased slightly from 383 to 380 and have remained below 400 since February 2022. Number of CP starters has decreased to 24 which is the lowest level since
July 2022 (21). The average number of starters for the year is 35 compared to last year's average of 40.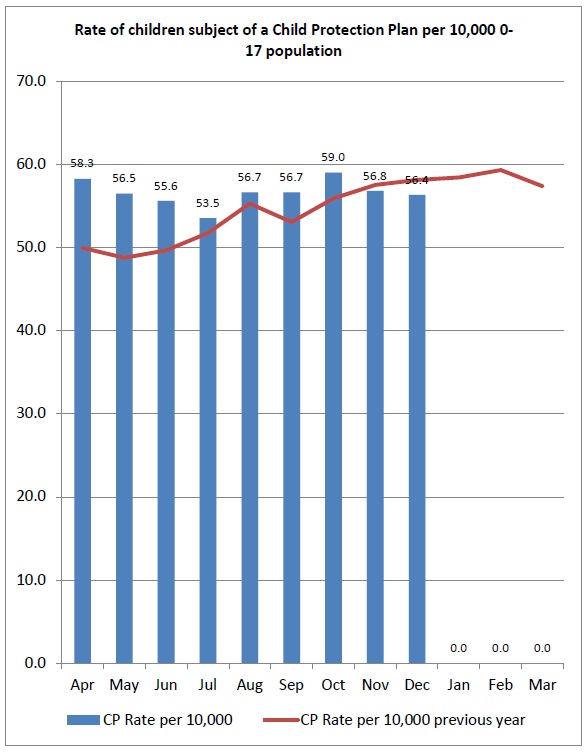 Of the 24 children who started on a CP plan in December, 14 had been on a plan previously and 7 of those had been an a previous plan within the last two years.
The repeat CP% figure of 58.3% in December was the highest rate this fiscal year.
The table below illustrates the number of children who have been subject to a Child Protection plan for a second or subsequent time.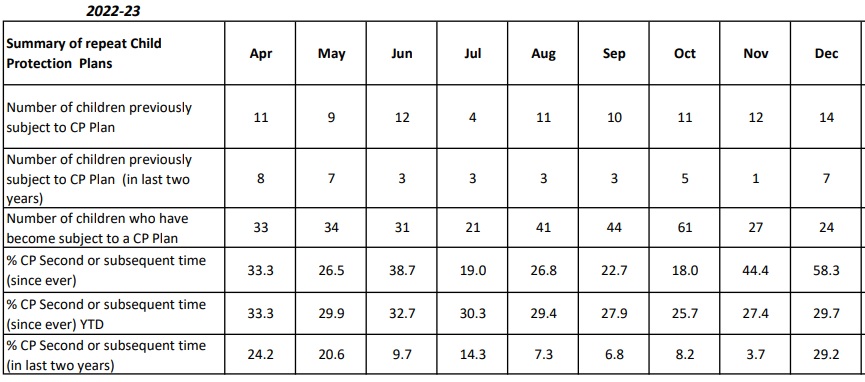 Good performance is indicated by a low percentage of children subject to repeat CP plans. However, it is important that the context for a repeat plan for an individual child is understood. Repeat plans can be appropriate if there has been a substantial change to the child's circumstances that have led to a new plan of protection.
Children Looked After
The number of children looked after  (CLA) has increased from 795 to 809; October 2021 was the last time the CLA numbers exceeded 800. 11 children became looked after in December.
The chart below shows the rate of looked after children per 10,000 of the population. Wirral's CLA numbers are above the target range and statistical neighbours.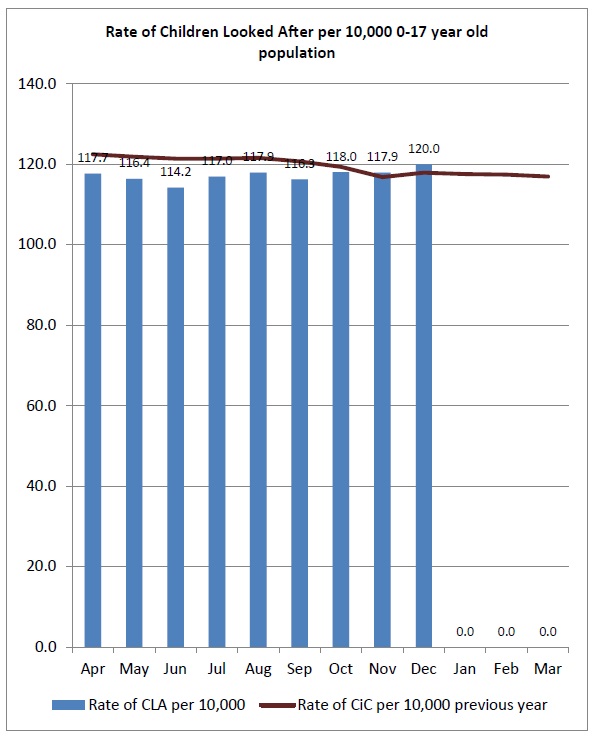 ---
To go to the Introduction page click here
To go to the Background page click here
To go to the Key Activity page click here
To go to the Multi-agency Working page click here
To go to the Business Plan page click here
To return to the Annual Report Home Page click here.