Case Reviews
Professionals and organisations protecting children need to reflect on the quality of their services. When things go wrong there needs to be a thorough analysis of what happened and why.
It's important that lessons can be learnt and services improved to reduce the risk of future harm to children. When a child has been seriously harmed or died, and abuse or neglect is suspected or known to have happened, and there are concerns about the way agencies worked together, then the Wirral Safeguarding Children Partnership (WSCP) will undertake a Serious Case Review (SCR) (as defined in Working Together to Safeguard Children 2015). From September 2019 these will be called Child Safeguarding Practice Reviews (CSPR's) in line with Working Together 2018.
Findings and recommendations from SCR's and CSPR's will usually be published in full in a report, which will be publicly available on this website. The purpose of SCRs and CSPR's is to learn from what happened in individual cases so that future tragedies can be prevented.
Further information about how the WSCP undertakes statutory reviews and local learning reviews can be found here: https://www.wirralsafeguarding.co.uk/professionals/learning-and-improvement/
Chronologies
When deciding whether to initiate a statutory review, the WSCP will always gather together chronologies of involvement by individual agencies. The WSCP publishes guidance documents to help with completing chronologies:
Chronology Guidance for Agencies
Rapid Review Chronology Guidance for Agencies
Learning from National and Local SCR's/ CSPR's and Learning Reviews
The Child Safeguarding Practice Review Panel are an independent panel who oversee the statutory case review process. The panel publish both an Annual Review of all case reviews completed but also commissions reviews of national significance. The first of these reviews, about safeguarding children at risk from criminal exploitation – It was Hard to Escape, was published in March 2020 followed by a review of sudden unexpected cases in infancy where children were at risk of significant harm. The reports are available below.
Safeguarding Review Panel Annual Report 2018-19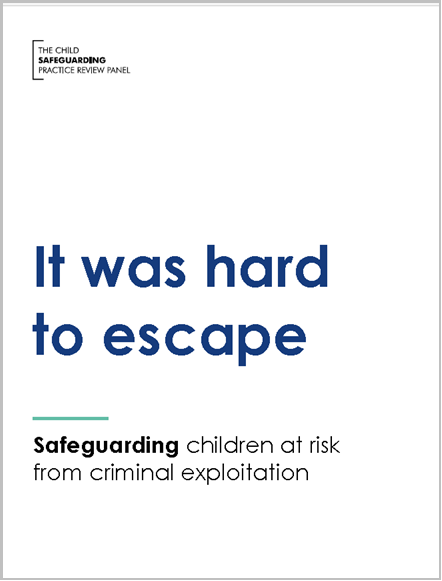 It was hard to escape 7 Minute Briefing: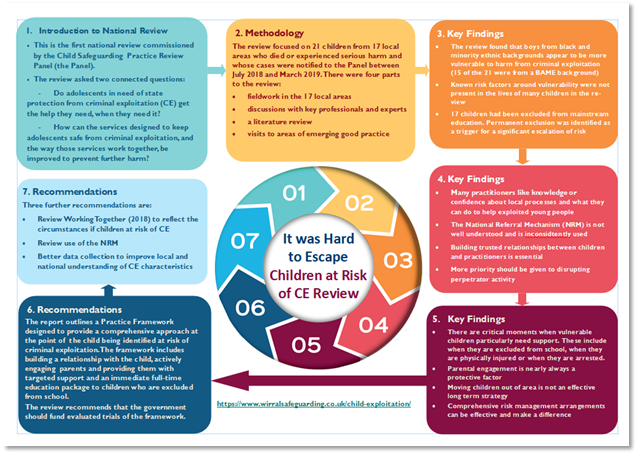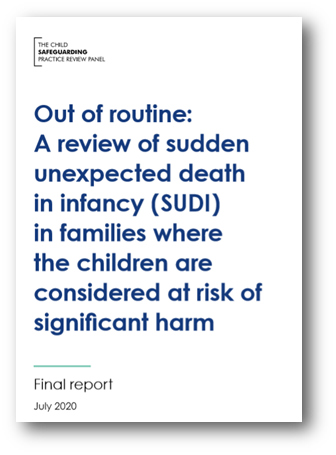 SUDI Review 7 Minute Briefing: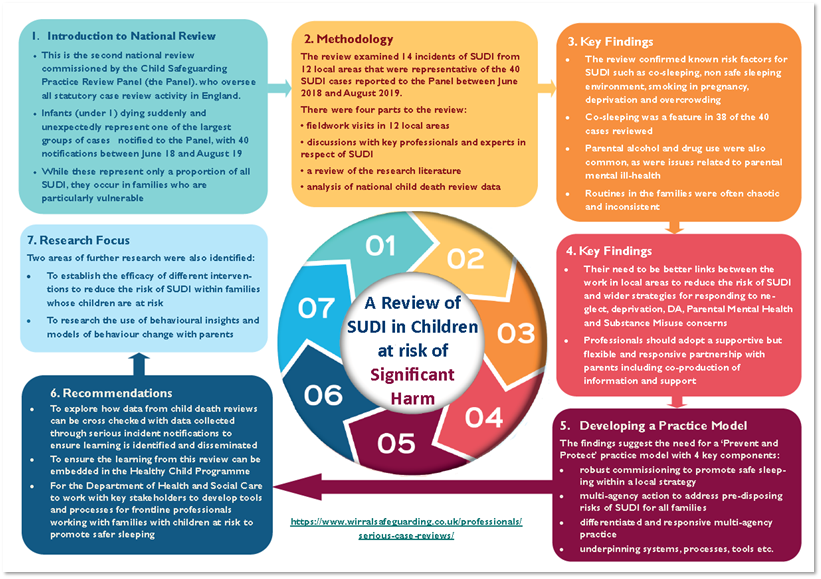 The next National Review is about Non-accidental injury in children under 1. The review and 7 minute briefing will be published here in the autumn.
Learning from Case Reviews
The NSPCC has published a briefing based on case reviews published since 2019 where children experienced domestic abuse. The briefing summarises and highlights the learning contained in the published reports, and can be accessed by clicking the image below: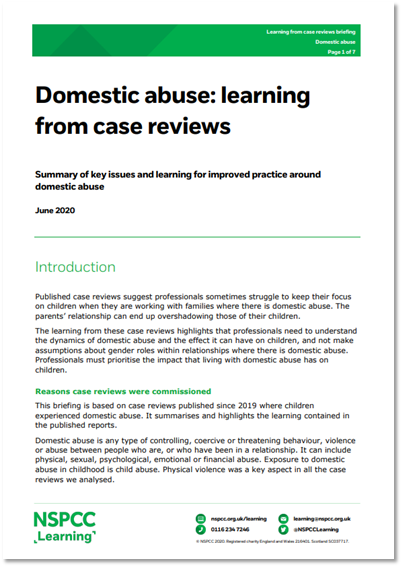 Learning from local case reviews (2016-21)
The briefing below details the findings, themes and recommendations from 14 reviews undertaken by the WSCP between 2016 and 2021.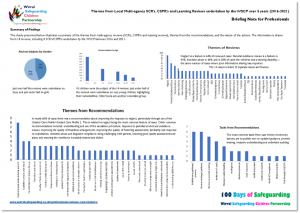 Wirral Serious Case and Child Safeguarding Practice Reviews
Child 'Scarlet' Child Safeguarding Practice Review 
This review was published on the 30th July 2021. This case centres on the multi-agency response to a child who made allegations of sexual assault against foster carers. The review highlights the complexities of cases which are considered by the Courts, the lengthy timescales involved, and how agencies supports a child if Courts do not proceed with a prosecution.
Seven recommendations were made, and all will now be actioned by the WSCP and its partners.
As well as the full report, also published is an Executive Summary, a 7 Minute Briefing and a learning poster.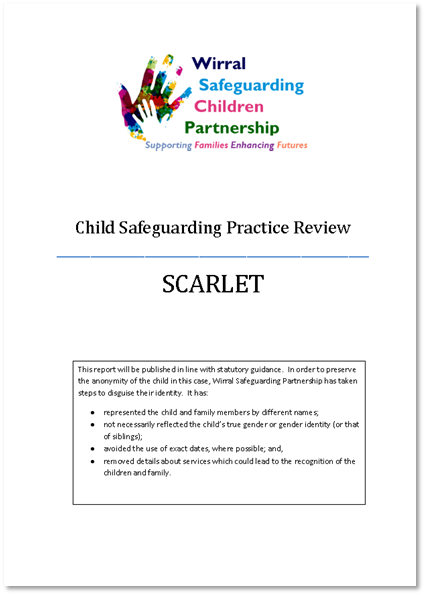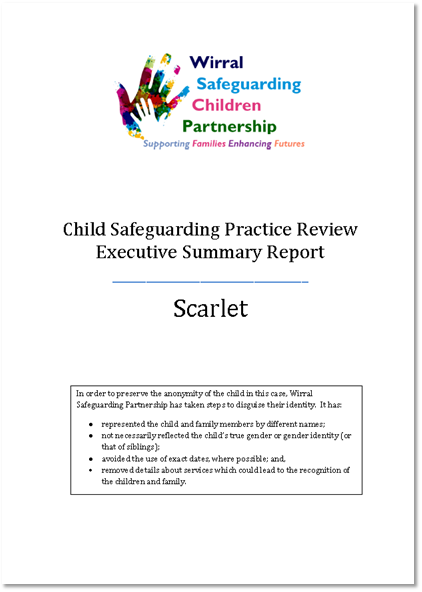 Video Briefing
A narrated 30 minute briefing about the Scarlet CSPR is also available to watch on the WSCP Virtual Learning Event page (registration required).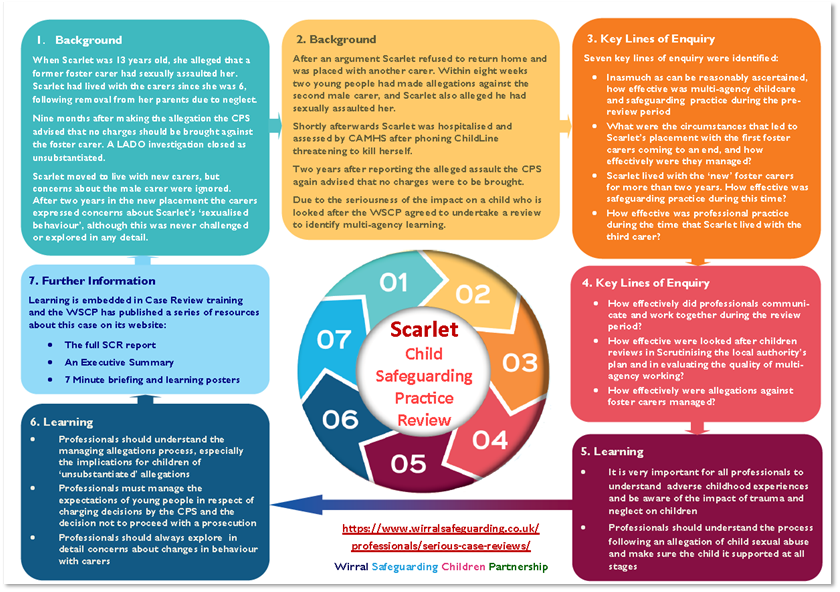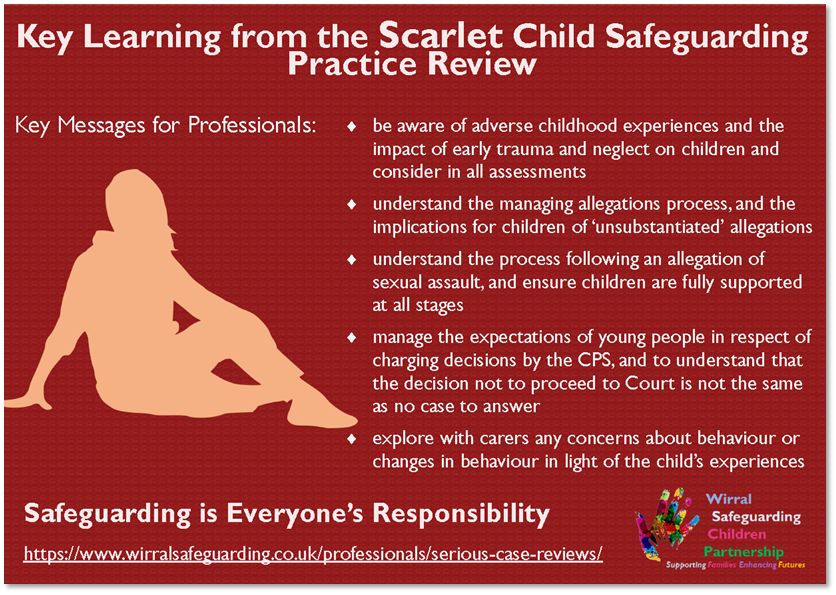 ---
Child 'Liam' Serious Case Review
The full report of the Child 'Liam' SCR was published on the 17th February 2020. Liam was 20 months old when he ingested a potentially lethal amount of methadone. Fortunately, Liam made a full recovery but the review highlights the issue of how children, particularly very young children, in substance misusing families are kept safe.
7 Minute Briefing: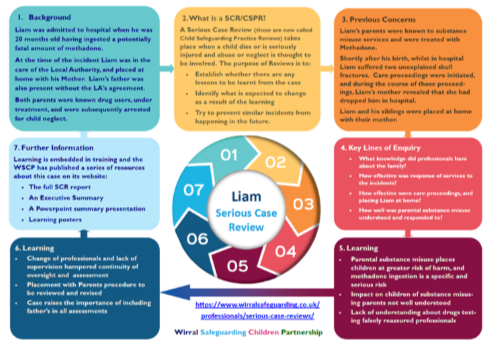 Full SCR Report: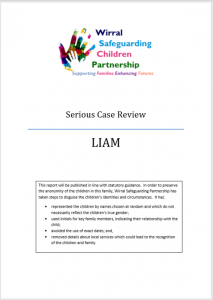 Executive Summary Report: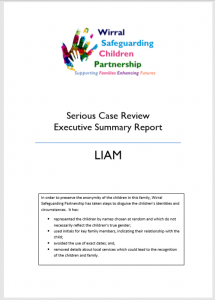 Summary Powerpoint Presentation: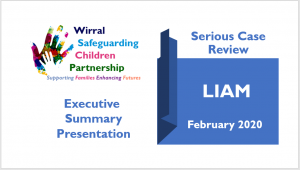 Learning Posters: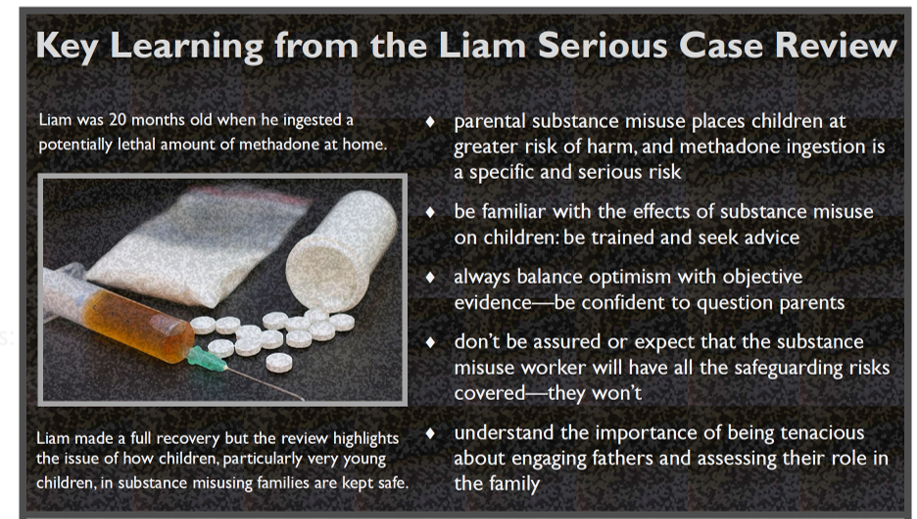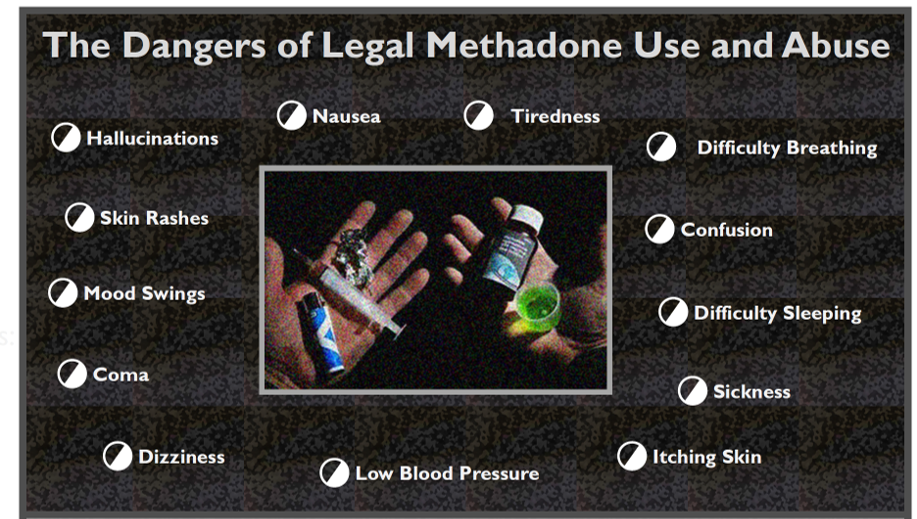 ---
Children I and J SCR
The full report of the Children I and J Serious Case Review was published on the 18th May 2018. The report can be found below:
Wirral SCR Child I and Child J
Summary of Learning Document:
Children I and J SCR Learning Summary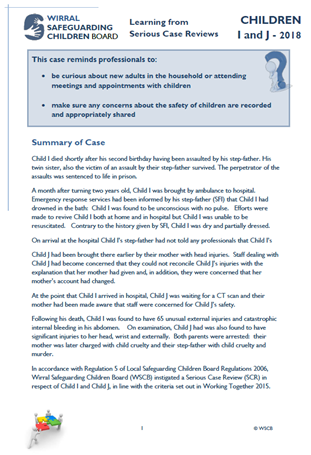 ---
Child H SCR
The WSCB did not publish the full SCR report (July 2017) but did publish the recommendations in the document below.
The final action plan is available below.
Child H Serious Case Review – Recommendations, Outcomes and Learning Final Update November 18
Learning from the Serious Case Review
The Child H Serious Case Review has been completed. This means all actions from the 24 recommendations in the SCR report have been addressed. This can give us confidence that:
professionals are more aware of the signs of CSE, and know how to refer their concerns
organisations are ensuring staff at all levels are trained to recognise –no concern too minor- and respond to CSE
the partnership response to CSE concerns will be swift and effective
vulnerable children will be identified at the earliest opportunity
However, it is important to note completion of this action plan will not mean child sexual exploitation has disappeared or has been 'solved' in Wirral, as in any other borough in the UK. Professionals will be more aware but 'The More You Know, the More You See' applies and the safeguarding board expects cases will continue to be identified and must be responded to as quickly as possible.
Child Sexual Exploitation and exploitation of children in other ways, such as by criminal groups, are serious issues affecting local communities throughout the UK. The safeguarding board and partners will keep CSE, exploitation and abuse of children in our sights and continue to review and challenge each other to ensure a consistent and effective response.
The experiences suffered by Child H remind us all to remain vigilant and be aware of the signs of exploitation.
---
Child G SCR
Full SCR Report (January 2013):
Serious case review Report – Child G
Summary of Learning Document: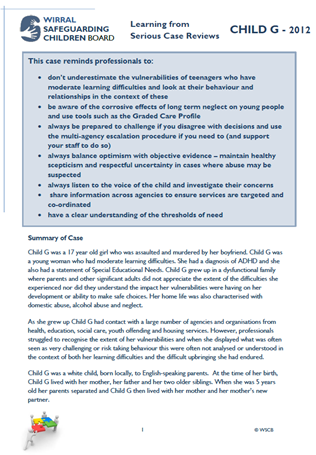 Learning from Serious Case Reviews and Child Safeguarding Practice Reviews
Learning from both national and local SCR's is embedded in the WSCP's multi-agency training courses. The training programme includes a 90 minute learning from SCR's briefing delivered by the WSCP. A copy of the presentation is here: Case Reviews – Oct 16
The WSCP also publishes a series of summary learning from SCR's briefings which is updated quarterly and disseminated to professionals. The latest briefing document (November 2019) can be downloaded here: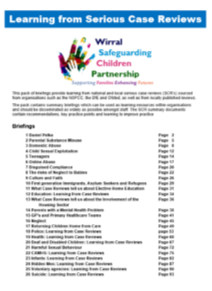 Child Sexual Exploitation Learning from national Serious Case Reviews: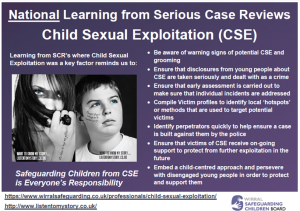 WSCB National Learning from SCR's – CSE
Local Learning from Serious Case Reviews and Child Safeguarding Practice Reviews
Child Sexual Expolitation Learning from local reviews: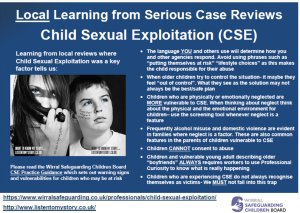 WSCB Local Learning from SCR's – CSE
Child G – Case Study
Below is a Case Study drawn from the Child G Serious Case Review. The Case Study highlights significant features of the case and the learning for professionals and partner agencies.
Child G – Who's Looking Out for the Teenagers? – A One day Conference for Professionals
A Wirral Serious Case Review highlighted the need for practitioners to have a greater understanding of the risks faced by older teenagers.  A number of concerns were raised and it was felt that the WSCB should embark on a large scale workshop to highlight the main issues raised in the review. In response to this the WSCB held a development day.
The day involved more than 150 multi-agency practitioners moving from table to table at half hour intervals to experience eleven different presentations, sessions and discussions with each table hosted by specialist colleagues from Health, Youth Service, Children's Services, the Response Service, Adolescent Crisis Team, Youth Offending Service, Health Services, Wirral Metropolitan College, Transitions Team, Catch-22 and the Voluntary, Community and Faith Sector.
These were the topics for the day:
Child Sexual Exploitation and Runaways
Housing and Homelessness
Substance Misuse
Mental Health
Learning Difficulties and Autism
Neglect
Relationships and Domestic Abuse
Offending Behaviour
Leaving Care and Transition
Diversionary Activities
The workshops were vibrant and very well received. Teen Wirral were represented and one of the staff sat in on many sessions. The Wirral Youth Theatre gave a powerful performance to highlight issues of domestic abuse in teenage relationships.
Learning from the Conference
The learning has been incorporated into the multi-agency training from the WSCB and was widely shared with partners.
A summary of the day is available here:
WSCB Learning from Serious Case Reviews – Teenagers Conference Summary
Key Learning Messages:
Teenagers can be just as vulnerable and in need of our help as younger children
Be aware of the needs of vulnerable teenagers especially the corrosive impact of long term neglect
Maintain healthy scepticism and respectful uncertainty
Share information across agencies to ensure services are targeted and co-ordinated
Have a clear understanding of the thresholds of need
Make sure all professionals know how to access procedures and advice
Escalate concerns if you feel a child remains at risk
Take responsibility for professionals excellence and access training
Have access to reflective supervision
The learning was summarised into three awareness raising posters with key messages for professionals: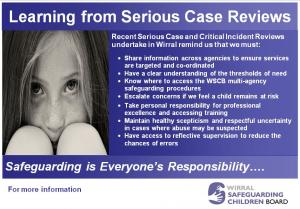 SCR Learning Poster Teen Awareness female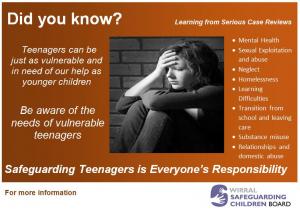 SCR Learning Poster Teen Awareness male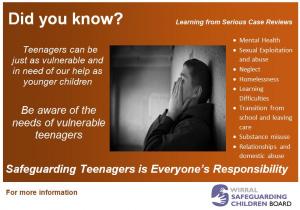 ---
Learning from Multi-agency Learning Reviews
The WSCP also undertakes reviews of cases which do not reach the threshold for a SCR but are reviewed because the case is likely to provide useful multi-agency learning or the circumstances of the case were unusual. Summaries of these cases are published and the  the learning is shared with the partnership and included in WSCP training.
In April 2020 the WSCP made the decision going forwards to refer to all cases (CSPR's and Learning Reviews) by a name (not the real name) of the child/ren.
The posters below capture the learning from recent cases reviewed by the WSCP:
Child 2 – The case reviewed a young person who was the perpetrator of a serious crime. The young person had been looked after in a kinship carer arrangement and had been known to services for an extended period of time.
Summary of Learning Document: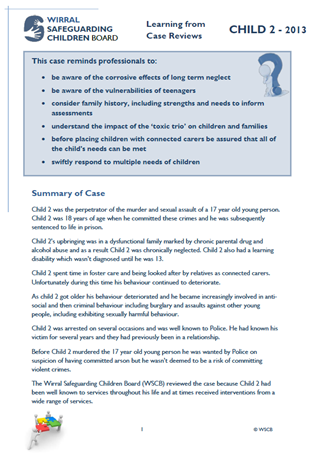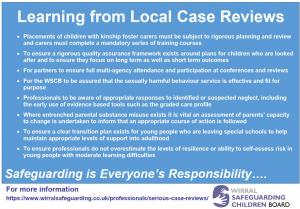 ---
2. Child 3 – This case was reviewed because it was suspected that a young person may have been being coerced into a forced marriage.
Summary of Learning Document: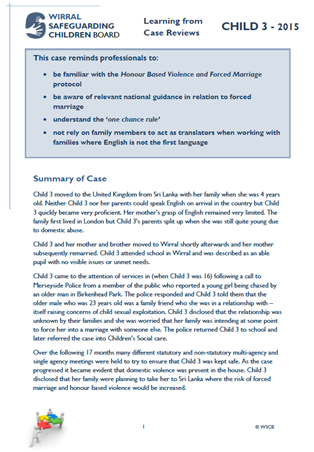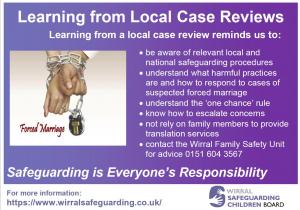 ---
3. Child 4 –  is a baby who drowned, but survived with permanent injuries, having been left unsupervised in a baby bath seat.
Summary of Learning Document: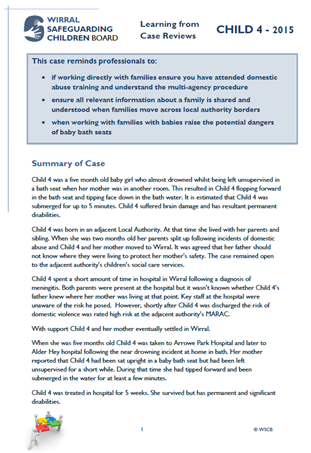 The learning from the case included professionals, especially midwives and health visitors reinforcing the safe use of bath seats and bath safety advice. Wirral Community NHS Foundation Trust produced a Bath Safety Advice Leaflet which is routinely given out to families.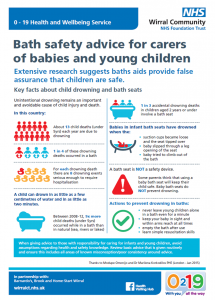 ---
4. Child 5 – was an ex child looked after who was the victim of a physical assault. The case highlighted the need for care leavers to be supported if they feel isolated and for accommodation to be provided as close to family as possible when requested.
Summary of Learning Document: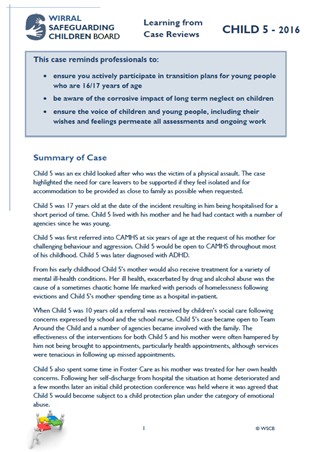 ---
5. Child 6 – was a young girl who tragically died after accidentally setting fire to her clothes after playing with a lighter she found at home.
Summary of Learning Document: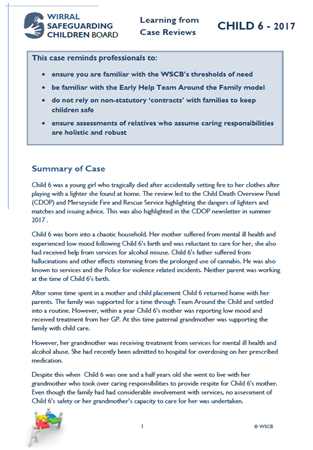 The review led to the Child Death Overview Panel (CDOP) and Merseyside Fire and Rescue Service highlighting the dangers of lighters and matches and issuing advice. This was also highlighted in the CDOP newsletter in summer 2017. The newsletter can be accessed below: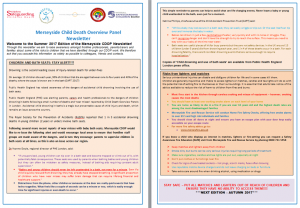 ---
6. Child 7 – was an older teenager who became involved in anti-social and criminal behaviour with tragic consequences.
Summary of Learning Document: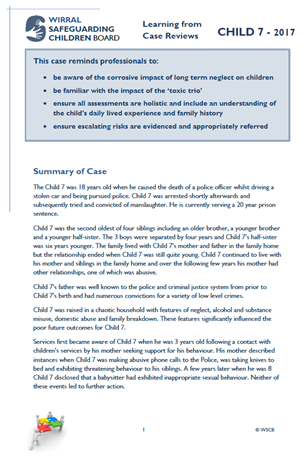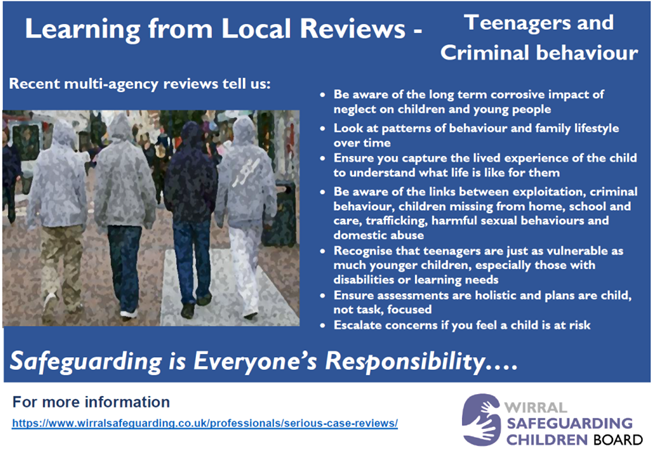 ---
7. Child 8 – was a 2 year old child living in a home with parental substance misuse. Child 8 was harmed when he accidentally ingested methadone at home.
Summary of Learning Document: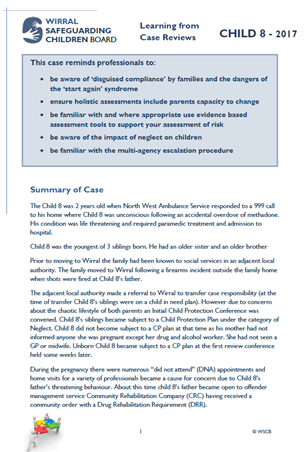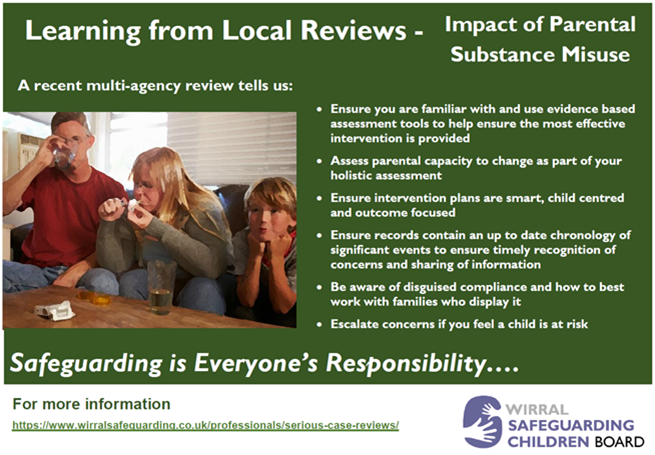 ---
8. Child 9 – Child 9 was 14 years old when he was arrested on suspicion of having committed an assault with a deadly weapon against a man in Birkenhead. The man suffered non-fatal stab wounds. The case raised issues of children's vulnerabilities to criminal exploitation and the multi-agency response to a child with multiple needs.
Summary of Learning Document: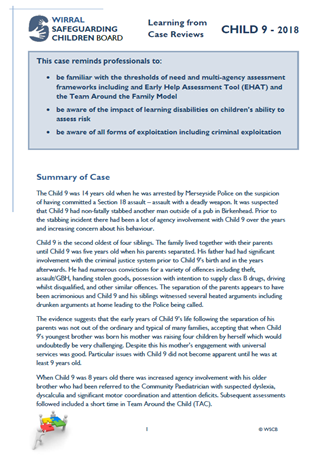 ---
9. Child 10 – Child 10 was 19 years old when the Head Teacher at her school raised safeguarding concerns about her potentially being a victim of sexual exploitation and abuse.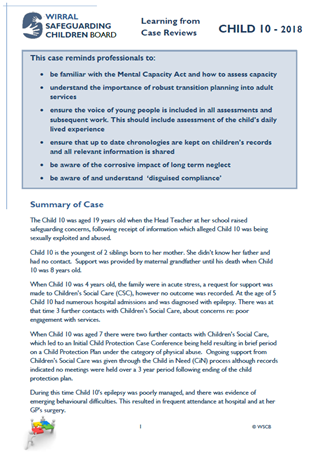 ---
10. Child 11 – Child 11 was two months old when she tragically died at home. Child 11's mother had concealed her pregnancy and Child 11 had lived in a house with cramped conditions.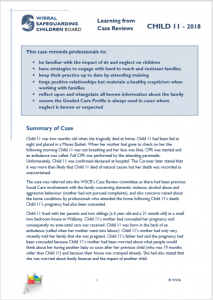 Child 11 Learning Poster:
---
11. Child 12 – Child 12 was eight years old when the case was referred into the WSCB for consideration by the Serious Case Review (SCR) committee due to the level of neglect he was suffering.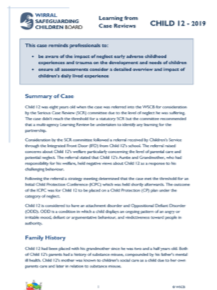 Child 12 Case Learning Summary
---
12 Child 14 -Child 14 was aged 18 months when a referral to the SCR committee was made.  The referral was made after Social Workers had visited Child 14 at his father's home and found him to have numerous unexplained bruises on his head and face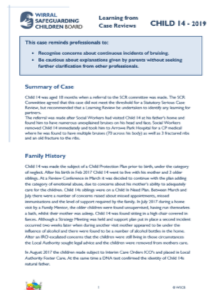 ---
13 Anderson Children – this case centred on five siblings who were removed from the care of their parents due to neglect. The case highlights the impact of long term neglect and where opportunities can be missed to intervene as early as possible.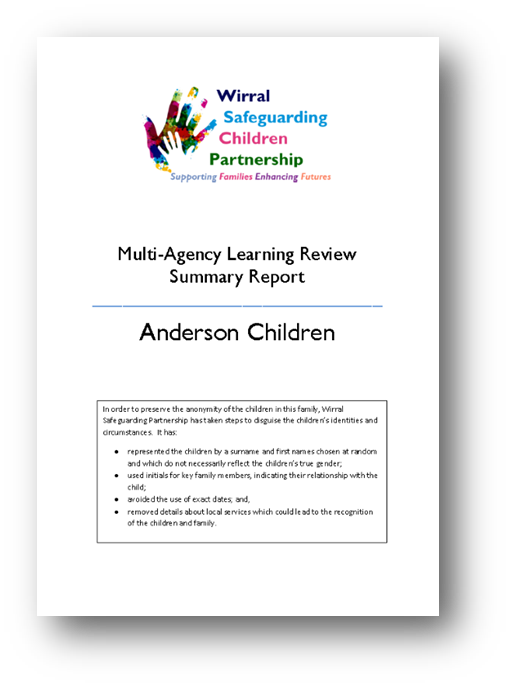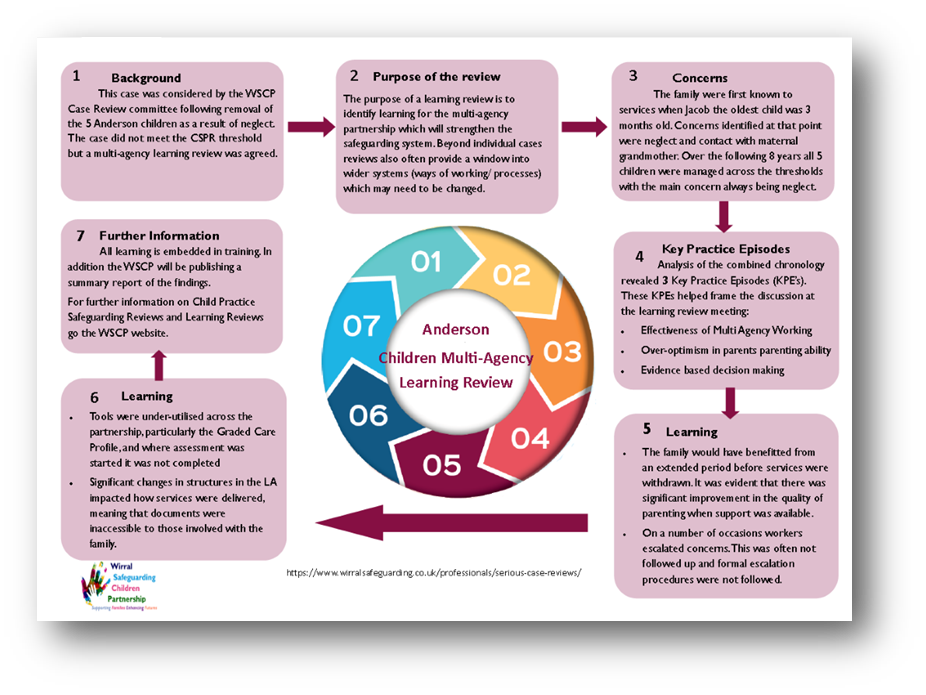 Learning from Reviews – Key Messages
The WSCP also periodically distils lessons from Serious Case Reviews into posters for professionals. These can be downloaded here. There is space on the posters for you to add the contact details of your safeguarding lead:
SCR Learning Poster Young Children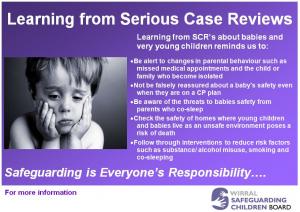 SCR Learning Poster Unborn Awareness
SCR Learning Poster Questionning Poster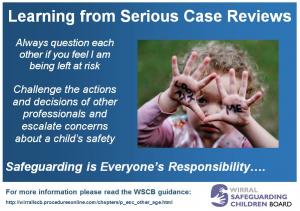 SCR Learning Poster Online Abuse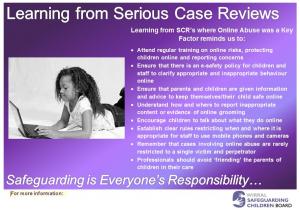 SCR Learning Poster Neglect Vulnerable Children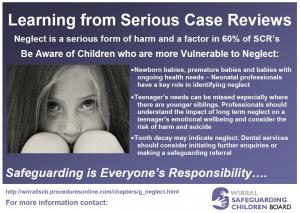 SCR Learning Poster Neglect Risk Factors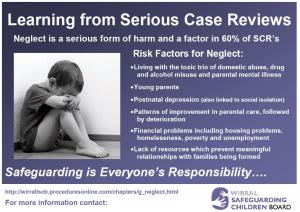 SCR Learning Poster Information Sharing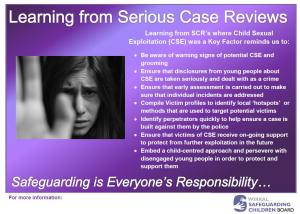 SCR Learning Poster Daniel Pelka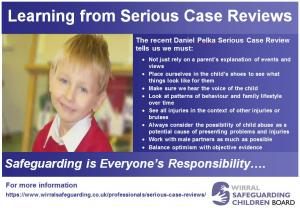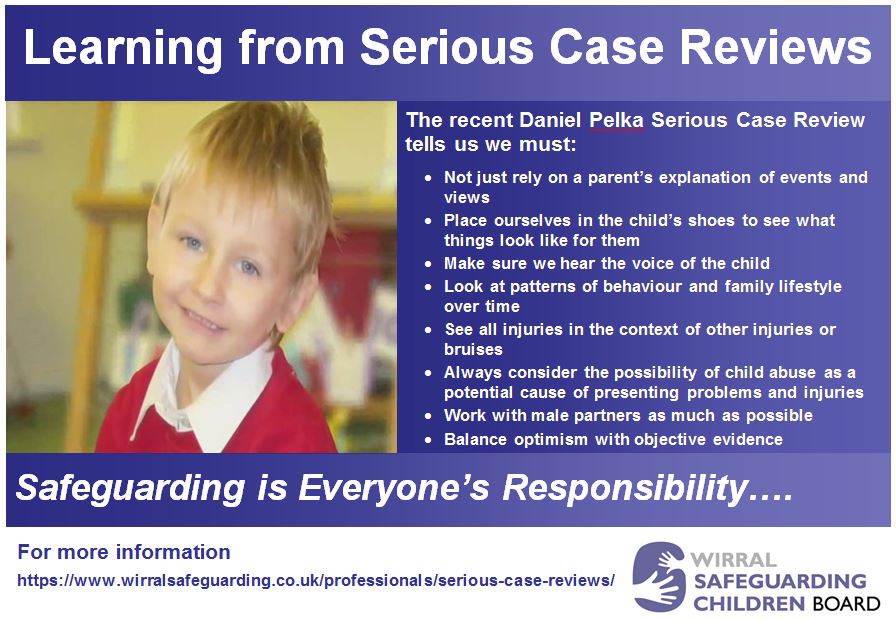 Referring Cases to the Wirral Safeguarding Children Partnership
All agencies and professionals in the WSCP partnership can refer cases to be considered for a multi-agency learning review. Before a referral is made the professional should discuss the case with their safeguarding lead. Professionals can also consult about potential referrals with the WSCP Business Manager ([email protected]).
Referrals are made using the Case Referral Form (available below). Completed Forms should be emailed to:
WSCP-Case-Review-Referral-Form 2020
Safeguarding Practice Review Panel
On the 29th June 2018 the National Panel for Serious Case Reviews was replaced by the new National Child Safeguarding Review Panel.
The Child Safeguarding Practice Review Panel is responsible for commissioning and supervising reviewers for national child safeguarding practice reviews – these will replace Serious Case Reviews as new safeguarding arrangements take effect.
The purpose of a national child safeguarding practice review is to identify any improvements that should be made by safeguarding partners or others to safeguard and promote the welfare of children.
Duty on Local Authorities to refer Serious Incidents
Local Authorities are required to notify the Child Safeguarding Practice Review Panel of incidents where they know or suspect that a child has been abused or neglected and:
the child dies or is seriously harmed in the local authority's area; or
while normally resident in the local authority's area, the child dies or is seriously harmed outside England.
These notifications should be made within five working days of the local authority becoming aware of the incident.
Local authorities should use the DfE's online notification system to notify the Panel.
LA's are also required to report the incident, within the same five working days, to the relevant Safeguarding Partnership.
The procedure for notifications is detailed here: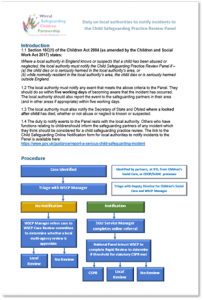 Notifiable Incidents
For guidance about how to inform the WSCP of a notifiable incident involving a child please follow the link:
www.wirralsafeguarding.co.uk/notifiable-incidents-involving-children