Case Reviews
Professionals and organisations protecting children need to reflect on the quality of their services. When things go wrong there needs to be a thorough analysis of what happened and why.
It's important that lessons can be learnt and services improved to reduce the risk of future harm to children. When a child has been seriously harmed or died, and abuse or neglect is suspected or known to have happened, and there are concerns about the way agencies worked together, then the Wirral Safeguarding Children Partnership (WSCP) will undertake a Child Safeguarding Practice Review (CSPR) in line with Working Together 2018.
Other cases which do not meet the criteria, but were significant learning is likely may be reviewed as local learning reviews.
Findings and recommendations from CSPR's will usually be published in full in a report, which will be publicly available on this website. A learning summary for local reviews is usually published. Learning will stay on the website for at least 2 years after publication.
The WSCP will also publish learning from reviews from other areas if that learning is of national significance.
Further information about how the WSCP undertakes statutory reviews and local learning reviews can be found here: https://www.wirralsafeguarding.co.uk/professionals/learning-and-improvement/
Wirral Serious Case and Child Safeguarding Practice Reviews
Child 'Scarlet' Child Safeguarding Practice Review 
This review was published on the 30th July 2021. This case centres on the multi-agency response to a child who made allegations of sexual assault against foster carers. The review highlights the complexities of cases which are considered by the Courts, the lengthy timescales involved, and how agencies supports a child if Courts do not proceed with a prosecution.
Seven recommendations were made, and all will now be actioned by the WSCP and its partners.
As well as the full report, also published is an Executive Summary, a 7 Minute Briefing and a learning poster.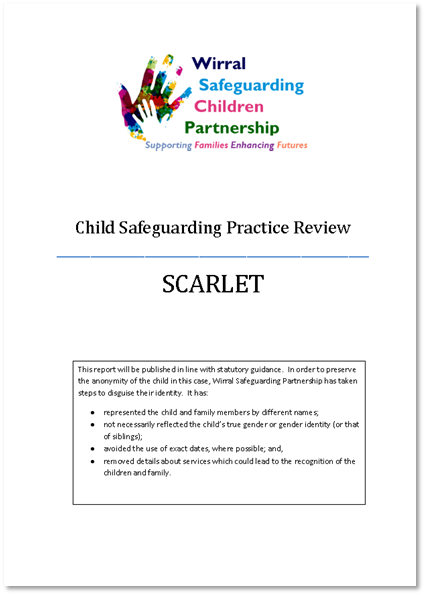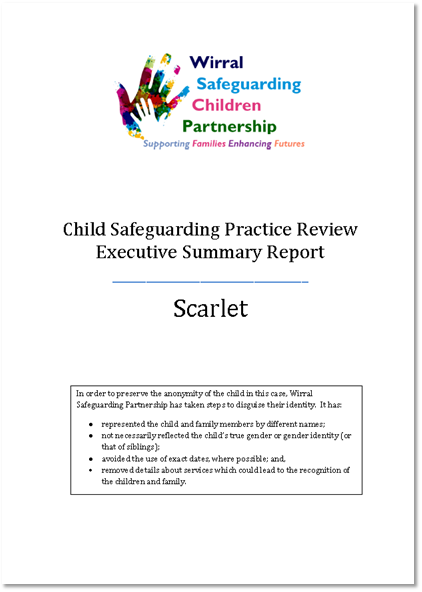 Video Briefing
A narrated 30 minute briefing about the Scarlet CSPR is also available to watch on the WSCP Virtual Learning Event page (registration required).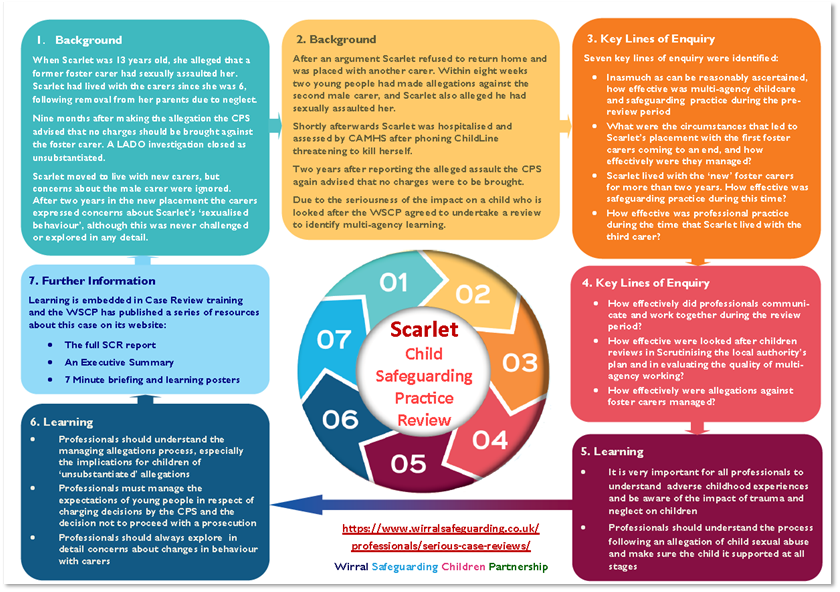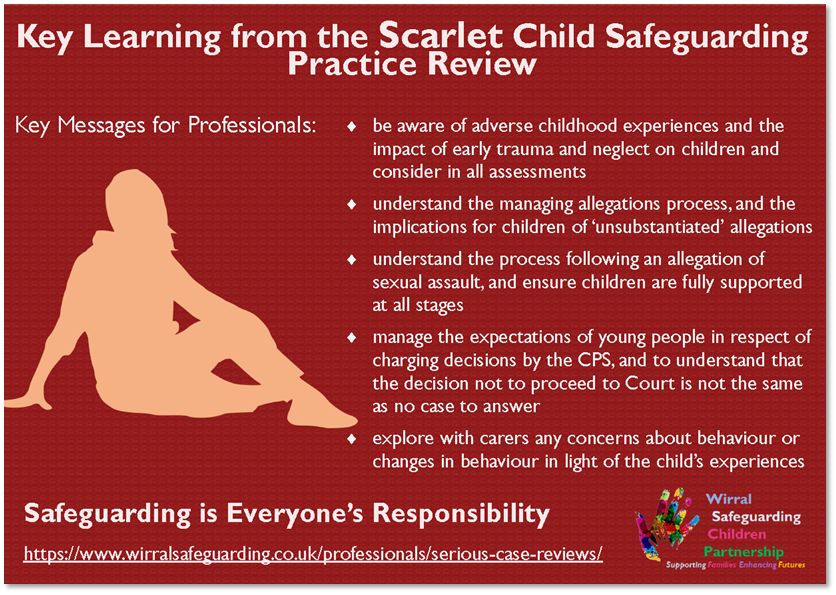 ---
Child 'Liam' Serious Case Review
The full report of the Child 'Liam' SCR was published on the 17th February 2020. Liam was 20 months old when he ingested a potentially lethal amount of methadone. Fortunately, Liam made a full recovery but the review highlights the issue of how children, particularly very young children, in substance misusing families are kept safe.
7 Minute Briefing: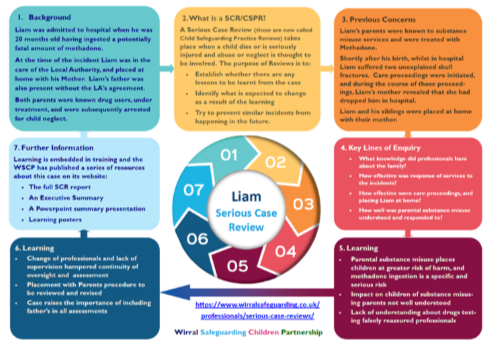 Full SCR Report: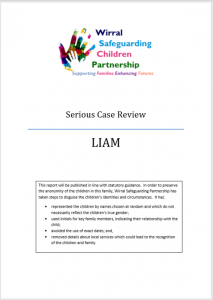 Executive Summary Report: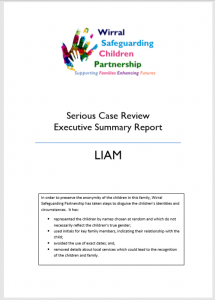 Summary Powerpoint Presentation: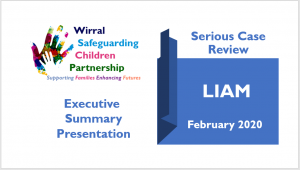 Learning Posters: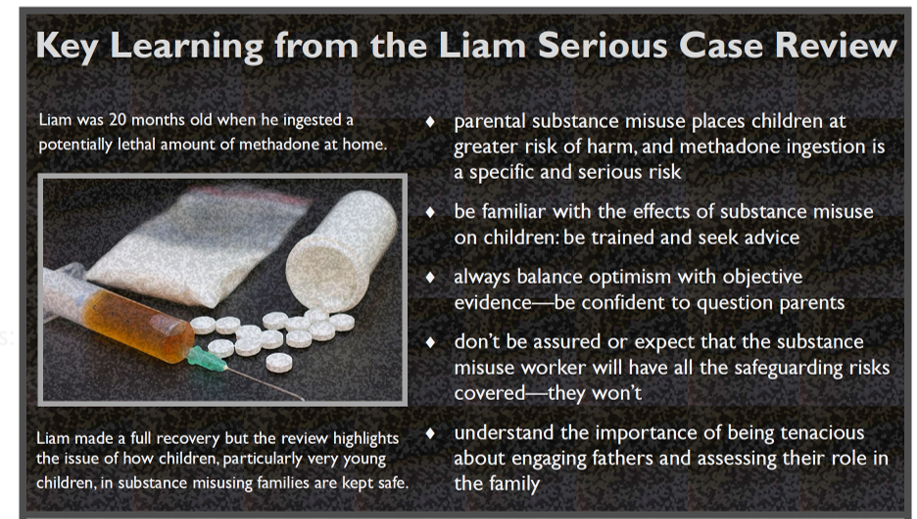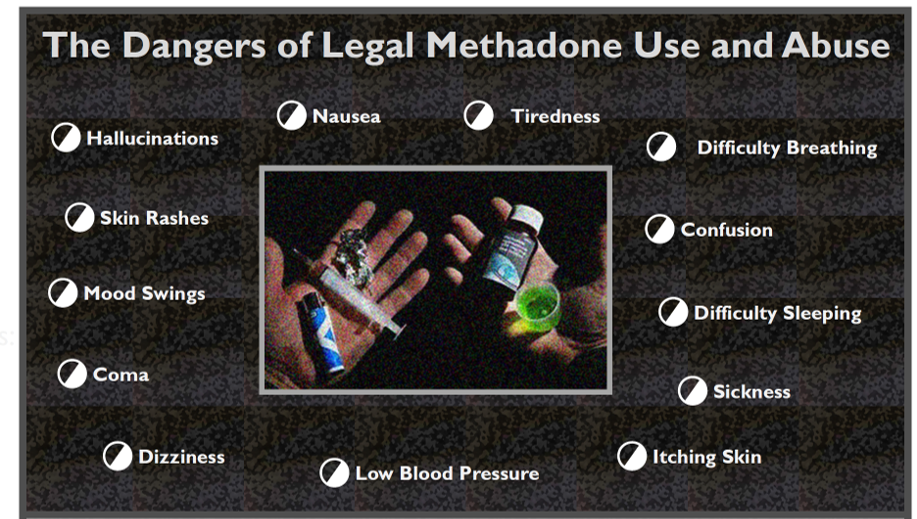 ---
Learning from other areas
Arthur Labinjo-Hughes and Star Hobson National Child Safeguarding Practice Review
The Child Safeguarding Practice Review Panel undertook a national review into the tragic deaths of Arthur Laninjo-Hughes and Star Hobson. Both children had suffered horrific abuse from family members, and in both cases concerns had been raised.
 
The NSPCC have also published a helpful summary:

WSCP 7 Minute Briefing: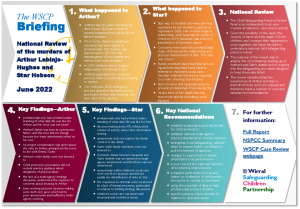 ---
Child Q CSPR
In 2020, Child Q, a Black female child of secondary school age, was strip
searched by female police officers from the Metropolitan Police.
The search, which involved the exposure of Child Q's intimate body parts, took
place on school premises, without an Appropriate Adult present.
A CSPR was undertaken by City and Hackney safeguarding Partnership and can be accessed here: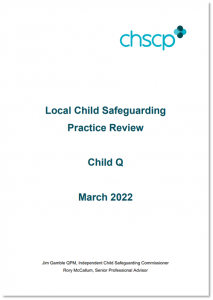 The WSCP have also published a 7 minute briefing summarising the Child Q CSPR: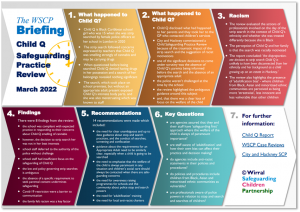 ---
Learning from Multi-agency Learning Reviews
The WSCP also undertakes reviews of cases which do not reach the threshold for a SCR but are reviewed because the case is likely to provide useful multi-agency learning or the circumstances of the case were unusual. Summaries of these cases are published and the  the learning is shared with the partnership and included in WSCP training.
In April 2020 the WSCP made the decision going forwards to refer to all cases (CSPR's and Learning Reviews) by a name (not the real name) of the child/ren.
Anderson Children – this case centred on five siblings who were removed from the care of their parents due to neglect. The case highlights the impact of long term neglect and where opportunities can be missed to intervene as early as possible.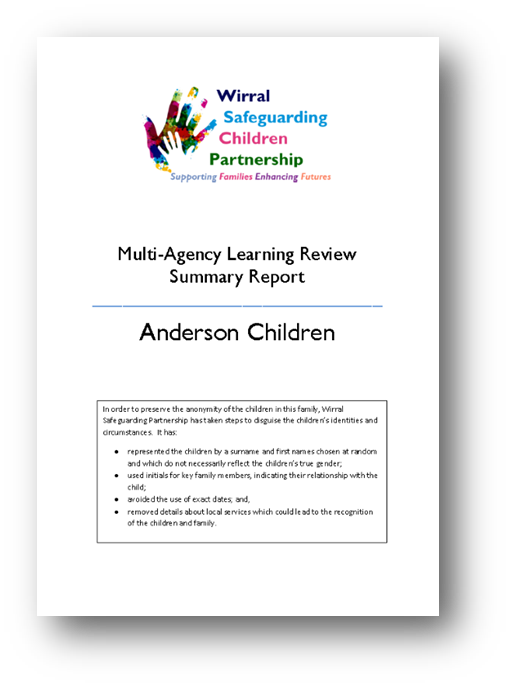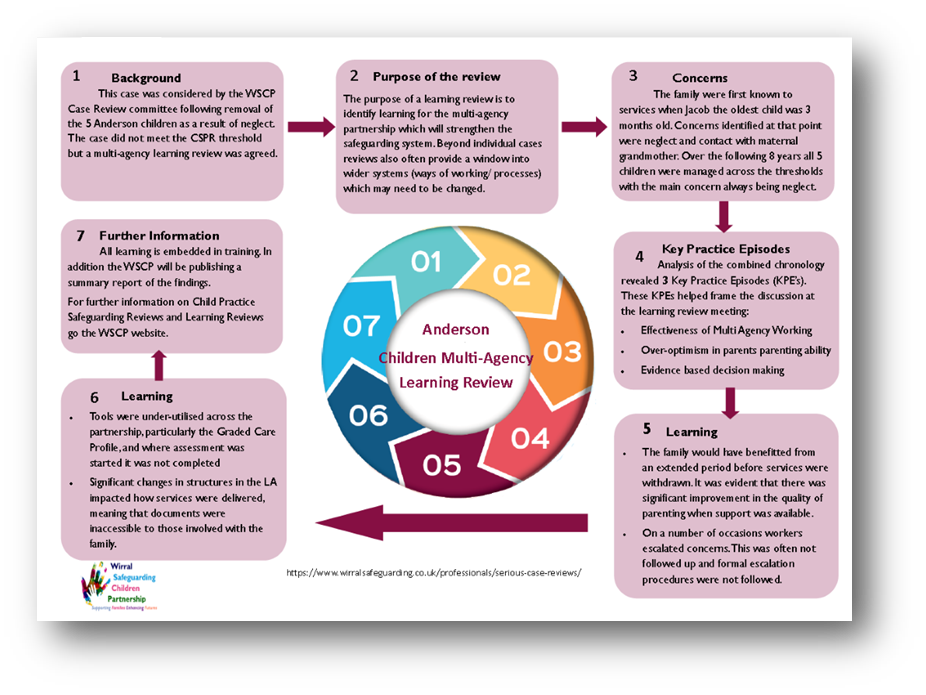 Matthew – was an 18 year old care leaver who tragically took his own life shortly after his 18th birthday.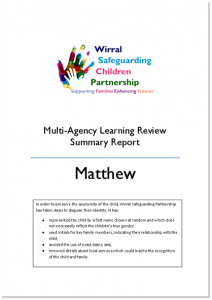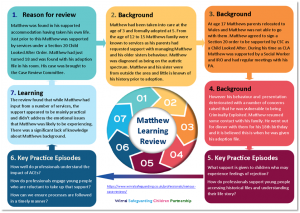 ---
Guidance for Professionals
Learning from Case Reviews
The NSPCC has published a briefing based on case reviews published since 2019 where children experienced domestic abuse. The briefing summarises and highlights the learning contained in the published reports, and can be accessed by clicking the image below: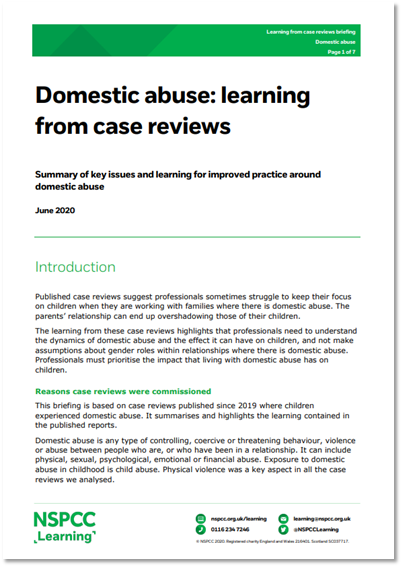 Learning from National and Local SCR's/ CSPR's and Learning Reviews
The Child Safeguarding Practice Review Panel are an independent panel who oversee the statutory case review process. The panel publish both an Annual Review of all case reviews completed but also commissions reviews of national significance. The first of these reviews, about safeguarding children at risk from criminal exploitation – It was Hard to Escape, was published in March 2020 followed by a review of sudden unexpected cases in infancy where children were at risk of significant harm. The reports are available below.
Safeguarding Review Panel Annual Report 2018-19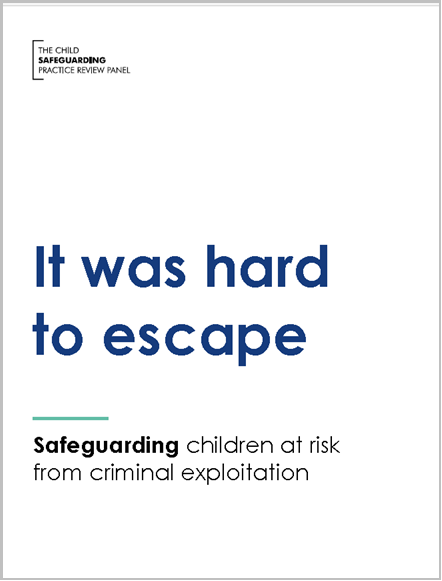 It was hard to escape 7 Minute Briefing: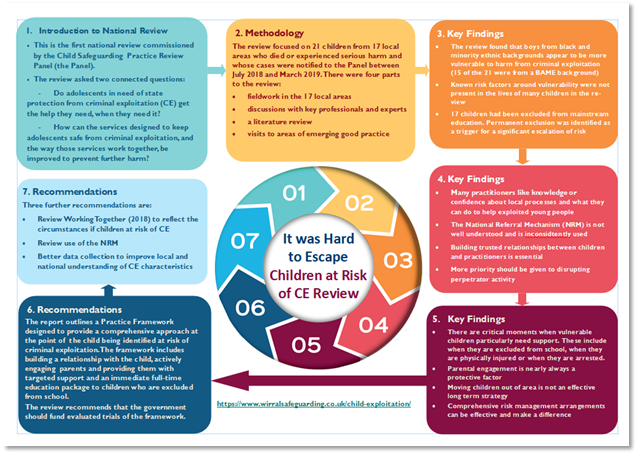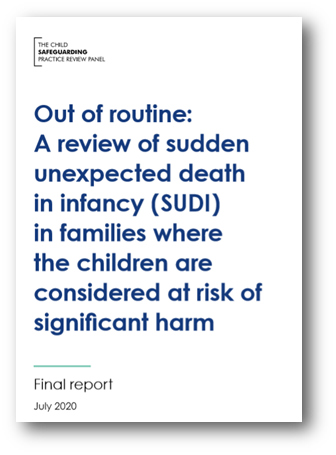 SUDI Review 7 Minute Briefing: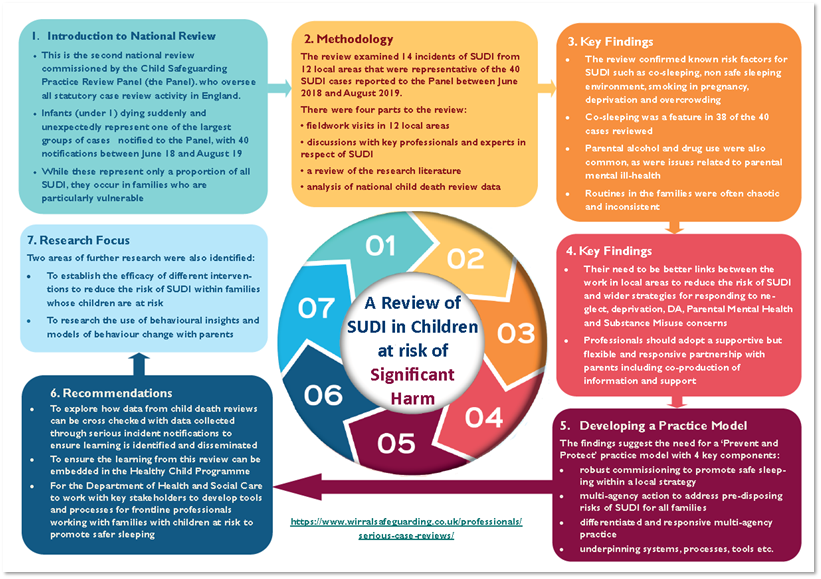 The next National Review is about Non-accidental injury in children under 1. The review and 7 minute briefing will be published here in the autumn.
Learning from local case reviews (2016-21)
The briefing below details the findings, themes and recommendations from 14 reviews undertaken by the WSCP between 2016 and 2021.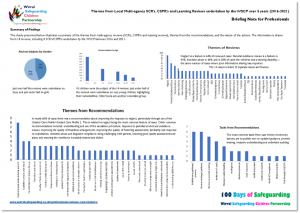 Chronologies
When deciding whether to initiate a statutory review, the WSCP will always gather together chronologies of involvement by individual agencies. The WSCP publishes guidance documents to help with completing chronologies:
Chronology Guidance for Agencies
Rapid Review Chronology Guidance for Agencies
Referring Cases to the Wirral Safeguarding Children Partnership
All agencies and professionals in the WSCP partnership can refer cases to be considered for a multi-agency learning review. Before a referral is made the professional should discuss the case with their safeguarding lead. Professionals can also consult about potential referrals with the WSCP Business Manager ([email protected]).
Referrals are made using the Case Referral Form (available below). Completed Forms should be emailed to:
WSCP-Case-Review-Referral-Form 2020
Safeguarding Practice Review Panel
The Child Safeguarding Practice Review Panel is responsible for commissioning and supervising reviewers for national child safeguarding practice reviews – these will replace Serious Case Reviews as new safeguarding arrangements take effect.
The purpose of a national child safeguarding practice review is to identify any improvements that should be made by safeguarding partners or others to safeguard and promote the welfare of children.
Duty on Local Authorities to refer Serious Incidents
Local Authorities are required to notify the Child Safeguarding Practice Review Panel of incidents where they know or suspect that a child has been abused or neglected and:
the child dies or is seriously harmed in the local authority's area; or
while normally resident in the local authority's area, the child dies or is seriously harmed outside England.
These notifications should be made within five working days of the local authority becoming aware of the incident.
Local authorities should use the DfE's online notification system to notify the Panel.
LA's are also required to report the incident, within the same five working days, to the relevant Safeguarding Partnership.
The procedure for notifications is detailed here: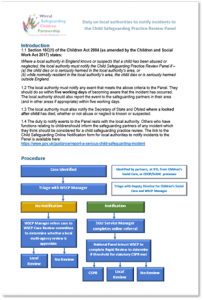 Notifiable Incidents
For guidance about how to inform the WSCP of a notifiable incident involving a child please follow the link:
www.wirralsafeguarding.co.uk/notifiable-incidents-involving-children