Virtual Safeguarding Training for schools and education
This page contains details of the virtual safeguarding training offered specifically to schools, colleges and educational settings.
Please click on the course you wish to attend, read the compulsory information provided. You can then book by clicking onto the date you require below:
November 2023 – March 2024
Safeguarding Session

(click for pre-reading)

Available Dates

(click on the date to book)

Duration+

Cost

2 Hours

£30.00

2 hours

£30.00

3 hours

£50.00

3 hours

£50.00

2 hours

£30.00

1. 5 hours

£30.00
**Those new to DSL Role or have not completed the statutory DSL training in the last 2 years
WSCP has resumed face-to-face whole staff safeguarding sessions in schools and safeguarding 'health checks' for educational settings.  If you wish to book a session or an safeguarding audit/health check for your school, college or educational setting in please contact Amanda Waterfall on 07795 617 644 or email [email protected].
You will need to have registered with WSCP before you can book onto any training, for help in doing this, click on the document below: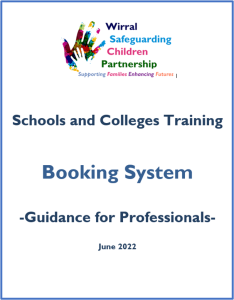 Non-attendance  – ALL school safeguarding sessions will be charged for in full, regardless if you are able to attend, unless 3 days notice of cancellation is given.  An alternative date will be offered to the delegate to attend.
FEEDBACK FROM TRAINING COURSES, BRIEFINGS AND SESSIONS:
Designated Safeguarding Lead Training:
It has given me the tools that will provide confidence to trust judgements and report concerns
Better informed regarding pre-work referral e.g. Graded Care Profile
'Amanda is informative, approachable and just great!'
Really pleased with the breadth of knowledge and range of criteria discussed today, thank you!
As new to the role, I have come away confident to recognise and respond to disclosures
The knowledge of the trainer along with the ability to make you feel like nothing you asked was a silly question was great, really enjoyed it!'
Safer Recruitment:
A much clearer understanding of recruiting safely – thank you!
Excellent delivery and knowledge
Thorough training, that gave a good insight into policy and procedure, as well as best practice
A very interesting course and so relevant to my role
Clear and concise, excellent info, well presented
Use element to support safer recruitment processes
Whole Staff Safeguarding Training:
Great to be able to hear others views and share thoughts
Lovely trainer and great course with excellent information
The course has given me the confidence to carry out what we have learnt
The session has given me a strong understanding of how to refer into services
Brilliant to refresh my knowledge
Excellent trainer and fantastic update training