Schools Webinar
This page supports the Safeguarding Plus webinar delivered to schools on the 3rd July 2020. The purpose of the webinar was to direct schools to sources of support which might be helpful as pupils begin to return following the Covid-19 lockdown. It is very likely that as children and young people return to the protective gaze of staff in schools that a number of safeguarding concerns may become apparent.
This page is populated with resources and links referenced in the webinar.
The recording of the webinar will be published here when available.
The PowerPoint presentation from the webinar is available below: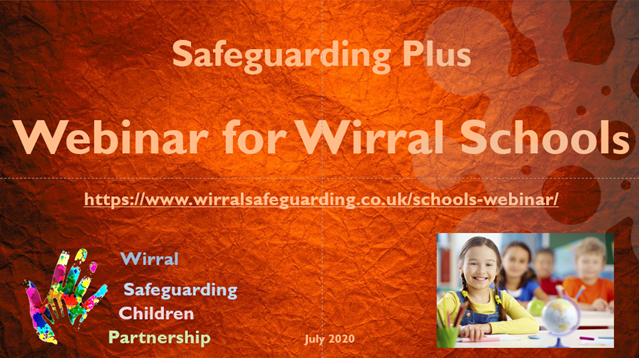 WSCP 
Link to multi-agency request for services form
Link to the  multi-agency thresholds
Link to the virtual multi-agency safeguarding training
Link to the Covid-19 Working Arrangements page
Link to the Covid-19 Impact on Children page
Link to the Early Help and support for families page
DfE Guidance for the full opening of schools (2nd July)
For further information contact: [email protected]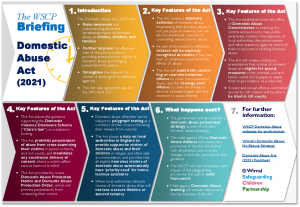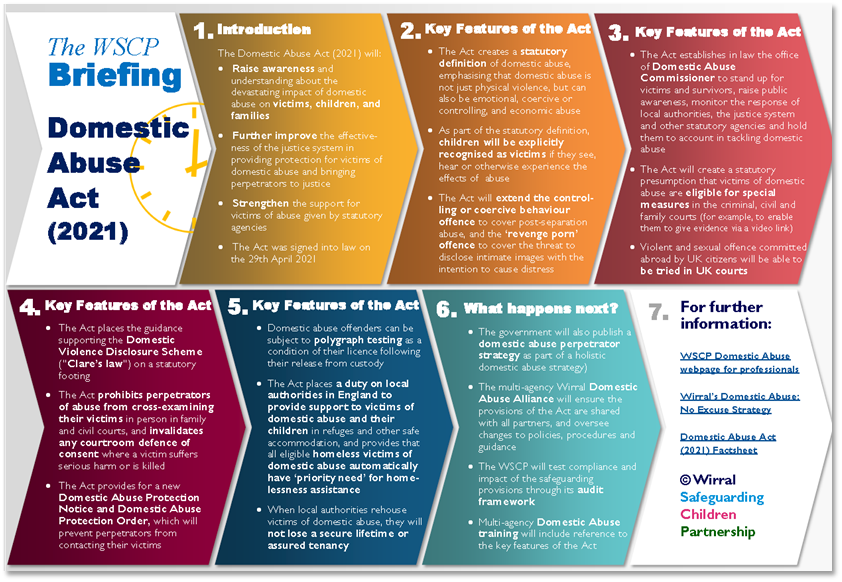 Designated Safeguarding Lead Resources
Link to the dedicated schools pages
Link to the dedicated virtual training for schools page
Link to the model safeguarding policy and DfE updates page
For further information contact: [email protected]
Child Bereavement
Link to the Child Bereavement UK website
Child Bereavement UK Helpline no. 0800 02 888 40
For further information contact: [email protected]
a
CAMHS (from CWP)
Wirral CAMHS 0-18 Service (including self-referral form)
CAMHS My Mind website
CAMHS My Mind website for Young People
CAMHS mental and Emotional Health Support line: 0300 303 3972
CAMHS Support line information page
CWP's Crisis Line: 0800 145 6485
For further information contact: [email protected]
Early Help
Link to the Early Help and support for families page
Link to the Family Matters page
For further information contact: [email protected]
Domestic Abuse and Parental Conflict
Link to WSCP Domestic Abuse Page 
Domestic Abuse Covid-19 #youarenotalone pack
Link to It's Never Ok Wirral website
Link to WSCP's virtual multi-agency training page
For further information contact: [email protected]
Health Services in Schools
HSIS Core Offer PowerPoint presentation: HSIS Core Offer
HSIS emotional health info leafet
HSIS healthy eating info leafet
For further information contact: [email protected]
Introductory videos from HSIS staff (PowerPoint presentations):
Paddy Schools post covid Presentation
Kersti Schools post covid Presentation (1) Jo Schools post covid Presentation _
Jo Schools post covid Presentation _
Health and Safety
Wirral Council Wirralview – Coronavirus updates
Wirral Council website
For further information contact: [email protected]