Child Exploitation
All agencies across Merseyside are fully committed to safeguarding children and young people from being sexually or criminally exploited, whilst disrupting and prosecuting individuals who exploit or attempt to exploit them.
What is Child Exploitation?
Child Exploitation, or CE is a term which encompasses all the ways by which children and young people can be exploited. It includes Child Sexual Exploitation (CSE) and also criminal exploitation. The criminal exploitation of children is an issue which is gaining more of a national focus and is closely related to County Lines, and other ways children and young people are drawn into drugs related criminal activity.
Child Sexual Exploitation, or CSE is a form of child sexual abuse. It occurs where an individual or group takes advantage of an imbalance of power to coerce, manipulate or deceive a child or young person under the age of 18 into sexual activity (a) in exchange for something the victim needs or wants, and/or (b) for the financial advantage or increased status of the perpetrator or facilitator. The victim may have been sexually exploited even if the sexual activity appears consensual. Child sexual exploitation does not always involve physical contact; it can also occur through the use of technology.
Child Criminal Exploitation (CCE). Child Criminal Exploitation is common in county lines and occurs where an individual or group takes advantage of an imbalance of power to coerce, control, manipulate or deceive a child or young person under the age of 18. The victim may have been criminally exploited even if the activity appears consensual. Child Criminal Exploitation does not always involve physical contact; it can also occur through the use of technology.
Also see information on: Child Abuse   Harmful Sexual Behaviour
18th March was National CSE Awareness Day. Click here to go to our dedicated page.
What is County Lines?
County lines is a term used to describe gangs, groups or drug networks that supply drugs from urban to suburban areas across the country, including market and coastal towns, using dedicated mobile phone lines or 'deal lines'. They exploit children and vulnerable adults to move the drugs and money to and from the urban area, and to store the drugs in local markets. They will often use intimidation, violence and weapons, including knives, corrosives and firearms.
County lines is a major, cross-cutting issue involving drugs, violence, gangs, safeguarding, criminal and sexual exploitation, modern slavery, and missing persons; and the response to tackle it involves the police, the National Crime Agency, a wide range of Government departments, local government agencies and voluntary and community sector organisations. County lines activity and the associated violence, drug dealing and exploitation has a devastating impact on young people, vulnerable adults and local communities.
Home Office Guidance for Practitioners
Criminal exploitation of children, young people and vulnerable adults for the supply of drugs, and transportation of the associated money and weapons, has a devastating impact on victims, families and local communities but is often not recognised by those who are best placed to spot it. The guidance (below) is intended to explain the nature of this harm to enable practitioners to recognise its signs and respond appropriately so that victims and potential victims get the protection and support they need.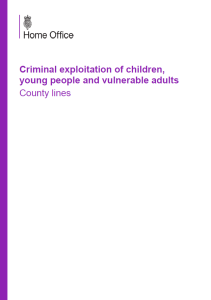 County Lines Support Service for young people and their families
Catch22 have recently launched a new County Lines Support Service commissioned by the Home Office. We are reaching out to professionals on Merseyside who may be able to refer young people to us.
We now have a specialist support service for young people and their families who are criminally exploited through county lines. We work with young people up to 25 providing one to one support. Referrals can be made by the young people themselves, professionals, and family/friends.
We aim to support young people accessing the service to benefit from:
personalised support to help them reduce and exit their involvement in county lines activity
better engagement with other agencies, education, and employment opportunities
increased resilience and better emotional and mental well-being
better relationships between them and their parents and / or carers
Please find more information on the Catch22 website along with referral forms – https://www.catch-22.org.uk/services/county-lines-support-rescue/
Please ensure you have consulted with the Wirral Compass Team before making a referral: [email protected]
Home Office County Lines Guidance document is available below: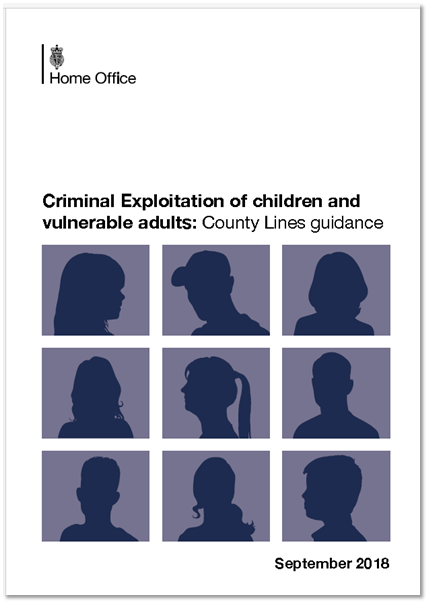 Why do children become involved?
The common issues and reasons can be due to a number of factors, including vulnerabilities identified and being targeted by an abuser. Children who run away or go missing from home, care or education are recognised as being more at risk of being targeted as a victim of exploitation.
Evidence is clear that a missing child is believed to be at risk from Child Exploitation, irrespective of the length of time they are away from home or a caring environment (Plass, 2007; CEOP, 2011b).
It is often the case that children do not perceive themselves to be victims of exploitation, as they consider they have acted voluntarily. This is complicated further as the exploited children often receive cash or gifts by their abuser as  a way to groom them.
A County Lines Spotting the signs poster can be downloaded below: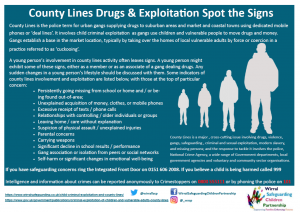 Eyes Open Campaign
The 'EYES OPEN' campaign has been driven by the rising numbers of kids, from all sorts of backgrounds, being abused by drug gangs in an attempt to hide criminal activity.
Merseyside's Violence Reduction Partnership has launched a campaign that's asking the public to keep their 'EYES OPEN' to the signs of drug gangs grooming our county's kids, and if they see, hear or suspect anything to report it anonymously to Crimestoppers. After London, Merseyside's drug gangs are the second biggest abusers of kids, grooming kids as young as 10.
The gangs groom kids by making them increasingly vulnerable, often buying the targeted kid's gifts of clothes, food and bikes making the kids feel in debt to them but also making them feel part of the gang, or 'family'.
Pan-Merseyside Child Exploitation Protocol
The five Safeguarding Children Partnerships in Merseyside (Wirral, Liverpool, Sefton, Knowsley and St Helens) have published a multi-agency Child Exploitation protocol for professionals: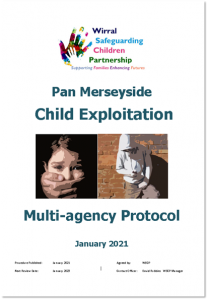 Checklist Tool
To help  determine whether a child is being exploited the WSCP has published a Checklist Tool for professionals to use: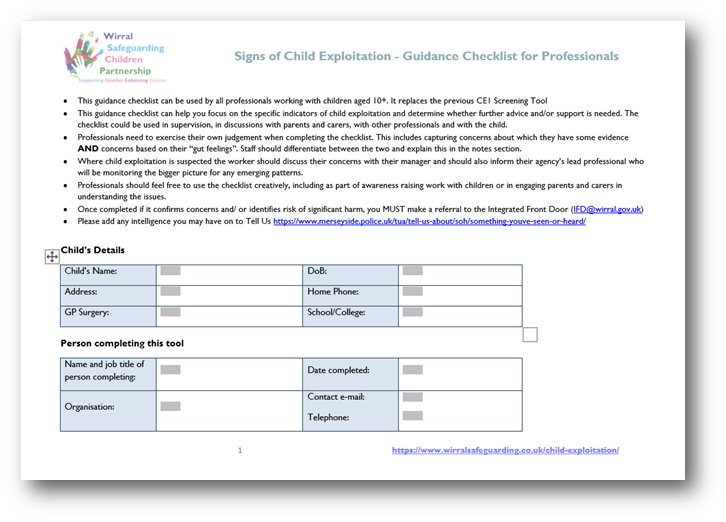 The following are typical vulnerabilities in children prior to abuse:
Living in a chaotic or dysfunctional household (including parental substance use, domestic violence, parental mental health issues, parental criminality)
History of abuse (including familial child sexual abuse, risk of forced marriage, risk of 'honour'-based violence, physical and emotional abuse and neglect)
Recent bereavement or loss
Gang association either through relatives, peers or intimate relationships (in cases of gang associated CE only)
Attending school with children who are exploited
Learning disabilities
Unsure about their sexual orientation or unable to disclose sexual orientation to their families
Friends with children who are exploited
Homelessness
Lacking friends from the same age group
Living in a gang neighbourhood
Living in residential care
Living in a hostel, bed and breakfast accommodation, a foyer or homeless
Low self-esteem or self-confidence
Young carer
The following signs and behaviour are generally seen in children who are already being exploited:
Regularly missing
Parents / Care not reporting young person missing
Drug or alcohol misuse
Has extra money/new items/'gifts' that cannot legitimately be accounted for/received from unknown sources
Change in physical appearance or behaviour
Pregnancy, termination or repeat testing for sexually transmitted infections
Young person has been coerced to take/share indecent images
Arrested/Involved in criminality
Found / travelling out of Borough
Multiple mobile phones
Young person feels indebted to an individual or group
Family or young person having to move or leave their home
Items missing from home
Young person carrying / concealing weapons
Absent from school / Non-school attendance
Services have not been able to engage with child
Self-harm indicators and/or mental health concerns and/or suicidal thoughts/attempts
Injuries – evidence of physical or sexual assault
Relationship breakdown with family and or peers
Association with older and/or risky peers
Change in education attendance/Change in education provider/Missing from education/ Non-attendance in education
Pan Mersey NRM Exploitation Practice Guidance
Child exploitation is a major, cross-cutting issue involving drugs, violence (including sexual violence), gangs, safeguarding, criminal and sexual exploitation, modern slavery, and missing children. Child victims of modern slavery should be referred into the Home Office National Referral Mechanism (NRM).
The Practice Guidance document sets out the identification and local response to modern slavery in children – be it county lines, linked exploitation or slavery and servitude; requires coordinated multi agency activity and clear arrangements for how these agencies and organisations work together.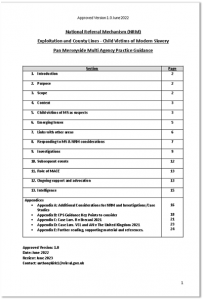 Disruption Toolkits
The two documents below – one from the Home Office and one from the National Working Group (NWG) detail tactics that can be used to disrupt those who seek to criminally exploit and traffic both children and adults.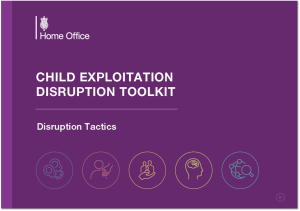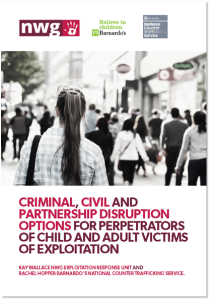 Language, Labelling and use of Inappropriate Terms
The way we use language influences our thinking. Recent Serious Case Reviews in other areas have highlighted this as a significant issue which contributed to systemic failure to protect.
There are some labels which in the past have been used to describe children and their behaviour which lead to inaccurate assumptions which in turn minimise the risks and reality of the child's situation. Professional should avoid using such terms in their recording and conversations and should be mindful of when they enter their thinking and challenge them.
A short guide to  inappropriate terms and suggested alternatives is provided below for professionals to use: Language, labelling and inappropriate terms
An awareness raising poster about the importance of language and terminology is also available below: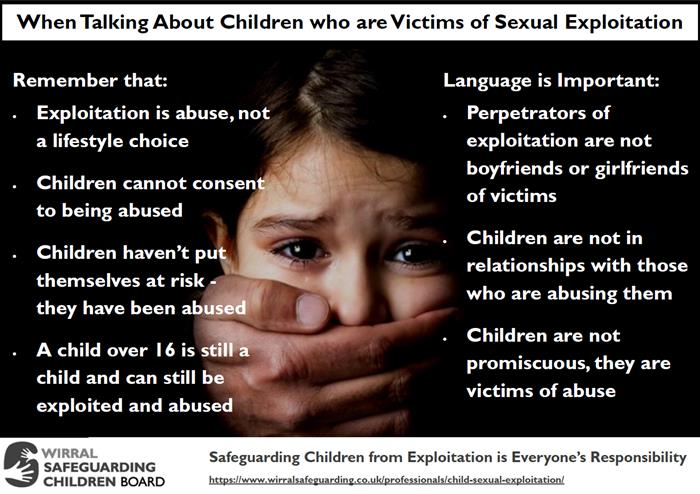 Online Exploitation Awareness Toolkit for School Staff:
An online Exploitation Awareness Toolkit has been designed specifically for staff working in mainstream secondary schools.
You can access the Toolkit here: https://tinyurl.com/ExploitationAwarenessToolkit
This has been a collaborative project by The Children's Society's Disrupting Exploitation, CLIMB, and Prevention Programmes. These resources have been informed by feedback from teachers, school-based work with young people, and our experience of supporting children who are victims of exploitation and their families.
The Toolkit is broken down into three sections:
Part 1 – Training Workshops
Training videos for school staff about Exploitation, Unconscious Biases, and Trauma Informed Practice.
Part 2 – Useful Resources
Resources to support secondary mainstream school staff in safeguarding children from exploitation.
Part 3 – Session Plans
Fully editable resources which allow school staff to deliver sessions focused on topics such as Safety, Consent, and Exploitation in an age-appropriate way. 
For any queries or feedback, please contact: [email protected]
Learning
The Child Safeguarding Practice Review Panel are an independent panel who oversee the statutory case review process. The panel periodically commissions reviews of national significance. The first of these reviews, about safeguarding children at risk from criminal exploitation – It was Hard to Escape, was published in March 2020. It can be downloaded below: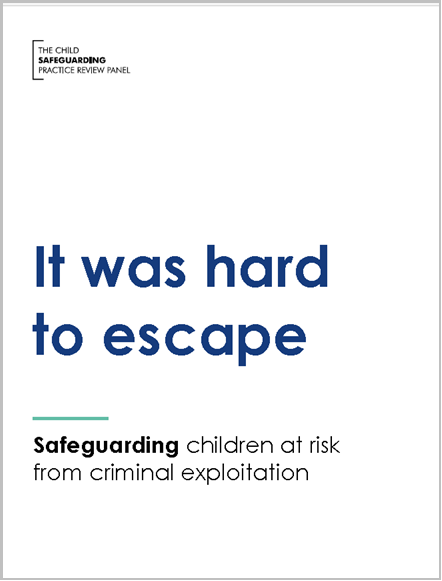 It was hard to escape 7 Minute Briefing: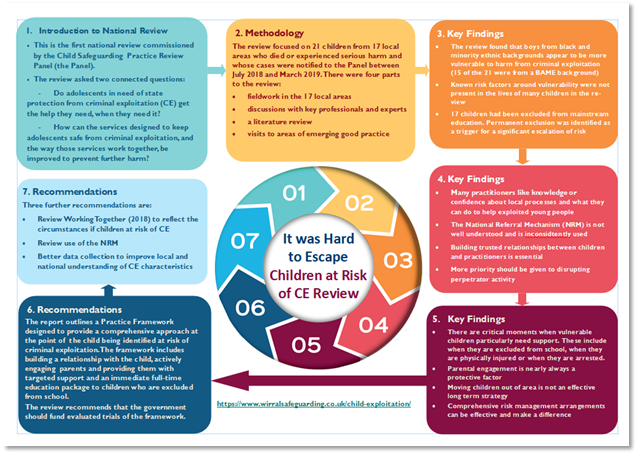 CE Learning from National Reports
The document below summarises learning from four recent national reports.

Waltham Forest Serious Case Review – Child C
Child C was a 14-year-old boy from the London Borough of Waltham Forest. Sadly, he was a victim of criminal exploitation and was murdered. Professionals can look at some of the findings from the serious case review to inform their own practice when working with young people. As professionals we should be reminded by this serious case review about the levels of risk and harm young people affected by exploitation are exposed to.
The full report can be read here: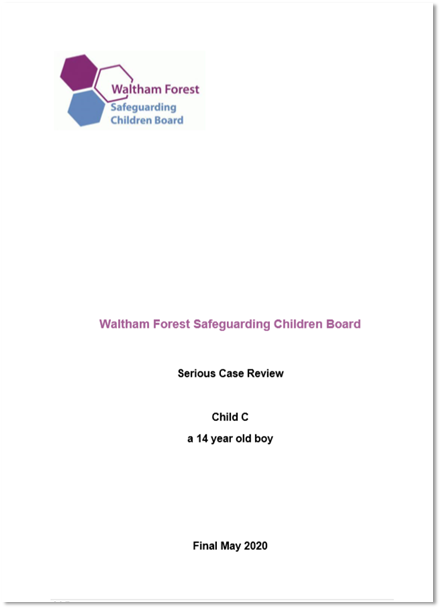 Protecting Children from Criminal Exploitation, Human Trafficking, and Modern Slavery: an addendum
Publishes the findings from a JTAI (Joint Targeted Area Inspection), the inspection focussed on the multi-agency response to child exploitation, including criminal exploitation. The report describes some of it's findings which will be useful for professionals when working with young people and families affected criminal exploitation.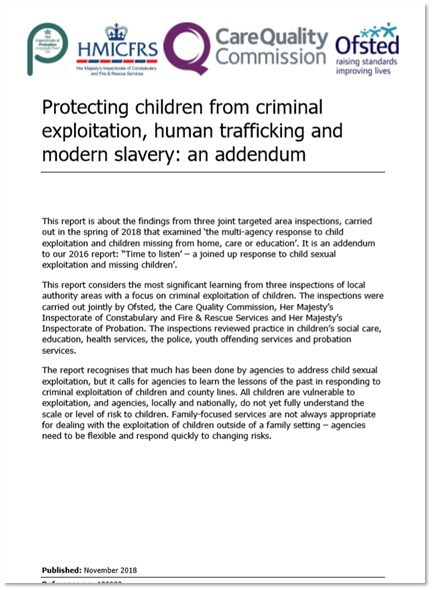 Key Messages Posters
Presented below are two posters which provide messages for practitioners based on learning from national Serious Case Reviews and local reviews. The WSCP recommends that partner agencies display the posters and use them as discussion items in supervision sessions and team meetings.
CSE Learning from national Serious Case Reviews: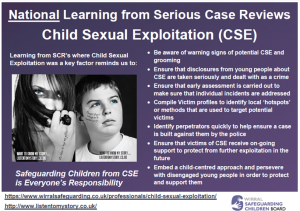 WSCB National Learning from SCR's – CSE
CSE Learning from local reviews: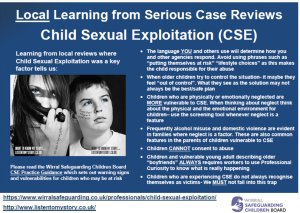 WSCB Local Learning from SCR's – CSE
Posters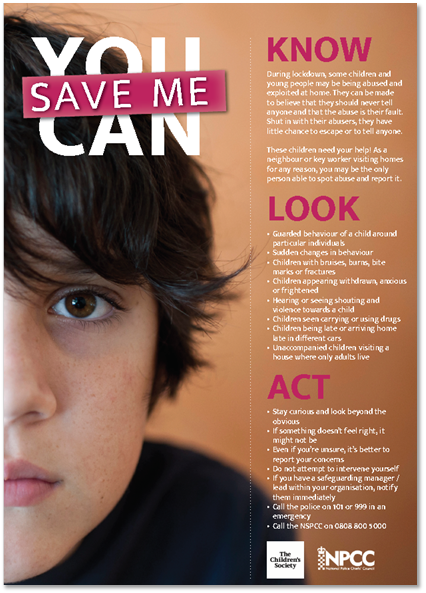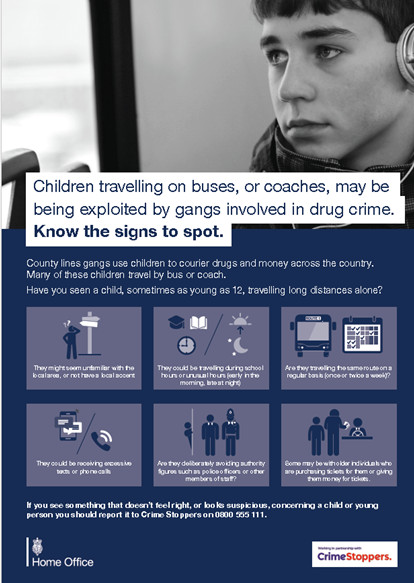 CE Audit (Nov 2019) 7 Minute Briefing:
a
Publications and Resources
The Compass Team have access to a number of resources/ useful information which can be used when working with young people and families. We are always happy to share resources, or have a consultation. Our email and duty phone number is; [email protected] / 0151 666 3800.
Counting lives: Responding to children who are criminally exploited
This is a report published by the Children's Society in 2019 which looks at how young people are exploited, the responses by professionals to these concerns and sets out recommendations as to how they can better be supported.
Fearless – County Lines Resource
This educational resource developed by Fearless is a tool that can be very helpful in developing some direct work session with young people on a 1:1 basis or in a group setting. The Resource focusses on some areas such as grooming, controlling behaviours, and also contains some case studies/ scenarios which can be discussed. The Fearless website is worth taking a look at for other resources and information which can be used when working with young people.
County Lines and Exploitation Toolkit for Professionals
Criminal Exploitation Stages of Recruitment – Children's Society 2018
CSE Disruption Toolkit – Final October 2018
Home Office Criminal Exploitation of Children and Vulnerable Adults: County Lines Guidance – September 2018
Childline app 'For Me', built in partnership with Barclays. It's the first app to provide counselling to young people in need of help, directly through their smartphone. Teenagers behind the development of the service appeared with Dame Esther Rantzen on Good Morning Britain and Sky News, as well as featuring on the BBC School Report.
The head of helplines John Cameron said: "Launching the 'For Me' app shows how we're continuing to capitalise on new technology to give children and young people the easiest possible access to Childline's free and confidential advice and support. Its development will enable our younger generation to tap directly into Childline's expanding range of services through their mobile phone whenever and wherever they need our help."
Safe Skills from the Ariel Trust
'SafeSkills' is a new preventative education resource for young people aged 9-12 years. The resource aims to improve the safety of young people in our community in relation to the risks associated with 'grooming'.
The resource has been developed in partnership with various agencies, such as NSPCC and Liverpool's 'Protect' team. We have consulted teachers to ensure the resource is age appropriate and that the lessons support both teacher and pupil needs.
The resource consists of three modules; 'motivations and intentions', 'talking about your feelings' and 'the role of the bystander'. It includes short films and interactive activities designed to promote discussion in a safe space.
Using films and interactive, skill based, activities about 'grooming' behaviour and controlling relationships, the resource will develop young people's resilience, equipping them with the necessary skills to protect themselves against grooming risks.
The film themes consist of; 'gaming', 'gifts', 'park life', 'disclosing personal information online', 'communicating feelings' and 'the role of the bystander'.
'SafeSkills' will be used by teachers and other professionals to empower young people in practical ways.  The resource focuses on identifying opportunities for a young person to take positive action or to ask for support.
'SafeSkills' will help young people to develop their communication skills and increase their resilience, helping them to build a network of people that they can turn to for support. The resource presents realistic situations in an implicit, non-threatening but thought provoking way.
Claire McKinnon, Year 6 teacher from St. William of York said, "Our kids loved the resource and it was really relevant to their needs."
If you would like more information – or access to safe skills, please contact [email protected].
Click here for the safeskills website.
Catch22
As the Missing From Home/Child Sexual Exploitation Commissioned Service in your Local Authority, Catch22 have undertaken a piece of work with both local children and local professionals to identify the attached pieces of advice for children and professionals around preventing CSE online, and issue identified by local young people as a large concern for them.
Catch22 also have a film that has been made using real stories from that work that we undertake. You can find that video here: https://youtu.be/Z293D3_OPbs
A Key area for development around Child Sexual Exploitation in 2017 has been the change in the national definition of CSE and Working Together Guidance which went live on the 16th February. Information regarding the changes can be found here: https://www.nwgnetwork.org/child-sexual-abuse-csa-definition/
If you have any concerns, would like advice or guidance around any concerns you may have or would like some ideas around activities you can undertake to raise awareness of CSE with your staff teams, parents or children, please feel free to get in contact with your Catch22 CSE Team on: [email protected]   0151 666 4897 or 07979 241502
Leaflets from Catch22:
Catch22-CSE-leaflet-parents-carers
Catch22-Missing-From-Home-young-people
Barnardos
Barnardos publish a number of resources for children and young people, professionals and parents and carers about Child Sexual Exploitation including their Spot the Signs guidance. Their leaflets can be accessed here:
Spot the Signs leaflet for Children and Young People
Spot the Signs leaflet for Parents and Carers
Spot the Signs leaflet for Professionals
Further information from Barnardo's is available from their website: https://www.barnardos.org.uk/what_we_do/our_work/cse-home
PACE
Pace (Parents Against Child Sexual Exploitation) work alongside parents and carers of children who are – or are at risk of being – sexually exploited by perpetrators external to the family. They offer guidance and training to professionals on how child sexual exploitation affects the whole family, and resources, guidance and advise to parents and carers which can be accessed from their website: http://paceuk.info/
Social media
Available below is a guide to many of the common social media chat, instant messaging and picture sharing apps widely used by children and young people.
An updated list of 183 gaming and social media apps commonly used by young people is available here: Social Media Library April 2018. The list includes the names and description of the apps.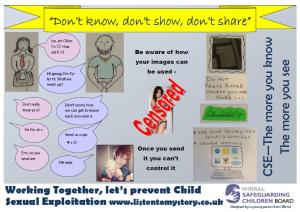 Boys Don't Cry – A report by the Children's Society into the sexual exploitation of young men trafficked into the UK, March 2016
Boys and Trafficking Report March 2016
Serious Case Review report from Bristol LSCB following an investigation into the organised exploitation of children (Operation Brooke).
Serious Case Review Report – Organised CSE Operation Brooke
Below is a report published by the National Working group for CSE which highlights the similarities between some forms of Child Sexual Exploitation and the Trafficking of Human Beings, and the advantages of the legislation when taken in the partnership as a response to a child safeguarding strategy and criminal investigation.
Understanding Modern Slavery Act
Seen and Heard Campaign
In July 2016 the Department for Health and the Children's Society launched the Seen and Heard campaign to raise awareness of the signs of sexual abuse and exploitation. More information can be found HERE or visit the campaign's website:
http://www.seenandheard.org.uk
If you believe a child is at risk
If a child or young person is at risk of harm, abuse or neglect please report it to the Wirral Central Advice and Duty Team (0151 606 2008) 9.00am-5.00pm Monday to Friday.
Outside of these hours please call 0151 677 6557. In an emergency always dial 999.
E-mail: [email protected]
In an emergency always call the police on 9