Operation Encompass Information
Operation Encompass is an early intervention safeguarding partnership between Education and the Police. set up in 2011, the original aim of Operation Encompass was to make sure that schools were informed, before the start of the next school day, if the police had been called to a child or young person's house the previous evening due to a domestic incident and to ensure that children are recognised as victims of Domestic Abuse in their own right.
Operation Encompass Helpline for school staff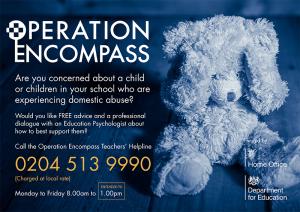 A Teachers' Helpline launched in Devon and Cornwall on 1st April 2020  was created in response to the Covid-19 pandemic, to provide free, confidential consultations for school staff when supporting children who are victims of domestic abuse, as it had became apparent that lock-down represented a significant threat for many children's safety and well-being, and schools were in uncharted territory when it came to supporting and staying connected with these children.
So if you received an Operation Encompass call about a child in your school and are unsure of the best way to support, you can access FREE advice from an Education Psychologist about how best to support them, by calling the Operation Encompass Teachers' National Helpline on 0204 513 9990 (Monday to Friday, 8am-1pm)
For more information on what the helpline can do click here
Operation Encompass Key Adult Training
Virtual College provide a free virtual training course for staff from schools and other education settings.- even if your school is not yet part of Operation Encompass. The training updates staff members' knowledge of child victims of domestic abuse. The is also designed to help staff in developing the skills and knowledge to fully embed Operation Encompass in your school or education setting. To access the training please register by clicking the link:   Log In – Enable (vc-enable.co.uk)
Please also see our page for professionals about Domestic Abuse by clicking here.
Domestic Abuse in Context – The vital role of school and staff:

Operation Encompass – Early Years Guidance:


Operation Encompass – Key Stages 1 and 2 Guidance:


Operation Encompass – Key Stages 3 and 4 Guidance:

Always remember to follow your safeguarding procedures when you have any concerns about a child. If you are in any doubt always consult with your designated safeguarding lead or phone Children's Services Integrated Front Door on 0151 606 2008.
For guidance and resources for schools please visit the national Operation Encompass website: https://www.operationencompass.org/school-participation