Multi-agency Thresholds
Thresholds Document
The threshold document sets out the four levels of intervention from Universal Services to Statutory Services and include descriptors for each level. It is very important for children's services professionals to be familiar with the four levels of need as this will help ensure we work together effectively to provide the right help at the right time to children and young people.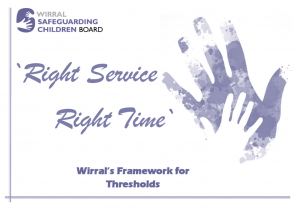 Thresholds on-a-page
The thresholds can also be downloaded below on an A3 poster illustrating all the thresholds on one page. This can be printed as a helpful poster for display in offices.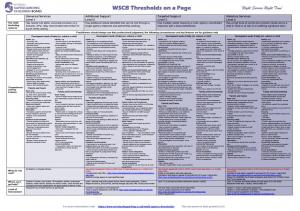 The Service Specification for the Integrated Front Door can also be downloaded below:
IFD Service Specification January 2018 v7
`Right Service Right Time` – Thresholds Conferences
The Wirral Safeguarding Children Board delivered a series of conferences for professionals about the understanding and application of thresholds across the partnership during January and February 2017.
Presentations from the Conference
The presentations delivered at the conferences can be downloaded below:
0 Thresholds Conference Agenda
1 Thresholds – Integrated Front Door
Tools for Professionals
The WSCB has a published directory of tools available for professionals to use to support assessment of the level of need and appropriate referral for children and young people.
The tools are referred to and explored at the conference workshop.
Click on the link Tools for professionals to access the tools.