Foster Carers Safeguarding Information
Fostering a child is a very rewarding experience, enabling you to change a child or young person's life for the better, by providing them with a stable, loving, safe and secure home at times in their life when they are unable to live with their parents or in the family home.
Fostering and Safeguarding Children
Safeguarding means keeping a child protected from abuse, neglect and harmful situations, but also creating a safe environment where a child can grow, develop and flourish, and be supported to reach their potential. Foster carers have a big role to play in ensuring that the children in your care are safe and secure.
Your first port of call for any potential safeguarding concerns will be your Supervising Social Worker who will be able to advise you.
The Government has published a list of safeguarding standards for Foster Carers. These are the things you must do to keep children in your care safe:
Children's safety and welfare should be promoted in all fostering placements and children must be protected from abuse and harm
Foster carers must actively safeguard and promote the welfare of foster children
Foster carers must make positive relationships with children and create a culture of openness and trust
Foster carers must be aware and alert to any signs or symptoms that might indicate a child is at risk of harm
Foster carers should encourage children to take the kinds of appropriate risks that are a normal part of growing up
Foster carers must encourage children to keep themselves safe (including outside the home and on the internet)
Foster carers must be appropriately trained
Foster carers must work in partnership with other agencies involved in the child's protection, like the child's school, GP, social worker, etc
Safeguarding Training
Basic awareness safeguarding training is available to all Foster Carers through the Wirral Safeguarding Children Partnership (WSCP). Four dates have been circulated for the delivery of a 3 hour basic awareness course. To book a place, LA Foster Carers should contact the LA Fostering Team.
Foster Carers are also able to access the programme of multi-agency safeguarding training delivered by the WSCP. Individual Foster Carers will need to register to be able to access the courses. More detail is available here.
The WSCP also publishes a series of safeguarding 7 Minute Briefings, and has a range of e-learning and narrated powerpoint courses which are available to Foster Carers.
More Information
If you would like more information about becoming a Foster Carer for Wirral Council, please visit their dedicated web page here. The Council have also published a guidance document for prospective Foster Carers which can be accessed by clicking the image below: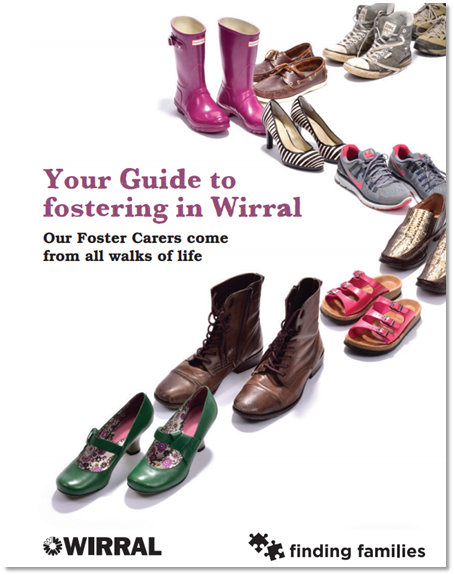 Useful Links for Foster Carers
WSCP Safeguarding Pages:
Child Safety Week 2021 – Wirral Safeguarding Children Partnership
Concerned about a child – Wirral Safeguarding Children Partnership
Babies Cry, You Can Cope – ICON – Wirral Safeguarding Children Partnership
Safer Sleep Guidance for Parents – Wirral Safeguarding Children Partnership
Online Safety – Guidance for Parents – Wirral Safeguarding Children Partnership
Drugs and Alcohol – Parents and Carers – Wirral Safeguarding Children Partnership
Child Exploitation – Information for Parents – Wirral Safeguarding Children Partnership
New Out Of Hours Mental Health Advice Line – Wirral Safeguarding Children Partnership
Family Matters – Bitesize Sessions for Parents – Wirral Safeguarding Children Partnership
Adverse Childhood Experiences (ACEs) – Wirral Safeguarding Children Partnership
External Safeguarding Pages:
Homepage | CoramBAAF – CoramBAAF is an independent membership organisation for professionals, foster carers and adopters
Help and support for foster parents – GOV.UK (www.gov.uk)
The Fostering Network is the UK's leading fostering charity | The Fostering Network
Statutory Guidance Documents:
Fostering Services National Minimum Standards – HM Government
Foster Care Standards Evidence Workbook – HM Government
Working Together to Safeguard Children (2018) – HM Government