Safer Sleep Guidance for Parents
Learning from Child Deaths – The Safer Sleep Campaign
Safeguarding Children Boards through their Child Death Overview Panels (CDOP) are legally required to review every death of a child who was usually resident in their area.
One of the reasons for doing this is to see if there are any patterns to reasons why children die, and if so can we do anything about preventing similar deaths in the future?
One of the patterns which is known across Merseyside is the significant number of deaths which have occurred when parents have fallen asleep with babies in their bed and accidentally suffocated or badly injured them causing death when they have moved during the night. On a few occasions babies have fallen out of their parents beds and been injured or died as a result.
To raise awareness of the dangers of co-sleeping with your baby the Merseyside CDOPs launched the safer sleep campaign in December 2015.
Merseyside's five Safeguarding Children Boards, Wirral, Knowsley, Liverpool, Sefton and St Helens, came together to create the safe sleeping campaign to help deliver safer sleep messages across Merseyside.
Safer Sleep for Baby is based around six simple steps, designed to be easy to follow and cover the main risk factors. We want all agencies involved with families to speak in a unified voice to reinforce our messages to parents and carers. Research evidence shows that the safest place for a baby to sleep is in their cot, in the parents' bedroom for the first six months of life.  Campaigns to support this have had a positive impact; the number of babies dying, suddenly and unexpectedly, reduced significantly following the introduction of the 'Back to Sleep' Campaign in 1991.
A Safer Sleep 7 minute briefing poster is available below:
Safer Sleep – 7 min Briefing Merseyside CDOP

New parents in Wirral should be given clear safer sleep advice from their healthcare professionals before and after baby comes home. If you would like any further information or advice please speak to your midwife, health visitor, GP or from your local children's centre.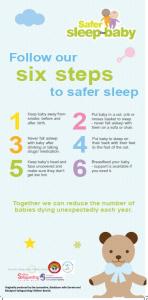 View further information about safe sleep from the Lullaby Trust: http://www.lullabytrust.org.uk