Child Sexual Exploitation
On February 16th 2017 the  government launched the revised definition of Child Sexual Exploitation along with new working together advice on CSE. The revised definition is detailed below: 
Revised statutory definition of child sexual exploitation
Child sexual exploitation is a form of child sexual abuse. It occurs where an individual or group takes advantage of an imbalance of power to coerce, manipulate or deceive a child or young person under the age of 18 into sexual activity (a) in exchange for something the victim needs or wants, and/or (b) for the financial advantage or increased status of the perpetrator or facilitator. The victim may have been sexually exploited even if the sexual activity appears consensual. Child sexual exploitation does not always involve physical contact; it can also occur through the use of technology.
Tackling child sexual exploitation is a top priority for the Wirral Safeguarding Children Board and the partnership.
A number of high profile cases have highlighted the need for vigilance from all of us, and not just those in statutory safeguarding services. We all need to be more aware of the signs of child sexual exploitation (CSE) and identify children and young people who are at risk.


The Merseyside safeguarding children boards in partnership with Merseyside Police have developed a website dedicated to raising awareness of child sexual exploitation. The www.listentomystory.co.uk website is a 'one stop shop' for information and advice about Child Sexual Exploitation whether you are a professional, child or young person, parent or carer, or a member of the public.
CSE Documents for Professionals
Forms
The CSE Screening Tool 2016 is available for professionals to use prior to referral to identify the nature and level of CSE for individual young people. If the tool is completed and CSE is identified the form can be sent into CADT/MASH with the referral.
The CSE1 Referral form, is the referral form to use when you have concerns that a young person is a victim of or is at risk of being sexually exploited. The completed form is sent with a request for services form into CADT ([email protected])
The CSE2 Risk Measurement Tool is a risk assessment form which will be used at the MASH, with young people and at the MACSE meetings to assess the risk faced by individual young people. Regular use of the tool will evidence whether the level of risk is decreasing over time. Completion of the tool is led by the social worker with input from the child, family and partner agencies. The form is generated from Liquid Logic for each case.
Protocols and Guidance
The Merseyside CSE Protocol May 2016 sets out the multi-agency procedure for tackling child sexual exploitation in Wirral and across Merseyside. The protocol details how through the multi-agency child sexual exploitation (MACSE) meetings we can work together to reduce the harm to children and young people from CSE.
The  CSE Practice Guidance October 2016 document contains guidance for professionals about CSE including signs and indicators, push and pull factors, trafficking, use of language and dangers of labelling etc. The Practice Guidance also includes case studies and details of the referral process.
The pan Merseyside CSE Strategy Jan V1 2016 sets out the approach across Merseyside to combat CSE through effective multi-agency and partnership working.
CSE Resources
Kayleigh's Love Story
This video was developed by Leicestershire Police following the true case of a 15 year old girl who was groomed online by a man she didn't know over the course of just 13 days and then was tragically murdered by his friend. The video is currently being used with schools in Leicestershire  to raise awareness of the importance of online safety.
Kayleigh Haywood began speaking to Luke Harlow, a man she had never met, on 31 October 2015.
Over the course of 13 days they exchanged 2643 messages. Harlow told the 15-year-old all the things many teenage girls want to hear. He told her she was beautiful, how much he cared for her and that she was special.
Harlow was grooming Kayleigh, along with two other young girls he had also been speaking to. But it was Kayleigh that finally agreed to his requests to spend the night of Friday 13 November 2015 at his house.
She spent the next day with him too, and in the early hours of Sunday 15 November, having been held against her will by Harlow and by his next door neighbour Stephen Beadman, Kayleigh was raped and murdered by Beadman.
Kayleigh's Love Story is as a warning to young people, both girls and boys, about the dangers of speaking to people they don't know online. The film highlights just how quick and easy it can be for children to be groomed online without them or those around them knowing it is happening. Its purpose is to protect children now and in the future and to stop another family losing a child in this way.
Facts about the film
The film lasts around five and a half minutes and is available to view now. The film was made by Affixxius Films in Loughborough and was shot in various locations across Leicestershire and in Nottingham. The film and the trailer both contain warnings. If either were to be screened at a cinema, they would carry a 15 certificate.
Further information and resources about CSE can be found on this website and information specifically for young can be found on the Merseyside Listen to my Story website:  http://www.listentomystory.co.uk/
Alright Charlie
This resource was developed by the Yorkshire MESMAC as part of the nationally recognised BLAST project. Yorkshire MESMAC is one of the oldest and largest sexual health organisations in the country and offers a variety of services, training and resources.
The Alright Charlie learning resource is designed for use with children aged 9-11 in primary schools and aims to highlight the warning signs of grooming in an age appropriate way. The film is seen through the eyes if Charlie who is groomed by Danny. The resource was designed in consultation with CSE professionals, primary schools teachers and children in years 5 and 6 in primary schools. The resource is accessible to girls AND boys with the viewer never discovering Charlie's gender.
The resource includes a guidance book for professionals and a workbook for children and young people
There is also a video resource which can be accessed below:
Catch 22 –  CSE Awareness Day 18th March 2017





 Catch22
As the Missing From Home/Child Sexual Exploitation Commissioned Service in your Local Authority, Catch22 have undertaken a piece of work with both local children and local professionals to identify the attached pieces of advice for children and professionals around preventing CSE online, and issue identified by local young people as a large concern for them.
 Catch22 also have a film that has been made using real stories from that work that we undertake. You can find that video here: https://youtu.be/Z293D3_OPbs
On the 18th March 2017 NWG Network also call for all to unite against child sexual exploitation. As in previous years, you can show your support by writing a personal pledge and posting to your social media with both the #CSEDay17 & #HelpingHands hashtags to help them raise awareness of CSE. For more information regarding the NWG Campaign: http://www.stop-cse.org/national-child-exploitation-awareness-day/.
A Key area for development around Child Sexual Exploitation in 2017 has been the change in the national definition of CSE and Working Together Guidance which went live on the 16th February. Information regarding the changes can be found here: https://www.nwgnetwork.org/child-sexual-abuse-csa-definition/
During National CSE Awareness week, there will be a range of events taking place across the local authority. These include:
Bitesize activity sessions within a local school, CSE Awareness training on 17th March and a Stay Safe Operation on Saturday 18th March
If you have any concerns, would like advice or guidance around any concerns you may have or would like some ideas around activities you can undertake to raise awareness of CSE with your staff teams, parents or children, please feel free to get in contact with your Catch22 CSE Team on: [email protected]   0151 666 4897 or 07979 241502
Lead Officers for Child Sexual Exploitation
The safeguarding board has published guidance for agencies on the role of Lead Officer for CSE. This is the person(s) in the organisation, usually the safeguarding lead who colleagues can go to for advice about using the CSE tools, making a referral and how the process works. The guidance document can be accessed below:
cse-lead-officer-role-and-information
Local Lead Officers :
Social media
Available below is a guide to many of the common social media chat, instant messaging and picture sharing apps widely used by children and young people.
Guide to Common Social Media Apps
The WSCB has produced three CSE awareness raising posters which can be downloaded here:
CSE Poster Boy – CSE Poster Girl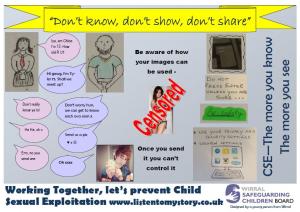 CSE Training for Professionals
The WSCB offers a full day multi-agency training session about Child Sexual Exploitation. This course is available free of charge to all children's services professionals. Details of the course, dates and how to book can be found by clicking here.
Latest CSE Publications and Reports
As CSE and Exploitation related reports and research are published we will add them to the website below:
Boys Don't Cry – A report by the Children's Society into the sexual exploitation of young men trafficked into the UK, March 2016
Boys and Trafficking Report March 2016
Serious Case Review report from Bristol LSCB following an investigation into the organised exploitation of children (Operation Brooke).
Serious Case Review Report – Organised CSE Operation Brooke
Below is a report published by the National Working group for CSE which highlights the similarities between some forms of Child Sexual Exploitation and the Trafficking of Human Beings, and the advantages of the legislation when taken in the partnership as a response to a child safeguarding strategy and criminal investigation.
Understanding Modern Slavery Act
Seen and Heard Campaign
In July 2016 the Department for Health and the Children's Society launched the Seen and Heard campaign to raise awareness of the signs of sexual abuse and exploitation. More information can be found HERE or visit the campaign's website:
http://www.seenandheard.org.uk
If you believe a child is at risk
If a child or young person is at risk of harm, abuse or neglect please report it to the Wirral Central Advice and Duty Team (0151 606 2008) 9.00am-5.00pm Monday to Friday.
Outside of these hours please call 0151 677 6557. In an emergency always dial 999.
E-mail: [email protected]
In an emergency always call the police on 999.