CSE Awareness Day

CSE Awareness day 18th March 2017
Write a personal pledge on your hands to show support for our Helping Hands campaign. Post your photo on social media with the hashtag #HelpingHands to help us raise awareness of CSE.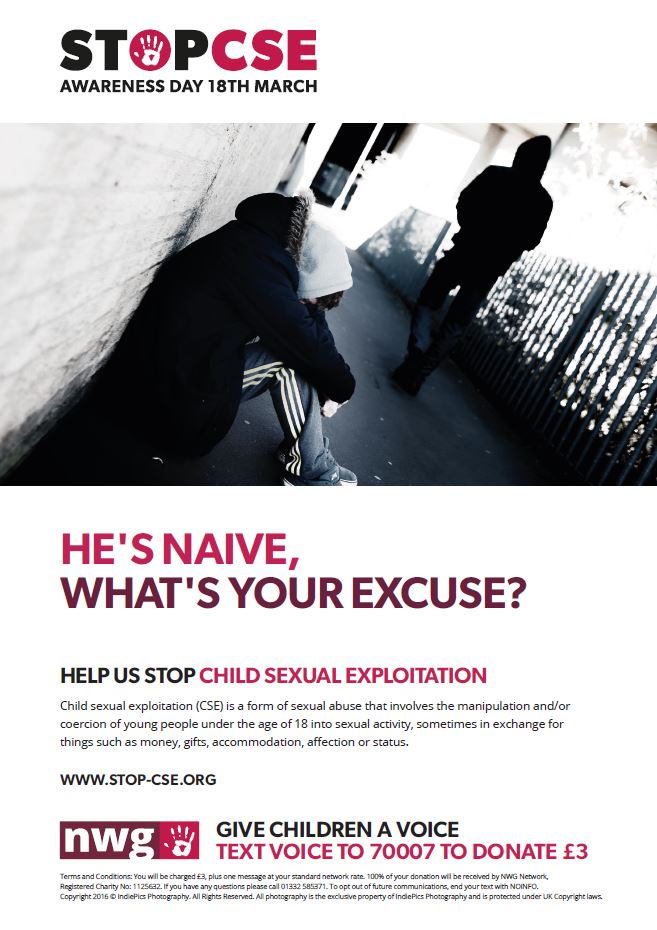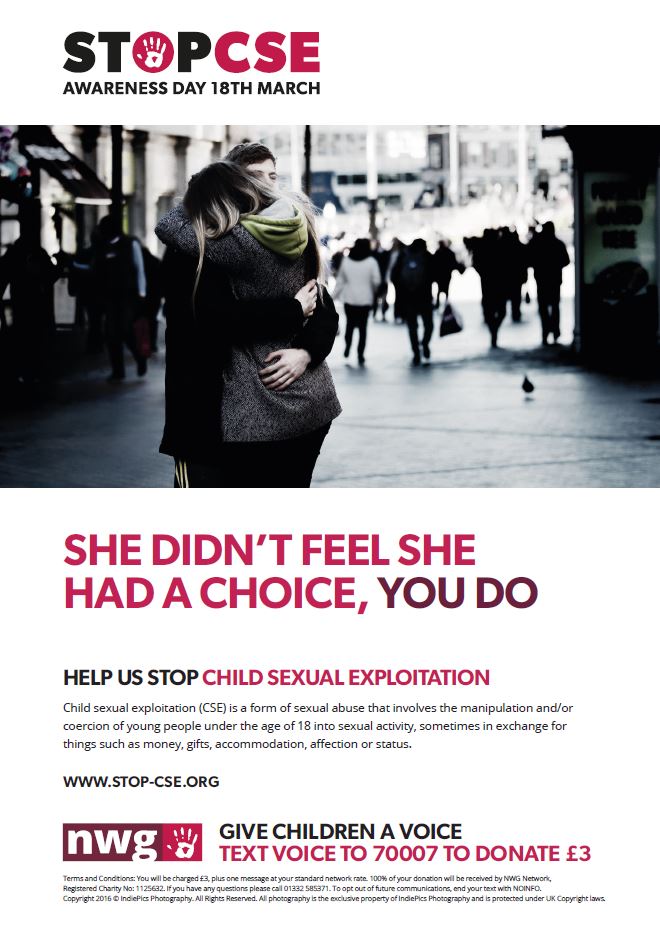 Children and young people who are Sexual Exploitated and /or Trafficked can be heterosexual, gay, lesbian, bisexual, they can be female, male or transgender.
However many of those who are victimised may be reluctant to disclose offences or seek support, often due to stigma, prejudice or embarrassment or the fear that they will not be believed. They may see themselves as able to protect themselves but in cases of Child Sexual Exploitation (CSE) physical stature is irrelevant due to the coercion and manipulation used.
Despite media focus, the majority of those who are victimised are not 'looked after' children.
It is estimated that only 20 – 25% of victimised children and young people are 'looked after'. Children and young people living at home can be just as vulnerable, if not more vulnerable as they may not be known to social services and therefore are less likely to be identified as at risk of Child Sexual Exploitation.
Young people are groomed and sexually exploited in many different forms. This could be online, through street gangs, in religious environments, and by those in positions of authority including celebrity. The common theme in all cases is the imbalance of power and the control exerted on young people by the exploiter / perpetrator.
Those children and young people who are being victimised may appear to be willing accomplices however this should be seen in the context of the controls exerted by the perpetrator and the submission of the child/young person to them.
Evidence shows that Child Sexual Exploitation can and does happen in all parts of our country.
CSE is not restricted to urban areas such as large towns and cities but does in fact happen in rural areas such as villages and coastal areas.
Sexual Exploitation of Boys and Young Men
The sexual exploitation of boys and young men does happen.
The Government Education Department Guidance published in 2009, supported by research in the field acknowledges that boys and young men, as well as girls and young women can be sexually exploited. Research in this area ( "Hidden in Plain Sight") has been undertaken by NatCen, Barnardo's and UCL has seen an increasing body of knowledge of issues involved developing (See resources). However there is a need for wider recognition and understanding of the issue.
Why does the sexual exploitation of boys and young men continue to go unrecognised?
Young men have explained that their sexual exploitation is often overlooked by practitioners. There is some evidence that young men who are being sexually exploited are more likely to be criminalised for their behaviour and viewed as a perpetrator. Young men's victim hood often goes unrecognised and professionals may tend to focus on boys and young men's outward behaviour, such as offending or drug and alcohol use, without questioning the reasons behind it.
Behaviours that may be likely to be recognised as evidence of risk for a girl or young women may be interpreted as a young man experimenting with their sexuality or demonstrating sexually harmful behaviours to others.
In addition boys and young men may be less likely to, or find it more difficult to disclose than young women. Without a disclosure it may be difficult for professionals to justify the time commitment to support a young man at risk of, or suspected of being sexually exploited.
Sexual Exploitation and Trafficking
UK and migrant children are trafficked into within and out of the UK for sexual exploitation, this is a brief overview of the Trafficking process.
It should always be borne in mind by any practitioner that a child subject to Human Trafficking is considered by the trafficker as a commodity and a source of income that they have in many cases paid for, or invested time and expense in recruiting or grooming for their benefit.
If they lose that source of income or benefit they may go looking for it, so any child removed from a place or situation of exploitation may still be at risk from the trafficker.
The indicators are not definitive and the same indicators could be present in more than one type of exploitation, just as the child victims could be subject to more than one type of exploitation.
However one vulnerability is present in all forms of child trafficking that is the imbalance of power between the trafficker and the victim, in some situations this could leave the child vulnerable to sexual exploitation which may not be apparent at first contact this possibility must always be foremost in a responders mind.
The Trafficking process has several distinct phases.
Recruitment or grooming
Travel/transportation
Arrival
Exploitation
Rescue/Escape
Return/Rehabilitation
Non school attendance or excluded due to behaviour
Staying out overnight with no explanation
Breakdown of residential placements due to behaviour
Unaccounted for money or goods including mobile phones, drugs and alcohol
Multiple STI's
Self harming
Chronic alcohol and drug use
Criminal offending
Being moved around for sexual activity
Multiple miscarriages or terminations
Offering to have sex for money or other payment then running before sex takes place
Receiving rewards of money or goods for recruiting peers
Disclosure of physical sexual assault and then refusing to make or withdrawing complaint
Frequenting 'red light' district
Being taken to clubs and hotels by adults and engaging in sexual activity
Overt sexualised dress, sexualised risk taking including on Internet
Getting into cars with unknown adults or associating with known CSE perpetrators
Trafficker speaking for the child
Having a much older boy/girlfriend
No travel or identity documents
Does not speak English
Sexual Exploitation and Families
Sexual exploitation is a complex problem with social, legal, political, economic and ethical dimensions.
It takes many singular and interrelated forms including pornography, prostitution, paedophilia, trafficking in human beings, and affects people of different ages, sexes and communities. Sexual exploitation has profound and damaging consequences for individuals exploited and those around them including families and communities. Targeting and grooming of children often brings psychological implications for parents and other family members; it can become almost impossible for them to carry on with their life and be able to respond effectively to the crises at hand.
They feel their lives have been turned upside down from a situation they have never anticipated. It can undermine parents' capacity to respond proactively to the needs of their children. Lack of knowledge of the operation of abusers, patterns of grooming, impact of exploitation on their children can contribute to crises, pushing parents into despair.
Families in such situations need advice and support.
PACE has been pioneering in support work to parents affected by child sexual exploitation. Founded by an affected parent, PACE continues to be driven by the experiences and needs of affected parents and works alongside them so that they can become active agents in responding to the sexual exploitation and abuse of their children.
Information provided by PACE (UK) (Parents Against Child Sexual Exploitation). More information on supporting parents can be found on the PACE website.
More information about the direct effects of Child Sexual Exploitation (CSE) on Parents and Carers and Supporting Parents and Carers can be found in our resources library.
Sexual Exploitation and Missing
It is estimated that in the region of 250,000 reports of missing persons are made to police forces throughout the United Kingdom each year* and 140,000 of these are children.
The link between Child Sexual Exploitation (CSE) and children and young people going missing is inextricable since going missing can be both a cause and a consequence of being sexually exploited.
Barnardos (in 2011) identified that 50% of sexually exploited young people they worked with in 2009/10 went missing on a regular basis and 2011-12, 128 of the children and young people contacting Missing People were identified as experiencing or at risk of CSE.