CE Awareness Day 18th March
https://www.stop-cse.org/national-child-exploitation-awareness-day/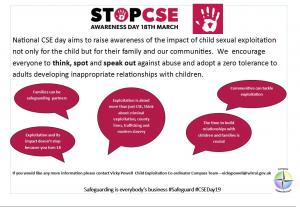 To download poster please click here
The National Child Exploitation Awareness Day aims to highlight  the issues surrounding CE; encouraging everyone to think, spot and speak out against abuse and adopt a zero tolerance to adults developing inappropriate relationships with children.
The WSCB supports the NWG commitment to fighting CE and supporting victims and their families who are subjected to child sexual exploitation. More information about the work of the NWG and activities to support CE Awareness Day can be found here.
On the 18th March there will be a call for all to unite against child sexual exploitation. Show your support by writing a personal pledge and posting to your social media with the hashtag #HelpingHands to help raise awareness of CE.
What is Child Exploitation?
Child Exploitation, or CE is a term which encompasses all the ways by which children and young people can be exploited. It includes Child Sexual Exploitation (CSE) and also criminal exploitation. The criminal exploitation of children is an issue which is gaining more of a national focus and is closely related to County Lines, and other ways children and young people are drawn into drugs related criminal activity.
It is NOT OK for someone to expect you or your friends t do things you don't want to do sexually. Listen to your instinct; if it doesn't feel right #SaySomething
How you can Help
On March 18, we want the world to unite against child sexual exploitation
There are various ways you can show your support:
1. Write a personal pledge on your hands to show support for our Helping Hands campaign. Post your photo on social media with the hashtag #HelpingHands and #CSEDay18 to help us raise awareness of CSE. Your pledge can be anything. From speaking out, to educating others. It is your promise to the victims of child sexual exploitation (CSE). For more information visit here
2. Display Stop CSE.org Campaign… and help to raise awareness of Child Sexual Exploitation by displaying our banners and posters – designed to encourage participation in the National CSE Awareness Day – together we can raise awareness and deter child sexual exploitation.
Downloading copies of the is simple, the NWG have a variety of media available to help you raise awareness with us, from posters and banners to simply displaying the campaign logo..
3. Show your support on social media use #HelpingHands and #CSEDay18.
Join the CSE thunderclap on the 18th: https://www.thunderclap.it/projects/66880-cse-awareness-day-2018
You can download posters, website banners and logo's http://www.stop-cse.org/national-child-exploitation-awareness-day/raise-awareness/
4. Educate, speak out and encourage others to join us in the fight against Child Sexual Exploitation
SHARE YOUR KNOWLEDGE AND EDUCATE OTHERS
Children and young people can be informed about Child Sexual Exploitation and the methods used to target and groom them. They can be given literature to help them understand Child Sexual Exploitation and the contact details of local and national organisations who can help them if they are concerned about themselves or their friends. They can look out for their friends too and speak out if they are concerned.
Parents and carers can be made aware of the indicators of Child Sexual Exploitation to help spot early warning signs, they can maintain an open dialogue with their children about their online and offline activities. They can know who to contact if they have concerns.
Practitioners can help empower children and parents/carers by educating them about Child Sexual Exploitation, the grooming process, the risk factors and indicators and the contact details of local and national organisations that can offer support. Practitioners can ensure that their own knowledge of Child Sexual Exploitation and Human Trafficking is up to date.
The leisure industry – Hotels, Taxi Companies, Take-Aways, B&B's and Retailers all have a role to play in safeguarding children and ensuring that their staff are trained to recognise the signs of Child Sexual Exploitation and what to do if they suspect Child Sexual Exploitation by using the Community Awareness training toolkit Say Something if you See Something http://www.stop-cse.org/ssss/
Decision makers and politicians need to provide a culture in which all of the above can function and thrive and continue to play a key role in ensuring our children are safe from Child Sexual Exploitation.
As a Decision maker or politician you need to ensure Your community is engaged in protecting children from Sexual Exploitation.
5. Use the information and resources on this website and on the pan Merseyside dedicated CSE Listen to my Story website. Children and young people, their parents or carers, teachers or professionals working with children are encouraged to visit the website which raises awareness of CSE and importantly, where to get help and support.

What's happening locally?
Professionals from Catch22  and Compass Team (multi-agency Child Exploitation team) and Youth Services will be out and about across Wirral during the week of National CSE Day. Activities include:
raising awareness with students from Wirral Met College
briefing to Social Workers and Team Managers about their responsibilities for children who are at risk of CSE and who go missing
visits to the Hive and residential placements to talk to young people about how we can support them in being safe in the community
Catch22 are undertaking some assemblies to local schools raising awareness about CSE
Youth service to include raising awareness of CSE in the  Life Skills project
Youth Service Outreach will also be on foot delivering interventions on personal safety and raising the awareness of exploitation. This will be across know Wirral hot spot areas
the following youth hubs are running on Monday 18th March and they will be delivering sessions to raise awareness around CSE:
Fender Youth Club
Moreton Youth Club ( temporarily located at Moreton Family Centre, Pasture Road)
Bebington Youth Club
Charing Cross Youth ClubOther youth hubs will also complete sessions in the week around CSE
Catch22 have launched a series of posters to heighten awareness of CSE but also of wider Child Exploitation (CE) and  Children who go Missing issues.
The posters can be accessed below (they open in a new tab):
What makes a good relationship?
– looking at the factors that form a healthy relationship, whether between peers or adult and child. A useful tool for using directly with young people.
Spotting a runaway child: Children may run away from home because they are unhappy or because they are being coerced and exploited. This poster shows you how to spot signs a child may be a runaway, and how to help them.
Keeping children safe during school holidays- a guide for parents and care givers–Any extended period of unstructured time can cause friction between children and young people and those who care for them. Our CE teams share a few basic tips on how to work with children to agree strategies and keep them as safe as possible.
Child Criminal Exploitation- How do gangs recruit and coerce young people–  Catch22 believe that children involved in criminality are victims first. Groomers exploit young people and force them to commit crimes. This poster outlines the pattern of exploitation we have seen in our Child Exploitation services.
Push and Pull Factors: what causes a child to go missing– looking at the many causes of a missing from home incident, includes tips for parents and carers on what to do when a child returns.
Different Dangers, Same Signs – a poster, taken from our latest report The Changing Needs of Victims, that looks at the signs of both CSE and CCE.
Positive relationships break the CSE cycle – a poster for professionals to understand the signs of CSE and how to intervene at every point.
Spot the Signs– a poster for parents to help them if they think their child might be being exploited, or may be about to go missing.
Think Boys– a poster for any professional to highlight that boys can be victims of CSE too.
Staying Safe Online– a list of tips for adults and young people that we've produced for Safer Internet Day 2018.
 The WSCB has updated our CSE page and added additional resources for professionals including guidance about the use of language and the dangers of labelling young people who have been exploited. More guidance has also been provided for parents and carers about how to keep their children safe online, this can be found here.
Merseyside Police will also be out and about visiting agencies to raise awareness of CSE and wider exploitation.
Let me know if your organisation is doing anything on or around CSE day and I will highlight here: [email protected]
Links and Sources:
WSCB CSE Page for Professionals:
https://www.wirralsafeguarding.co.uk/professionals/child-sexual-exploitation/
WSCB CSE Page for Parents/ Carers:
https://www.wirralsafeguarding.co.uk/child-sexual-exploitation-information-parents/
WSCB Internet Safety Page for Parents/ Carers:
https://www.wirralsafeguarding.co.uk/online-safety-guidance-parents/
WSCB CSE Page for Children and Young People:
https://www.wirralsafeguarding.co.uk/child-sexual-exploitation-cse/
WSCB Online Safety Page for Children and Young People:
https://www.wirralsafeguarding.co.uk/online-safety-2/
WSCB Sexting Information Page for Children and Young People:
https://www.wirralsafeguarding.co.uk/sexting/
http://www.listentomystory.co.uk/
https://www.nwgnetwork.org/event_type/national-cse-awareness-day-2018/
http://www.stop-cse.org/national-child-exploitation-awareness-day/
Wirral Safeguarding Children Board Awareness and Learning Posters
click on the picture to download