Online Safety
Staying Safe Online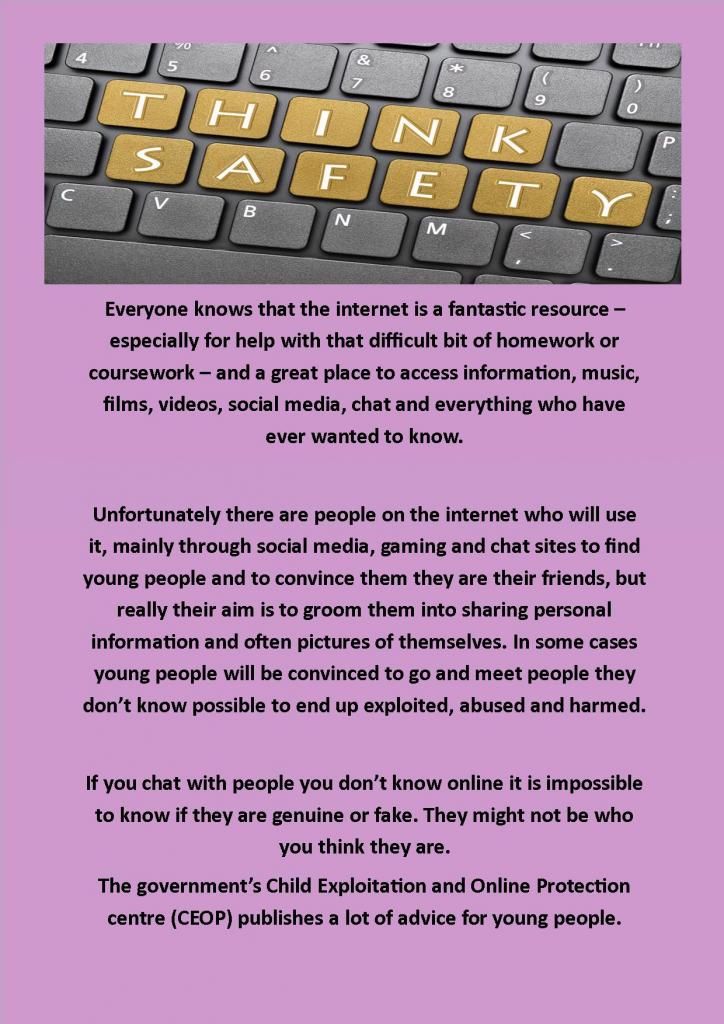 To good to be true?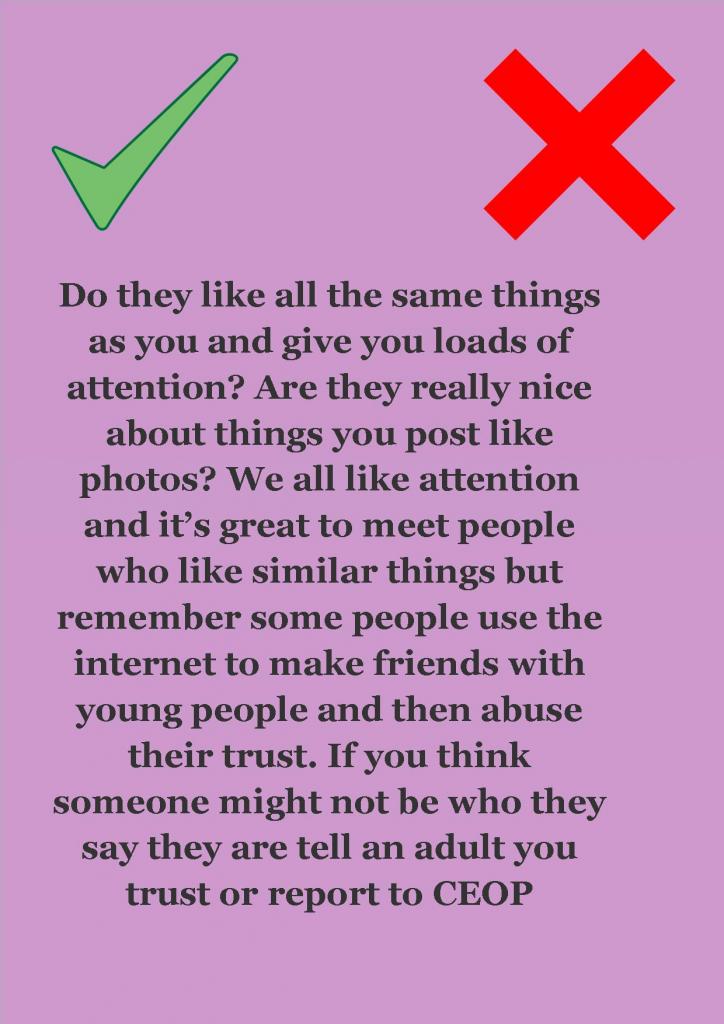 Warning;
This video was produced by the NSPCC as part of their shareaware campaign. The video raises awareness about the dangers of sharing nude and intimate photos.
Due to its content the video is aimed at young people 13+
This Video shows how bad it can be if you even just send one nude image as a 'joke'
Matt's Story
See the short video below of Matt's story
The video shows what could happen if you talk to people online and what you can do if you think you are in trouble.
Giving presents or making promises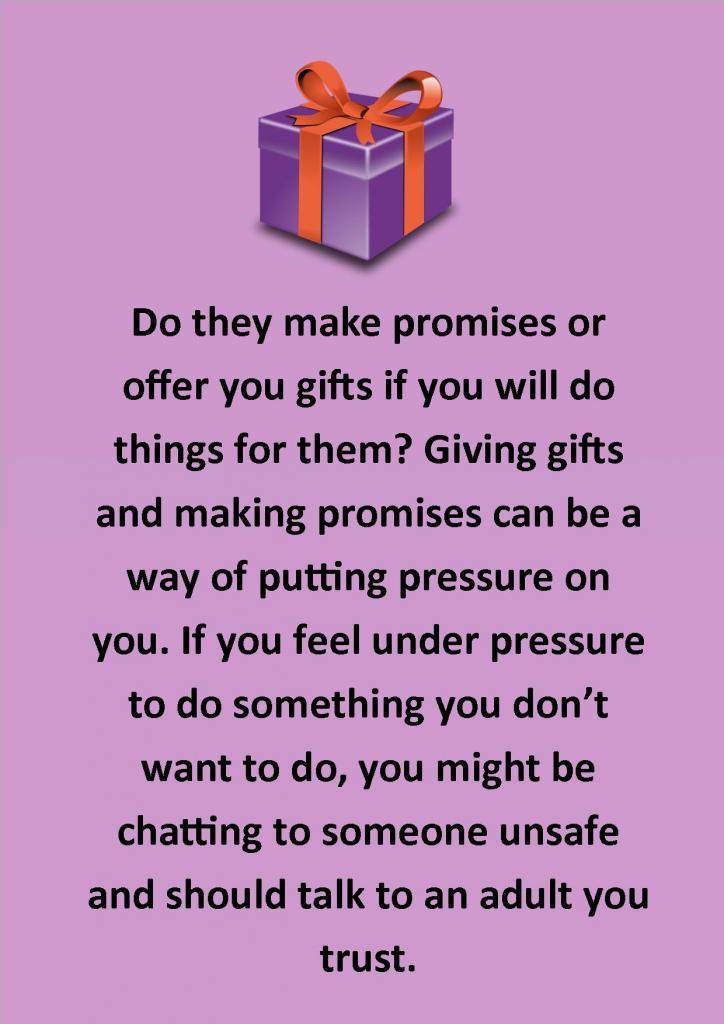 Putting you under pressure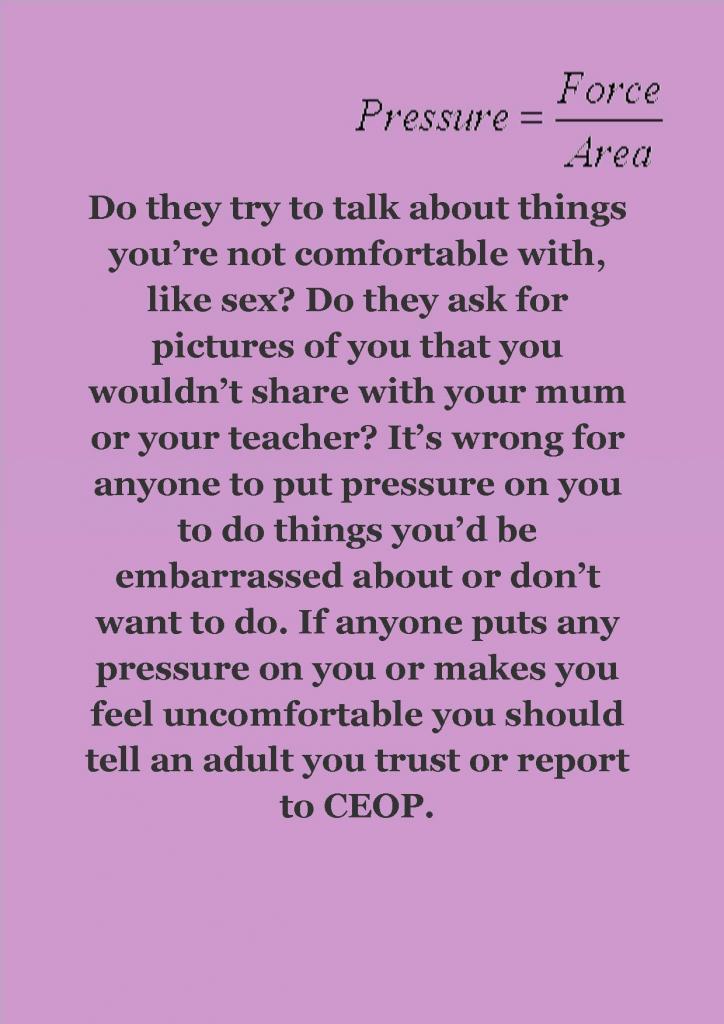 Leaving Public Places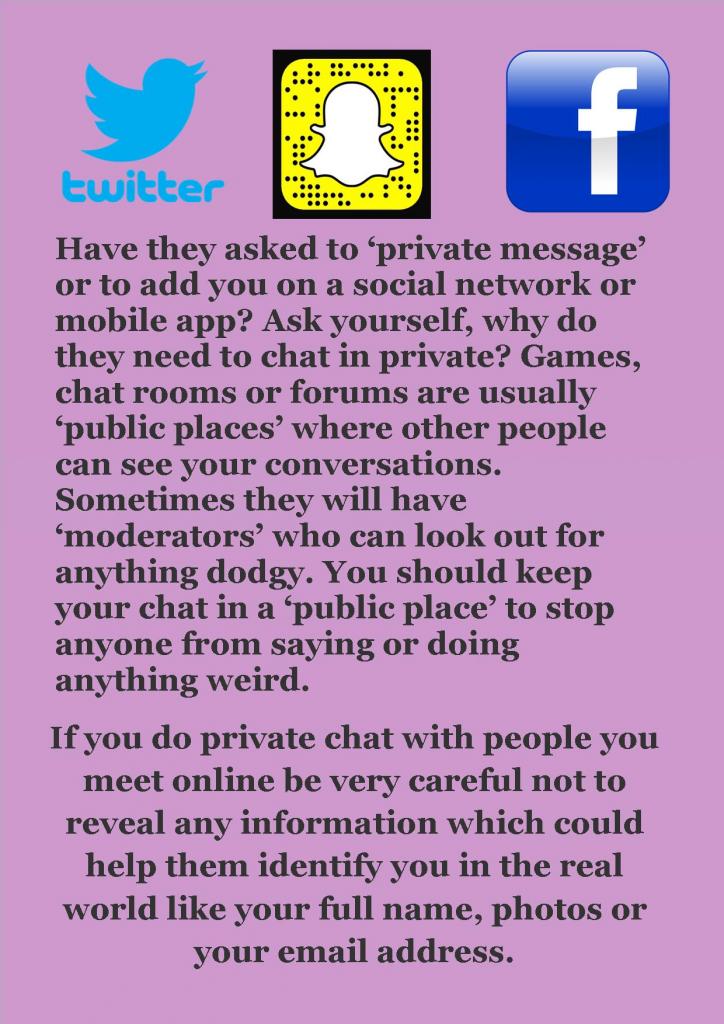 'Just our little secret'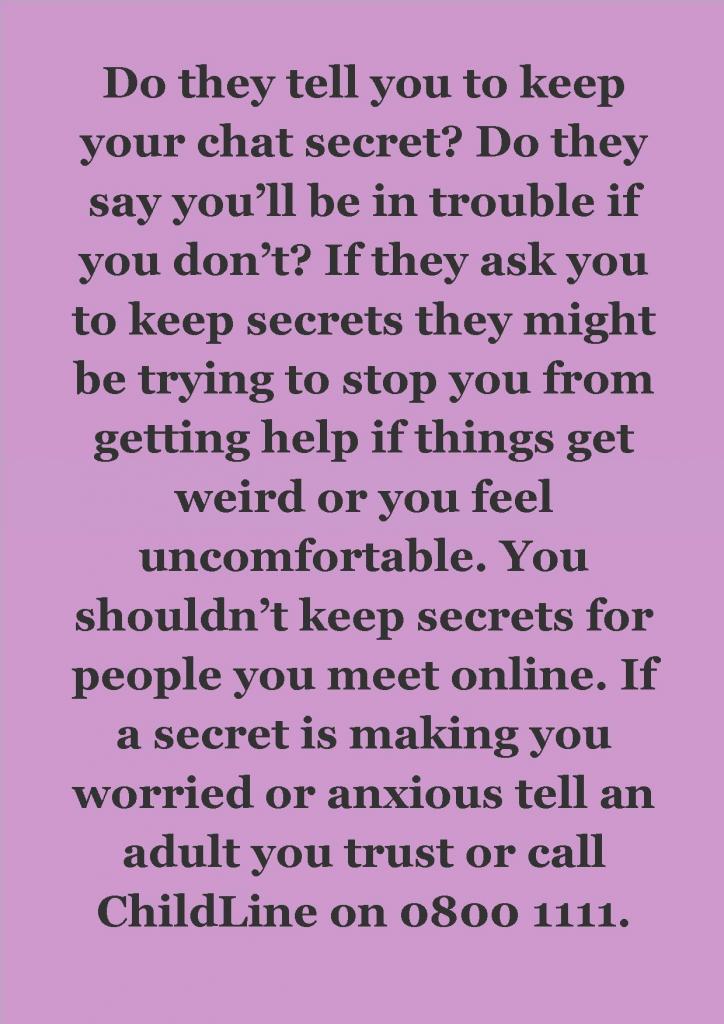 Useful Resources
Safer internet day 2017
The video below explains about being safe on social media
The video below is from internet users and gives hints and tips on how to stay safe online
Exposed
There is lots of technology available now, it is far to easy to get caught up in it all, before you send that 'innocent little picture between just the two of you' think! Watch Dee's story below after she sends a picture to her Boyfriend Si, this video is also available at www.thinkyouknow.com
Consequences
This video shows you how easy it is for someone to get all the information they need to about you, watch this video then go to your social media settings and check they are on the highest security possible!
Online Bullying
Online bullying is becoming more and more common, there is ways you can get help the short video below explains how.
The NSPCC have published a guide for parents and carers including information and advice for keeping children safe online. The guidance covers how to talk to your child about online safety, including suggested talking points. It includes suggestions for things that families can do such as setting boundaries, agreeing ground rules and being positive about the benefits of the internet. The guide also discusses things that parents can do to keep children safe such as using filters and parental controls, and it looks at what to do if things go wrong and where to get extra support.
Awareness raising
For CSE Awareness Raising Day in March 2015 the WSCB asked all the providers of residential care for children who are looked after to share with us activities they were doing to raise awareness of CSE amongst young people. From this activity one young person produced a poster aimed at other young people warning them of the dangers of speaking with people they don't know online and sharing personal information including images.
Online grooming is a common way for abusers to make contact with young people, often pretending that they are another young person seeking friendship.
The poster can be downloaded here: CSE Poster Online Safety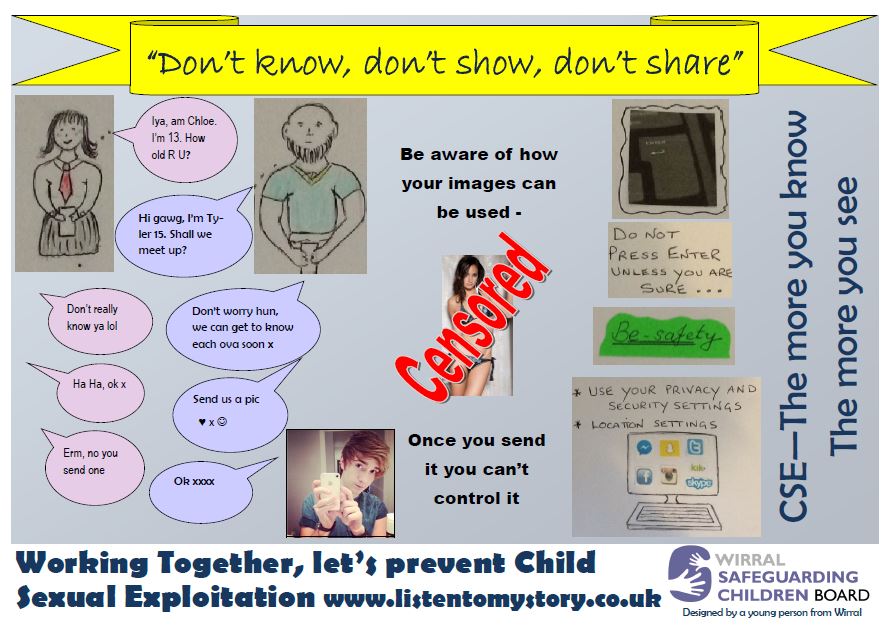 Tips to chat with confidence
Stay safer when chatting online, remember these CEOP tips:
What could they find out?
If you post stuff online, think about how much people could find out about you from it. Have you posted about your favourite music or sports? Have you posted anything embarrassing you wouldn't want your parents or a teacher to see? Remember, people do lie online and the more information they have about you the easier it is for them to try to trick you.
Don't say too much
If you're chatting to someone, don't tell them anything which could help them find you in the real world – things like your full name, school, email address or even photos. Remember, even if you've been chatting for ages you still can't be sure that they aren't up to no good.
Be careful on cam
It can be really unsafe to chat on webcam with people you meet online. If you do anything embarrassing – things you wouldn't want your friends or family to see – it's really easy for them to record it. Some people online will threaten to share an embarrassing video or picture with other people if you don't do what they say. If anyone threatens you in this way they are breaking the law and you should report them to CEOP. Whatever has happened, you won't be in trouble.
Don't meet up without an adult you trust
People do lie online so it's always risky to meet up face to face with someone you've met online. If you do meet up with someone, make sure you do it in a busy public place and take an adult you trust with you. If you take a friend you could put them at risk as well. Tell the person you're meeting you want to meet in a public place and that you're bringing an adult with you. Anyone who genuinely wants to be friends should understand that you want to make sure you are safe.
Block and report
Most websites you can chat on will let you 'block' other people if don't want to talk to them anymore. Learn how to do this on any sites and apps you use. If someone makes you feel uncomfortable or upset 'block' them.
Know how to report
No matter how long you've been chatting and whatever has happened it's never too late to seek help if someone starts being weird with you, makes you feel uncomfortable, worried or frightened. If you don't want to talk to an adult you trust you can always phone ChildLine on 0800 1111 or report to CEOP. They will understand and be able to help. You won't be in trouble.
Worried about someone you've been chatting to online?
Talk to an adult you trust, like a parent, carer, teacher, social worker or youth worker. If you don't want to speak to someone you know there are organisations who can help. You won't be in trouble.
Social media
Available below is a guide to many of the common social media chat, instant messaging and picture sharing apps widely used by children and young people.
Guide to Common Social Media Apps