Sexting
What is Sexting
Sending a sexual text, image or video can be dangerous if shared with the wrong person. Once you send a message, you're not in control of what happens to it. Even if it's posted online we can help. Here's some advice about sexting.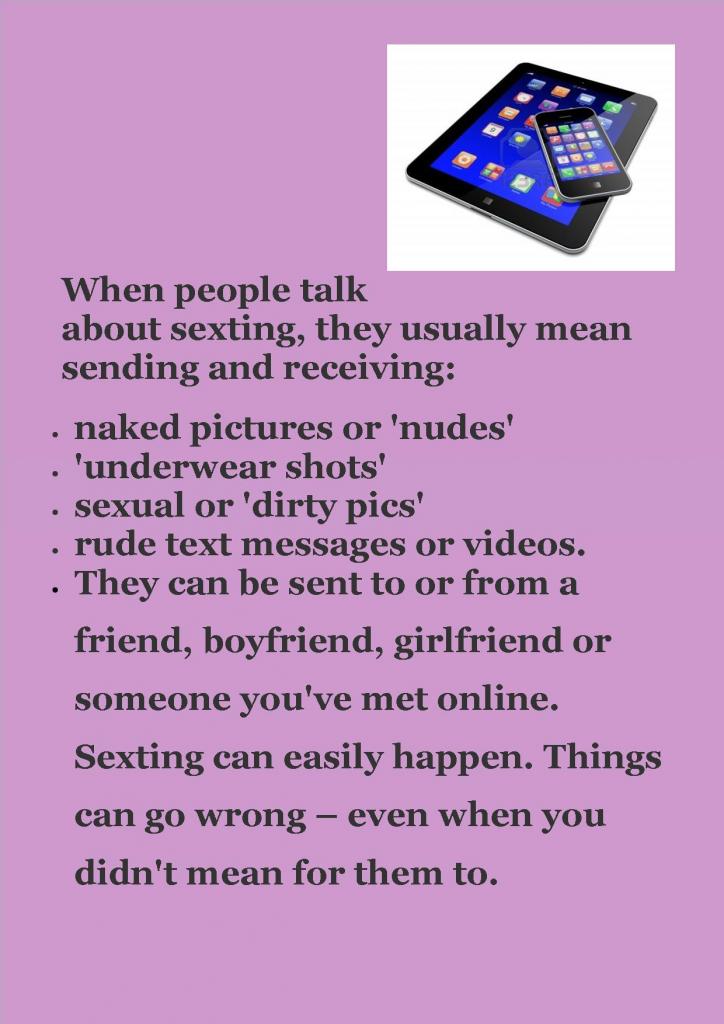 What to do if you have been sexting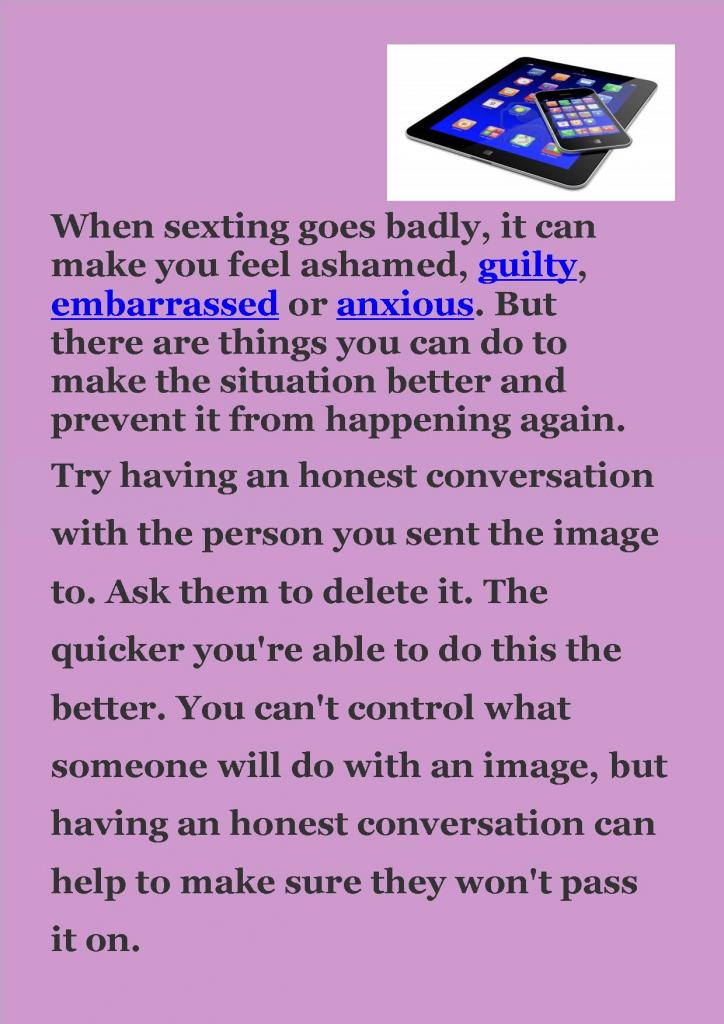 Getting help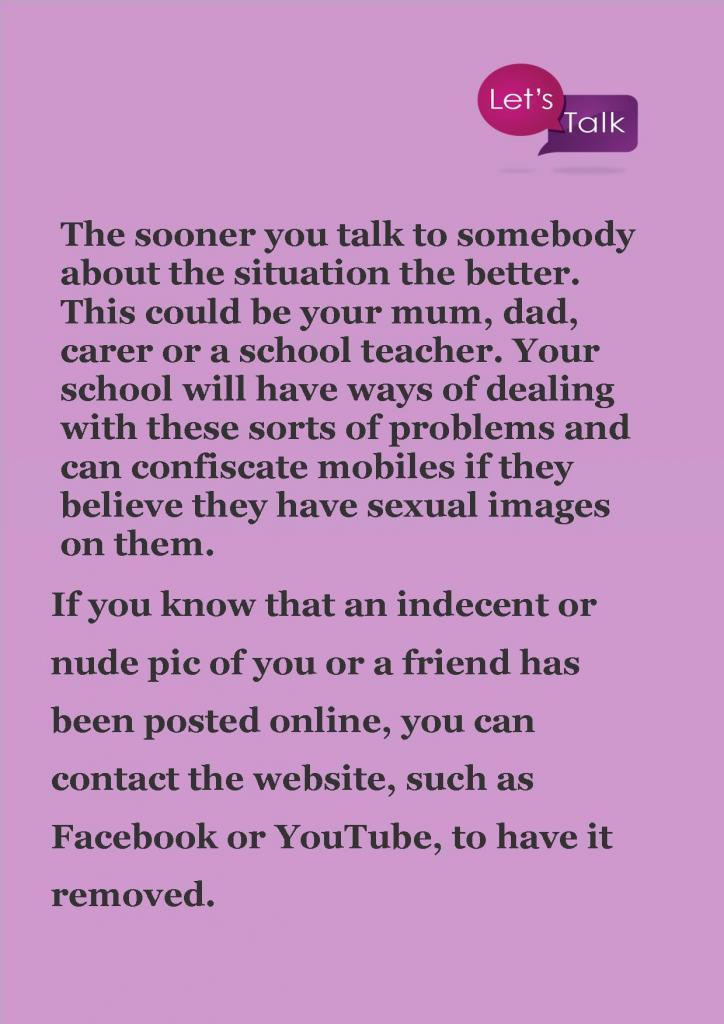 Is sexting illegal?
When you're under 18 it's against the law for anyone to take or have a sexual photo of you – even if it's a selfie.
This means that if you pressure someone into taking a photo or you share a sexual photo with someone, you're breaking the law. The police have the power to decide whether it's for the best to record what's happened or to take things further. But the law is there to protect young people, not punish them.
If you're both under 18 and in a healthy relationship it's unlikely that the police would want to take things further.

If you're worried about speaking to the police or if someone's pressuring you to send a sexual photo, you can talk to a Childline counselor
If you see it report it!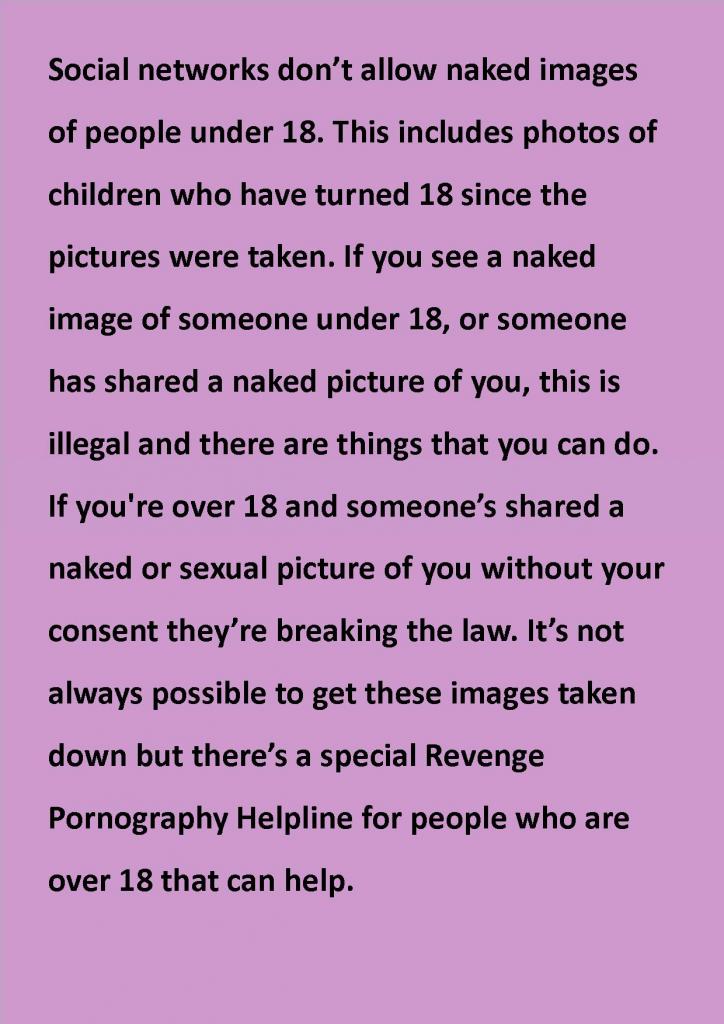 Here's how to report sexting or bullying on Snapchat
Snaps automatically disappear once the person you sent them to has seen them. But it's important to remember people can still take screenshots and save them. Then they'll have a copy of your picture on their phone or tablet and that means Snapchat can't delete it.
Make a report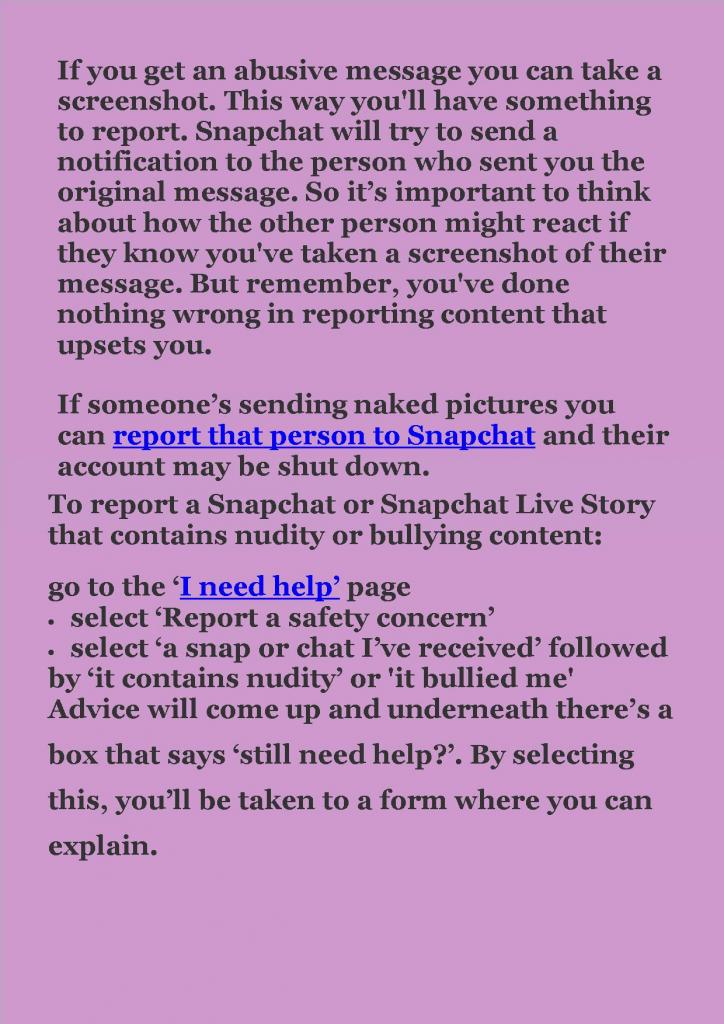 Links to help you
report that person to Snapchat :
Block someone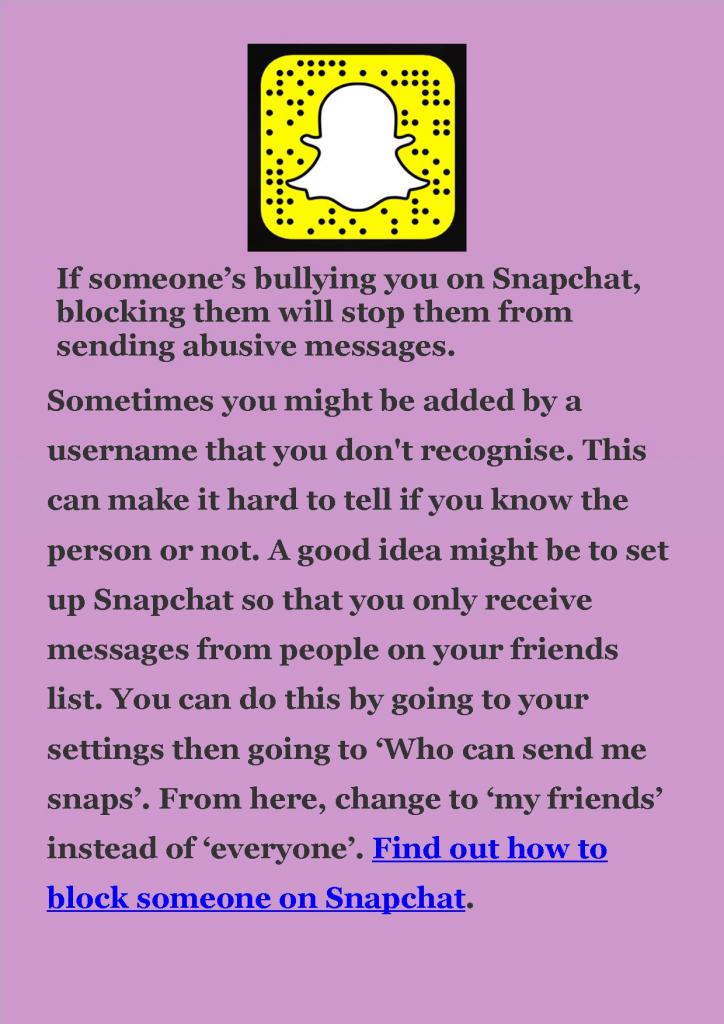 Find out how to block someone on Snapchat.
Facebook
The way to report abuse changes depending on what you're reporting. You can find out how to report abuse on the Facebook help page or by reading Facebook information on reporting and blocking.
Report sexting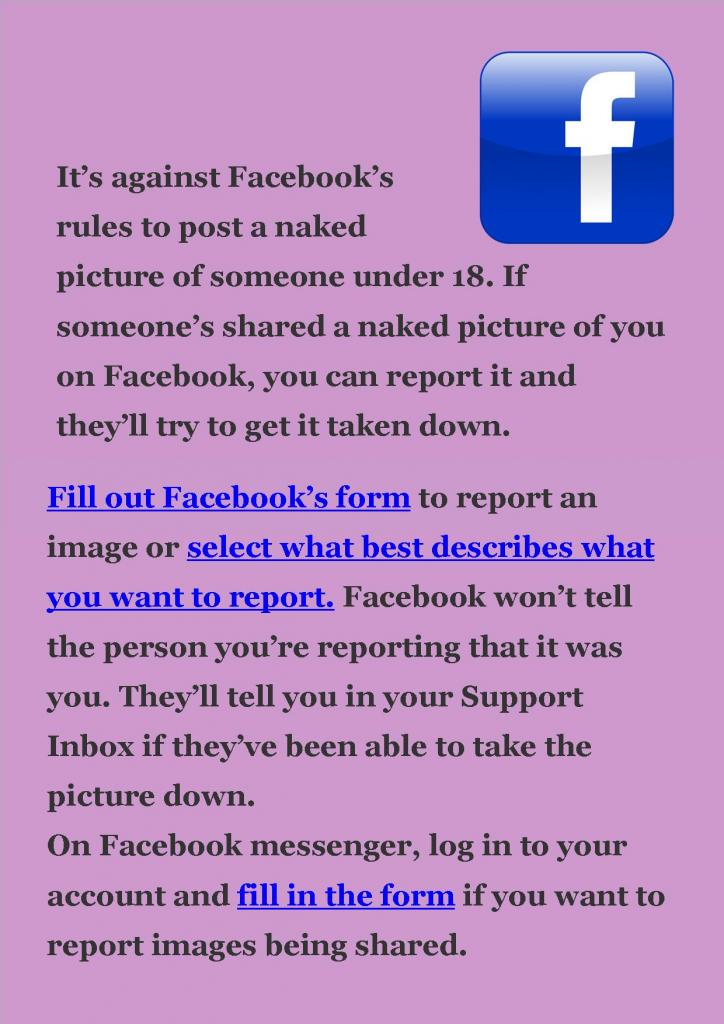 Fill out Facebook's form to report an image or select what best describes what you want to report.
Facebook messenger, log in to your account and fill in the form if you want to report images being shared.
Block and report bullying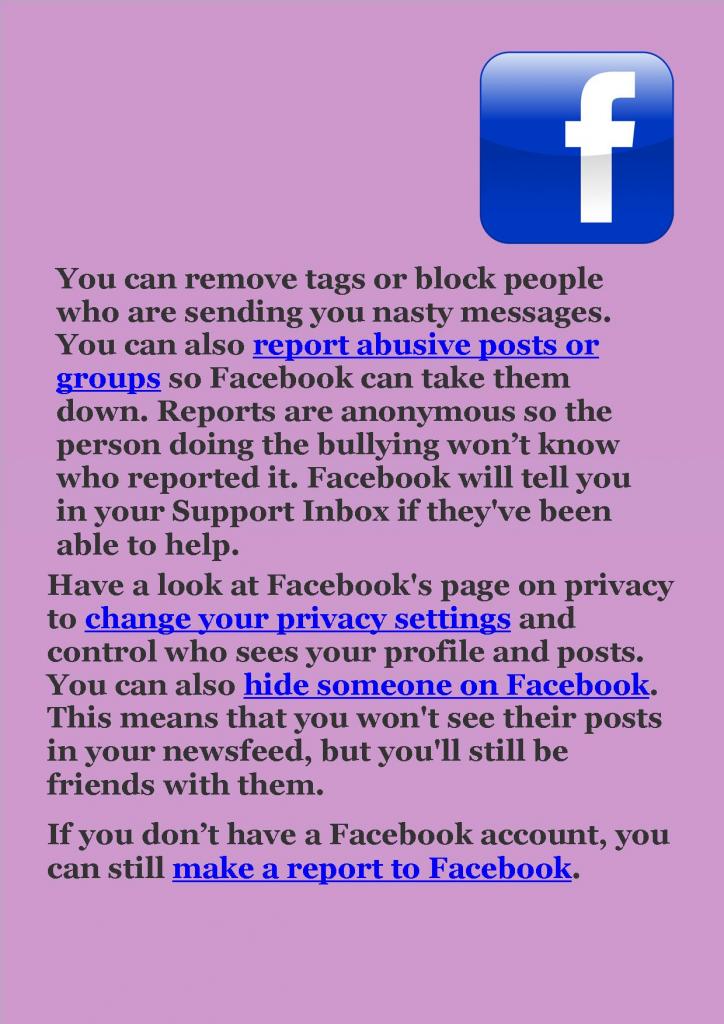 report abusive posts or groups .
Instagram is automatically set to public so that anyone can see your images – even if you don't know them.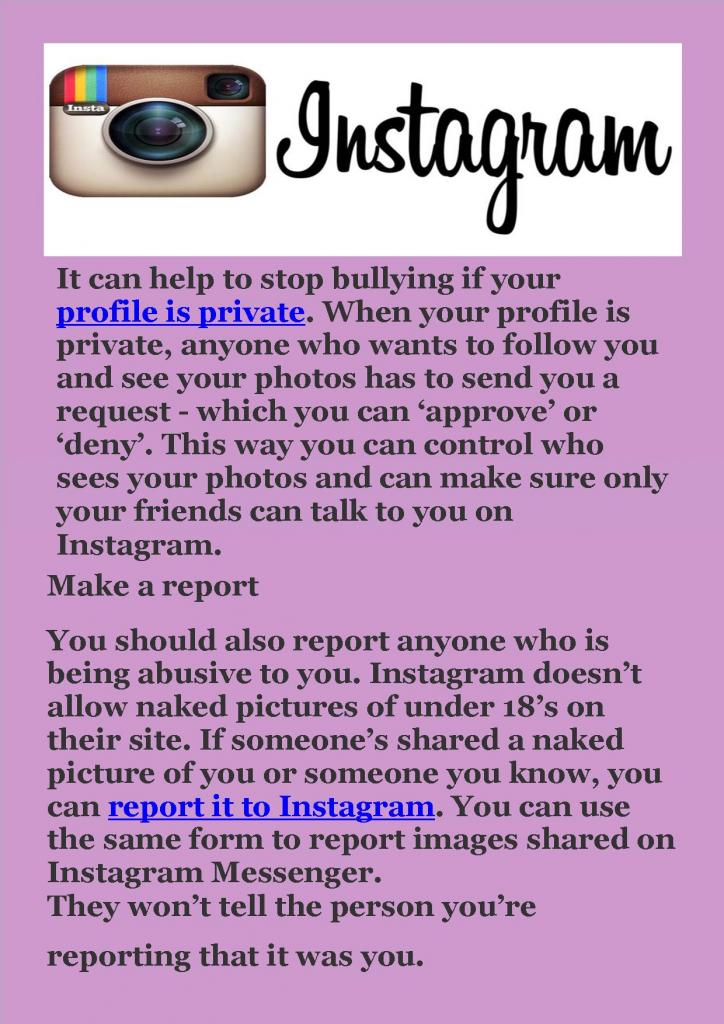 How to make sure your profile is private
Make a report
You should also report anyone who is being abusive to you. Instagram doesn't allow naked pictures of under 18's on their site. If someone's shared a naked picture of you or someone you know, you can report it to Instagram. You can use the same form to report images shared on Instagram Messenger.
They won't tell the person you're reporting that it was you.
Block someone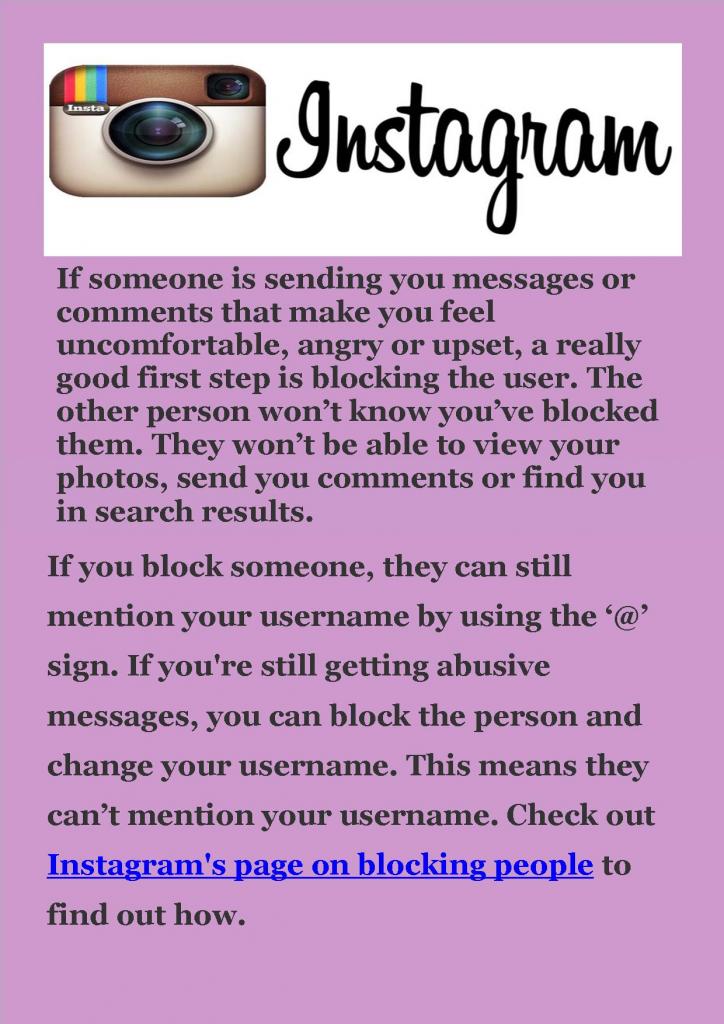 Check out Instagram's page on blocking people to find out how.
Twitter
Tweets can be 'retweeted' by other people – even if they aren't following you. But if you change your profile so that you have protected tweets, this won't happen. This means if you tweet, it can be very difficult to control who sees it. On Twitter, people who you don't follow can still send you abusive tweets.
Stop bullying
If you're being bullied by someone you follow, the first step is to unfollow them. Go to their profile page and click or tap the 'following' button – this will turn red to unfollow. You can also tap the settings wheel next to the follow button – from there you can block the person.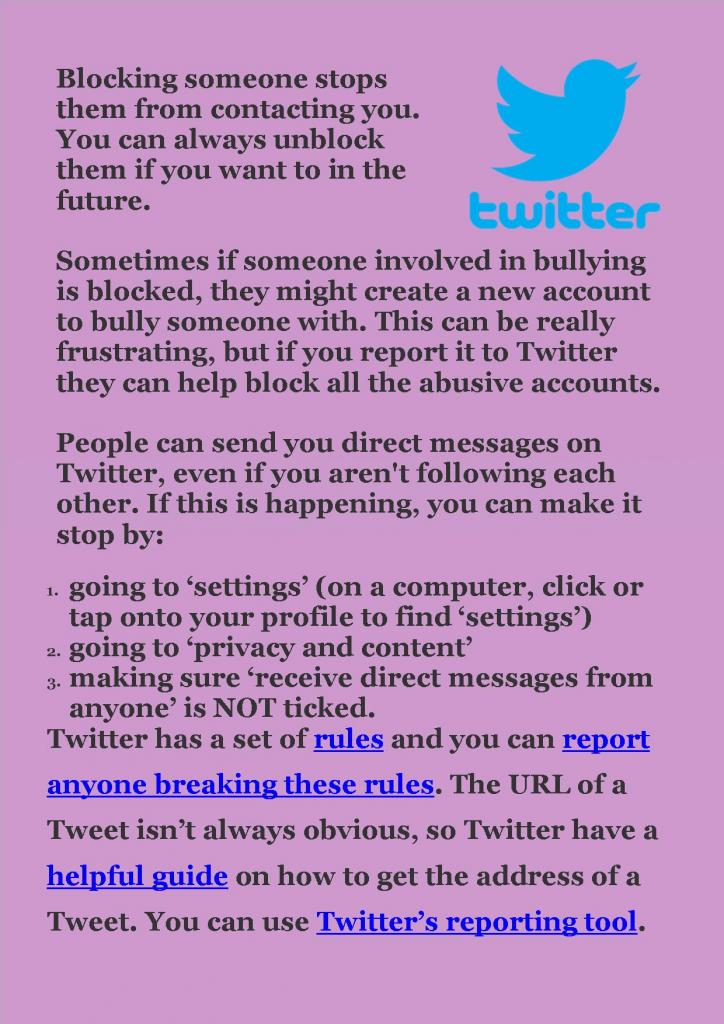 Twitter has a set of rules and you can report anyone breaking these rules.  Twitter have a helpful guide on how to get the address of a Tweet. You can use Twitter's reporting tool.
Find out how to report someone or block users on Twitter
What's App
If someone's bullying you on Whatsapp, the best thing to do is block the person and report them. It's also a good idea to report them to an adult you can trust. They can help put a stop to the bullying. It can also help to have someone to talk things over with.
Report content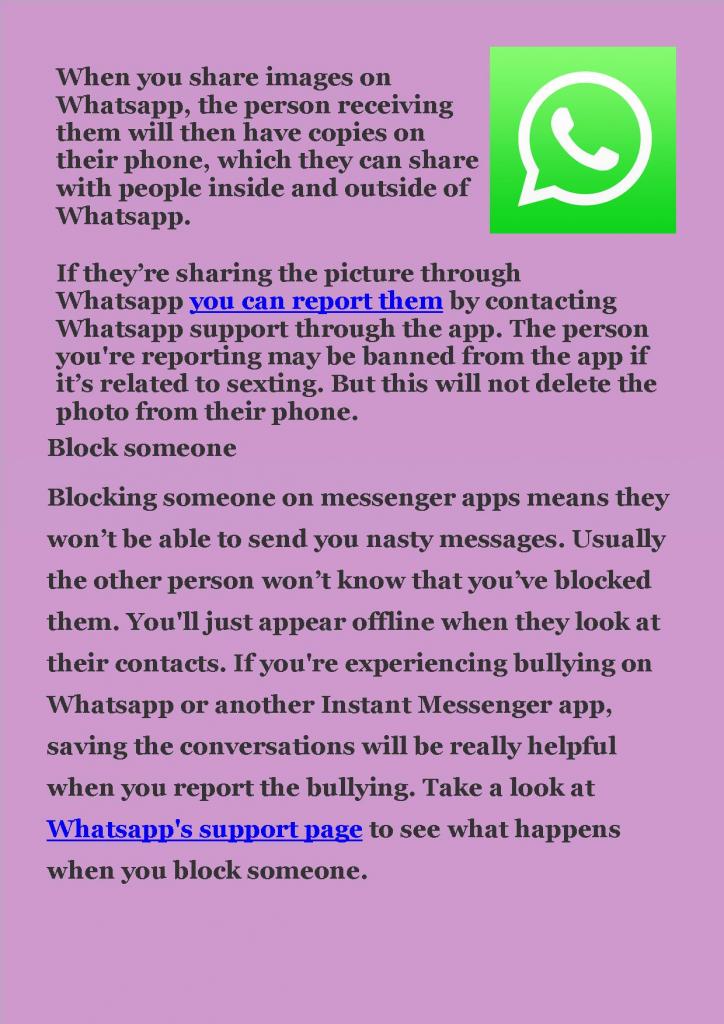 Take a look at Whatsapp's support page to see what happens when you block someone.
Video Chat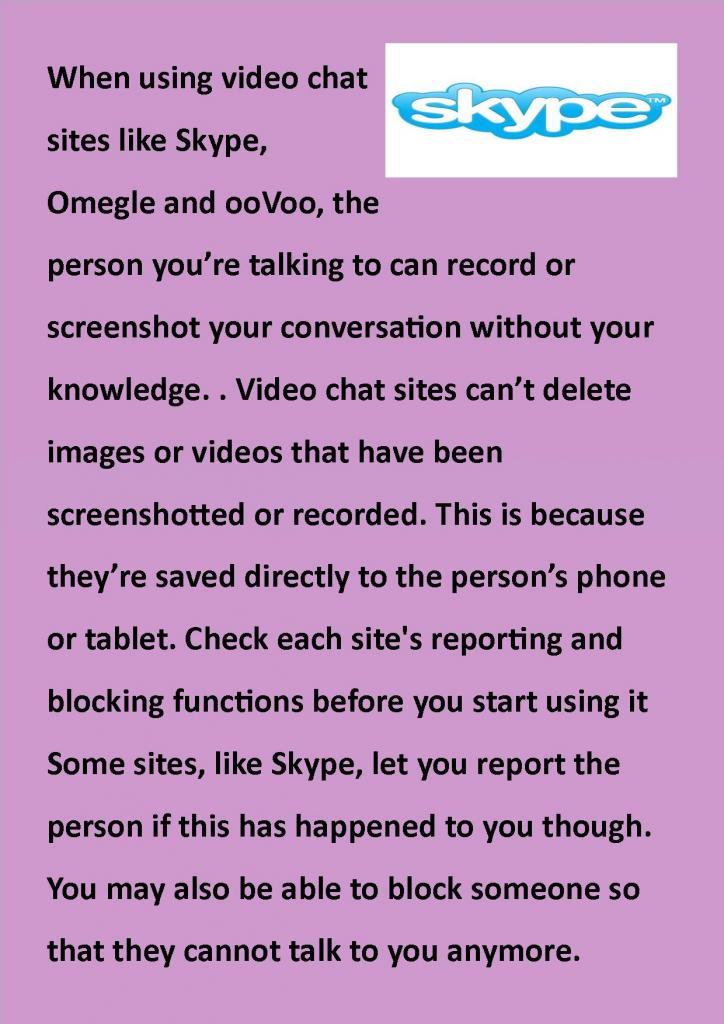 Tumblr
Tumblr lets you post and share your interests with others.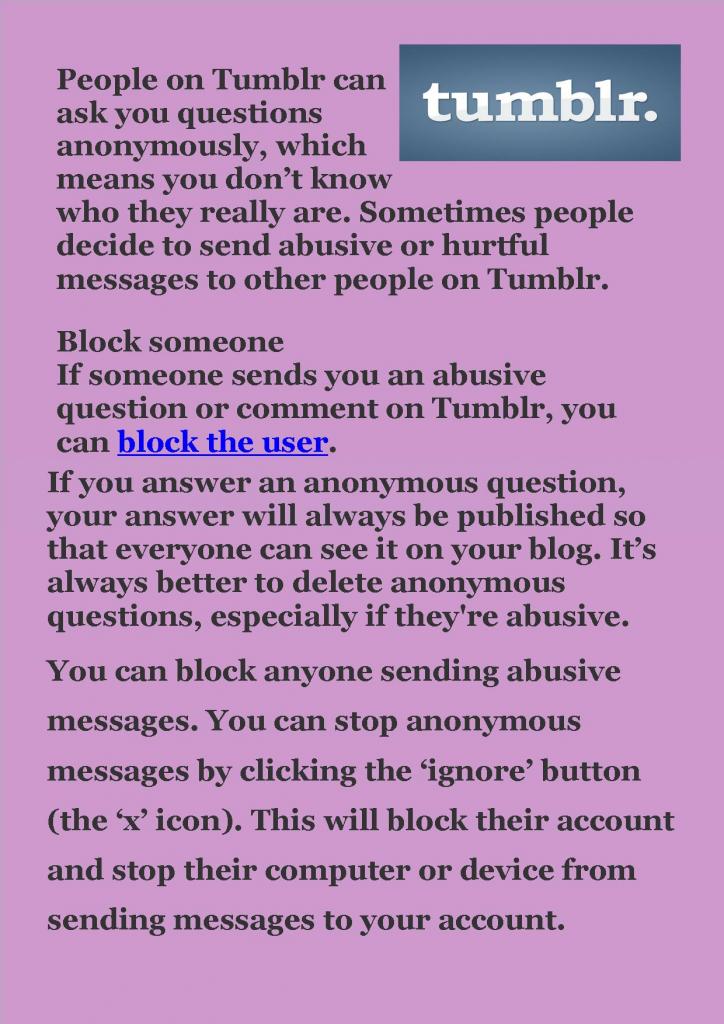 Stop bullying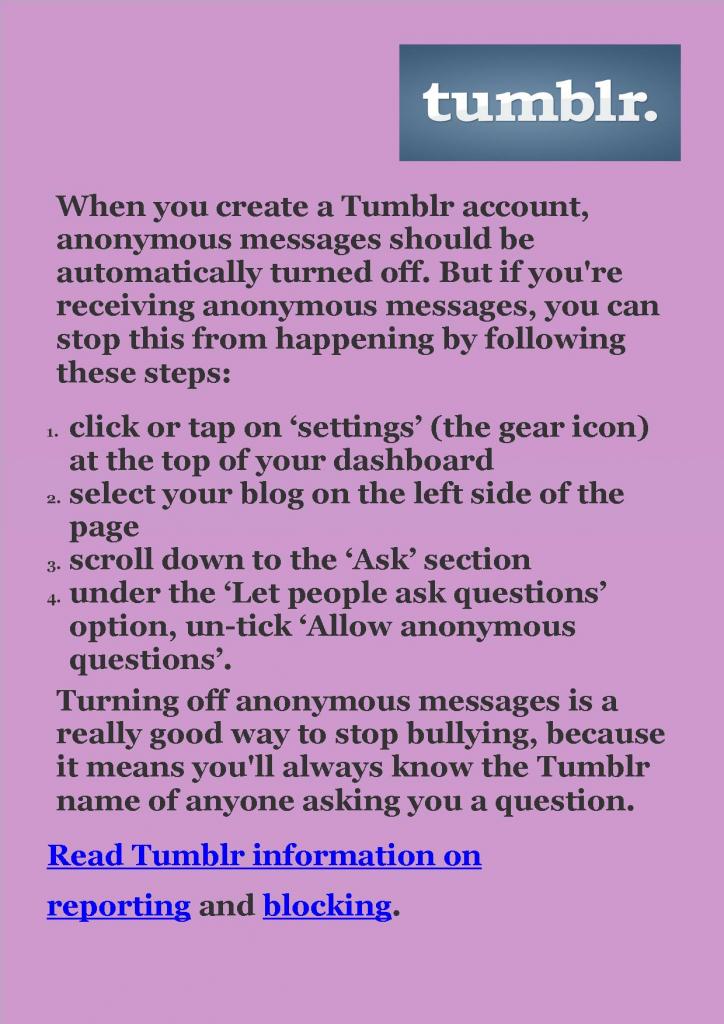 Read Tumblr information on reporting and blocking.
Why would people Sext?
Sexting can happen for lots of reasons. You might:
Feel like 'everyone else is doing it' even if they're not – especially if they're exaggerating about sending photos or boasting about having them on their phone

Worry about being seen as 'not sexy', 'frigid' or 'shy' and go along with things you're uncomfortable with

Feel under pressure to sext as a way of 'proving' your sexuality

Feel harassed, threatened or blackmailed into sending pictures

Feel it's easier just to 'give in' to somebody who keeps asking for things

Want someone's approval

Think you 'owe' your boyfriend or girlfriend or made to feel guilty if you don't do what they ask you for

Be in love with the person and trust them completely

Have a long distance or online relationship with someone and want to have a sexual relationship with them

Feel proud of your body and want to share it with other people.
We understand how easily sexting can happen and how things can go wrong – even when you didn't mean them to. But we're here to help. You can speak to a counsellor at any time
Things to think about before you send a picture or video!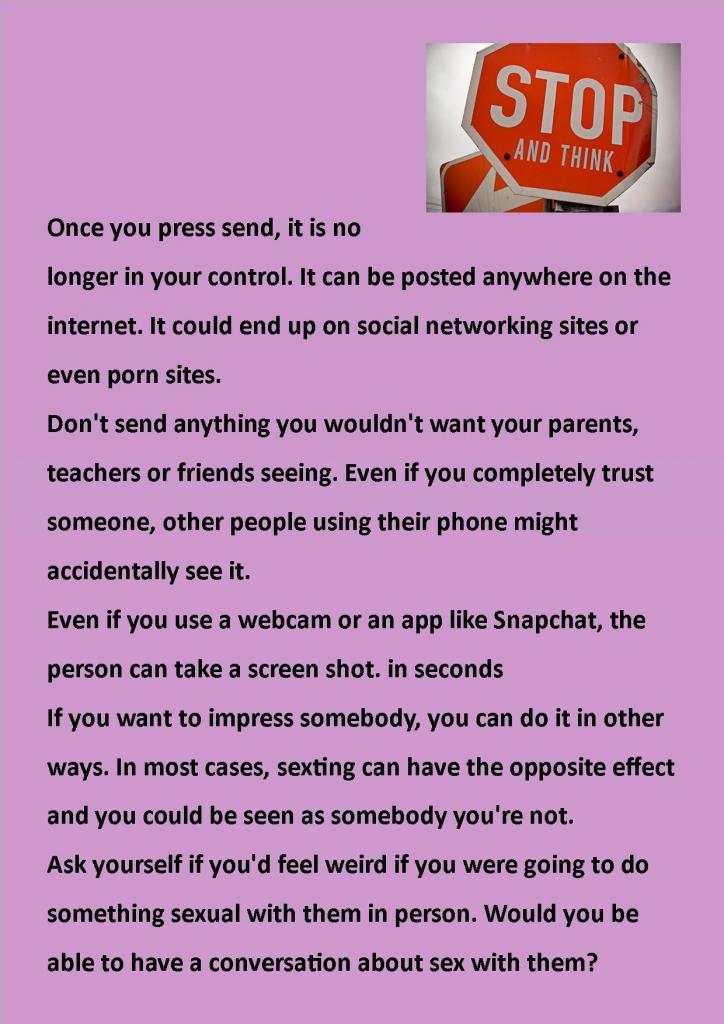 What to do if you're feeling pressured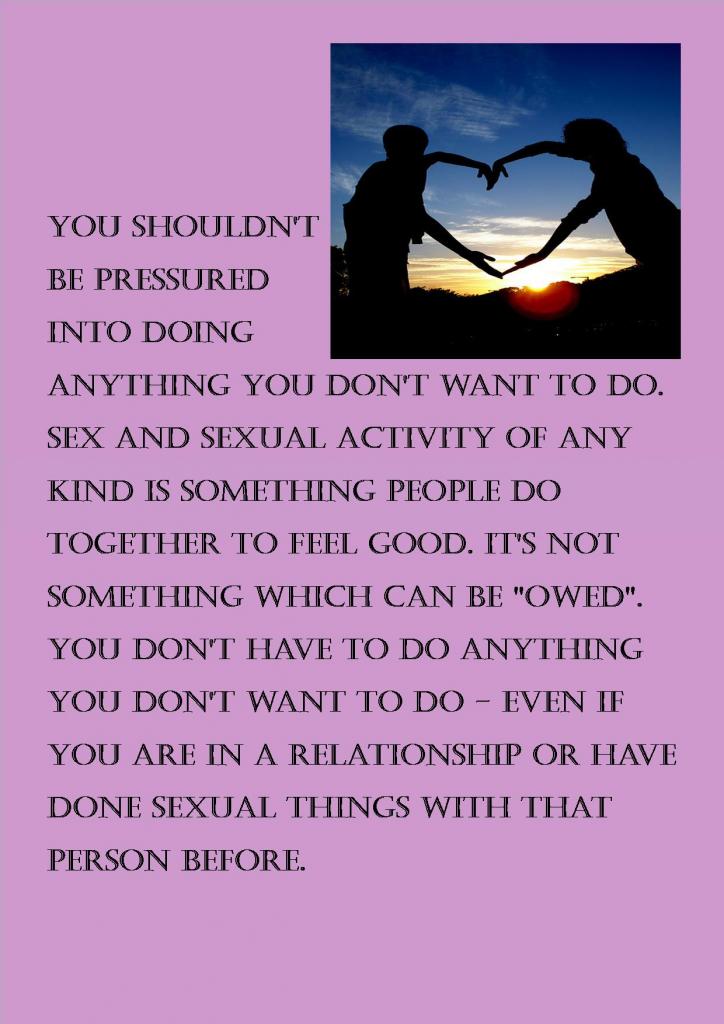 How to stop someone sexting you