Designated Safeguarding Lead (DSL) Virtual Training Session
Welcome to the Virtual Designated Safeguarding Lead Training. The DSL course is aimed at Senior Leads from schools, colleges, educational providers and the early years sector with responsibility for safeguarding to fulfil their DSL statutory requirements.
On this page and in the accompanying virtual briefing we will be covering the following Learning Outcomes:
◾The role and main responsibilities of the designated safeguarding lead and key legislation and guidance underpinning safeguarding and safeguarding in schools and colleges
◾Ensuring delegates know how to respond effectively to a child who reports abuse and understand the barriers that prevent children from disclosing abuse
◾ The referral process into children's social care and what role the school or college has in multi-agency processes to safeguard children
◾Raising awareness of the emotional impact of safeguarding children
◾Identify ways in which a safeguarding lead can support and nurture staff
What is the role of the DSL?
The role of the Designated Safeguarding Person was specified in the Children Act (2004) to ensured that every organisation had a "named person" for safeguarding children and young people.
Keeping Children Safe in Education (2015) was the first time the government set out the role of the Designated Safeguarding Lead in an formalised way for the Education Sector, (in Annex B). Often schools have a DSL and deputy DSL and they should have the status and authority within the school to carry out the duties of the post, including committing resources and supporting and directing other staff.
A Designated Safeguarding Lead is the person who has responsibility for ensuring a school's safeguarding policy is adhered to, they take the lead for 'child protection' and they empower staff to understand and carry out their safeguarding responsibilities.
Why is the DSL role so important?
The DSL role provide a crucial safeguarding function.  They liaise with senior leaders regarding Section 47 inquiries (child protection) and will support keeping detailed, accurate, secure written records of concerns and referrals.
DSL's are a conduit to provide advice and support to staff on protecting children across a range of safeguarding concerns, and will attend 'Safeguarding' Meetings such as Child Protection conferences, Child In Need and Looked After Children reviews and Team Around the Family meetings.
Narrated PowerPoint Presentation: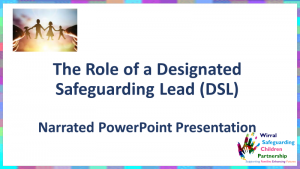 Before booking onto one of the courses below, you need to download and digest the pre-reading on DSL's and have listened to the DSL Narrated PowerPoint presentation (click on slide above to access the presentation).
PLEASE NOTE: Each session will last no more than 3 hours, with two comfort breaks (including Q&A time). To attend a virtual session click on the link below to choose the session you wish to attend