Annual Report 2021 Child's Journey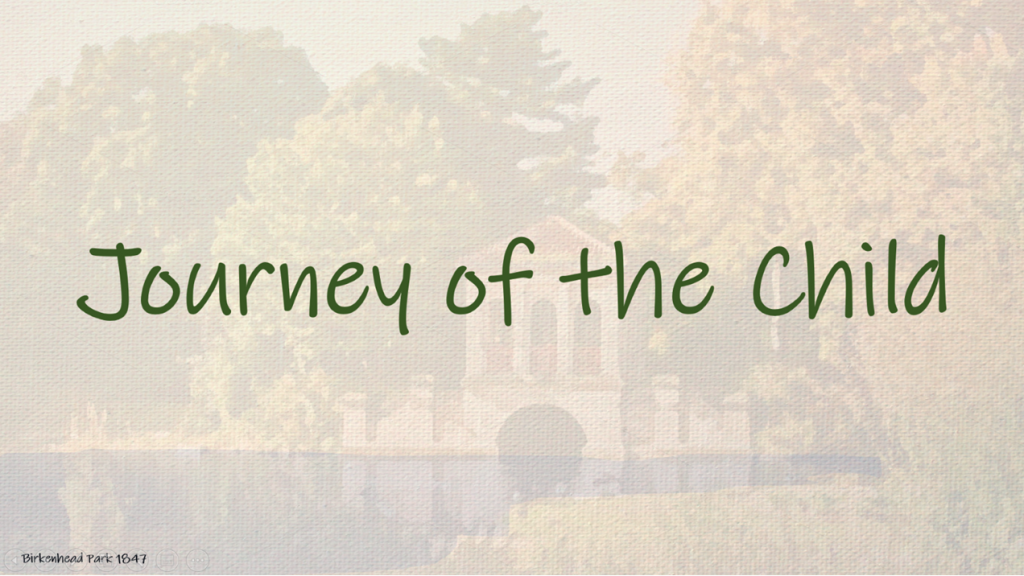 On this page you will find information about:
Early Help and Prevention
Child in Need
Child Protection
Children Looked After and Care Leavers
Performance Information
Early Help and Prevention
Progress on Areas of Development
Last year we noted an ambition for a cross-Council approach to prevention. This was achieved in October 2021 when the Council adopted a Prevention Policy and Prevention Framework. Our Breaking the Cycle Programme is the first prevention programme operating under this framework and brings together 8 projects, working with people facing multiple disadvantage. A multi-agency steering group, representing the 8 projects and wider partnership are overseeing the implementation of a shared outcomes framework and system-change programme for workforce development and improved use of data.
Since 2019, we have been working with the third sector to deliver our Community Matters programme for early help. The intention for Community Matters was, over a 2-year period, to work with children, families and community stakeholders to develop a new model for earliest help. We have successfully delivered this programme and commissioned an Alliance, consisting of a collaboration of 7 third sector organisations, launching in April 2022. The new model will be self-led, referral-free, threshold-free and is built around an innovative magazine website, which will enable families to shape their own, personalised experience.
The Family Toolbox website is complemented by the launch of Zillo, a website designed and developed by young people for young people. As part of the new neighbourhood Youth Offer, Zillo provides opportunity for creative engagement, work experience and access to online services and contact to practitioners and professionals.
The demand for Early Help services has fallen by a third in December compared to the previous month. In December 2021, there were a total of 693 contacts received for Early Help services compared to 1026 in December 2020. However, as shown below the volume of Early Help services delivered to families continues to increase.
Strengths we are Proud of
We are proud of strong relationships and partnerships with multi-agency and community organisations. In addition to the Community Matters and Early Help Alliance initiative, our working relationships with partners have led to significant improvements in the range and quality of our response to domestic abuse. Through the Domestic Abuse Alliance, Wirral has been successful in securing more than £400k over the past 12 months for domestic abuse services. The Early Intervention Project for Perpetrators is a great example of this collaboration, with 6 voluntary organisations working with the Council services to deliver the Caring Dads programme, Bridgeway pilot, Who's in Charge programme and Fair Play project. Learning from the project is producing online resources and tools for all practitioners.
We are proud to have delivered projects/programmes successfully: achieving 100% contract outcomes for We Can Talk About Domestic Abuse and the Supporting Families programme. We are proud that our Youth Justice Services were judged Good by HMIP following an inspection in July 2021, which identified areas of outstanding practice for and complimented our innovative Contextual Safeguarding Service. Our Youth Justice Service is working toward Enhanced Case management, which involves psychologist input and a trauma informed practice approach. Learning from their practice is informing the multi-agency group working to make Wirral a trauma-informed borough.
We are proud of the skill, experience, commitment and stability of our early help and prevention workforce. Across teams we have a wide range of professional and practice qualifications, with a significant number of staff trained in Motivational Interviewing, Nurture, Gateway, Solution-Focused Therapy, Caring Dads, and other interventions. This combined with their creativity and commitment of has meant that programmes such as MODS (Making Our Day Special) have been introduced by Youth Workers in the past 12 months and supported children to return to school feeling confident.
We are proud to be developing a better understanding the needs of our children, young people and families. We are undertaking more co-production activity than ever before, have more lay person representation on our groups, have a range of Voice Groups for both children and parents, and through the introduction of online platforms are increasing this.
Our Improvement Priorities for the next 12 Months
Launch and embed the Early Help Alliance and Family Toolbox empowering more Wirral families to act at the earliest stage of a problem and increase capacity within our third sector community. Layering of support for early help will see Wirral's Children's Centre Offer being strongly aligned with the Alliance. An application for Family Hubs has been submitted, with the intention to continue development of centres as whole-family settings.
As per our Early Years Strategy, we want to continue successful delivery of 1001 Critical Days project, Dolly Parton Imagination Library and Liverpool City Region SLC Programme and work with health partners to integrate services for children under 5.
Building on the improving co-working between service areas, develop an integrated model for domestic abuse services, targeted family support and social care teams to deliver family safeguarding.
Under the Breaking the Cycle programme, deliver a cross-Council, cross-partnership workforce development programme based on trauma informed practice which enhances how we work with families facing multiple disadvantage to enable them to sustain long-term change.
Continue the second year of the Transformation Phase of our Domestic Abuse- No Excuse Strategy, including wider rollout of perpetrator programmes, improved and more purposeful work with males who have a parenting role, increased capacity in community services to support recovery for victims (adult and child) and improve our service offer for those in under-represented groups.
Early Help and Prevention Contacts and Assessments
The chart below illustrates the number of individual contacts for Early Help services by month.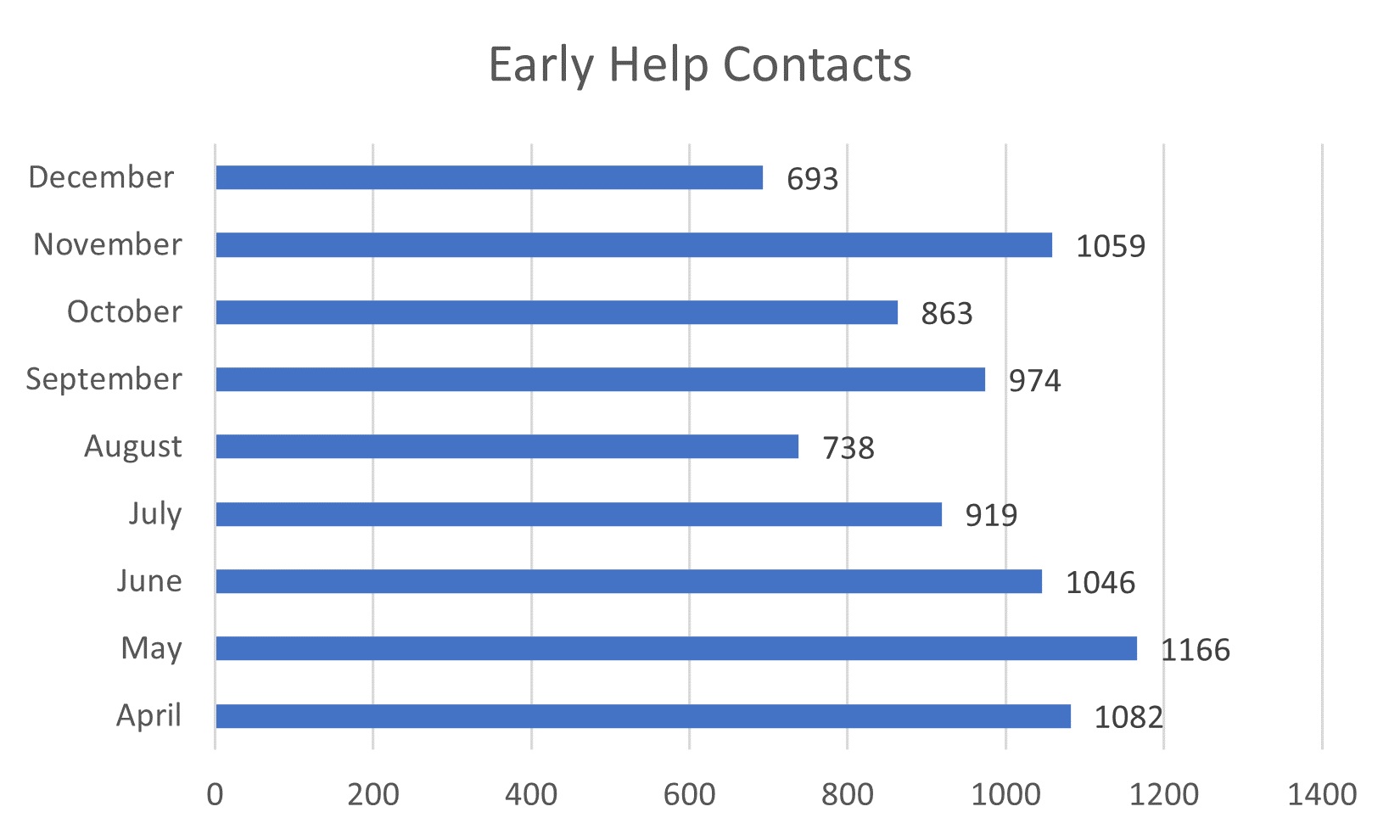 The chart below illustrated that the number of Early Help Assessments (EHAT's) completed has decreased during 2021. However, during this time frame there have been changes made to the way some cases are processed which may result with a child/family being supported through Early Help, but not necessarily subject to an assessment. Significant changes made include:
Following feedback from families, Early Help services  do not re-assess cases where an assessment has recently been carried out. If a family are stepping down from a social care episode, with a recent assessment, an EHAT would not be completed as well. These cases would build on the original assessment to develop an Early Help plan
As the service transitions from the Community Matters programme into the Family Toolbox, more and more families are being encouraged to self-assess rather than being subject to an EHAT.
In terms of activity, whilst EHATs may have reduced the number of EH episodes has remained consistently between 2,200-2,400 at any point and over the year the average number of Early Help Plans being completed was 471 per month.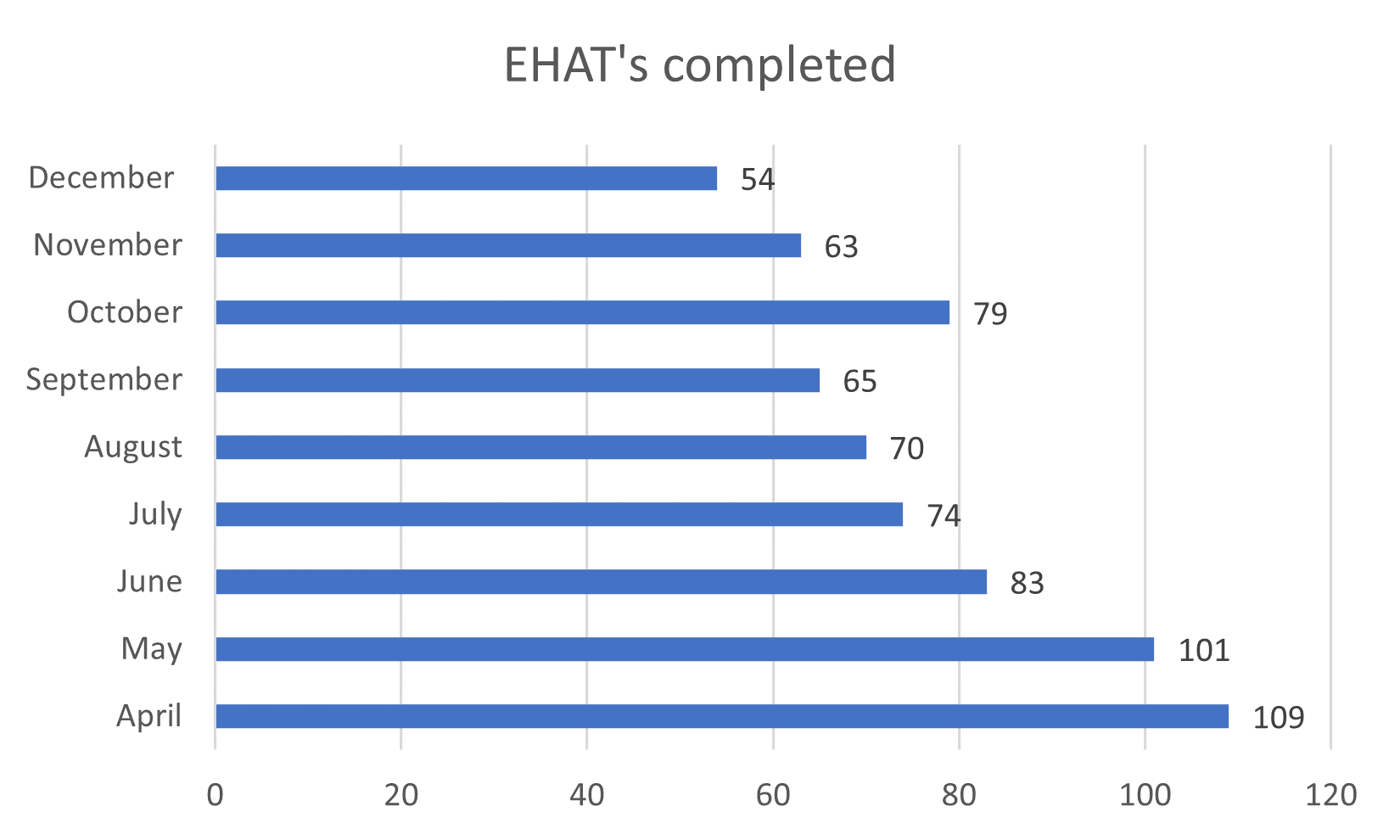 Of the families being supported through early help services, over 80% do not go on to require statutory services, therefore the demand for children's social care services has  reduced.
---
Children's Social Care
Contacts and Referrals

Between April and December 2021, Wirral's Integrated Front Door received a total of 7859 contacts compared to 7639 during the same period in 2020.
Wirral has continued to receive a high number of contacts,  however they did fall in December 2021.
After a high of 38% of contacts converting to referrals back in September, each month since has seen a gradual decline and December's rate of 31% is line with the average for this fiscal year.
The chart below illustrates the number of contacts received by month during 2021.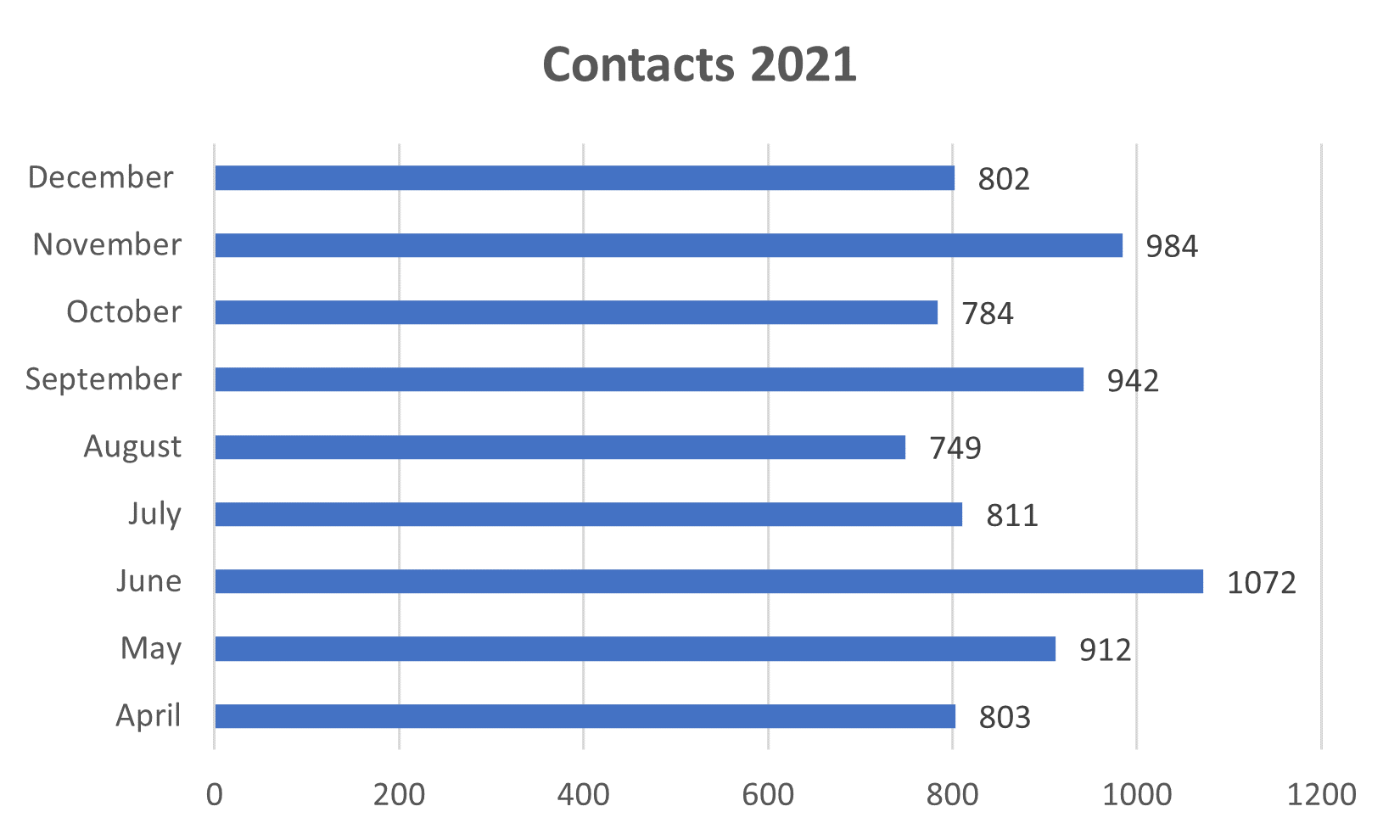 Between April and December 2021, 2454 referrals were received into Children's Services compared to 2245 for the same period in 2020.
Referrals year to date (YTD) are at similar levels compared to last year and down by a fifth compared to pre-pandemic.
The chart below illustrates the number of referrals received by month.
The rate of re-referrals in October (15.8%) had fallen to its lowest rate and November was a small increase to 19.2%, December's re-referral rate was 23.8% – the highest this fiscal year. Due to low re-referral percentages earlier in the year, numbers remain in-line with statistical neighbours.
The chart below illustrates the percentage of re-referrals by month.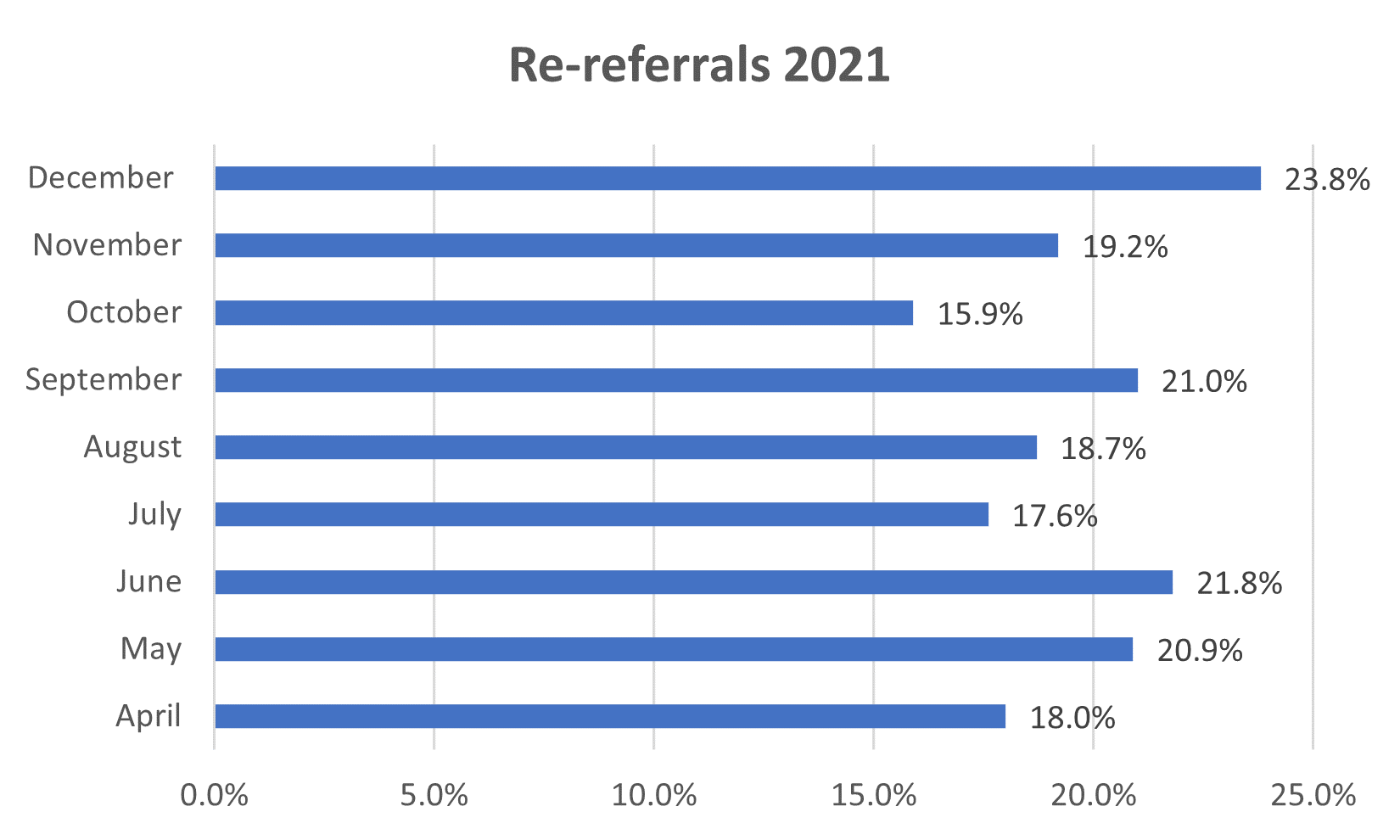 Child in Need (CiN)
With a fall in contacts and referrals, the number of children in need has fallen and at the end of December the CiN figure (all children with an open referral, including care leavers) is at 2371, compared to 2217 for the same period in 2020.  The CiN rate (351.6) still places Wirral in line with statistical neighbours.
The chart below illustrates the number of CiN by month.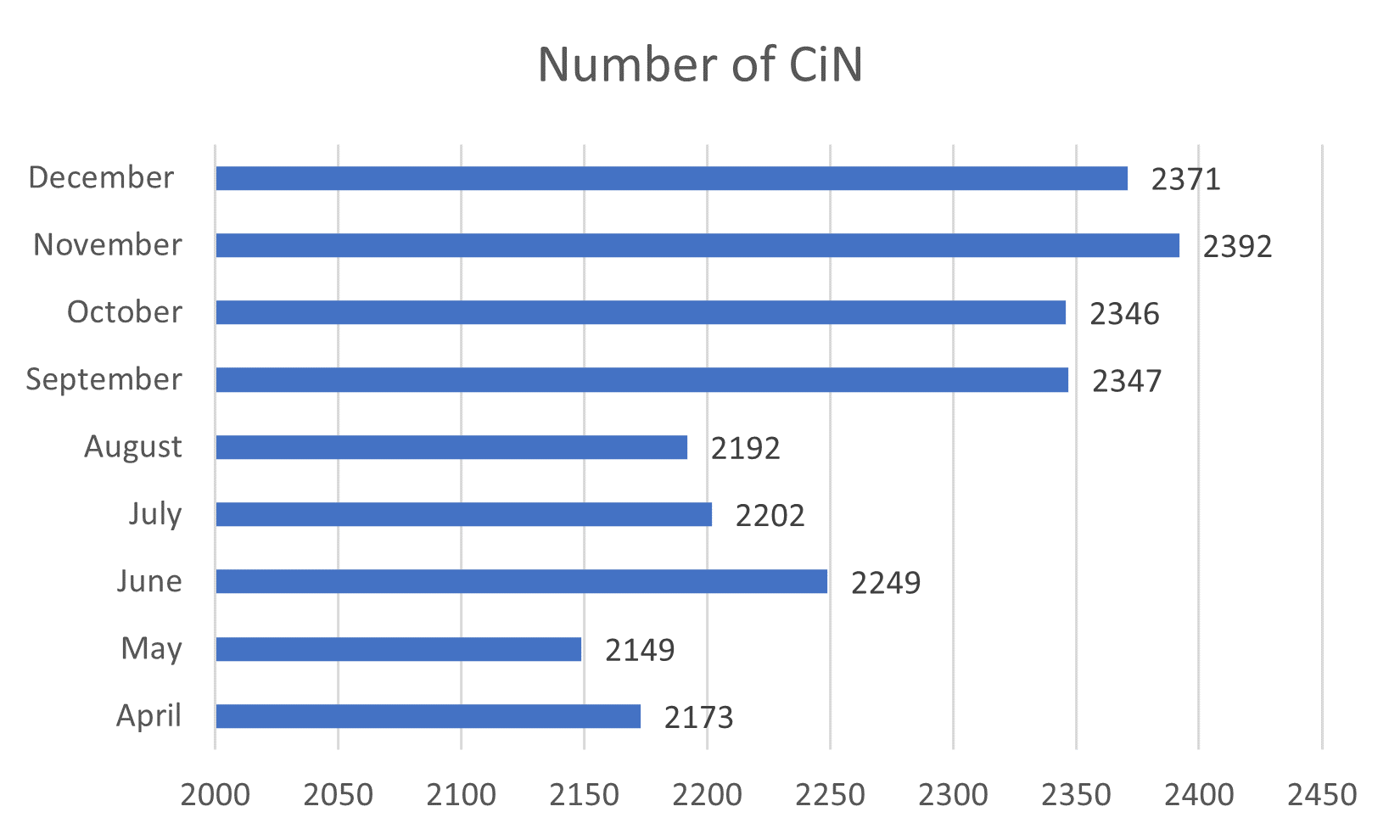 Child Protection (CP)
At the end of December 2021, there were a total of 392 children subject to a Child Protection plan compared to 348 at the same period in 2020.
Child Protection numbers continue to rise and repeat CP plans continue to fluctuate.
Of the 38 children who started on a CP plan in December, 13 had been on a plan previously and 4 had been previously on a plan in the last two years.
The repeat CP % of 34.2% in December was the highest rate this fiscal year and highest since January 2021 (50%, 16 out of 32)
The graph below illustrates the number of children subject to a Child Protection plan at the end of each month.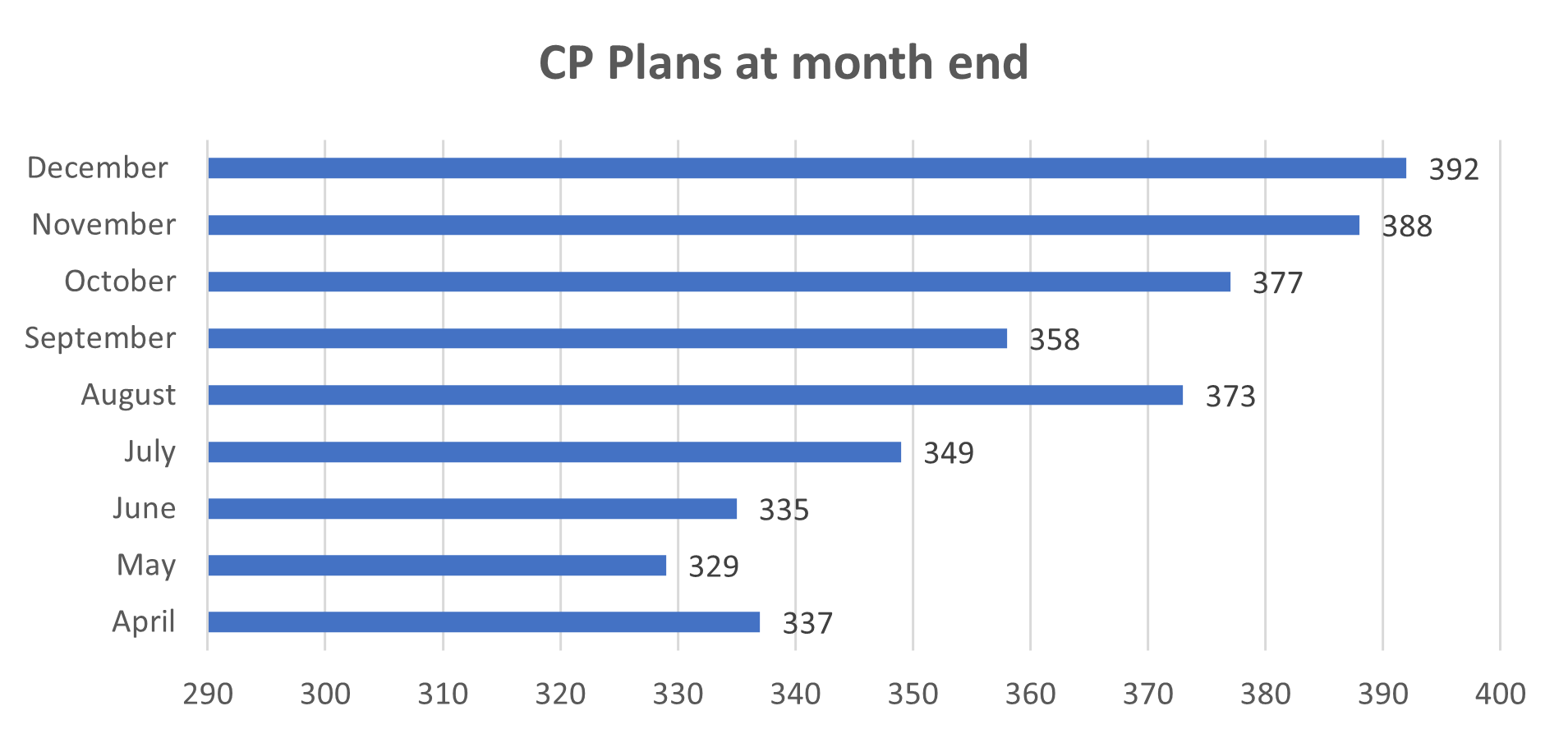 Children Looked After (CLA)
At the end of December 2021, there were 795 Children Looked After compared to 825 for the same period in 2020.
After a period of stable CLA numbers earlier in the year, numbers of children looked after have fallen and remain under 800 for the second consecutive month (795). Between September to November, there had been a negative difference in terms of starters and leavers, explaining the fall in CLA numbers – December is the first time in four months, where there have been more starters than leavers.
The chart below illustrates the number of Children Looked After at the end of each month.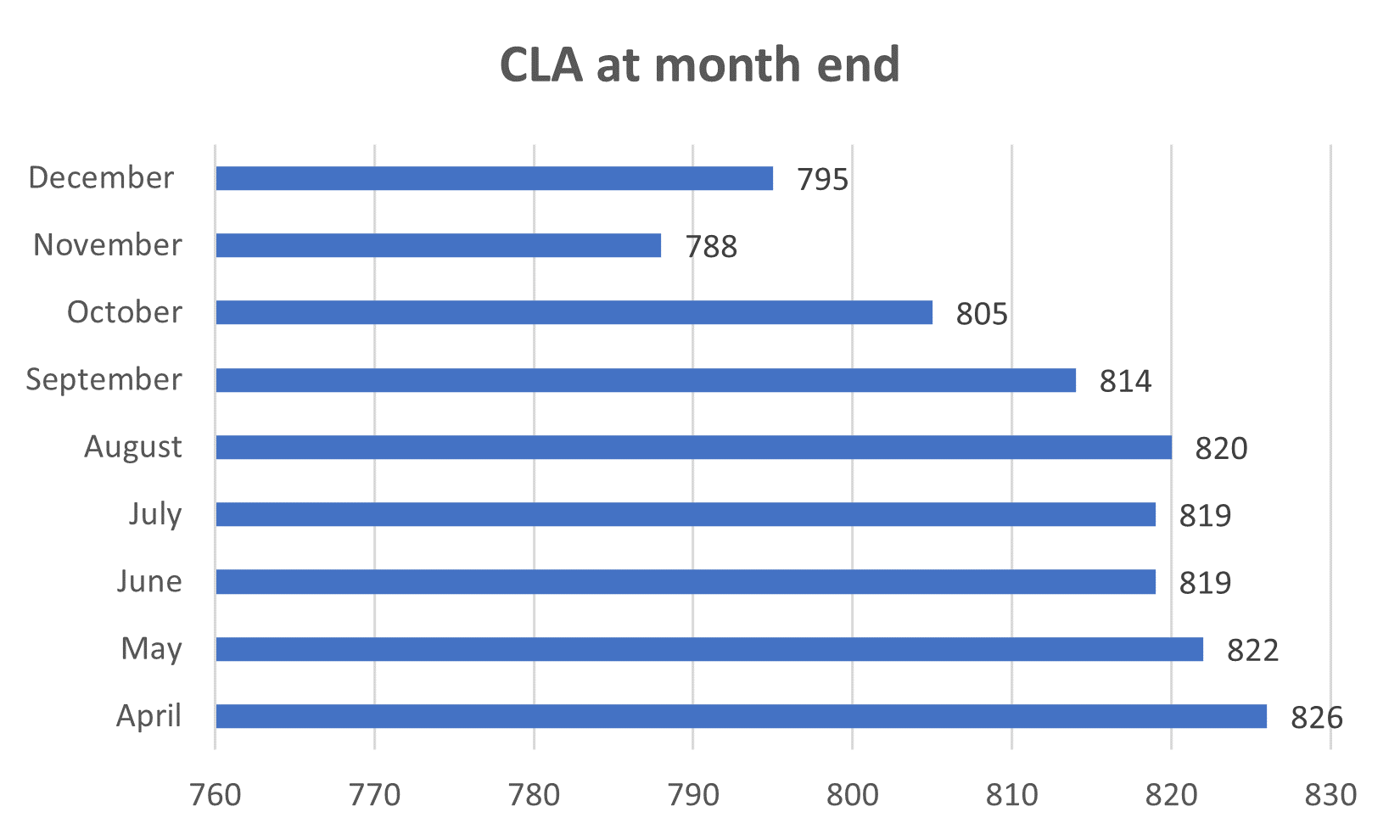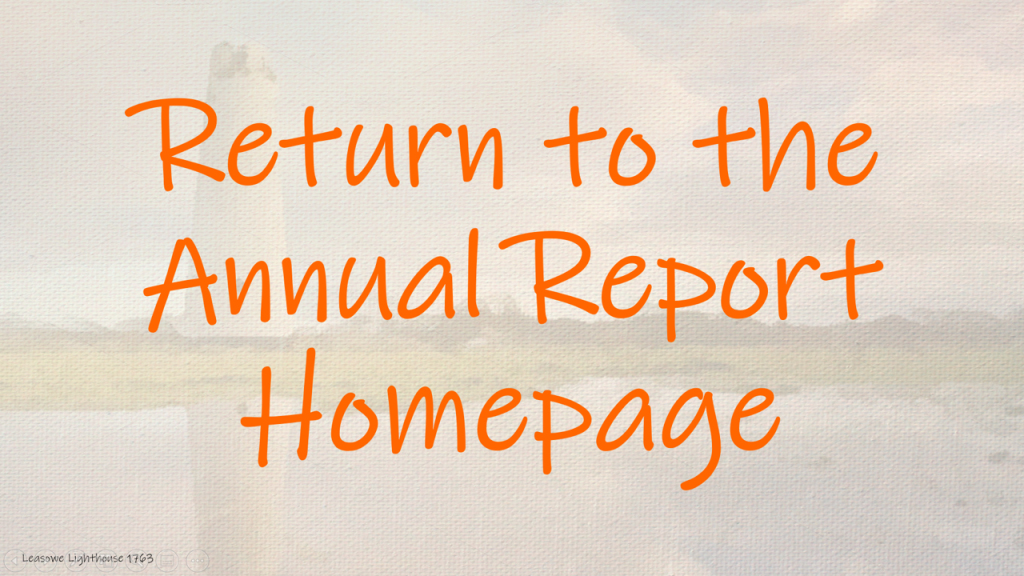 Quick Links to Chapters:

Introduction
Background
Key Activity
Multi-agency Working
Progress Against Priorities
Business Plan
Glossary