Working Arrangements During Covid-19
This page will be updated regularly with information for professionals and agencies about changes to multi-agency working arrangements during the Covid-19 pandemic.
The Coronavirus (COVID-19) Government Advice to everyone updated October 2020 is):
There are three simple actions we must all do to keep on protecting each other
Wash hands
keep washing your hands regularly
Cover face
wear a face covering in enclosed spaces
Make space
stay at least 2 metres apart – or 1 metre with a face covering or other precautions
You can spread the virus even if you don't have symptoms.
Safeguarding children is everyone's responsibility and this remains truer than ever in the current situation, where vulnerable children and young people need our services more than ever.
The Wirral Safeguarding Partnership recognises the tremendous efforts being made by all agencies and professionals involved in the safeguarding of children. The Partnership also recognises that the way in which agencies work has changed, and will continue to change as a result of the Covid-19 pandemic to help stop the spread of the virus to keep our children, young people, their families and our multi-agency workforce healthy and safe.
What to do if you have Concerns about a Child
Safeguarding advice  for reporting concerns is unchanged. All agencies and organisations should follow their safeguarding procedures. Safeguarding concerns and referrals should continue to be made into the Integrated Front Door. Further details and contact numbers are here.
Wirral Helpline for Young People
The Council has launched a dedicated freephone helpline for Wirral's children and young people who may be feeling unsafe or worried during the lockdown. Young people can all to speak to an adviser for help, advice and support.

Poster from the Children's Society and National Police Chiefs' Council: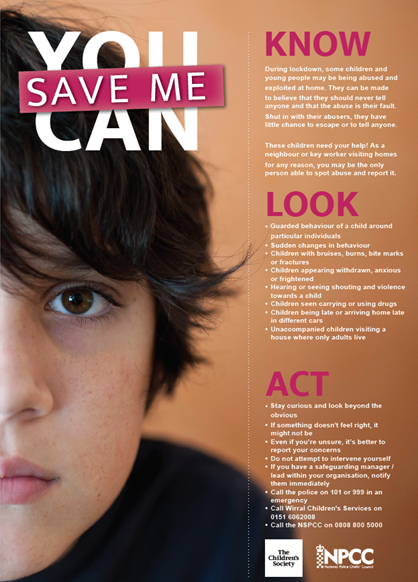 Multi-agency Safeguarding Arrangements
In relation to multi-agency working:
1. Other than in exceptional circumstances, and following a clear risk assessment, visits to children and families should be reduced to a frequency necessary to meet any statutory requirements and to keep children safe. Where this is felt to compromise safety, decisions will be made by the Children's Social Care management on a case by case basis. It is important that we share the responsibility for face to face contact to minimize risk to staff as well as families. Where visits must take place guidance should be provided by agencies for their staff. Public Health guidance for families where someone is self isolating is included below.
2. All multi agency meetings, including strategy meetings, initial and review child protection conferences, core group and Cared for Child reviews will be arranged as telephone/video conferencing (see below) and all partners invited to join one line.
3. The Safeguarding Partnerships website and procedures directory will continue to be available to practitioners to consult. All activity must remain compliant with Working Together to Safeguard Children 2018. All decision making, where required under WT18, will continue to be multi-agency.
4. All WSCP Face-to-Face training is suspended. However, the website training pages contain links to e-learning and our 7-minute briefings. A series of narrated powerpoint presentations covering a variety of topics will be published over the next few weeks.
Audio and Video Conferencing
Where possible all face to face meetings should be stood down if they are not absolutely necessary. All statutory meetings, including strategy discussions, conferences and reviews should continue but should be conducted virtually wherever possible using conference calls or online video conferencing solutions. All LA initiated meetings will use Teams. Other agencies can join meetings without having to have any Teams software installed.
Partner agencies should also use audio/video technology wherever possible rather than face to face visits with children and their families.
Partners are asked to be as flexible as they can be in their approach to ensure agencies can continue to contribute to the multi-agency safeguarding  process.
Child Protection
The Local Authority (LA) is currently reviewing the requests for Initial Child Protection Case Conferences whereby a strategy meeting has agreed a conference should take place. The LA want to ensure all ICPC's do take place however following a risk assessment of the family safety plans in some instances the conference will not take place as arranged.
The LA will contact partner agencies during the risk assessment for families to seek your views. If a decision is made that a family safety plan is in place, this will be subject to regular review and a conference can be convened at a future date if the safety plan proves ineffective.
All current plans are being reviewed and will be adjusted to ensure agencies can work together safely to keep children safe before the next review.
Guidance for communicating with children (CLA, CP and CiN) using audio/video conferencing has been shared with all social workers.
The SGU Exceptional Delivery Model document published below is intended to provide guidance for how Child Protection Case Conferences and Looked After Children's Reviews will be facilitated during the current Covid-19 circumstances. The priority is that effective, child focused meetings continue to take place whilst ensuring all current safety protocols regarding face to face contact are adhered to.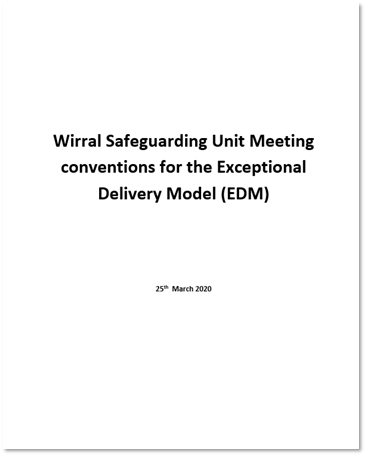 dance a
Update to MARAC Arrangements
From 12th October 2020 these are the new MARAC arrangements for the safeguarding partnership: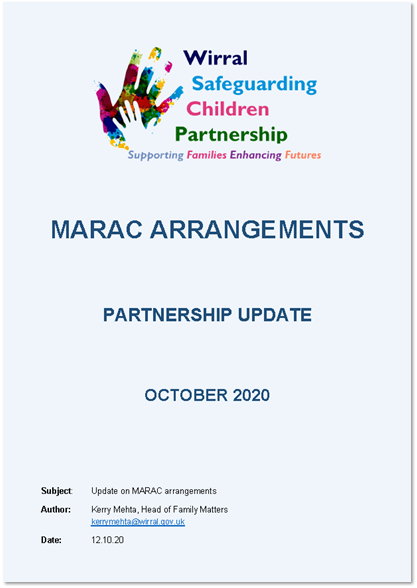 Changes to Adoption Regulations
The Adoption and Children Coronavirus Amendment Regulations (click on image below to open) set out changes to adoption regulations until 25th September 2020 -when they will be reviewed- made as a result of the pandemic.
Most of the temporary changes to the regulations relate to relaxation of timescales. Full details are in the document below.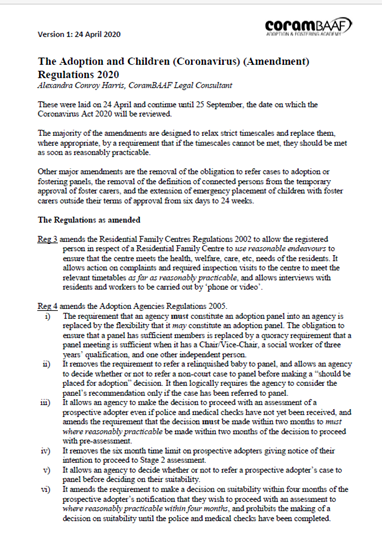 The Adoption and Children Coronavvirus Amendment Regulations
Updated Agency and Service Safeguarding Arrangements
NHS
15th May – NHS has issued an updated guidance letter about Domestic Abuse primarily for NHS staff but useful to other professionals. The letter contains headline statistics and sources of support and further information: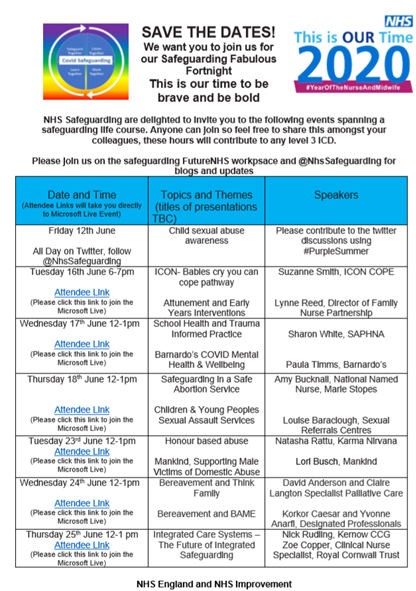 NHS Safeguarding Fabulous Fortnight!
NHS Safeguarding has put together seven webinar presentations as part of their Fabulous Fortnight to promote safeguarding. The events run from the 12th to the 25th June and details of how to join each event is in the flyer below. The events are open to everyone so please highlight to your staff.
Safeguarding Fabulous Fortnight
Cheshire and Wirral Partnerships NHS Trust (CWP)
CWP have launched a new mental health helpline for people of all ages, including children and young people to call if they are require urgent help.
The phoneline is staffed 24 hours a day 7 days a week by dedicated mental health professionals. Any child or adult in need can call 0300 303 3972 to access help.
Wirral Family Safety Unit
Domestic Violence Advisors will continue to offer telephone support to victims of domestic abuse, and to all victims where risk of 'harmful practices' needs to be explored (forced marriage, honour-based abuse and female genital mutilation (FGM). Advisers can be called on 0151 666 4914. All calls are currently being diverted to the Integrated Front Door where all cases are triaged, risk assessed and followed up.
The FSU are continuing to offer support to clients via telephone and email. IDVAs are continuing to safety plan with clients and where appropriate referring clients to outside agencies. The Family Safety Unit continue to accept new referrals from all agencies and self-referrals.
Savera UK
Savera UK have published helpful information for individuals who are at risk of or victims of Domestic Abuse. It can be accessed by clicking here.
MARAC
MARAC will take place via conference call every Wednesday from 1st April 2020.
Help for those Concerned about their own Behaviour
Respect Phoneline Covid-19 Campaign
Many families and relationships will feel increased pressure and for those living with domestic abuse, this could cause serious harm.
The Respect Phoneline is a key source of support for people concerned about their behaviour and wanting to manage and change it. Now more than ever, the Respect Phoneline will be critical to family members and others who are finding it difficult to manage their behaviour during this difficult time. We need them to know that support is out there and that there is no excuse for abuse.
If you are struggling with your own behaviour at home pleas contact the Respect Phoneline using the contact information below:
• website: www.respectphoneline.org.uk
• call: 0808 8024040
• opening times: Mon-Fri 9am-5pm
• webchat: Thurs & Fri 10am-11am & 3pm-4pm
• email: [email protected]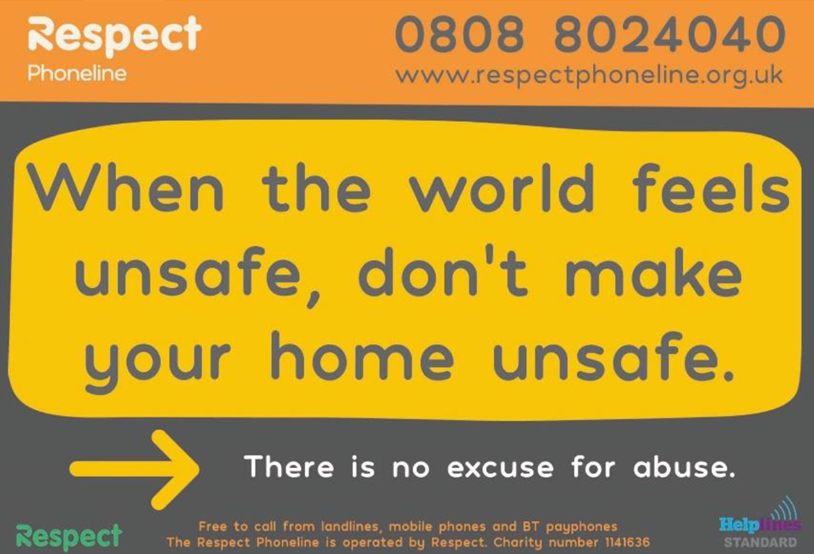 Wirral Ways to Recovery/Change Grow Live –
As May 2020 is Domestic Abuse Awareness Month, CGL have created 3 presentations for  and a flyer designed to promote awareness. All are attached below: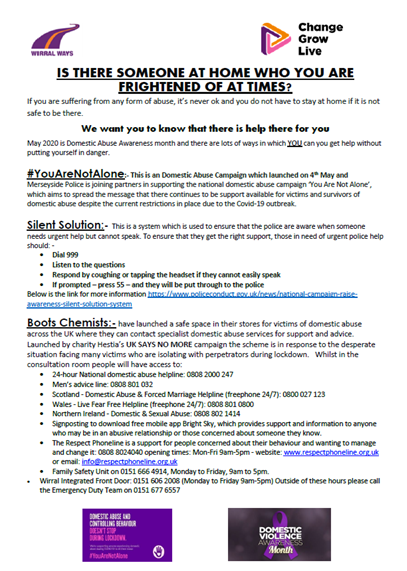 Presentations:
CGL changes to prescribing and dispensing
Wirral Ways to Recovery (WWR) are aware that people using their services are potentially at greater risk from complications of coronavirus compared with the general population, with a significant number of people that use WWR/CGL services having been identified as vulnerable and that need to self-isolate for the recommended 12 week time scale.
Therefore, CGL have taken the following measures to mitigate the unintended consequences of the coronavirus pandemic on people (and therefore families) in receipt of Medicated Assisted Treatment (MAT):
1. Individuals who already have take home MAT will be provided with two weeks supply.
2. Those on supervised consumption will move to unsupervised and will be provided with two weeks take-home supply.
3. Detoxifications and dose reductions will be deferred, with people encouraged to maintain stability during this period of uncertainty.
4. New assessments and re-starts will be offered buprenorphine as first choice and will be able to take away unsupervised titration doses for a total of two weeks.
5. Methadone induction will require daily collection at a pharmacy in the first week, followed by take-home doses when appropriate.
6. If only remote assessments are possible, and people are unable to provide a drug test – only buprenorphine titration based on an adequate history will be possible.
7. If people are advised to self-isolate, but are not being treated in hospital, they will be asked to nominate an individual to collect the prescription on their behalf and will be provided with a two week supply of medication. If they cannot nominate an individual to do this, where possible, delivery arrangements will be initiated to deliver the medication.
8. The above will be supported with:
• Provision of Take-home Naloxone
• Safe storage boxes
• Harm reduction advice
• Regular communication with first-line support
All cases have been thoroughly risk assessed and WWR/CGL consulted directly with Public Health England and the Royal College of Psychiatry in making these plans.
Involve North West
Leapfrog: Involve are continuing to offer support to clients and children enrolled on Leapfrog programmes through telephone and video calls (where appropriate). New referrals are still being accepted for the Leapfrog programme, Involve will contact the client to advise them that there are currently no courses running.
Got the T Shirt: Involve are continuing to offer support to clients enrolled on the Got the T Shirt programme via telephone
New Referrals/Clients: Involve are offering phone and email support, and also offering support via Facebook/Twitter. Phone support – 0151 644 4500, Email support – [email protected]
Tomorrow's Women Wirral
One to one appointments no longer being offered. Tomorrow's Women is closed to the general public. They are offering phone support to be a listening ear and to give contact numbers for any other agencies which may be of help such as solicitors, housing support and advice, financial advice. We offer this support to any clients you feel would benefit from talking to us. Support is also available through their social media platforms.
Numbers you can give to any women who would benefit from our support are as follows:
07872 887 130 and 07715 877 866
A new Tomorrow's Women initiative has been launched designed to benefit young women aged 14-17 to offer crucial support and specialist guidance.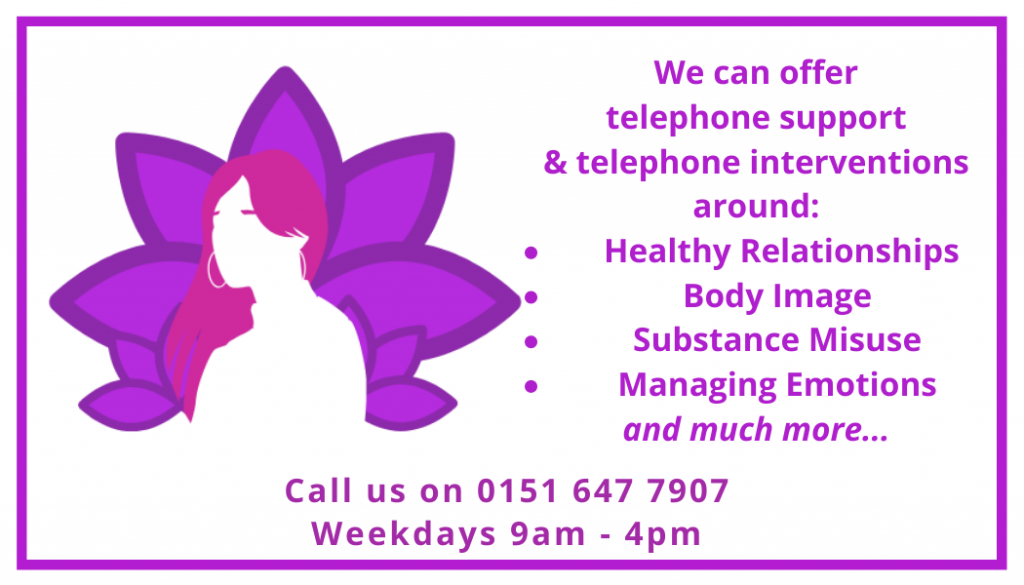 We are now taking referrals to support young women so please feel free to contact us on [email protected] or call us on 0151 647 7907. If someone you know, a friend/family member, a client that you are working with between 14 & 17 could benefit from the support of Tomorrow's Young Women please do not hesitate to get in touch.
Wirral Women's and Children's Aid (Wirral Refuge) – 0151 643 9766 (24/7)
Refuge are not offering any outreach support or any work with children and young people outside of the refuge. However, Wirral refuge is continuing to offer places for those in need of accommodation.  All staff are now on a rota to cover the refuge working 24 hour shifts then 6 days off to reduce contact with other staff and residents.
Refuge are in telephone contact with any families or women we are working with in the community, they all have the helpline and mobile number and they will continue to offer support anyone who phones the helpline. Gateway referrals are being added to a waiting list.
Rape and Sexual Abuse Centre (RASA)
RASA are offering telephone and email support to clients. They are also attending court/meetings with clients where required. RASA are continuing to accept new referrals.
Listening Ear
In Wirral, Listening Ear offers three services currently:
https://listening-ear.co.uk/amparo/
https://listening-ear.co.uk/diamond/
https://listening-ear.co.uk/butterflies/
Following government advice regarding working from home where possible, Listening Ear has planned how it can continue to meet its contractual obligations and provide an effective service, whilst keeping our staff and clients safe.
As a result, all Listening Ear staff were required to work from home from the 23rd March 2020 until further notice. From this date, we will provide telephone counselling across all therapeutic services and for Amparo, we will offer a mixture of telephone and SMS support.
During this period, please be aware that we will be unable to accept faxed or posted referral forms. In all cases and until further notice, referrals to Listening Ear should be submitted using our on-line referral form (https://listening-ear.co.uk/refer/). If there is a reason that this cannot be achieved, please contact us by email at [email protected] and we will try to find a solution.
Weekly appointments will continue to be scheduled as usual. We will offer telephone counselling for all clients aged 11+. For younger clients, we will offer telephone support to parents/ carers/ guardians and will work to build their capacity to support children's mental health at home.
Rainbow Centre
The Rainbow Centre is open but Covid-19 guidelines are in place. These are detailed here:
Rainbow Attendance Guidelines- Covid-19
WEB Merseyside/Men Too (previously known as Women's Enterprise Breakthrough)
WEB/ Men Too are offering listening appointments over the phone. All staff are currently working from home but are working to a system to ensure they can still support people via telephone. People can visit their website where there is a range of information and resources to help people through this difficult time. WEB are still picking up phone messages so the office number is still in use (0151 653 3771). Referrals are still being accepted. www.webmerseyside.org
Onward Homes
Onward homes are providing all domestic violence services normally offered via telephone for their tenants. They still have target hardening equipment in stock should tenants require this service.
Safer Neighbourhoods Specialist 07970 235 831
Advance Crime Reduction (Target Hardening)
All suppliers are closed so Advance are unable to access the equipment required to carry out target hardening works and therefore are unable to offer services
Community Rehabilitation Company (CRC)
Merseyside CRC has mobilised its supervisory arrangements to ensure that all DA perpetrators and victims are being managed and supervised in accordance with the level of risk they represent as part of the COVID 19 response.
A number of useful documents have been disseminated to staff to assist their management of these cases and these are included below:
DOMESTIC ABUSE NATIONAL HELPLINES
Economic-abuse-and-the-coronavirus-outbreak-1
Safelives Safety Planning Professionals Guidance
Wirral University Teaching Hospital (Arrowe Park)
WUTH are running service as usual. DASH and Safety Plans completed and if clients are displaying symptoms of COVID-19 or have tested positive, DASH and Safety Plans will be done over the phone. Patients kept in due to COVID-19 are in a place of safety until they are discharged
Wirral Community Health and Care (WCHC) NHS Foundation Trust
WCHC 0-19 service is continuing with a virtual contact for the most vulnerable families including those subject to Child in Need or Child Protection Plans, and Children who are Looked After. The service are also completing virtual birth visits.
All contact numbers and emails remain the same and a centralised duty team has been set up to manage referrals and contacts in to the service.
The Wirral 0-19 Health and Wellbeing Service have a page of dedicated resources for young people, the team have recently added a new mental wellbeing video to the existing videos and resources. Please visit https://www.wchc.nhs.uk/services/wirral-0-19-health-and-wellbeing-service/self-care-resources-and-support/ to take a look.
The Safeguarding Team are supporting the Integrated Front Door with availability of a core health team and strategy nurse on the Bank Holidays, and the MASH team remain in place working from home.
The Clan nurses continue to support this cohort of young people via phone and video link.
The Named nurse is working closely with the Designated nurse to ensure pathways are robust and Wirral children placed out of area can access the support they need.
HM Government – Domestic Abuse
Resources for agencies about the Government's Covid-19 Domestic Abuse campaign: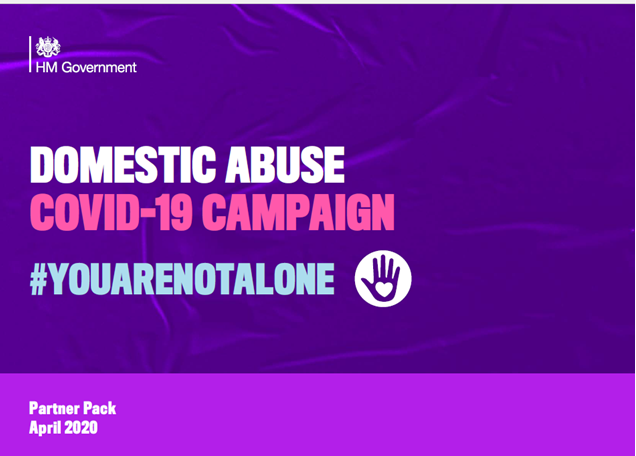 Housing Options
Housing Options Service is operating business as usual with interview being conducted over the telephone using a triage process. The service had, however, already moved to this position prior to COVID-19 as it enables us to provide a more effective response to individual rather than waiting to arrange an appointment or asking people to attend Council offices.
Temporary Accommodation Officers however are seen as critical and will be available to assist any families into Council arranged emergency temporary accommodation if required
Wirral Mind
– 0151 512 2200 (9am-5pm Monday to Friday)
Advice and questions mental health support helpline
Hub of Hope Mental Health Support
– Text 85258 (24/7)
Text 85258 to be connected to a volunteer for a text conversation – most networks are free and do not show on bills.
YMCA Wirral
YMCA are operating business as usual. Their night shelter remains open and Mainstay applications can be completed via telephone on 0151 650 1015.
Wirral Children Centres Services
There are currently 3 centres open across Wirral:
Seacombe CC – 0151 666 3506 – Midwifery services running from Seacombe appointment only
Brassey Gardens CC Birkenhead – 0151 666 3323
Bromborough CC 0151 666 3246 – Midwifery services running from Bromborough appointment only
Children Centres are offering phone support for families most in need we are currently working with. We are working closely with feeding Birkenhead to support families struggling with food. They are supporting them to register with feeding Birkenhead scheme to deliver parcels of food to self-isolating families however this is in its infancy and will change on a weekly basis due to food chain and supplies.
Children Centres are also delivering resource pack to families who are at home with their children. Children Centres supporting childcare settings to remain open for key workers children to attend.
Family information service contact number:  0151 666 3980
Further information available here: https://wirralview.com/news/temporary-changes-childrens-centres-operations
The Open-Door Centre/Bloom
The Open-Door Centre have been busy working remotely over the past week to support existing members and families.
They have launched the New Horizons project to aid mental health in isolation. The isolated uncertain times we are currently living in will be challenging in all kinds of ways. Relationships, community and mental health will all undergo strain as we adjust to a temporarily physically disconnected lifestyle. However, there are coping strategies and activities which can help us through this period, keep our heads healthy and our households harmonious.
Further information is here: https://www.bidolito.co.uk/news-new-horizons/
Emergency Food Hub
This is a partnership between the council and community food providers provides a single point of contact for residents who need urgent help to get food.
Residents should visit www.wirral.gov.uk/foodhelp to give their details or phone the Wirral Coronavirus Helpline on 0151 666 5050 if they can't go online, or have problems completing the form.
Emergency Food Support
https://www.wirral.gov.uk/health-and-social-care/coronavirus-updates/emergency-food
Please see the link above which describes how families can access emergency food support.
School meal vouchers: These are available from schools for families who are accessing benefits and have been means tested previously. Wirral are going to pay £15 per week for these rather than the standard £11.50 as is normally the case. Wirral will also be paying for these throughout the school Easter holidays when families of course would not normally receive them.
NSPCC Helpline
With growing concern for the safety of some children during the coronavirus crisis the NSPCC  has launched a nationwide campaign to let more people know how to get advice and support and where to raise concerns about a child's wellbeing.  The campaign comes  as the charity publishes the latest data from its helpline which shows that the crisis has exacerbated existing risks for children and created new ones.  In the month since lockdown there have been a total of 5,237 contacts to the helpline from across the UK from adults concerned about the wellbeing and safety of a child
It can be reached 24 hours a day by email – [email protected] – or through its online reporting form. Its team of experts can also be called Monday to Friday 8am-10pm or 9am-6pm at the weekends on 0808 8005000.
There is more information on the NSPCC website here: https://www.nspcc.org.uk/keeping-children-safe/our-services/nspcc-helpline/
Useful Documents and Links
Covid-19 Government Guidance on Vulnerable Children and Young People
Covid-19 Guidance for Children's Social Care Services
Updated WSCP Domestic Abuse Advice
Children's Guides to Coronavirus
Covid-19 Guidance for Education Settings
WSCP Addendum to Schools' Safeguarding Policies
Closure of Education Settings – Information for Parents and Carers
Public Health England – Coronavirus (Covid-19): Guidance
Public Health England – COVID-19: guidance for households with possible coronavirus infection
Covid-19 Hospital Discharge Service Requirements
Ofsted Rolling Covid 19 Update
Helpline for Wirral Residents