Annual Reports and Business Plans
Wirral Safeguarding Children Board
The WSCB is required to publish an annual report each year. The Board publishes its report every September and it provides an assessment of the breadth and effectiveness of safeguarding arrangements for the previous 12 month period of the financial year (April to March).
The latest Annual Report for 2015-16 can be accessed below: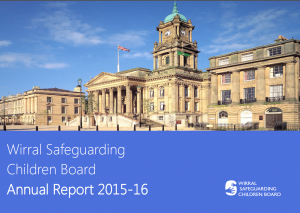 There is also a Powerpoint presentation which summarises the content of the Annual Report:
WSCB Annual Report 15-16 Presentation
A Children and Young Persons Version of the Annual Report is also available:
The Business Plan for 2016-18 sets out the priority areas for the safeguarding board:
Previous Reports
Previous Reports and Business Plans can be downloaded below.
The Annual Report for 2014-15:
The Annual Report for 2013-14 :