Supporting Families Enhancing Futures
The Wirral Safeguarding Children Board are developing a new model for working with children, young people and their families where one or more children are subject to a child protection plan.
The new model is called Supporting Families Enhancing Futures (SFEF) and has a focus on understanding how issues affect the child's lived daily experience in a typical 24 hour day.
The SFEF model is being developed by a multi-agency group of professionals and is being informed by the real experiences of families. The safeguarding board plan to introduce the model later in the year, a summary implementation plan can be accessed below:
SFEF History and Implementation Summary
Please note all Supporting Families Enhancing Futures and SFEF materials are copyright to the Wirral Safeguarding Children Board and may only be used by professionals in WSCB partner agencies.
Principles and Guidance for Professionals working with Families
1. Prompt Sheets for Practitioners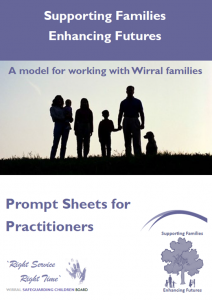 The prompt sheets document includes an overview of the principles of the SFEF model and provides guidance for working with children, parents and carers and families:
Prompt Sheets for Practitioners
2. Beginners Guide to SFEF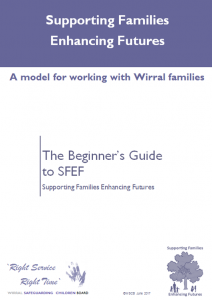 Available in both A4 and A5 size, the beginners guide to SFEF presents the principles and themes of the model including its aims, the responsibilities of staff and how the model aims to improve the lives of children, adults and families:
The Beginner's Guide to SFEF (A5 booklet)
The Beginner's Guide to SFEF (A4 booklet)
3. SFEF on a Page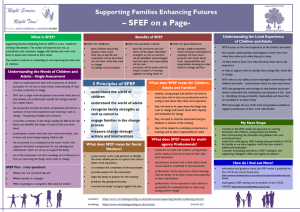 This A3 colour poster summarises the SFEF model and is designed for easy reference:
4. Multi-agency Training
The WSCB has developed multi-agency training for professionals. The multi-agency training will introduce the SFEF model, detailing the principles and how the model will work 'in practice' with children, young people and families. The training will also practically explore how the model will influence key multi-agency meetings such as Child Protection Conferences and Core Groups.
Training courses run every week throughout the summer and autumn. Places can be booked here: https://www.wirralsafeguarding.co.uk/courses/
5. Useful tools for professionals
The WSCB publishes copies of and links to common tools for practitioners to use when working with families to support an assessment of need:
https://www.wirralsafeguarding.co.uk/tools-for-professionals/
Useful tools which can support practitioners using the SFEF model can be found below:
http://www.socialworkerstoolbox.com/ includes a diverse range of free resources particularly useful for discussing parental drug and alcohol misuse, domestic violence and sexual exploitation.
http://www.genopro.com/genogram/symbols/ includes information regarding symbols and how to construct a genogram
Further updates and information will be put on this page as the model develops.