Supporting Families Enhancing Futures
The Wirral Safeguarding Children Partnership (WSCP) developed a model for working with children, young people and their families across levels 3 and 4 (Team Around the Family, Child in Need and Child Protection) of the Wirral Continuum of Need.
The model is called Supporting Families Enhancing Futures (SFEF) and has a focus on understanding how issues affect the child's lived daily experience.
The SFEF model was developed by a multi-agency group of professionals in partnership with Professor Jan Horwath from Sheffield University and has been informed by the real experiences of families. The model was launched across the Wirral partnership in October 2017.
Supporting Families Enhancing Futures Survey:
Wirral's Practice Framework for working with and supporting children and families, is currently being reviewed by Stockport Partners In Practice and we would like to capture feedback from the children and families that you are supporting.
The feedback will contribute to the final outcome of the SFEF review due in March 2021 and will help inform how the SFEF Practice Framework will be further developed. (click below to fill in the survey)
Please could you share the link to the online questionnaire with as many families as possible so that we can capture their experience of receiving a service in Wirral. The feedback questionnaires will be submitted straight to Stockport Partners in Practice and will be anonymous. The deadline for completion is 1 March 2021.
Online Training Resources
Click here to access the new online training resources including:
Effective and Smart Plans (Page opens in a new tab)
Daily Lived Experience Resources
Click here to access the new daily lived experience resources including guidance and case studies for professionals, and a powerpoint presentation.
SFEF Documents
To support professionals and agencies with the introduction of the SFEF model the WSCP has introduced a programme of multi-agency training and has published a detailed Practice Guidance document and numerous other support, guidance and at-a-glance factsheets. These are all available for download below by professionals and agencies working in Wirral.
Please note all Supporting Families Enhancing Futures and SFEF materials are copyright to the Wirral Safeguarding Children Partnership and may only be used by professionals in WSCP partner agencies.
Introduction, Practice Guidance and Prompt Sheets
1. Practice Guidance for Professionals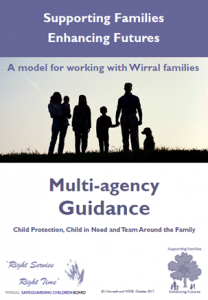 The Multi-agency Guidance documents details the SFEF model and how it supports professionals working with families in the Early Help, Child in Need and Child Protection frameworks.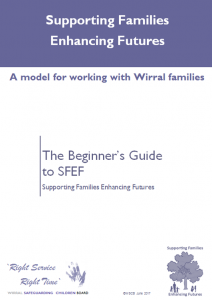 The beginners guide to SFEF presents the principles and themes of the model including its aims, the responsibilities of staff and how the model aims to improve the lives of children, adults and families
3. Prompt Sheets for Practitionersv2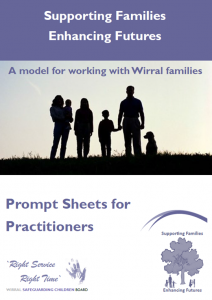 The prompt sheets document includes an overview of the principles of the SFEF model and provides guidance for working with children, parents and carers and families.
Conversation starters for child
Conversation starters for parents and carers
Conversation starters to explore parent or carers readiness to change
Conversation starters to explore changes made or still to make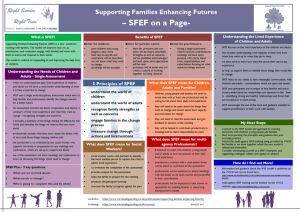 This A3 colour poster summarises the SFEF model and is designed for easy reference.
SFEF Help Sheets
The WSCP has published a series of help and fact sheets to provide at-a-glance guidance for professionals:
5. SFEF Frequently Asked Questions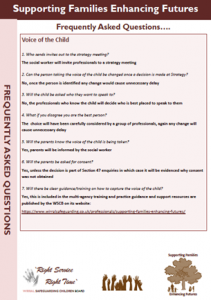 The FAQ's will be regularly updated following introduction of the SFEF model
6. SFEF Help Sheet – Strategy Meetings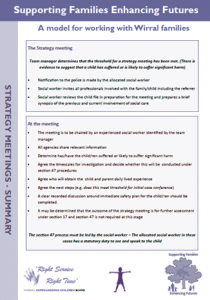 7. SFEF Help Sheet – Section 47 Enquiries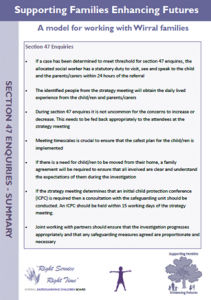 8. SFEF Help Sheet – Process to ICPC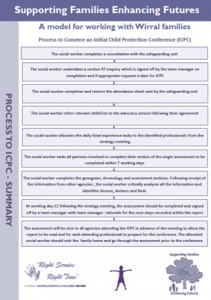 9. SFEF Help Sheet – Initial Child Protection Conferences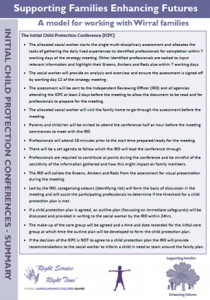 9.1 CP Leaflets for Families
CP Conference Parent Carer's Guide
CP Enquiries Parent Carer's Guide
CP Young People's Guide (younger)
CP Young People's Guide (older)
10. SFEF Help Sheet – Core Group Meetings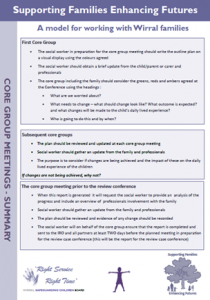 11. SFEF Help Sheet – Child in Need Timescales and Process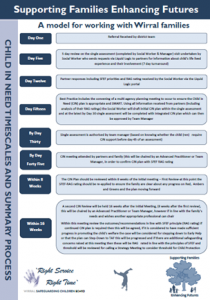 12. SFEF Help Sheet – Early Help Assessment Tool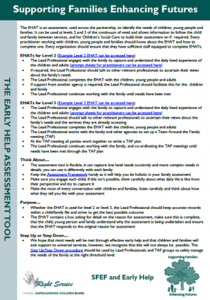 13. SFEF Help Sheet – Role of the Lead Professional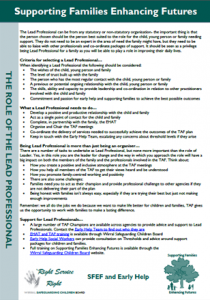 14. SFEF Help Sheet – The TAF Meeting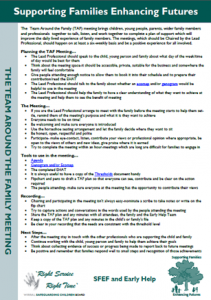 15. SFEF Help Sheet -The TAF Plan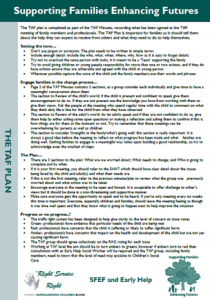 16. SFEF and Children Looked After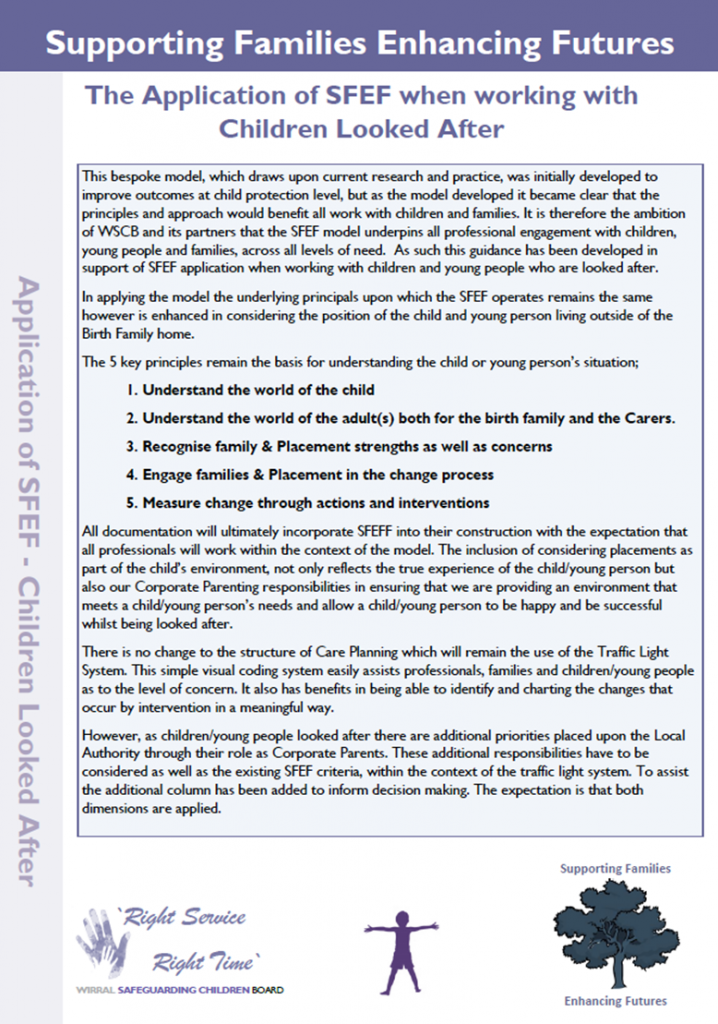 17. Single Multi-Agency Assessment – Information for Partner Services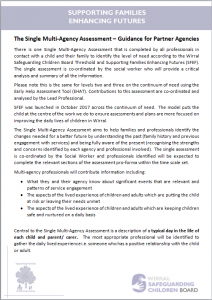 18. SFEF headings for health professionals to contribute to single assessment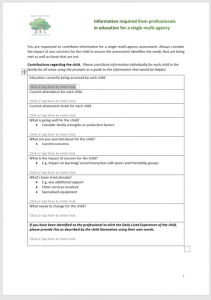 19. SFEF headings for education settings contributing to single assessment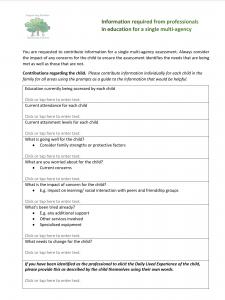 20. Capturing the Daily Lived Experience of a child and adult – Information for Partner Agencies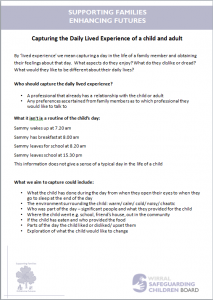 21. Single Assessment Best Practice Document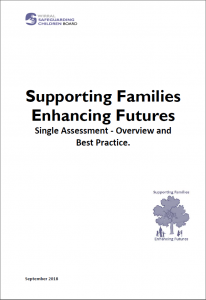 Below is an example of a plan from an ICPC. At the first Core Group clear timescales and responsibility for actions should be clarified.
23. My role in communicating with a child and adult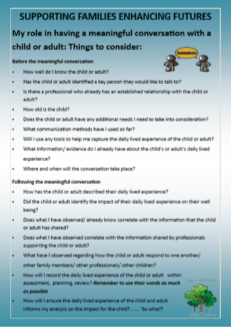 24. Information Request from Professionals to Help inform EHAT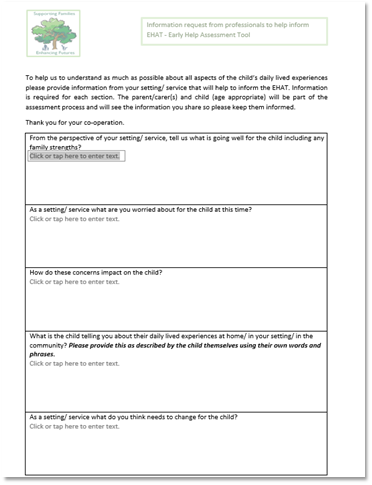 25. SFEF Branded paper for printing and use in meetings with families.
Multi-agency Training
The WSCP has developed multi-agency training for professionals. The multi-agency training introduces the SFEF model, detailing the principles and how the model will work 'in practice' with children, young people and families. The training also practically explores how the model will influence key multi-agency meetings such as Child Protection Conferences and Core Groups.
Training courses run regularly. Places can be booked here: https://www.wirralsafeguarding.co.uk/courses/
Useful tools and videos for professionals
The WSCP publishes copies of and links to common tools for practitioners to use when working with families to support an assessment of need:
https://www.wirralsafeguarding.co.uk/tools-for-professionals/
Useful tools which can support practitioners using the SFEF model can be found below:
Professional Portal – External User – User guide  This provides a step by step guide for professionals who need to access the Professional Portal to contribute to the single assessment
A series of videos explaining how to register and use the portal are below:
IT Etiquette – guidance poster about the appropriate use of laptops and tablets by professionals in multi-agency meetings attended by children and families
http://www.socialworkerstoolbox.com/ includes a diverse range of free resources particularly useful for discussing parental drug and alcohol misuse, domestic violence and sexual exploitation.
http://www.genopro.com/genogram/symbols/ includes information regarding symbols and how to construct a genogram
Further updates and information will be put on this page as the model develops