Young Carers
There are approximately 700,000 young carers in the UK. That is about 1 in every 12 school aged children, who are caring for a family member.
The Barnardo's Service in Wirral, supported 152 young carers aged 5 -18 between April 2016 – March 2017. Out of these 152 young carers, 71 were caring for adults with a diagnosed mental health illness, 32 were caring for adults with a physical illness or disability, 34 were caring for adults who have a neurological condition such as MS, brain tumor, stroke or dementia, 9 were caring for an adult with a terminal illness and 6 were caring for an adult with drug or alcohol problems.
Definition of a young carer
The term young carer should be taken to include children and young people under 18 who provide regular or ongoing care and emotional support to a family member who is physically or mentally ill, disabled or misuses substances.
What might a young carer do?
Practical tasks, such as cooking, housework and shopping.
Physical care, such as helping someone out of bed.
Emotional support, such as talking to someone who is distressed.
Personal care, such as helping someone dress.
Managing the family budget and collecting prescriptions.
Helping to give medicine.
Helping someone communicate.
Looking after brothers and sisters.
What the impact of being a young carer can have on children
With so many adult responsibilities, young carers often miss out on opportunities that other children have to play and learn. Many struggle educationally and are often bullied for being 'different'. They can become isolated, with no relief from the pressures at home, and no chance to enjoy a normal childhood. They are often afraid to ask for help as they fear letting the family down or being taken into care.
A young carer becomes vulnerable when the level of care-giving and responsibility to the person in need of care becomes excessive or inappropriate for that child, risking impacting on his or her emotional or physical well-being or educational achievement and life chances.
Supporting young carers and their family
Barnardo's Action With Young Carers is commissioned by Wirral Council to ensure that young carers and young adult carers up to the age of 18 are identified and can receive a carers assessment under the statutory duty of the Council.
Action With Young Carers work within a whole family approach to reduce the negative impact of caring by accessing support for the young carer and family members where there is an identified need.
What can the Young Carers service offer ?
Someone to talk to who will listen
Give you information about the illness or disability of the person you care for
Someone to speak up for you when no one wants to listen
A break form caring
Getting help, advice and support for the person you care for.
Click on the leaflet below for all contact details: Action With Young Carers Wirral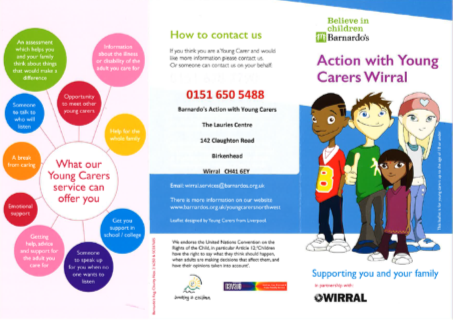 Referral Form
A new referral form for the Young Carers service is available below: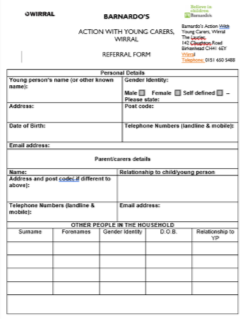 Barnardo's Action With Young Carers, Wirral
The Lauries
142 Claughton Road
Birkenhead
CH41 6EY
Wirral
Telephone: 0151 650 5488
Exemplar Policy for Schools
Barnardo's have put together an exemplar Young Carers policy for schools which schools are free to adopt and adapt to their own setting:
Schools_Young_Carers_Policy_Examplar
Links / Sources of information
Still Hidden Still Ignored. Report by Barnardos about Young Carers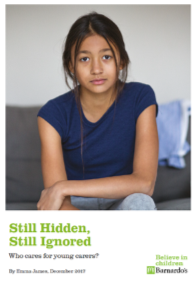 http://www.barnardos.org.uk/what_we_do/our_work/young_carers.htm
https://www.wirral.gov.uk/health-and-social-care/adult-social-care/support-carers/support-young-carers
https://www.childrenssociety.org.uk/what-we-do/resources-and-publications/publications-library/hidden-view
https://www.childrenssociety.org.uk/what-we-do/helping-children/young-carers
http://www.wirralcarers.co.uk/young.html
https://carers.org/about-us/about-young-carers