You vs. Train – Dangers on the Railway
Hundreds of people each year unintentionally take on the railway and lose. The railway's full of hidden dangers. If you're not hit by an unexpected train you'll be hit by the lethal current in rails and power lines.
You will be killed or left with catastrophic, life-changing injuries. And your friends and family will be left with the brutal consequences. Everyone loses when you underestimate this opponent. Everyone loses when you step on the track.
Hidden Facts: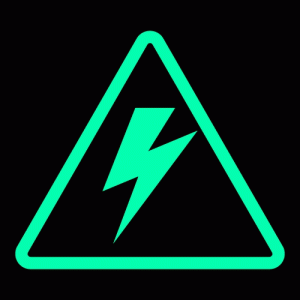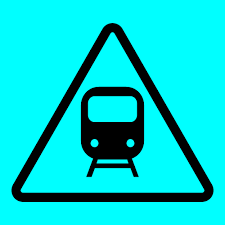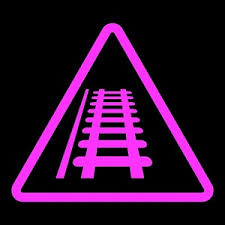 1.  You vs. 25,000 volts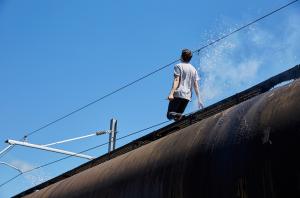 The power running through overhead railway lines is 100 times stronger than your supply at home. Electricity is easily the most dangerous factor in stepping on the track – it's always switched on and nine out of ten people die when they're struck by it.
Others are left with life-changing injuries, including burns and amputations; and that's not to mention the emotional scars that will be left behind. Electricity is easily underestimated. People don't realise it can jump – so you don't even need to touch a cable to be seriously injured.#
2.  You vs. 150 tonnes of train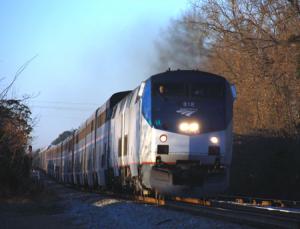 You can't outrun a train. And even if you could, you wouldn't hear it coming, as today's trains almost silently reach speeds of 125mph. And they run 24 hours a day. So even if you think it's a 'quiet time', you can be hit by thousand tonne freight trains that run all night.
Don't think that keeping to one side of the track will keep you safe. Trains are all wider than the rails. You're just as likely to trip over the train equipment and be dragged on to the track.
3. You vs. the electrified third rail
The third rail is probably the hardest danger to see. It looks just like an ordinary rail, but it carries 750 volts – easily enough to kill you.
It's designed to send power to the train, but you are 70 per cent water and the perfect conductor for this electricity. If you touch the rail, you will "stick" to it. The DC current that flows through it will pull you in and not let go until the emergency services are able to switch the power off.
Nearly half of the UK rail network is now electrified – and more than 30 per cent uses a third rail to power the train. The only way to avoid stepping on this hidden danger is not to step on the track.
You Vs Train
The number of young people taking risks on the railway track has gone up by almost 80% in the last five years. In the last 12 months alone, seven young people under the age of 18 have lost their lives and a further 48 people have received life changing injuries.
As a result the rail industry and the British Transport Police have launched a new campaign – called 'You Vs Train' – which targets teenagers to make them face the serious and devastating consequences for them and their loved ones when they make the potentially life-changing decision to ignore warnings and go onto the railway, with its obvious and hidden dangers.
Tom Hubbard's Story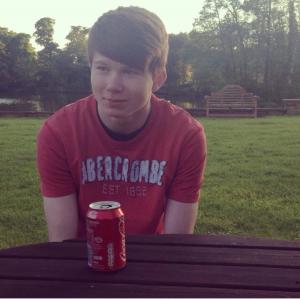 At the heart of the You Vs Train campaign is the story of Tom Hubbard – a young boy who suffered life-changing injuries in 2014 when he was electrocuted by the overhead power cables. Tom suffered third degree burns across 57% of his body and he has been left to deal with the serious physical and psychological consequences ever since.
Tom explains, ' I woke up 11 days later in the burns unit at Birmingham's Queen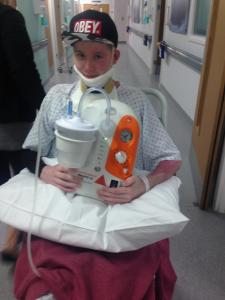 Elizabeth Hospital wrapped from head to toe in bandages, heavily medicated and unable to string a sentence together. I don't think I knew what was real and what wasn't. When the doctors and my mum came to speak to me a few days later, the enormity of what had happened finally hit me. They explained how lucky I was to be alive, but it was going to be a long road to recovery'.
Tom and his friends had climbed a fence to retrieve a football, after climbing onto disused trains Tom was electrocuted by an overhead cable.
Watch the reenactment of Tom's story
Data and children's views:
Just under a third (31%) don't believe that severe burns as a result of electrocution or electrocution by the overhead wires (31%) are risks you might face if you go on the railway tracks
15% think that it's safe to walk on the railway track if you check a timetable to make sure there are no trains coming
Almost a fifth (17%) think that getting a dropped/lost item (e.g. phone or football) from the railway track is relatively safe as long as you leave again straight away
Keep Safe
The railway is full of both obvious and hidden dangers. The electricity on the railway is always on and always dangerous. Trains can also travel up to 125 miles per hour, so even if a driver can see your child, they can't stop in time and they can't change direction. Parents – please help us keep your children safe by educating them about what they take on when they step on the track.
Poster You vs. Train to download here or click into the poster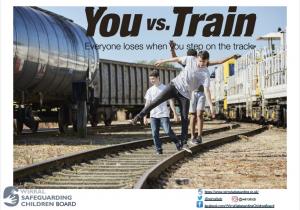 Further information from Network Rail can be found here