Water Safety Advice – Know the Risks
The Wirral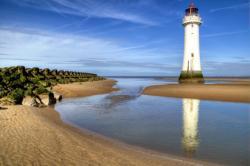 The Wirral is a peninsula, this means that we live on a region of land that juts out into a body of water. It is also defined as a piece of land with water on three sides. To the West is the River Dee, to the East is the River Mersey and to the North is the Irish Sea.
The coast is an exciting place to be – but it's easier than you think to get into trouble in the water.

Winter Water Safety
The Royal Life Saving Society has issued winter water safety advice now we are in the freezing weather (click on picture below):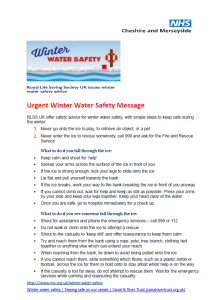 Stay safe with the RNLI essential safety advice
It's easier than you think to get into trouble in the water. Get to grips with the common risk factors and find out how to minimise them.
Be aware of the dangers.
Know your limits and don't take risks.
Go with others and look out for each other.
Make sure your phone is charged so you can call for help if you come across anyone who needs it.
Where to be: In the summer head to a lifeguarded beach, between the red and yellow flags.
Before going into the water: Do the conditions exceed your ability? Swimming in the sea is very different to swimming in a pool.
When you enter: Take a moment to acclimatise to the water temperature.
While you're in: Make sure you have someone watching from the beach to provide shore cover. Make sure they have a way to call for help.
Where to be: Keep away from the edge. Stick to designated paths. Beware of uneven, unstable or slippery ground.
What to look for: Read safety signs. Always seek local advice on the tides to make sure you don't get cut off.
Reduce the risk: Avoid walking alone or at night. Always make sure you have a way to call for help.
Around half the people who die at the coast slip, trip or fall into the water. They never intend to get wet.
Take a minute: The initial shock of being in cold water can cause you to gasp and panic. Effects of cold water shock pass in less than a minute so don't try to swim straight away.
Relax and float: Float on your back while you catch your breath. Try to get hold of something that will help you float.
Keep calm: Once you're calm, call for help. Swim for safety if you are able.
RNLI Respect the Water Campaign
Extend your arms, legs and life expectancy.
If you fall into water, fight your instinct to swim until the cold water shock passes.
The average temperature of British and Irish waters is 12-15°C – cold enough to cause cold water shock. Cold water shock makes you gasp uncontrollably and breathe in water, which can quickly lead to drowning.
Fight your instinct to swim, pause, and float on your back until you are able to catch your breath. Doing so may save your life.
Watch Evan's Story
What to Do if you see someone in trouble at the Coast
If you see someone in trouble call 999 immediately or 112 and ask for the Coastguard
The RNLI is the charity that saves lives at sea visit the website here