The Voice of Children and Young People
"Spending time with children, talking to them, and making sure that you are actively listening and taking seriously what they say is an essential safeguarding activity"
NCB Communicating with Children 2006
Why is the Child's Voice important?
Children feel listened to
When children are involved, plans are more successful
We can see their experience, from their point of view
Children can develop their own story about what is happening in their lives
What Children and Young People have told us?
Get to know us; spend time with us and give us your attention
Don't get us to repeat our story over and over again
Keep us at the centre of the decisions you make
Be honest with us and explain in a way we can understand
Let us make some decisions about our own life
Don't make assumptions about our thoughts and feelings
What happens when Children and Young People are not listened to?
Children are less safe
Children are less happy and their wellbeing is lower
Children become less visible; adult needs can dominate
Assumptions are made about children's lives
Knowledge about children is limited to their relationships with adults
What should practitioners do?
Take time to know the young person you are working with, what they enjoy, what are their concerns and what are their ambitions and aspirations
Document the child or young person's journey from needing help, to receiving help
Record the child or young person's wishes and feelings
Observe and record their behaviour and experiences
Ask other professionals for their knowledge of the child or young person as they may have significantly more contact with the child
Evidence the Child's Voice throughout Single Assessment, throughout Section 47 Assessment, throughout CIN Plan, Review and throughout Children in Care Plan Review
Thread the Child's Voice through all recording
How much do young people need to be involved?
This is a much debated question, and unfortunately there is not a simple answer to fit all situations. The depth of a young person's involvement in decision-making will depend on a multitude of factors, including:
the age or ability of the child or young person, and how much they are able to understand and contribute;
the amount of influence they can realistically have over decisions or plans (i.e. considering any policy or practice constraints);
any ethical issues associated with their involvement;
the reasons behind engaging them in discussions, and related strategic priorities.


---
Capturing the Voice of Young People
The WSCB wants to capture the voice and experiences of young people who have received an intervention from children's services and to evidence improved outcomes. A consultation questionnaire has been developed with the Participation and Engagement Service which can be used just before closure or shortly after to provide young people with an opportunity to share their experience. Responses from young people will be collated, scrutinised and reported back to the WSCB.
The flyer includes a link for young people to follow which will direct them to a short survey with some short questions about their experience of services and if anything could have been done better.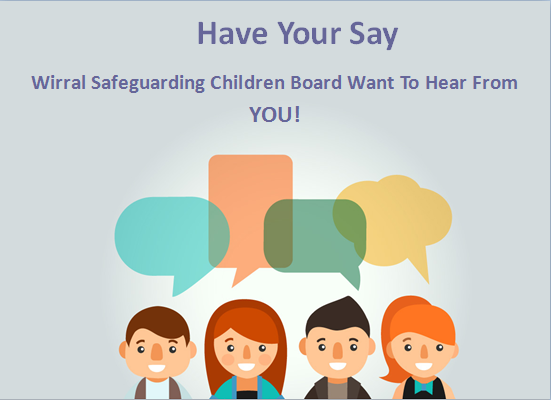 There are two versions of the survey for different age groups (age 10 and below, age 11 and older)
Each young person who participates will be given the chance to win a £10 Love2Shop voucher
Best practice would be for the social worker/key worker/lead professional to offer support to the young person to complete the survey or to allow younger children to use their phone/tablet to complete the questions
The WSCB has worked closely with the Participation and Engagement Team to develop age appropriate and non-intrusive questions which will capture meaningful information
Copies of the flyer can be collected from the WSCB room in Hamilton Building, downloaded above or a 'flyer drop' will be made to teams if requested
The aim of the consultation record is to find out if the young person felt involved in their intervention, if they received enough information about what would be happening, if they felt that their voice was heard, if they feel safer and if there is anything that Children's Social Care could do better in future
Listening to the views and wishes of young people will tell us whether we are achieving improved outcomes for our young people and whether they felt involved in their intervention. It is important that lessons are learnt from the experiences of young people so that we can identify where further improvement can be made and also to celebrate and share what we have done well