Training Competency and Evaluation Strategy
The WSCB and SAPB are responsible for ensuring that high quality multi-agency safeguarding training is available for professionals to attend. The training function for Children's and Adults Safeguarding is managed through the multi-agency Learning and Development committee. The committee is responsible for developing, reviewing, promoting and quality assuring training and for establishing and overseeing a training pool of trainers drawn from the partnership.
Competency Framework
The Learning and Development Committee publishes an  annual safeguarding training calendar. This calendar sits alongside the recently updated training competency framework for partner organisations.
The competency framework provides a baseline for standards of  competence that are expected from those individuals and organisations, across a range of sectors, that have a responsibility to ensure that the children, young people and adults they work with are sufficiently safeguarded. It also assists in the development of training packages and provides a framework for performance management. Partner organisations can use this framework to help them decide the relevance of training courses to particular staff groups and individuals.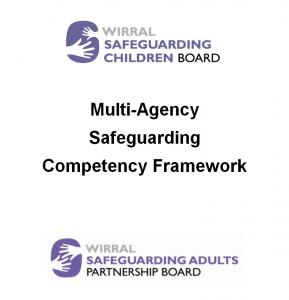 Training Evaluation
In 2015 it was agreed that a more in depth evaluation strategy was required in order to measure the effectiveness of the multi-agency training. Prior to this training has always been evaluated by professionals rating the course at its end on a scale of one to five—with five being excellent.
The new evaluation strategy has three stages:
At the end of the course professionals complete an initial evaluation which details what they have learnt from the training.
Three months after attending the course professionals complete a second evaluation which details how attendance at training has influenced practice and strategy in their organization.
Six months after attending the course a range of professionals attend a facilitated working group to evidence impact of training on outcomes for children and young people and adults vulnerable to abuse, and to feedback how effective the training has been.
Feedback from the working groups will inform the review of the training courses undertaken by the Learning and Development committee.
Alongside the evaluation of the participants who attend the training, further evaluation of both the events and the trainers will be done via live observation and feedback. This will aid in development and improvement of training materials but also in development of the trainers.
This new training evaluation strategy has been implemented since October 2016.
Evaluation Reports on Training
Training report to Domestic Abuse Committee November 2016
Domestic Abuse Focus Group Report Jan 17 (2)
Training Report Lead Designated Person Training Jan 2017
Lead Designated Focus Group Report Jan 17
Training Report CSE Training Jan 2017
CSE Focus Group Report April 17 (2)
Training Report Parental mental Health Training Jan 2017
Parental Mental Health Focus Group Report March 17 (2)
Training Report Neglect Training March 2017
Neglect Focus Group Report March 17 (2)
Training Report Working Together Training April 2017
Working Together Focus Group Report May 17 (2)
Training Report Harmful Practices Training April 2017