System Wide Family Approach
Children's services are changing their delivery model to help align the services delivered by different organisations, such as health and social care services, and to deliver services on a locality footprint, so those delivering services know their local communities.
The case for change and a summary of how the change is happening and what it will look like is illustrated in the pane-on-a-page below.
More information will be added to this page as the model develops.
Wirral System Wide Family Approach On-A-Page: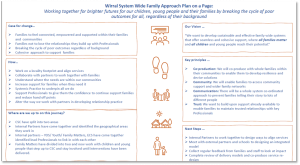 Working Towards a System Wide Family Approach Framework to Manage Risk: