Safeguarding Partnership Training Team
The Wirral Safeguarding Children Partnership (WSCP) have a multi-agency pool of trainers who deliver a wide range of training for all partner agencies across the Wirral.
This pool of trainers is made up of colleagues from health, social care, and other partner agencies, delivering subjects in their own areas of expertise, bringing a wealth of knowledge and experience to each training event. The training pool is supported by the Training Officer who co-ordinates the training and provides practical support.
The pool of trainers have regular meetings to support each other and share best practice as well as keeping up to date with current issues.
The training team are always looking for experienced practitioners who may be interested in joining the training pool. Please email [email protected] for more information.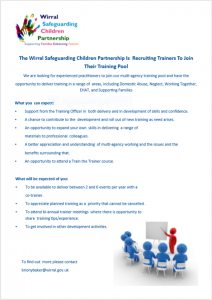 Meet the Training Pool
Briony Baker
Briony Baker worked in the National Probation Service for 17 years. She spent the first 5 years in a prison setting delivering Offending Behaviour Programmes before moving into the community to do similar work. In 2006 Briony moved into delivering staff training specialising in Risk Assessment, Motivational Interviewing Skills and Safeguarding Children. She completed an NVQ in Training and Development and her A1 assessors award in 2007 and worked in 4 different Probation areas supporting staff learning and the Trainee Probation Officers Programme. In June 2016 Briony started working with the WSCP as the Training Officer co-ordinating the multi-agency training, supporting the training pool and has taken the lead on the Working Together training.
David Robbins
David Robbins is the manager of the WSCP. He has worked for children's safeguarding in Wirral for 10 years in a variety of roles including managing a project creating an alternative curriculum for children at risk of exclusion from school, and as the safeguarding board's QA manager. David has been the manager of the WSCP since 2012 and in that time has delivered a variety of multi-agency training courses and briefings. David currently delivers the Contextual Safeguarding Training. David has a background in education, particularly pastoral care and safeguarding, and prior to working for the Local Authority and the safeguarding board/partnership David was a secondary school teacher for 14 years.
Martin Hackett
Martin Hackett is the Specialist Nurse Safeguarding Children for Wirral Community NHS Foundation Trust. He has worked in the Safeguarding arena for several years, having previously been a nurse in hospital and community settings as a District Nurse/Health Visitor. Martin is responsible for developing and delivering of all levels of Safeguarding Training for the Trust and is the Lead for CSE. In the multi-agency training pool Martin delivers the Working Together training and offers support and advice in development of other programmes.
Amanda Waterfall
Amanda Waterfall is the Education Officer for WSCP and has worked for the local authority for 13 years across a range of service areas.  Amanda's delivers training that includes Whole Staff Safeguarding, Safer Recruitment, Designated Safeguarding Lead Training and Managing Allegations training to schools, colleges and single agency partners.  Amanda delivers  SFEF training, Safer Recruitment and working together training for WSCP, and has previously delivered CAF / TAF, Role of Lead Professional, and Information sharing training to professionals and staff on behalf of the Local Authority.  Amanda facilitates a number of evidence based parenting programmes including Nurturing Programme, Freedom and Gateway programmes to parents and carers, to enhance their knowledge and skills.  Amanda has also trained L.A. staff in areas such as recording with care and working with resistant families across her council career.
Lynne Elton
Lynne Elton is SFEF Practice Lead for Children's Services. Lynne has worked with children and families for over 30 years and delivered training as part of all her roles within the private and voluntary faith and community sector and the local Authority for 28 of those years. Lynnes experience and knowledge of delivering training/ courses spans the facilitation of a number of evidence based parenting programmes including Triple P and Nurturing to parents and carers, training to practitioners to promote quality practise and enhance knowledge and skills as well as running the accredited level 4 training in Working With Parents with Multiple and Complex needs. Lynne is passionate about working with and supporting families to achieve the best possible outcomes for their children and equally passionate about practitioners having the skills and knowledge to provide a quality service to families as well as the opportunity to develop their skills and knowledge. Lynne is part of the team delivering Engaging With Resistant Families, Graded Care Profile 2 and Supporting Families Enhancing Futures for WSCP.
Melanie Hamner
Melanie Hanmer is a Practice Development Officer for the Family Matters Service based in Rock Ferry. Melanie has worked for the local authority for the past 14 years and has supported families with complex needs across the Borough. Melanie has delivered evidence based programmes including the Freedom Programme, The Nurturing Programme, Talking Teens, Solihull Parenting Programme, Mellow Parenting, Health Eating courses and recently delivered the CAF/TAF Training to WUTH (Wirral University Teaching Hospital). More recently Melanie has become part of the team delivering the multi-agency EHAT training, and the Graded Care Profile 2.
Val Stewart
Val Stewart commenced her employment with Wirral Local Authority in December 2004 as a newly qualified social worker. Val is a qualified Practice Educator and has supported social work students within their statutory social work placements. Val previously worked as a social work team manager in a Child In Need and Child Protection team for a period of 6 years and is now a team manager in the Special Guardianship Order Team since July 2018. Val's background is assessment and intervention and has worked in Children's services for 14 years.Val has co-delivered Child Sexual Abuse training and currently co-delivers Working Together training.
Leanne Roles
Leanne Roles is a Practice Development Officer for the Family Matters Service based in Rock Ferry. Leanne has worked for the local authority for 19 years and supported children and families with complex needs. Leanne has delivered evidence-based parenting programmes to families, which include The Nurturing Programme, The Talking Teens and The Henry Healthy Eating Programme. More recently Leanne has become part of the team delivering the Early Help Assessment Tool (EHAT) training, and the Graded Care Profile 2.
Helen Denny
Helen Denny is Safeguarding and Wellbeing Co-ordinator at Forum Housing, having worked with children, young people and families for 15 years across Wirral and Cheshire. Helen has previously developed and delivered training including Safeguarding and Volunteer Management for Catch 22's Child in Need and Child Protection Services in Cheshire, and supports Forum's in house training in her current role. Helen is currently part of our training pool supporting GCP2 delivery on Wirral.
Lorraine Porter
Lorraine previously worked in Neonatal Nursing and Children's Nursing in a hospital setting. For the past 7 years she has been a Health Visitor based in the West Wirral 0-19 team at Wirral Community Health and Care NHS Foundation Trust. She is currently the Safeguarding Link for her team, responsible for supporting Specialist Safeguarding Nurse with safeguarding supervision or the team. Lorraine currently Delivers the Graded Care Profile 2 training for the WSCP.