Safeguarding Board Training Team
The Wirral Safeguarding Childrens Board (WSCB) and Safeguarding Adults Partnership Board (SAPB) have a multi-agency pool of trainers who deliver a wide range of training for all partner agencies across the Wirral.
This pool of trainers is made up of colleagues from health, social care, education, DASS and partner agencies, delivering subjects in their own areas of expertise, bringing a wealth of knowledge and experience to each training event. The training pool is supported by the Training Officer and Training Administrator who co-ordinate the training and provide practical support.
The pool of trainers have regular meetings to support each other and share best practice as well as keeping up to date with current issues.
The training team are always looking for experienced practitioners who may be interested in joining the training pool. Please contact the Training Officer on 0151 666 4505 for more information.
Training Pool Advert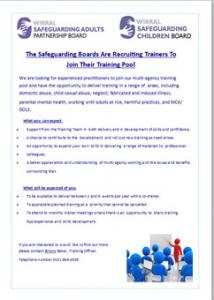 Meet the Training Pool
Briony Baker
Briony Baker worked in the National Probation Service for 17 years. She spent the first 5 years in a prison setting delivering Offending Behaviour Programmes before moving into the community to do similar work. In 2006 Briony moved into delivering staff training specialising in Risk Assessment, Motivational Interviewing Skills and Safeguarding Children. She completed an NVQ in Training and Development and her A1 assessors award in 2007 and worked in 4 different Probation areas supporting staff learning and the Trainee Probation Officers Programme. In June 2016 Briony started working with the WSCB as the Training Officer co-ordinating the multi-agency training, supporting the training pool and has taken the lead on the Working Together training.
Martin Hackett
Martin Hackett is the Specialist Nurse Safeguarding Children for Wirral Community NHS Foundation Trust. He has worked in the Safeguarding arena for several years, having previously been a nurse in hospital and community settings as a District Nurse/Health Visitor. Martin is responsible for developing and delivering of all levels of Safeguarding Training for the Trust and is the Lead for CSE. In the multi-agency training pool Martin delivers the Working Together training and offers support and advice in development of other programmes.
Emma Richards
Emma Richards is the Specialist Nurse for Safeguarding Vulnerable Adults, including Domestic Abuse, SPOC for HP and MAPPA for Wirral Community NHS Trust. Emma joined the NHS in 1994 as a Midwife, becoming a Health Visitor before moving into the Safeguarding arena in 2011. Emma has had a vast amount of experience since 1994 in working with families with DA, Child protection concerns, and working with agencies to protect vulnerable adults on the Wirral. Emmas current role is predominantly advice and support to the staff employed within the Community Trust. However she also liaises with outside agencies to share information pertinent to risk management. Emma delivers in house training on Safeguarding Adults, Domestic Abuse, Harmful Practices, MAPPA and PREVENT for WCNT and CCG, and she assists with the Domestic Abuse and Harmful Practices training for the LSCB sharing the responsibility with WUTH safeguarding team.
Sue Blevins
Sue Blevins is the Senior HR Manager for Wirral Council. In her current role she manages the Organisational Development , Schools HR and Employee Relations functions of the HR/OD Service,  and currently chairs the joint WSCB and SAPB learning and development committee, on behalf of the Boards. Sue has been involved in the development and delivery of training programmes for over 20 years, and has been involved in the safeguarding learning development including delivering the accredited Safer Recruitment Training for over 8 years for Safeguarding Boards in Wirral and Blackburn with Darwen.
Michelle Hogg
Michelle Hogg is the Child Sexual Exploitation development officer, answerable to the Wirral Safeguarding Children Board. Her main role in the WSCB is to ensure that the goals of the multi-agency strategy to combat Child Sexual Exploitation are achieved. One of Michelles key tasks is to support the work of the multi-agency CSE committee. This includes liaising and working with partner agencies such as Children's  Social Care, Police, Education and youth groups to test the effectiveness of the service provided by the different agencies to combat CSE. Other tasks are providing performance reports for the WSCB and to raise awareness of CSE. Prior to her current role Michelle was in the police for 30 years, spending 15 of those years working in Child protection. Michelle delivers the Working Together training and has been involved in supporting the Neglect and Graded Care Profile Training. Michelle also delivers a monthly briefing on Child Sexual Exploitation to taxi drivers.
Vicky Palmer
Vicky is the Safeguarding Children Board Quality Assurance manager and chairs and attends various sub groups of the Board.  Prior to this she was an Area Team Leader managing teams of multi-agency professionals.  She supported agencies working with families with additional needs within different geographical areas of Wirral.  She delivered and managed the TAF training on Wirral for nine years.  Prior to this she managed Social Care Family Support Workers within the Adolescent Crisis Team and has worked in various children's homes within Wirral whilst studying for her degree in Sociology, Sport, Recreation and PE.  Vicky gained a Masters in Multi Professional Leadership in 2011 and has also completed the IOSH and ILM.  Vicky currently delivers the Working Together multi-agency training.
Lesley Donohue
Lesley Donohue is a Senior Practitioner with the Family Interventions Service. Lesley has delivered a range of training in Wirral since 2002 including delivering Evidenced Based programmes to families and the delivery and writing of training packages to support practitioners. Her area of expertise is specific to children and families. The delivery of training is something Lesley is very passionate about training and Lesley relishes being part the LSCB Training Pool and values being part of a quality training supporting the multi-agency workforce. Lesley developed and co-delivers Engaging with Risk and Resistant families for the WSCB.
Lynne Elton
Lynne Elton is a Team Leader for the Family Intervention Service based in the Birkenhead South locality. Lynne has worked with children and families for over 30 years and delivered training as part of all her roles within the private and voluntary faith and community sector and the local Authority for 28 of those years. Lynnes experience and knowledge of delivering training/ courses spans the facilitation of a number of evidence based parenting programmes including Triple P and Nurturing to parents and carers, training to practitioners to promote quality practise and enhance knowledge and skills as well as running the accredited level 4 training in Working With Parents with Multiple and Complex needs. Lynne is passionate about working with and supporting families to achieve the best possible outcomes for their children and equally passionate about practitioners having the skills and knowledge to provide a quality service to families as well as the opportunity to develop their skills and knowledge. Lynne developed and co-delivers Engaging With Resistant Families for WSCB.
Vince Hessey
Vince Hessey is an experienced Substance Misuse Practitioner having worked in the addictions field for over 25 years. He worked within the NHS Drug and Alcohol Service for 20 years and supported substance misusers prescribing medication and providing psychosocial interventions. Of particular interest to Vince was acting as a link worker for the Young Persons Substance Misuse Team within CAMHS and also Response. His other interest has been to support NHS staff in understanding substance misuse by facilitating The Royal College of General Practitioners Course in The Management of the Misuse of Alcohol. Vince has delivered sessional lectures to Social Work Students at Liverpool John Moores University and currently works at Wirral Ways to Recovery as a Group Work Facilitator. Vince co- developed and delivers the Parental Substance Misuse Training with colleagues from the Local Safeguarding Board.
Amanda Waterfall
Amanda has worked for the local authority for almost 10 years and has supported the delivery of CAF / TAF, Role of Lead Professional, and Information sharing training to professionals and staff on behalf of the L.A. Amanda worked in Crime Reduction for over 8 years and supported training in the local community in areas such as target hardening and personal safety.  Amanda has also trained staff in areas such as recoding with care and working with resistant families across her career.
Peter Ferguson
Peter is a qualified social worker and until recently acted as an approved mental health professional. Currently he manages the deprivation of liberty safeguards service for Wirral Council. In addition, he is their Mental Capacity Act lead and he also has responsibilities under the Mental Health Act. Peter has been appointed by the Care Quality Commission to act as a Mental Health Act reviewer. He has several years experience of delivering training around the MCA and DoLS to local authority, NHS, private and third sector audiences.]
Lorraine Pauley
Lorraine Pauley is a Consultant Child and Adolescent Psychiatrist with the West Cheshire 0-16 CAMHS team.  She has worked specifically with children and families for the last ten years and has special interests in autism, eating disorders and family therapy.  She is also particularly interested in medical education and training and is responsible for the supervision of trainee psychiatrists as well as delivering training on various topics to a wide range of professionals and to parents.  In the multi-agency training pool Lorraine delivers training on the subject of Parental Mental Health and related safeguarding issues.
Debbie Hammersley
Debbie is a Designated Nurse for Safeguarding Children. She works closely with commissioners and providers of health services, the local safeguarding children board and partner agencies across Wirral, the Cheshire & Merseyside region. Debbie began her NHS career in 1983 during which time has qualified and worked in general nursing, midwifery, health visiting and Safeguarding Children/Child Protection. She gained extensive experience employed in both the hospital and community settings working with families requiring intensive intervention, which initiated her interest and passion for safeguarding. She gained a BSc 1st Class Honours Degree in community health care nursing and a Masters level Postgraduate diploma in childcare law and practice. She holds a Teaching in Clinical Practice Certificate, and has completed a North West Inter Agency Trainers (NWIAT) "training for trainers" course, which is designed for practitioners who deliver "Safeguarding Children/Child Protection training". Debbie currently delivers "understanding and assessing neglect" for the safeguarding children board with partner colleagues from the police and social care; and she regularly provides additional single and multi-agency safeguarding training in a variety of settings.
Craig Baron
Craigs current role is within the Family Safety Unit. He is the CYPD Safeguarding Advisor for Family Safety Unit and MARAC. He supports FSU colleagues and the wider MARAC partners in relation to advice and guidance for all aspects of the children and young people who are known to the FSU and MARAC. Craig liaises closely with CYPD social care colleagues, within MASH and the districts, to ensure effective communication takes place and relevant information is shared between partners. Craig has worked within Wirral CYPD for 17 years and has experience of front line child protection social work practice, multi-agency teams, locality work, and Domestic Violence. Craig co-delivers the Domestic Abuse training particularly focusing on the impact on children.
Dave Grisenthwaite
Dave is former senior police officer having served in Merseyside Police and the National Crime Squad, where he had roles in specialist and general policing for 30years. In 2005 he was appointed to lead the Wirral Family Crime Investigation Unit, with responsibility for the investigation of child, adult and domestic abuse cases, many of which were homicides. He also represented the police on Wirral Safeguarding Board committees and the Child Death Overview Panel, contributing to a number of Serious Case Reviews. Since retirement from the police Dave has worked for Wirral Safeguarding Boards, developing policy and training relating to safeguarding adults; domestic abuse; allegations; hate crime, and the Prevent duty, among others.  He is the chair of the Wirral Hate Crime Multi-Agency Risk Assessment Conference (MARAC) and was the inaugural chair of the Wirral domestic abuse MARAC. Dave has been a Home Office accredited 'WRAP' and local authority trainer for over four years, and has recently completed the North West Inter Agency Trainers' course. Dave is also a England and Wales Cricket Board Level 2 coach.
Rebecca Minshull
Rebecca is a social worker, working within the All Age Disability Service. She works with children / young people with a range of complex disabilities since completing her degree in Social Work 3 years ago. Her background prior to qualifying as a social worker was in health, working in a range of healthcare / hospital settings. She therefore have experience of working within both health and social care models and can relate to this when ''working together'' in a multi-agency context. Rebecca currently delivers the Safeguarding Children with Disabilities training course with her colleague Louise Frascina Weston who is a Senior Practitioner within the service. Rebecca has a specialist interest in children's mental health and is hoping to expand her knowledge in the area of the Mental Capacity Act and it impact on children and young people.
Suzanne Cottrell
Suzanne is the Local Authority Designated Officer for Allegations (LADO) and investigates safeguarding allegations against professionals. Suzanne is responsible for leading the Managing Allegations training and co-delivers training around Safer Recruitment and Senior Designated Lead Training.
Tina Byrne
Tina Byrne is a Senior Practitioner with the Family Intervention Service . Tina has worked supporting families with complex needs for 13 years . Tina has delivered evidence based programmes to families throughout this period including Freedom Programme , Solihull and Mellow Parenting  and recently delivered CAF/TAF training to WUTH ( Wirral University Teaching Hospital ) staff to support Multi  agency working . Tina has completed The Award in Education & Training and is looking forward to using skills learnt to deliver further training.
Melanie Hamner
Melanie Hanmer is a Senior Practitioner with the Family Intervention Service and is based at Pensby Children's Centre.  Melanie has worked for the local authority for the past 14 years and has supported families with complex needs across the Borough. Melanie has delivered evidence based programmes including the Freedom Programme, The Nurturing Programme, Talking Teens, Solihull Parenting Programme, Mellow Parenting, Health Eating courses and recently delivered the CAF/TAF Training to WUTH (Wirral University Teaching Hospital).