Safeguarding Board Training Team
The Wirral Safeguarding Childrens Board (WSCB) have a multi-agency pool of trainers who deliver a wide range of training for all partner agencies across the Wirral.
This pool of trainers is made up of colleagues from health, social care, education, and other partner agencies, delivering subjects in their own areas of expertise, bringing a wealth of knowledge and experience to each training event. The training pool is supported by the Training Officer who co-ordinates the training and provides practical support.
The pool of trainers have regular meetings to support each other and share best practice as well as keeping up to date with current issues.
The training team are always looking for experienced practitioners who may be interested in joining the training pool. Please contact Briony Baker Training Officer on 0151 666 4505 for more information.
Training Pool Advert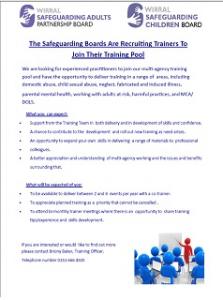 Meet the Training Pool
Briony Baker
Briony Baker worked in the National Probation Service for 17 years. She spent the first 5 years in a prison setting delivering Offending Behaviour Programmes before moving into the community to do similar work. In 2006 Briony moved into delivering staff training specialising in Risk Assessment, Motivational Interviewing Skills and Safeguarding Children. She completed an NVQ in Training and Development and her A1 assessors award in 2007 and worked in 4 different Probation areas supporting staff learning and the Trainee Probation Officers Programme. In June 2016 Briony started working with the WSCB as the Training Officer co-ordinating the multi-agency training, supporting the training pool and has taken the lead on the Working Together training.
Martin Hackett
Martin Hackett is the Specialist Nurse Safeguarding Children for Wirral Community NHS Foundation Trust. He has worked in the Safeguarding arena for several years, having previously been a nurse in hospital and community settings as a District Nurse/Health Visitor. Martin is responsible for developing and delivering of all levels of Safeguarding Training for the Trust and is the Lead for CSE. In the multi-agency training pool Martin delivers the Working Together training and offers support and advice in development of other programmes.
Sue Blevins
Sue Blevins is the Senior HR Manager for Wirral Council. In her current role she manages the Organisational Development , Schools HR and Employee Relations functions of the HR/OD Service. Sue has been involved in the development and delivery of training programmes for over 20 years, and has been involved in the safeguarding learning development including delivering the accredited Safer Recruitment Training for over 8 years for Safeguarding Boards in Wirral and Blackburn with Darwen.
Amanda Waterfall
Amanda is the Education Officer for WSCB and has worked for the local authority for 10 years across a range of service areas.  Amanda has been delivering SFEF training since 2017 to multi-agency partners and also to WUTH (Wirral University Teaching Hospital) staff.  Amanda has previously delivered CAF / TAF, Role of Lead Professional, and Information sharing training to professionals and staff on behalf of the Local Authority; and facilitates a number of evidence based parenting programmes including Nurturing and Gateway to parents and carers, to enhance their knowledge and skills.  Amanda has completed the award in Education and Training in 2017 and gained the A1 Assessors award in 2014.  Amanda worked in Crime Reduction for over 8 years and trained in the local community in areas such as target hardening and personal safety.  Amanda has also trained staff in areas such as recording with care and working with resistant families across her career.
Lesley Donohue
Lesley Donohue is a Senior Practitioner with the Family Interventions Service. Lesley has delivered a range of training in Wirral since 2002 including delivering Evidenced Based programmes to families and the delivery and writing of training packages to support practitioners. Her area of expertise is specific to children and families. The delivery of training is something Lesley is very passionate about training and Lesley relishes being part the WSCB Training Pool and values being part of a quality training supporting the multi-agency workforce. Lesley developed and has co-delivered Engaging with Resistant Families training and the full day SFEF training for the WSCB. In addition to this she has been involved in the development and facilitation of the Early Help Assessment Tool (EHAT) and Team Around the Family (TAF)  training.
Lynne Elton
Lynne Elton is SFEF Practice Lead for Children's Services. Lynne has worked with children and families for over 30 years and delivered training as part of all her roles within the private and voluntary faith and community sector and the local Authority for 28 of those years. Lynnes experience and knowledge of delivering training/ courses spans the facilitation of a number of evidence based parenting programmes including Triple P and Nurturing to parents and carers, training to practitioners to promote quality practise and enhance knowledge and skills as well as running the accredited level 4 training in Working With Parents with Multiple and Complex needs. Lynne is passionate about working with and supporting families to achieve the best possible outcomes for their children and equally passionate about practitioners having the skills and knowledge to provide a quality service to families as well as the opportunity to develop their skills and knowledge. Lynne is part of the team delivering Engaging With Resistant Families, Graded Care Profile Assessment and Supporting Families Enhancing Futures for WSCB.
Debbie Hammersley
Debbie is a Designated Nurse for Safeguarding Children. She works closely with commissioners and providers of health services, the local safeguarding children board and partner agencies across Wirral, the Cheshire & Merseyside region. Debbie began her NHS career in 1983 during which time has qualified and worked in general nursing, midwifery, health visiting and Safeguarding Children/Child Protection. She gained extensive experience employed in both the hospital and community settings working with families requiring intensive intervention, which initiated her interest and passion for safeguarding. She gained a BSc 1st Class Honours Degree in community health care nursing and a Masters level Postgraduate diploma in childcare law and practice. She holds a Teaching in Clinical Practice Certificate, and has completed a North West Inter Agency Trainers (NWIAT) "training for trainers" course, which is designed for practitioners who deliver "Safeguarding Children/Child Protection training". Debbie currently delivers Understanding and Assessing Neglect for the safeguarding children board with partner colleagues from the police and social care; and she regularly provides additional single and multi-agency safeguarding training in a variety of settings.
Suzanne Cottrell
Suzanne is the Local Authority Designated Officer for Allegations (LADO) and investigates safeguarding allegations against professionals. Suzanne is responsible for leading the Managing Allegations training and co-delivers training around Safer Recruitment and Senior Designated Lead Training.
Tina Byrne
Tina Byrne is a Senior Practitioner with the Family Intervention Service . Tina has worked supporting families with complex needs for 13 years . Tina has delivered evidence based programmes to families throughout this period including Freedom Programme , Solihull and Mellow Parenting  and recently delivered CAF/TAF training to WUTH ( Wirral University Teaching Hospital ) staff to support Multi  agency working . Tina has completed The Award in Education & Training and is looking forward to using skills learnt to deliver further training. More recently Tina has become part of the team delivering the multi-agency EHAT training.
Melanie Hamner
Melanie Hanmer is a Senior Practitioner with the Family Intervention Service and is based at Pensby Children's Centre.  Melanie has worked for the local authority for the past 14 years and has supported families with complex needs across the Borough. Melanie has delivered evidence based programmes including the Freedom Programme, The Nurturing Programme, Talking Teens, Solihull Parenting Programme, Mellow Parenting, Health Eating courses and recently delivered the CAF/TAF Training to WUTH (Wirral University Teaching Hospital). More recently Melanie has become part of the team delivering the multi-agency EHAT training.
Sarah Boyce
Sarah Boyce is an Advanced Social Worker Practitioner with one of the Assessment and Prevention Teams based in Cheshire Lines Building, Birkenhead. Sarah qualified in Social Work in 2015 through the Step Up to Social Work postgraduate programme during which she completed her student placements with Wirral Borough Council.  Sarah was awarded the "Outstanding Contribution to the Workplace" award by Liverpool John Moores University for her student placement achievements in Family Group Conference and the Assessment Team in Wallasey District. Sarah is a qualified PAMS assessor specialising in parenting assessments with parents with recognised learning difficulties/disabilities.  She is passionate about frontline safeguarding work and working together with partner agencies in promoting good outcomes for the children of Wirral. Sarah is part of the team delivering the Supporting Families Enhancing Futures training, Prevent and Domestic Abuse.
Val Stewart
Val Stewart commenced her employment with Wirral Local Authority in December 2004 as a newly qualified social worker. Val is a qualified Practice Educator and has supported social work students within their statutory social work placements. Val previously worked as a social work team manager in a Child In Need and Child Protection team for a period of 6 years and is now a team manager in the Special Guardianship Order Team since July 2018. Val's background is assessment and intervention and has worked in Children's services for 14 years.Val has co-delivered Child Sexual Abuse training and currently co-delivers Working Together training.
Leanne Roles
Leanne Roles is a Senior Practitioner with the Family Intervention Service and based at Seacombe Children Centre. Leanne has worked for the local authority for 19 years and supported children and families with complex needs. Leanne has delivered evidence-based parenting programmes to families, which include The Nurturing Programme, The Talking Teens and The Henry Healthy Eating Programme. More recently Leanne has become part of the team delivering the Early Help Assessment Tool (EHAT) training.