Safeguarding Partnership Training Team
The Wirral Safeguarding Children Partnership (WSCP) have a multi-agency pool of trainers who deliver a wide range of training for all partner agencies across the Wirral.
This pool of trainers is made up of colleagues from health, social care, and other partner agencies, delivering subjects in their own areas of expertise, bringing a wealth of knowledge and experience to each training event. The training pool is supported by the Training Officer who co-ordinates the training and provides practical support.
The pool of trainers have regular meetings to support each other and share best practice as well as keeping up to date with current issues.
The training team are always looking for experienced practitioners who may be interested in joining the training pool. Please email [email protected] for more information.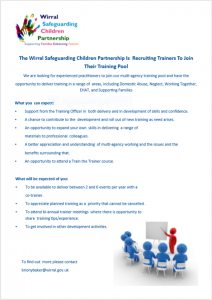 Trainer Testimonials
Below are some testimonials from members of the training team about the benefits of being part of the multi-agency training provision.
I have learnt a great deal about different styles of delivery, and I have also met a lot of practitioners that I may not have met if it was not for the TP. The TP has given me the opportunity to move out of my comfort zone and deliver sessions to practitioners that I may not have had the chance to otherwise.
The TP has increased my confidence in my delivery as well, and being observed has built my skills and knowledge and helped me understand the strengths and challenges we can face when training multi-agency partners.
Delivering training as part of the pool has supported my own development in training skills, confidence and motivation during difficult times, by connecting with others who do similar work. It has given us a clearer insight as an organisation to the training priorities and knowledge on Wirral, which I can share with our own staff via my internal delivery too.
When delivering other MAS courses, I have gained a valuable insight into the way different courses have been developed and also observing different training partners delivery styles is very useful and constructive.
The work we do as part of the Training Pool is really good fun and enjoyable and they are a cracking bunch of people to work alongside.
I have gone on to write other training packages with other colleagues who are part of the WSCP training pool. It has been great developing my skills further.
I have grown in confidence as a facilitator, I have met lovely people who I continue to learn from and I enjoy delivering training and feeling as though I have made a difference to our children and young people.