Joint Targeted Area Inspections – Guidance for Professionals
The Government has introduced a new series of multi-agency inspections called Joint Targeted Area Inspections of services for vulnerable children and young people (JTAI).
The inspections are undertaken by the following inspectorates: Ofsted, Care Quality Commission (CQC), Her Majesty's Inspectorate of Constabulary (HMIC) and Her Majesty's Inspectorate of Probation (HMIP).
The inspectorates jointly assess how local authorities, the police, health, probation and youth offending services are working together in an area to identify, support and protect vulnerable children and young people.
The new short inspections allow inspectorates to be more responsive, targeting specific areas of interest and concern. They will also identify areas for improvement and highlight good practice from which others can learn.
Each inspection will include a 'deep dive' element, with the first set in summer 2016, focusing on children at risk of sexual exploitation and those missing from home, school or care. Future areas of focus will be decided upon with input from key stakeholders.
The new approach was consulted on in July 2015 and over 200 responses were received from those working in the children's social care, health, police, probation and youth offending services. The inspections were successfully piloted in December last year.
Ofsted's National Director for Social Care, Eleanor Schooling said:
The responsibility of safeguarding cannot rest with one agency alone. These new inspections will provide a comprehensive picture of how several agencies work together in an area to ensure children are safe. This is an important step forward for inspection.

The joint approach will allow us to act swiftly where we are concerned about specific issues in an area so we can ensure that every agency is doing its part. Equally, it will give us an important opportunity to look at good practice and really understand how local areas are tackling the challenges they face. We are confident these inspections will support improvement and have a positive impact on the experiences of children and young people.

I'd like to thank everyone who contributed their views and the positive feedback we have received in the development of this important work.
The inspection report will include narrative findings that clearly set out what the local partnership and agencies are doing well, and what they need to do to improve.
JTAI's 2019-2021
Having consulted with other inspectorates and stakeholders from across the sector, Ofsted have jointly agreed the next 3 deep dive themes. These will be:
children living with mental health issues
prevention and early intervention
older children in need of help and protection, and contextual safeguarding, including exploitation.
The JTAIs on children living with mental health issues will begin in summer 2019, with the guidance for these published in June. Ofsted will develop guidance and inspect the other two deep dive themes in 2020 and 2021, respectively. They will carry out 6 inspections for each of these new themes.
During this period, Ofsted also plan to carry out up to four JTAIs each year, to revisit some of the earlier deep dive themes to see how practice has moved forward since the publication of the thematic overview reports. As with previous years, this means that Ofsted will carry out up to 10 JTAIs overall each year.
Further Reading
JTAI 7 Minute Briefing: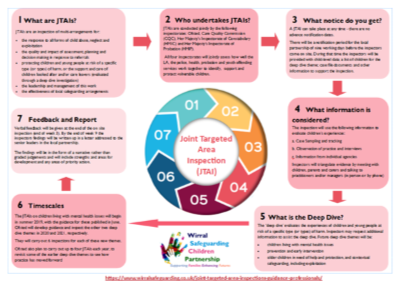 JTAI Briefing for Professionals: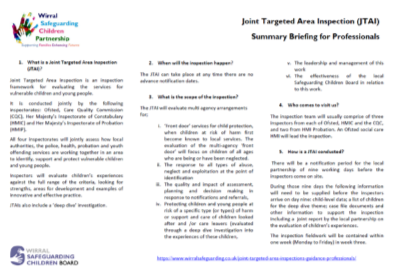 Summary of Key Findings from Themes: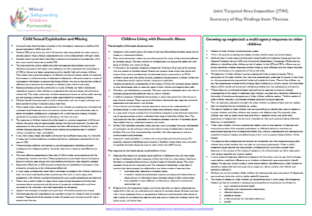 Guidance: JTAI Inspection Framework and Guidance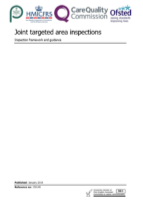 A summary guide to JTAI's is available below: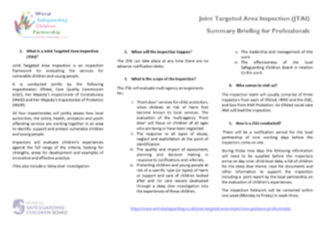 When each set of inspections by theme are completed, a thematic overview report is published to highlight the learning more widely. The thematic reports can be found below:
JTAI – Child Sexual Exploitation and Missing Report of Findings – September 2016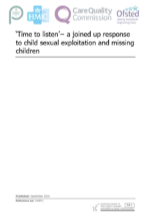 Findings from JTAI CE Inspections – October 2019
JTAI – Multi-agency response to children living with domestic abuse – Findings – September 2017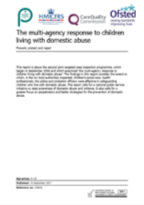 JTAI – Growing Up Neglected A Multi-agency Response to Older Children – Findings – July 2018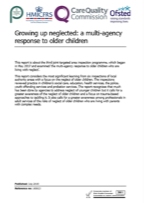 JTAI – The Multi-agency Response to Child Sexual Abuse in the family environment (Gov website)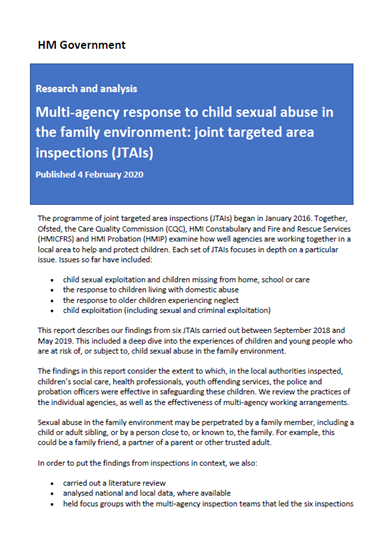 JTAI – Familial Child Sexual Abuse – DfE Webpage
Familial Child Sexual Abuse Individual Area Reports:
JTAI – Familial Child Sexual Abuse – City of York Findings – September 2018
JTAI – Familial Child Sexual Abuse – Cornwall – October 2018
JTAI – Familial Child Sexual Abuse – Shropshire – November 2018
JTAI – Familial Child Sexual Abuse – London Borough of Islington – December 2018
JTAI – Familial Child Sexual Abuse – Bracknell Forest Borough Council – January 2019
JTAI- Multi-agency Response to Abuse and Neglect – Derby (deep dive into Familial Child Sexual Abuse) – March 2019