Harmful Gambling and Gaming for Parents
Harmful Gambling
Gambling is defined as 'to stake or risk money, or anything of value, on the outcomes or something involving chance'. Under normal circumstances gambling can be a fun and safe leisure activity, however it becomes a problem when a person develops an urge to gamble continuously despite negative consequences. Estimates from the gambling Commission and Gamble Aware indicate that at any one time there are between 500,000 and 1.4 million problem gamblers in the UK. This is further complicated by the fact that gambling-related harms is rarely found in isolation. Those experiencing gambling-related harms often also present with others problems, such as alcohol or drug addiction.
Impacts of Gambling-Related Harm
The impact of gambling-related harm is wide reaching and affects not only the person but also their family. Some of the effects include: debt, poverty, issues with employment and accommodation, isolation, substance misuse, mental ill health, and risk of suicide. 
Gaming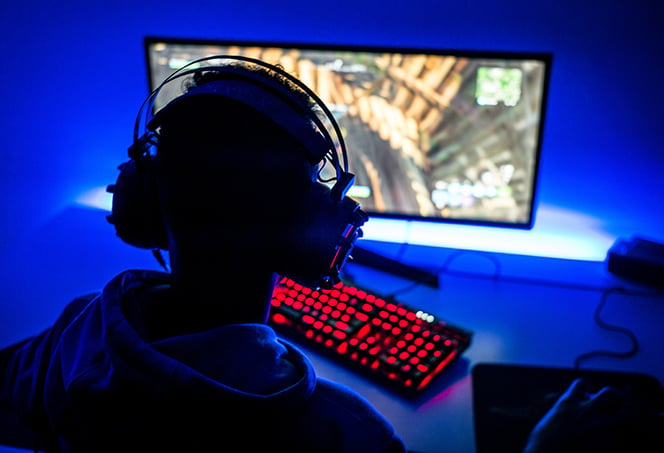 The overwhelming majority of children (93 percent) in the UK play video games. In a world where children are less and less likely to be allowed out to play with friends, online gaming and their social lives are closely intertwined. Children consider the shared experience of gaming to be just as important to their friendships, as other non-digital experiences.  However, the widespread popularity of gaming and the evolution of gaming from offline to online has raised a number of concerns, such as children being able to talk to strangers or becoming the target of bullying. It has also been shown there is a link between gaming and gambling.
For most gambling activities, the legal age is 18. This means that engaging in these activities under the age of 18  is breaking the law. Despite this the Gambling Commission say that gaming can be a route into betting, with close to a million young people exposed to gambling through "loot boxes" in video games or on smartphone apps. Loot boxes allow players to pay – often with real money – for a chance to win a virtual item. This could be considered gambling because the player is risking something of value (either real money or in-game coins) in the hope of winning something else. There are currently no restrictions or rules to protect children from these activities.
In another example, on some websites players can trade, bet on and sell their skins to try to get better ones. This is called skins gambling. This is only legal when the sites offering skins betting facilities have a proper licence and they shouldn't be targeting children. But the Gambling Commission's study found that just over one in ten 11 to 16-year-olds say they have participated in skins gambling.
Support
There are a number of ways of getting support for gambling issues in adults including:
Self-exclusion – asking a gambling provider to exclude you from gambling with them for a length of time, usually between six and twelve months but this can be for up to five years for online gambling. All gambling providers in Britain must provide consumers with this option, allowing any customer who has followed the procedure to request self-exclusion to be refused service and prevented from gambling during this time period.
Using gambling blocking software – blocking software is something that can be downloaded on to your device (smartphone, tablet, or computer) that limits access to websites or other services available over the internet. There are two types of software available:
Gambling-specific blocking software which is designed to block gambling sites
General blocking software which is designed to block a range of websites and can be used to set permissions or parental controls.
Contact the National Gambling Helpline :0808 8020 133 or access GamCare https://www.gamcare.org.uk/
Look at the BeGambleAware website for resources and support https://www.begambleaware.org/
How to support a young person
Speak to the young person about how they spend their money, and explain that gambling should never be seen as an easy way to make money or recover money they've lost. It may be helpful to explain the phrase "in the end, the house always wins", meaning that anyone who gambles is more likely to lose than win because of the way many gambling games are set up.
Talk to the child or young person about how they game or use the internet. Encourage the child or young person to agree and stick to limits around their screen time. Speak to them about what games or gambling websites they spend their time on. Encourage parents to install gambling blocking software to restrict access to certain websites.
Beacon Counselling Trust (BCT)
BCT offer free and confidential therapeutic interventions to individuals that have been affected by gambling-related harms, included affected family members, friends and partners. This treatment is offered to anyone within the North West area and can be delivered either face-to-face, or via telephone. Therapy is offered on a one-to-one, couples and group basis. This support is offered to anyone from those that are potentially at-risk of harmful gambling, to those whose gambling has become pathological. For more information on this service or to book an assessment please call 0151 226 0696 or email [email protected]
Educational Programme and Support for Young People
Beacon Counselling Trust deliver several education and training programmes led by the 'Bet You Can Help' programme, a first of it's kind Level 2 qualification, accredited by the Royal Society for Public Health. This offer consists of two different courses, a one hour 'Bet You Can Help Now!' introductory session and the accredited full day programme.'
'BCT also deliver the Young People's Gambling Harm Prevention Programme across the North West of England, delivering workshops for those aged 10 to 19 and professionals working with young people to help raise awareness of gambling related harms and provide both young people and professionals with the tools to identify harms and provide support for anyone affected.
Beacon Counselling Trust – Who We Are – YouTube
For more information please visit www.beaconcounsellingtrust.co.uk and www.betyoucanhelp.co.uk
Ygam
Ygam is an award-winning charity which aims to safeguard young people from gaming and gambling harms, by equipping those who live or work with them to have meaningful conversations about gaming and gambling, to recognise the signs of harm and to signpost anyone who does need it to the correct help and support.
To access the Parents' Hub, where there is lots of free advice and tips for parents/carers about protecting their young people from gaming and gambling harm: www.parents.ygam.org