Falling Fire Surrounds

The Issue of self installation of stone and marble effect fireplaces can be unsafe and present a potentially fatal danger to children if they fell.
In a two month period there have been two child deaths and two children sustaining life changing traumatic injuries locally, due to fireplace components falling on them, as they had not correctly been fitted.
The weight of the individual parts of a fire place and surround can be 50 kgs.
There are several cases reported via the media, of children under the age of 7 who have been killed because of falling fire surrounds. Which were not professionally installed and secured, this is due to the installation of the fire surrounds not having the correct fixing methods.
Helpful Recommendations:
Seek professional advice BEFORE buying the product.
Get assurance that the product you intend to buy is suitable and safe for your home
Ensure that the combined costs is within your price range
A fire surround should be installed by a Professional
Get quotes for fireplace surround and fitting in advance
The fixing of fireplaces need appropriate fixing kits and anchors,
Installation information should be supplied by the manufacturer
Use of correct materials to secure fixing should be applied
Using manufactures instructions the correct recommended bonding products and there uses of  application
An information poster for parents is available below: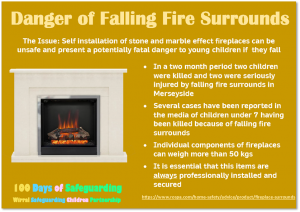 Further information: