Body Image
A group of Wirral children and young people have created an empowering film about body image. Launched as part of Mental Health Awareness Week (13th – 19th May) the project, 'Be Yourself', has been devised by young people ages 6-20 to combat negative stereotypes around body image.
This year's theme for Mental Health Awareness Week is 'body image'. For many people, bodies can be a source of shame and distress as images of the 'ideal body' are prominent on social networks and in other media. During the week, charities, activists and organisations across the country will discuss body image to raise awareness and offer support to those who may need it.
Be Yourself was created and starred in by young people from Greenleas Primary, New Brighton Primary, Liscard Primary, members of Wirral's Creative Youth Development, Wirral Youth Voice Group and more. The film will be sent to other youth groups and schools as a conversation starter around mental health issues.
Speaking of their involvement in the project, many of the film's young stars said they wanted to "celebrate difference" and "think outside of the box" because, "perfection is what you make of it". The results are plain to see as the film champions diversity and challenges stereotypes.
Supported by the Future in Minds Steering Group and staff from a range of services including Action for Children, CAMHS, Wirral Council Children's Services, Health Services in Schools and Wirral Youth Support Service, it is hoped that the film will encourage people of all ages to feel happy in the skin they are in.
Patric Rogers, a youth worker for Wirral Health Services in Schools said: "We've been working closely with the young people to enable them to express their thoughts and ideas around body image and the end result is an enthusiastic film where personality shines through.
"We are proud of everyone who took part and thankful for their hard work as well as the staff, teachers, youth workers and more who have supported this project."
While it is understood that girls and young women can be particularly affected by poor body image, the Wirral young people wanted to explore how body image issues can cut across people of all ages, genders, sexualities, ethnicities and more.
Please see two body positivity posters designed by Abbey the safeguarding apprentice below: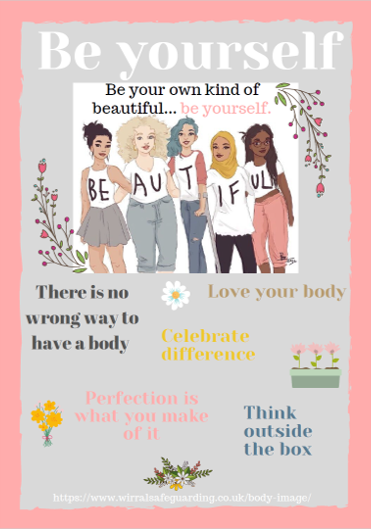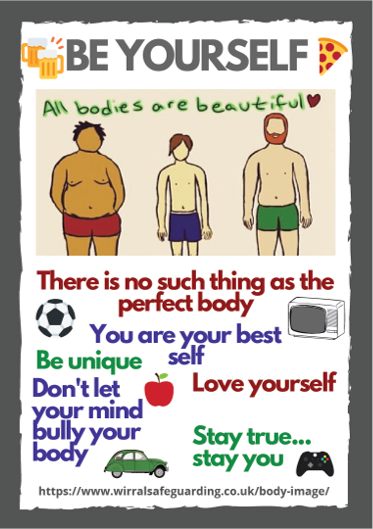 View the film below:

Follow @wirralcouncil on Facebook and Twitter for updates during Mental Health Awareness Week or get involved with the hashtag #MentalHealthAwarenessWeek.
For more information about mental health and body image, visit Young Minds UK:
Please note the WSCP is not responsible for the content of external websites.
Wirral CAMHS Advice Line is available for anyone with a concern for a child or young person's mental health. Operating 9am – 10pm weekdays, 12-8pm weekends and public holidays. Simply call 0151 488 8453.