Blind Cord Safety
Over the years a number of tragic accidents have occurred across the country where babies and small children have injured or strangled themselves on internal window blind cords and chains. Young children can very quickly be strangled by loops in pull cords, chains, tapes and inner cords that operate the blinds.
If you have blinds on your internal windows or doors, it is always better to remove them where possible however there are number of safety measures that you can take to reduce the risk of tragic accidents occurring:
Keep chains and cords out of reach of babies and young children.  Do not tie cords or chains together and make sure cords or chains do not twist and create a loop.
Move beds, cots, high chairs and play pens away from windows covering cords and chains.
Move furniture away from windows covering cords and chains, as children love to climb.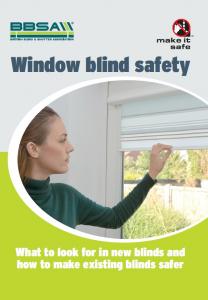 If you have a window blind which has an operating cord or chain that could form a loop, you must keep it out of the reach of babies and young children and there are a range of safety devices available to help you do this:
When choosing new blinds for homes or places where children or vulnerable people live or visit, always look for a blind that does not contain cords or has concealed cords.
Click the leaflet to the left for more advice on how to reduce the risk and keep children safe.
Highlighting the dangers associated with window blind cords:
Warning: Viewers may find the following video disturbing.
If a child is harmed or injured call 999 immediately