Adoption in Merseyside
Adoption in Merseyside (AiM) is the regional adoption agency for Knowsley, Liverpool, Sefton and Wirral. They're dedicated to finding loving, stable homes for Merseyside's children and providing first class support to adopters.
Adopted children are unable to live with their birth families for many reasons and move to live permanently with a new family, taking their surname and assuming the same rights and privileges as if they had been born to them.
The booklet below sets out what AiM does, how adoption works, and the support adopters can expect from Aim staff.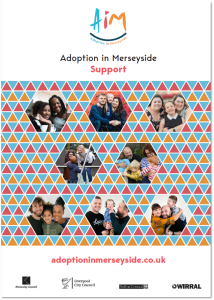 Further Information:
https://adoptioninmerseyside.co.uk/