What is Operation Encompass?
Operation Encompass is a police and education early information sharing partnership enabling schools to offer immediate support for children and young people experiencing domestic abuse. The Domestic Abuse Act (2021) established that children and young people who witnessed domestic abuse were victims of domestic abuse.
Information is shared by the police – following a call out to a home where children are present- with a school's trained Key Adult prior to the start of the next school day after officers have attended a domestic abuse incident thus enabling appropriate support to be given.  The key stated aims of Operation Encompass are:
In every force – to ensure that schools have timely information about all police-attended incidents of domestic abuse
In every school – to enable staff in every school to understand how to support children who are experiencing domestic abuse
For every child – to ensure all child experiencing domestic abuse receive timely support in their school
Operation Encompass was launched in Wirral in 2014 and since then has been rolled out across all schools.
Training
Operation Encompass Key Adult Training
The WSCP are developing new and updated multi-agency and key adult training. This will be available early in 2022.
In the meantime Virtual College provide a free virtual training course for staff from schools and other education settings.- even if your school is not yet part of Operation Encompass. The training updates staff members' knowledge of child victims of domestic abuse. The is also designed to help staff in developing the skills and knowledge to fully embed Operation Encompass in your school or education setting. To access the training please register by clicking the link:   Log In – Enable (vc-enable.co.uk)
Good Practice Case Studies
'Two notifications came through during the holiday period for the same family which alerted us to change in family the dynamics and the ability to offer support to the family which was appreciated. This knowledge has meant we have been able to offer children a dedicated listening ear as soon as they come in in the morning and allows us to monitor the situation'
'During lockdown, school received a notification about a family we have not been aware of previous concerns about. Staff were able to make contact with the family at home and offer a school place to the child as well as to signpost the family to further support through the Early help team'
'Secondary aged child arrived at school following an Operation Encompass notification. The teacher quietly and privately checked in with the child and asked if there was anything they could do to help. The child explained that they were worried as they had had no tea the night before, no breakfast and had no money for food at lunchtime in school. They were very hungry and were worried what they could do. The school fed the child and gave them money for lunch. The child had a successful day in school and the school was aware that there were now other supportive measures they could take and that the child knew they could talk to the school staff'
'We had an Operation Encompass notification, the child arrived at school and the teacher quietly spoke to them and asked how they were and was there anything they could do to help. The child said they had not eaten nor had they slept (which had been apparent to the school). The school fed the child breakfast and settled them into the staffroom with some blankets and let them sleep. The child woke up later and went on to have a successful day in school'
'Two children in a primary school did not come to school the morning that the DSL had received a notification through Operation Encompass. Following normal school procedures, they contacted home as they knew that was safe to do and the mother said that she could not face coming out after the previous nights' incident. The children were at home with her and wanting to go into school. The school offered to go and collect the children, and mother agreed and was relieved and happy. This meant that the children could take part in the school nativity that was happening that day as well as other Christmas activities'
Useful Resources
(please also see our dedicated schools page: Operation Encompass Information – Wirral Safeguarding Children Partnership)
Booklets:
Guide to Implementing Operation Encompass: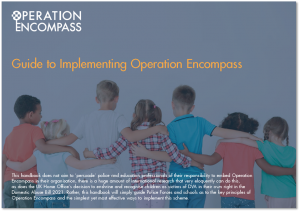 Handbook for Schools: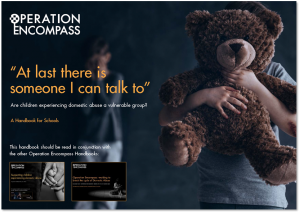 Breaking the Cycle of Domestic Abuse: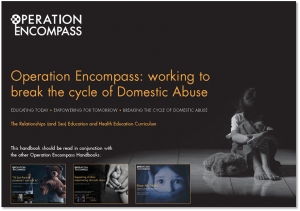 Supporting Children Experiencing Domestic Abuse: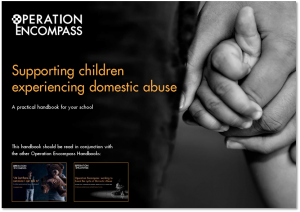 The Child's Victim Support Code: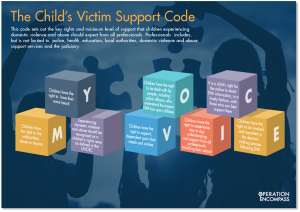 Hearing Children's Voices:
Posters:
Awareness Posters
Schools can add their logos to these posters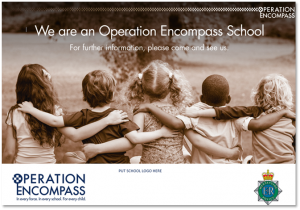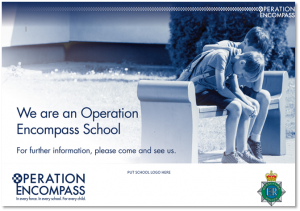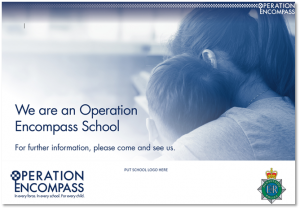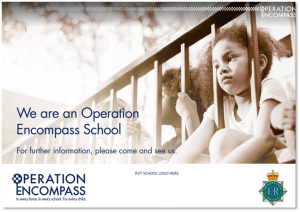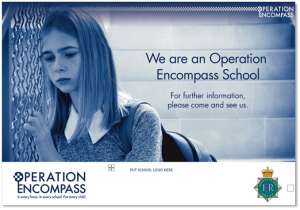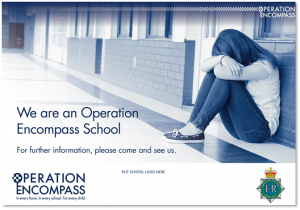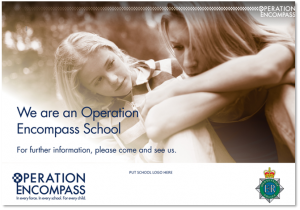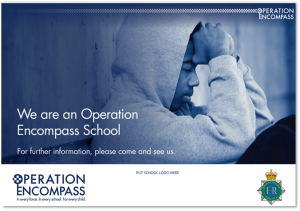 More posters for schools can be downloaded from the Operation Encompass website:
Resources for schools : Operation Encompass