Contextual Safeguarding Survey
SURVEY NOW CLOSED
Wirral Safeguarding Children Board, as part of its response to Contextual Safeguarding has designed a questionnaire for children and young people to determine the issues and places where children and young people feel unsafe and the contextual safeguarding risks in Wirral.
This information will enable the WSCB and the wider partnership to co-ordinate a response and bring focus to these areas.
The WSCB require your support in gathering the views of children and young people by completing the short survey published on Survey Monkey.  A suggestion would be for this survey to be completed as part of PHSE or in another supervised environment within school or in the community. If other agencies feel that they are in the position/and it is appropriate to complete surveys with young people then this is welcomed.
What is Contextual Safeguarding?
Contextual Safeguarding is an approach to understanding, and responding to, young people's experiences of significant harm beyond their families.
Traditional approaches to protecting children/young people from harm have focussed on the risk of violence and abuse from inside the home, usually from a parent/carer or other trusted adult and don't always address the time that children/young people spend outside the home and the influence of peers on young people's development and safety. You can find out more about Contextual safeguarding here.
Guidance for professionals
A guidance document for professionals can be downloaded here: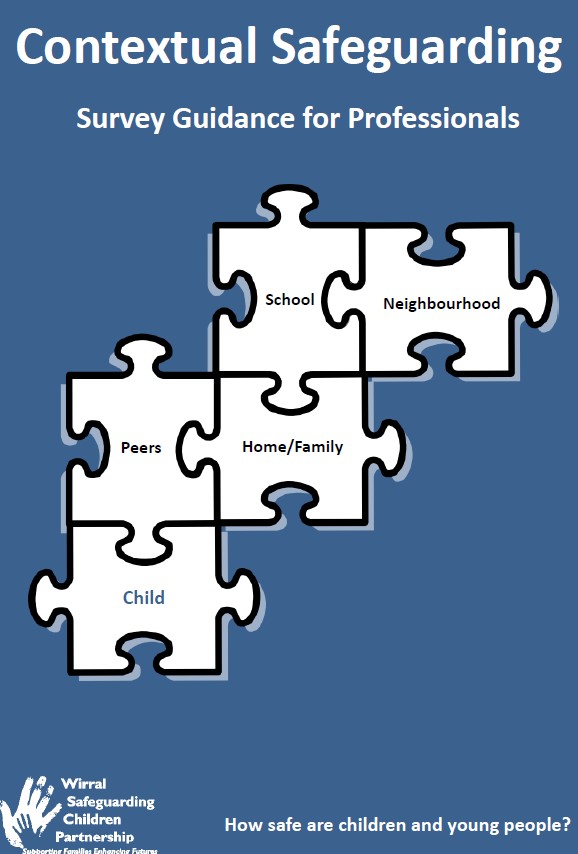 A suggestion would be for this survey to be completed as part of PHSE or in another supervised environment within school or in the community. Survey responses will remain anonymous and the child/young person will not be identified.
Links to surveys
Children (year 6-8): https://www.surveymonkey.co.uk/r/Children-HowSafeDoYouFeel
Young People (year 9+): https://www.surveymonkey.co.uk/r/YoungPeople-HowSafeDoYouFeel
Survey's are accessible on Survey Monkey or electronic copies (for printing) can be requested from Kat Ryan
Timescales
Please can all surveys be completed/returned by 31st July 2019.
SURVEY NOW CLOSED
Template
To download an exemplar letter to inform parents/carers of this activity, click here.
A message from Tony Kirk, Head of Service for Contextual Safeguarding:
Dear Colleagues,
As the recently appointed Head of Service for Contextual Safeguarding for Wirral Children's Services; and the Wirral Safeguarding Children's Board Steering Group lead I would like to thank you for taking the time to support this work.
Some of you may have already engaged with the WSCB website resources and training events around contextual safeguarding.  The headline around this type of safeguarding approach is that as children move from early childhood and into adolescence they socialise away from home more and more.
During this time the nature of young people's different environments inform the extent to which they encounter either good levels of protection, or are exposed to the risk of abuse.
Young people encounter significant harm in a range of settings beyond their families. Traditionally our services and processes have not typically been structured to consider these wider safeguarding environments. To ensure we understand how this looks and feels to our young people we need to take the time to capture their voice. It is important that we gather as much information as possible from our young people.
My promise to you is that the safeguarding partnership will listen to this feedback, using this vital information to shape our contextual safeguarding strategies.
Your help is so important to us getting this right for the young people of Wirral.
Thank you again for your time.
 Yours,
 Anthony Kirk
Head Of Service: Contextual Safeguarding
Wirral Metropolitan Borough Council