Early Help Annual Report
The Early Help and Prevention Annual Report for 2018 has been published and is available to view by clicking the image below: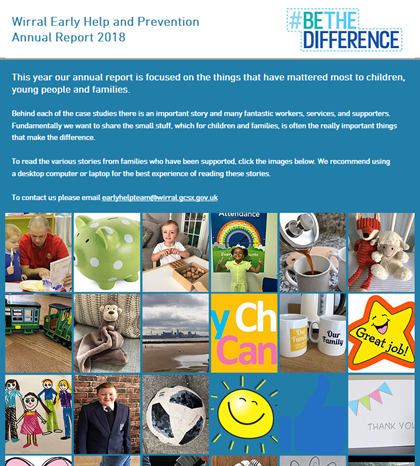 Message from Elizabeth Hartley, Assistant Director Early Help and Prevention:
 I am really pleased to launch this year's Early Help Annual Report.
 You will see that this year's report is very different from previous annual reports. This is a deliberate shift as we attempt to move away from reporting on service development, budgets, implementation of strategy and other narratives, and begin to focus on the things that matter most to children, young people and families.
 Our decision to make this shift is in keeping with our Supporting Families Enhancing Futures model, which aims to improve the daily-lived experience of children, young people and their families.  The features in the Early Help Annual Report capture the small things which do improve the daily-lived experience of our children. So, you will find drawings, photographs and snippets from our families which tell of bike-riding, dancing, playing with toys, getting outside and spending time together. We hope you enjoy browsing through it.
 I'd like to take this opportunity to thank everyone who contributed and the children and families featured.